fig & ricotta flatbread pizza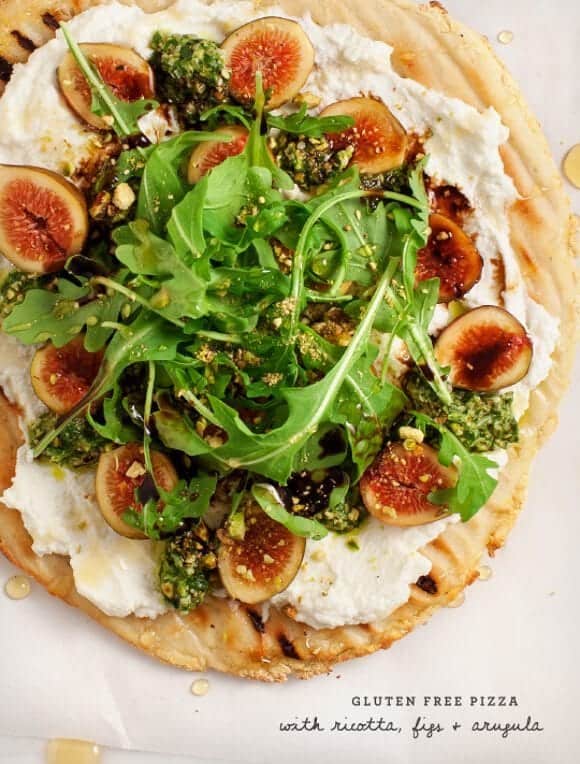 Serves:
makes 2 personal-sized pizzas (serves 2-3)
2 cups Pamela's Pizza Crust Mix
(yeast is included in the mix)
1 cup plus 2 tablespoons warm water
2 tablespoons olive oil
¼ cup gluten free cornmeal
olive oil, to brush on the crust
⅔ cup ricotta
1 cup sliced figs
a few dollops of pesto
a handful of arugula
2 tablespoons pistachios, toasted & crushed
drizzle of honey (optional)
drizzle of balsamic vinegar
Preheat oven to 475. Mix the pizza dough according to package directions. Use a little cornmeal to help form the dough into (about) 2 10-inch pizzas. Since the dough is sticky, we put it between 2 pieces of parchment and rolled the crusts out with a rolling pin.
Partially bake them (on parchment) for 8-10 minutes or until they're cooked in the middle and cohesive enough to lift off in one piece. Brush with olive oil and grill for 1-2 minutes on each side.
Top grilled flatbreads with ricotta, sliced figs, a few dollops of pesto, arugula, pistachios, honey, and balsamic vinegar (or balsamic reduction).
Optional step: make a balsamic reduction by simmering vinegar over low heat in a small saucepan. Stir frequently until it's evaporated into about half the amount you started with.
Vegan option: skip the ricotta (and the honey), and spread a layer of pesto instead.
Recipe by
Love and Lemons
at https://www.loveandlemons.com/gluten-free-fig-ricotta-flatbread-pizza/