roasted cherry tomato bowls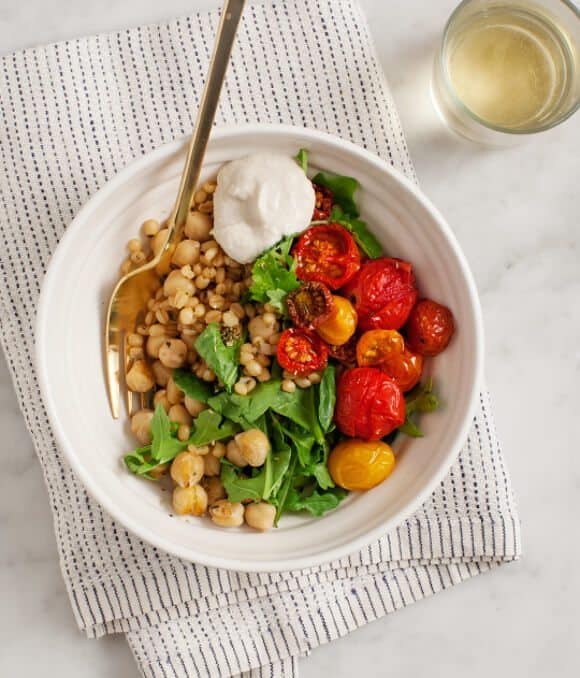 2 cups cherry tomatoes
drizzle of olive oil
a few sprigs of fresh thyme
½ cup uncooked wheat berries
handful of arugula or other greens
¾ cup chickpeas
small clove of garlic
salt & pepper
a few spoonfuls of sun cheese (or burrata or fresh ricotta)
Preheat oven to 200 degrees F. Slice most of the cherry tomatoes (leave some whole if you want) and toss them with a bit of olive oil, salt, and pepper. Place them cut side up on a baking sheet lined with parchment. Let them slow roast for about 1 hour, then turn the heat to 300F for another 20-30 minutes or so. Oven times will vary so check them periodically. Add fresh thyme to the baking sheet during the last 10 minutes or so.
Meanwhile, cook your wheat berries in boiling salted water until tender and chewy (about 30-40 minutes). Drain and set aside.
Meanwhile, make your sun cheese. Chill until ready to use.
Optional step: cook chickpeas (with a little olive oil, garlic, and salt) in a skillet until they're lightly browned.
Assemble bowls with wheat berries, a few greens, roasted chickpeas and roasted tomatoes. Sprinkle with thyme leaves and/or other fresh herbs. Add a dollop of sun cheese (or other cheese) and dig in.
note: steps 2 & 3 can be made day(s) in advance.
Recipe by
Love and Lemons
at https://www.loveandlemons.com/roasted-cherry-tomato-bowls/