stuffed peppers w/ green tomato salsa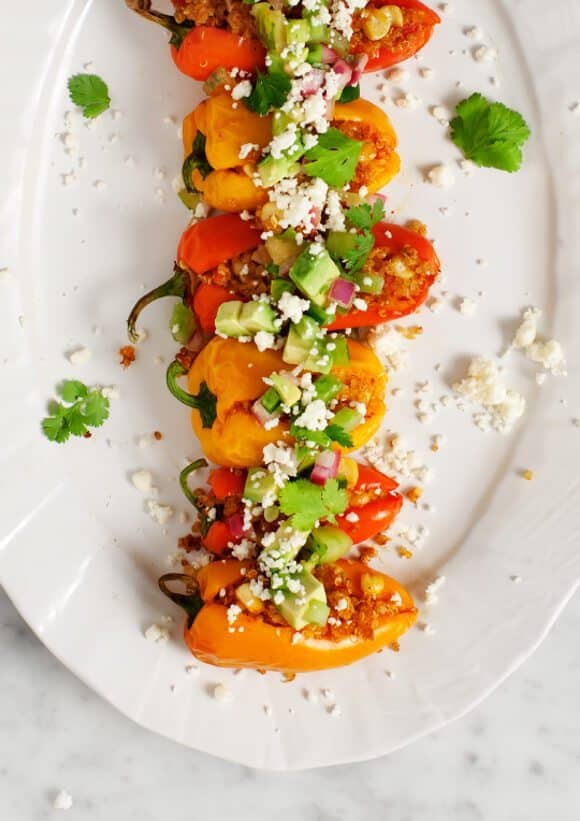 2 tablespoons olive oil
½ yellow onion, diced
¾ cups (uncooked) millet*
1 small tomato, diced
1¼ cups low-sodium veggie broth
kernels from 1 ear of fresh corn
1 cup grated jack cheese
1 teaspoon sea salt, & pepper to taste
½ teaspoon sweet paprika
¼ teaspoon ground chili powder
16 ounces small sweet peppers
queso fresco, for serving
4-5 small green tomatoes, diced
¼ cup red onion, diced
¼ cup scallions, diced
½ of a jalapeño, seeds removed & minced
juice of 1-2 limes + some zest
big handful of chopped cilantro
optional - a few pinches of sugar
1 small avocado, diced
generous pinches of salt
Make the salsa: Combine the diced green tomatoes, red onion, scallions, jalapeño and cilantro in a medium bowl with lime juice, zest, and a generous sprinkling of salt. Stir, then chill for at least an hour. (The longer the better if your green tomatoes happen to be tart). Before serving, add diced avocado. Taste and adjust seasonings, adding salt and a few pinches of sugar if necessary.
Optional (but recommended) step: blend salsa in a food processor until smooth but still a little chunky. Chill until ready to use.
In a saucepan over medium-low heat, warm 1 tablespoon of the olive oil. Add the onion and sauté, stirring, until soft, 3-5 minutes. Add the millet and toast until very lightly browned and fragrant, 3 to 4 minutes. Add the tomato and broth and bring to a boil. Reduce the heat and simmer, covered, for 15 minutes. Turn off the heat and let stand for 10 minutes.
Preheat the oven to 400 degrees F. Line a large baking sheet with parchment paper.
Gently fluff the millet with a fork. Stir in the corn, jack cheese, remaining 1 tablespoon olive oil, salt, paprika, chili powder and pepper to taste. To stuff peppers, make a slit from stem to tip. Carefully remove the seeds and membrane and stuff each pepper with the filling. Bake the peppers for 20-25 minutes or until they begin to brown.
Serve peppers with green salsa, queso fresco and extra cilantro on top.
*I used quinoa instead of millet because I happened to have it on hand. Same cooking method, (but you should rinse your quinoa first). While it simmers, check and add more water if it's cooking off too quickly.

These work great as leftovers - store extra filling (& salsa) in the fridge. Stuff the peppers as you're ready to bake them.
Recipe by
Love and Lemons
at https://www.loveandlemons.com/stuffed-peppers-green-sals/