grilled polenta with zucchini salsa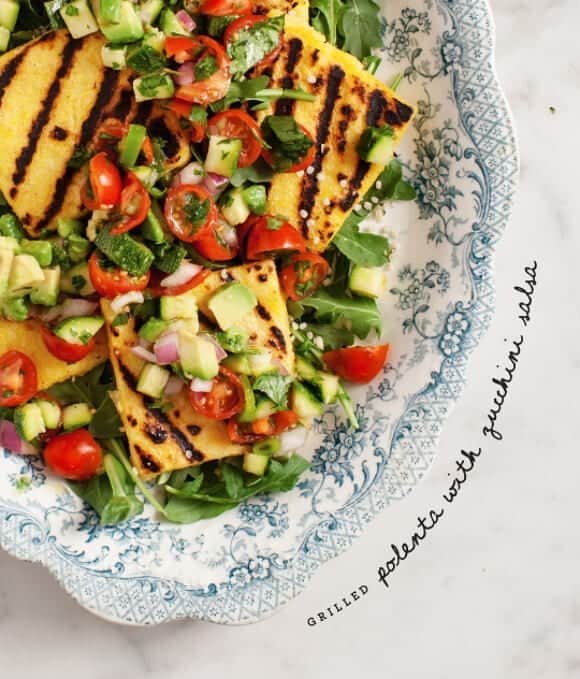 1 cup organic popcorn
coffee grinder or high speed blender
½ cup corn flour
2 cups water
½ teaspoon garlic powder
¼ teaspoon sea salt
1 zucchini, diced small
¼ cup red onion, diced
½ of a serrano pepper, diced
1 cup cherry tomatoes, sliced
1 tablespoon olive oil
zest & juice of 1 lime (more as needed)
1 teaspoon white wine vinegar
handful of chopped cilantro
salt & pepper
diced avocado
optional - a few handfuls of arugula for serving
Grind the popcorn in a coffee grinder or high speed blender (such as a vitamix). Sift to remove the hard pieces from the soft flour (don't skip this step or you'll have crunchy polenta).
Make the polenta: In a medium saucepan, bring the corn flour, water, garlic powder, and salt to a boil. Cook, stirring frequently, until mixture thickens to a creamy consistency, 3 to 4 minutes. Spoon the mixture into an oiled 8x8 inch pan. Let the polenta cool completely. (I made mine a few hours in advance and let it chill in the fridge to set).
Make the salsa: mix all ingredients together except for the avocado. Chill for at least 2-3 hours so the raw zucchini can marinate in the lime juice and seasonings. Remove from fridge, add diced avocado, then taste and adjust seasonings. Add more salt, pepper, and/or lime juice to taste. If it's too tart, add a pinch of sugar. (or see Erin's Roasted Salsa Recipe below)
When ready to grill the polenta, slice in to 2-inch squares and brush each side with olive oil. Place on a preheated grill (I suggest using a grill pan since these are delicate). Cook each side until browned, 4-6 (or more) minutes depending on the heat of your grill. (or in my case: pan).
Serve with salsa
(optional - I served mine on top of a few handfuls of arugula).
(alternative option) Erin's Roasted Zucchini Salsa Recipe: Toss 1 cubed zucchini, ½ diced onion, ¼ of a red pepper (diced), and 1 tablespoon minced serrano with1 tablespoon olive oil and salt. Roast in a 400 degree oven for about 30 minutes until the zucchini begins to char. Remove and toss with 1 tablespoon lime juice and 2 tablespoons chopped fresh cilantro.
Recipe by
Love and Lemons
at https://www.loveandlemons.com/grilled-polenta-zucchini-salsa/