romanesco & chickpea salad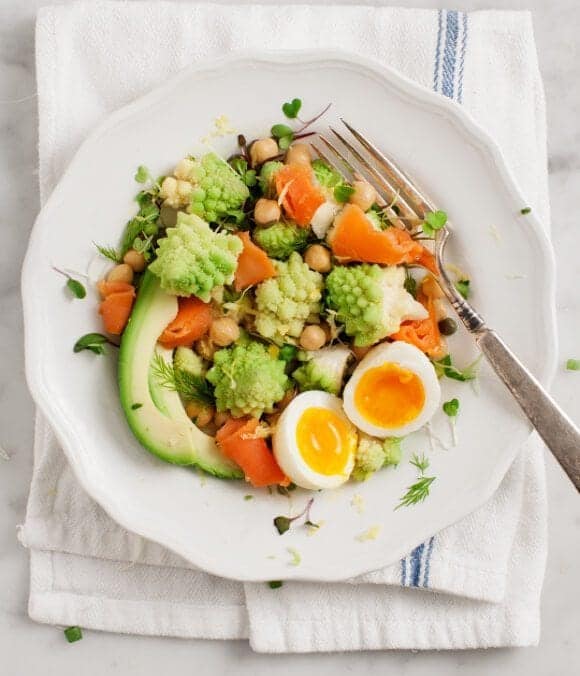 a few cups of romanesco florettes
½ cup chickpeas
½ avocado, sliced
2 tablespoons capers
2 tablespoons chopped scallions
handful of sprouts
lemon zest
a few tablespoons of chopped dill
optional: soft boiled or poached eggs
optional: slices of smoked salmon
1 tablespoon olive oil
2 tablespoons lemon juice
½ tablespoon sherry or white wine vinegar
½ teaspoon dijon
1 garlic clove, smashed
salt, pepper
Whisk dressing together, set aside. Remove the garlic clove before using.
Place the chickpeas in a bowl and toss with a bit of the dressing and an extra pinch of salt.
In a medium pot of boiling salted water, blanch the romanesco for 1 minute, transfer it to a bowl of ice water. Drain and set aside to dry on a towel. Sprinkle with a little salt.
Fill your pot with fresh water medium and heat the water to a gentle simmer (just below boiling). Use a slotted spoon to carefully drop the egg in and let it cook for 7-8 minutes. Remove and chill immediately in a bowl with ice water. Let the egg cool then slice off just a bit of the shell from the bottom of the egg. Take a regular spoon and carefully slide it in and around the egg to loosen it from the shell. (Repeat with however many eggs you want).
While you wait for your eggs to cook, toss the romanesco, chickpeas, capers, scallions, and dill together with the dressing. Plate, then assemble the avocado, smoked salmon and eggs on top along with a handful of sprouts and some lemon zest. Taste and adjust seasonings.
Recipe by
Love and Lemons
at https://www.loveandlemons.com/romanesco-chickpea-salad/