avocado almondaise tartines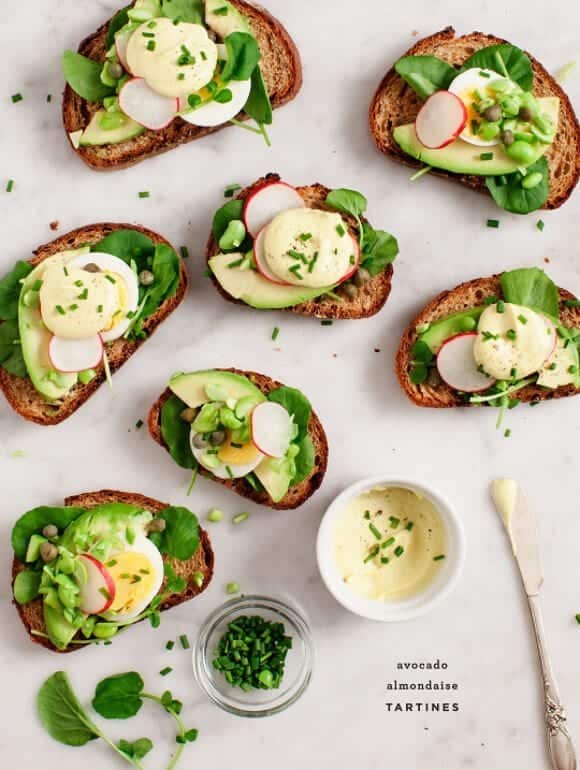 1 cup raw blanched and peeled almonds
scant 1 cup original Almond Breeze Almond Milk
1 tablespoon dijon mustard
zest & juice of 1 lemon
2 teaspoons dried turmeric
2 tablespoons olive oil
salt & pepper
crusty bread (toasted or grilled)
avocado slices
watercress leaves
chopped edamame
radishes slices
capers
chives
salt & pepper
sliced hard boiled eggs (optional)
Make the almondaise: In a high speed blender puree everything, except the olive oil. While your blender is running, drizzle in the olive oil. Blend until smooth, adding more almond milk or olive oil if necessary. Taste and adjust seasonings.
Assemble the tartines with your choice of toppings and top with a dollop of almondaise sauce.
To hard boil eggs: place eggs and water in a small pot. Bring the water to a boil, cover and turn the heat off. Let the eggs cook in the hot water for 14 minutes. Remove from the pan and place them in a bowl of ice water to cool. Chill in the fridge until you're ready to peel and eat. (They can be made a few days ahead of time).
Blanch almonds by dunking them in boiling water for 1 minute. Rinse under cold water then peel off the skins.
Recipe by
Love and Lemons
at https://www.loveandlemons.com/avocado-almondaise-tartines/