"ricotta" stuffed cabbage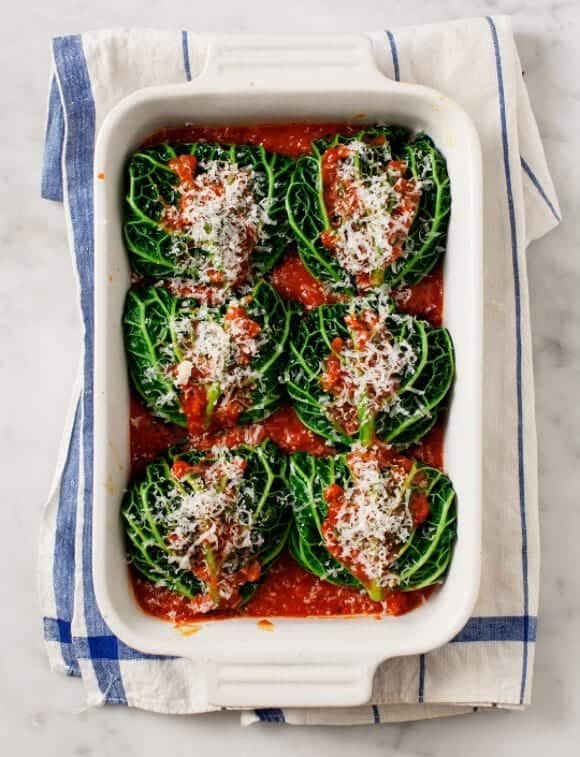 Serves:
serves 4 (3 leaves per person)
1.5 cups cashews, soak overnight & drain
2 cloves garlic
2 tablespoons lemon juice
2 tablespoons ume vinegar (or sub more lemon + salt)
¼ cup water (just enough to get the blade going)
salt, pepper to taste
½ cup crumbled firm tofu
1 teaspoon dried oregano
½ teaspoon red pepper flakes
1 cup finely chopped raw kale (or spinach)
handful of chopped chives and/or other fresh herbs
salt & pepper, to taste
12 medium savoy cabbage leaves
a few cups of marinara sauce
drizzle of olive oil
(optional) - top with grated parmesan or pecorino cheese
Preheat oven to 350.
In a blender or food processor, puree together the cashews, garlic, vinegar, and lemon juice. Add only enough water to help the blade along. Taste and add salt & pepper to your liking.
Scoop cashew cream into a medium bowl and add the crumbled tofu, oregano, red pepper flakes, kale, chives, and another few pinches of salt & pepper. Stir & taste.
Blanch cabbage leaves for a few seconds each (Dunk into boiling water, then chill in ice water. Dry them thoroughly before using). Trim off the tough part of the stems.
Prepare a baking dish with a good slathering of marinara at the bottom.
Scoop a few tablespoons of filling into each leaf. Gently tuck in the sides and roll them. Place them seam-side down into the baking dish. Top each with a generous spoonful of marinara and a drizzle of olive oil (and a grating of cheese if you're not vegan). Bake for 25 minutes.
pictured above is a ½ recipe, the recipe will make approx. 12 leaves full as written. If you're serving less, I suggest storing the filling separate from the leaves and rolling/baking them to serve.
Recipe by
Love and Lemons
at https://www.loveandlemons.com/ricotta-stuffed-cabbage/