Vegan Stuffed Shells with Kale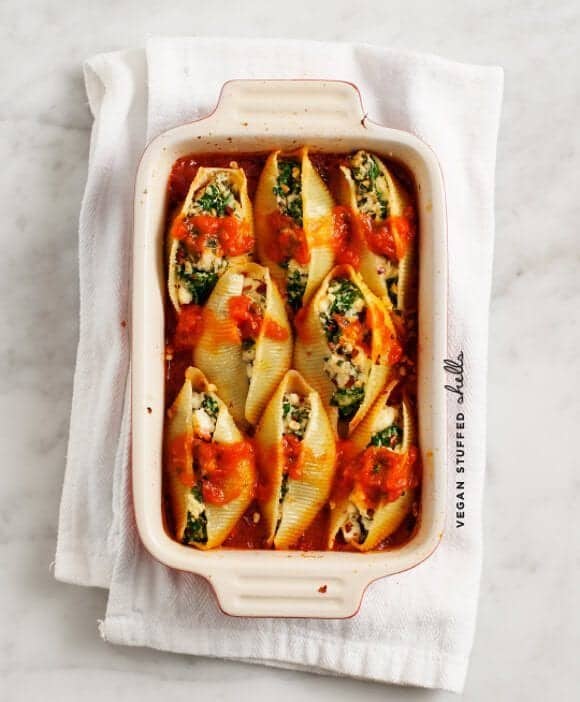 Serves:
4 (pictured is a half-recipe)
1.5 cups cashews, soak overnight & drain
2 cloves garlic
2 tablespoons lemon juice
2 tablespoons ume vinegar (or sub more lemon + salt)
¼ cup water (just enough to get the blade going)
salt, pepper to taste
½ cup crumbled firm tofu
1 teaspoon dried oregano
½ teaspoon red pepper flakes
1 cup finely chopped raw kale (or spinach)
handful of chopped chives and/or other fresh herbs
salt & pepper, to taste
16 jumbo shells
a few cups of marinara sauce
drizzle of olive oil
(very optional) - top with grated parmesan or pecorino cheese
Preheat oven to 350 degrees.
In a blender or food processor, puree together the cashews, garlic, vinegar, and lemon juice. Add only enough water to help the blade along. Taste and add salt & pepper to your liking.
Scoop cashew cream into a large bowl and add the crumbled tofu, oregano, red pepper flakes, kale, chives, and another few pinches of salt & pepper. Stir & taste.
Cook your shells in salty water until al dente.
Prepare a baking dish with a good slathering of marinara at the bottom.
Scoop a few tablespoons of filling into each shell, place them into the baking dish. Top each with a generous spoonful of marinara and a drizzle of olive oil. Bake for 25 minutes.
Pictured is a half recipe (for 2 of us). I stored ½ the ricotta mixture for the two of us for another night.

You can add the chopped kale raw or slightly cooked (heat it in a pan with a drop of oil until it wilts). It'll cook in the oven either way, the only benefit to the extra step of cooking it is that you can pack more in here if it's a bit wilted.

One night we added mushrooms - yum.
Recipe by
Love and Lemons
at https://www.loveandlemons.com/vegan-stuffed-shells/