chickpea lemon miso noodle soup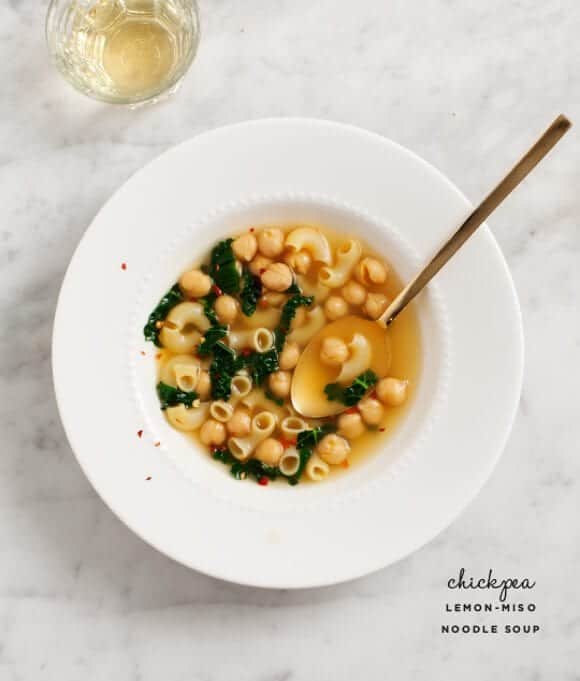 1T olive oil
1 shallot, chopped
2 cloves garlic, minced
4 cups vegetable broth + 1 cup water
1.5 cups cooked & drained chickpeas (1 can)
½ cup (uncooked) quinoa elbow pasta
2 cups chopped kale
a few squeezes of lemon
2 tablespoons white or shiro miso + a few tablespoons warm water
optional - grating of pecorino cheese
salt, pepper, to taste
Heat oil in a medium sized pot over low heat. Add the chopped shallot and garlic, a pinch of salt. Cook for a few minutes until they slowly become translucent.
Add the broth and water and simmer for 20-30 minutes.
Optional step: (for a very clear soup) strain out the shallot & garlic pieces.
Add the chickpeas, pasta, kale and cook until the noodles are tender and cooked through. Reduce heat to low.
In a small bowl, whisk the miso with a few tablespoons warm water until the miso is incorporated and not clumpy. Stir half the miso-water into the soup along with a squeeze of lemon. Taste. If your soup is not salty enough, add the rest of the miso water. Add more lemon, salt and pepper to taste.
Serve hot with crusty bread and pecorino cheese, if desired.
Recipe by
Love and Lemons
at https://www.loveandlemons.com/chickpea-lemon-miso-noodle-soup/