Cold Sesame Noodles with Kale & Shiitakes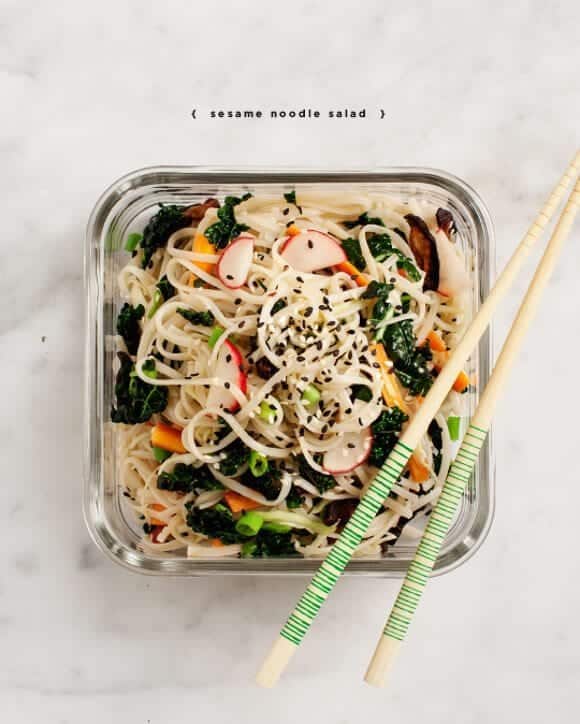 Recipe type:
Main dish, salad
4-6 ounces noodles (I used these brown rice noodles)
A few cups sliced shiitake mushrooms
2 cups chopped kale, massaged (see notes below)
1 cup thinly sliced cabbage
3 small carrots, chopped into matchsticks
A few radishes, thinly sliced
¼ chopped scallions
A few tablespoons of sesame seeds
½ package extra firm tofu, chopped into cubes
1 tablespoon toasted sesame oil
1 tablespoon rice vinegar
1 tablespoon lime juice
2 teaspoons grated ginger
2 teaspoons soy sauce (tamari if gluten free)
1 teaspoon sriracha (optional)
Whisk the dressing ingredients together.
Cook your shiitakes: I baked mine in the oven - slice and toss with a good glug of olive oil and some salt. Bake in a 350 degree oven until crisp and slightly charred (about 25 minutes). Alternatively, you could cook them down in a pan with a little bit of oil & salt or soy sauce, about 10-15 minutes. Stir only occasionally.
Cook the noodles according to package directions. Drain and rinse in cold water.
Place the noodles in a large bowl and toss with the kale, cabbage, carrots, radishes, shiitakes, and toss with most of the dressing. (Let it all sit and marinate for a while while you clean up the kitchen).
Add sesame seeds, then taste and adjust. Add more dressing, soy sauce, lime and/or sriracha to your liking. Serve chilled or at room temp. Store leftovers in the fridge. Pack in to-go containers and bring to work.
Prep your kale by drizzling it with a little bit of olive oil and a few good pinches of salt. Massage it well with a your hands until it wilts down quite a bit. (If you make kale salads, you're already familiar with the method). The leaves will become softer and less raw tasting.

If you're not a fan of raw tofu you can bake it, pan sear it, or just buy the kind from the store that's already baked.
Recipe by
Love and Lemons
at https://www.loveandlemons.com/cold-sesame-noodles-kale-shiitakes/