healthy loaded sweet potatoes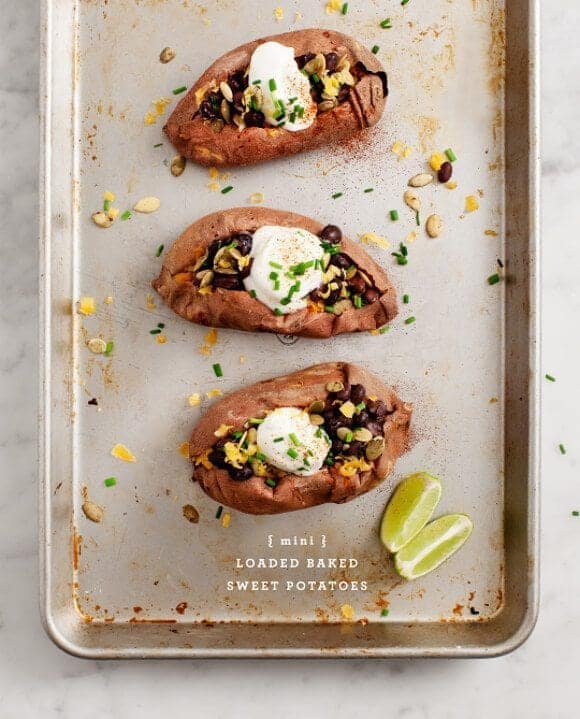 sweet potatoes
cheddar cheese (optional)
black beans
toasted pumpkin seeds
greek yogurt + lime + salt + chile powder
(vegan sub: chipotle cashew cream or avocado cream)
chives
Preheat oven to 400 degrees.
Poke holes into your sweet potatoes and bake them on a baking sheet (don't wrap them in foil), for about 40-45 minutes or until they're fork tender.
Remove from the oven. Slice them open, and scoop out a little bit to make room for your stuffing. (I also gently mash a little bit of the inside with the back of my fork).
Optional step: Sprinkle cheese on top and pop them back in the oven (I switch to broil) for a few minutes for the cheese to melt.
While you wait for your cheese to melt, mix together greek yogurt with a squeeze of lime, salt and a bit of chile powder. Taste and adjust, making it as spicy/tangy as you like.
Stuff with black beans, spicy pumpkin seeds, and top with chile-spiced greek yogurt.
Sprinkle some chives on top, dust with extra chile powder, and dig in.
Recipe by
Love and Lemons
at https://www.loveandlemons.com/healthy-loaded-sweet-potatoes/