vegan coffee cake muffins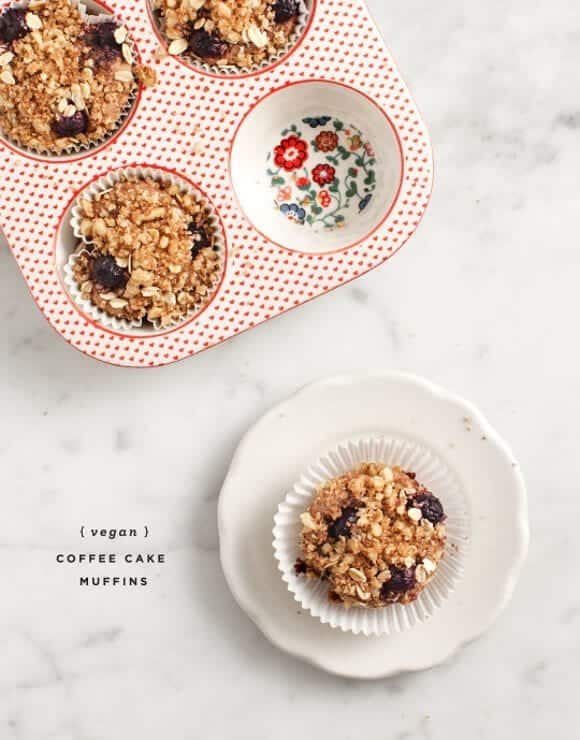 2 cups spelt flour
3 teaspoons baking powder
3 teaspoons cinnamon
½ teaspoon salt
2 tablespoons melted coconut oil
⅓ cup cane sugar
1¼ cup almond milk, at room temp
1 teaspoon vanilla extract
⅓ cup crushed (unsalted, raw) walnuts
3 tablespoons brown sugar
½ teaspoon cinnamon
¼ teaspoon salt
1 tablespoon (hardened) coconut oil
frozen blueberries, optional
Preheat oven to 350 degrees. Prepare 12-cup muffin pan with cupcake liners or cooking spray.
Make the crumbly topping by crushing walnuts and mixing them with brown sugar, cinnamon and salt. Using your hands, work in the hardened coconut oil until incorporated but still very crumbly. Set aside.
Make the muffins, first sift together the dry ingredients.
In a separate bowl, by hand, whisk together the wet ingredients.
Pour the wet ingredients into the bowl with the dry ingredients and stir until just combined. Don't overmix.
Scoop a heaping tablespoon of batter into each muffin cup (just enough so the batter covers the bottom. Sprinkle in some of the crumbly topping, and a few blueberries each.
Add the remainder of the batter, more crumbly topping and a few more blueberries.
Bake for 18-22 minutes or until a toothpick comes out (nearly) clean.
Recipe by
Love and Lemons
at https://www.loveandlemons.com/vegan-coffee-cake-muffins/