peanut butter crispy treats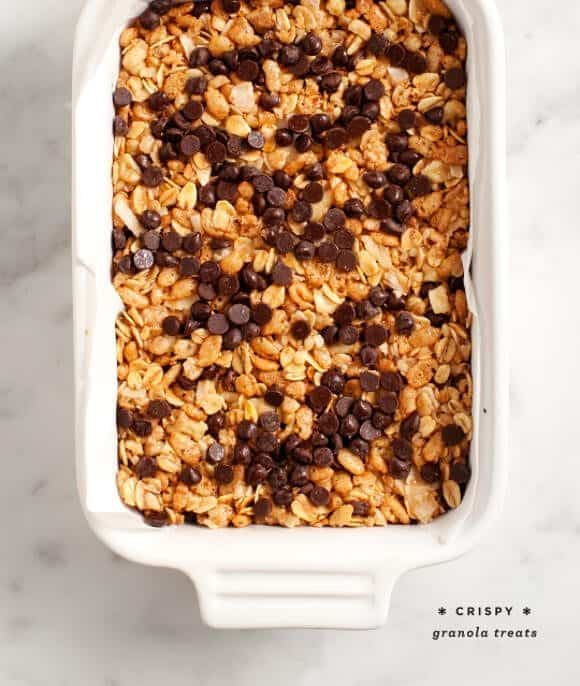 ¾ cup brown rice cereal
½ cup rolled oats
½ cup crushed walnuts
⅓ cup coconut flakes
¼ teaspoon salt
1 teaspoon cinnamon
2 tablespoons coconut oil
¼ cup brown rice syrup
¼ cup peanut butter
⅓ cup chocolate chips (optional)
Line a 5x7 rectangle dish with parchment paper and a tiny bit of cooking spray.
Place the brown rice cereal into a large bowl and set aside.
In a large skillet over low heat, toast the oats, gently stirring so they toast somewhat evenly. Once they're starting to brown around the edges, add the walnuts coconut flakes, salt and cinnamon. Continue to toast until the coconut flakes are slightly toasted. (total toasting time should be about 5-8 minutes. Remove from heat and transfer the toasted mixture into the bowl with the brown rice cereal. Mix and let cool completely.
In a small glass bowl mix the coconut oil, brown rice syrup and peanut butter. If your ingredients are too thick to whisk, pop it into the microwave for a few seconds to slightly melt everything. Whisk until creamy. Let cool completely.
Pour the peanut butter mixture into the rice cereal/oat mixture and gently fold everything together until it's fully incorporated.
Stir in the chocolate chips and press into a 5x7 pan, or equivalent. (Note: it's important not to stir in the chocolate until everything is cooled or the chocolate will melt all over the place. Which tastes just fine, but they won't look the same).
Pour the gooey mixture into the prepared pan and let chill in the freezer for about 30 minutes for them to set. After they're set, slice & eat, then store the remainder in the fridge.
Recipe by
Love and Lemons
at https://www.loveandlemons.com/peanut-butter-crispy-treats/