Kale & Apple Butternut Squash Salad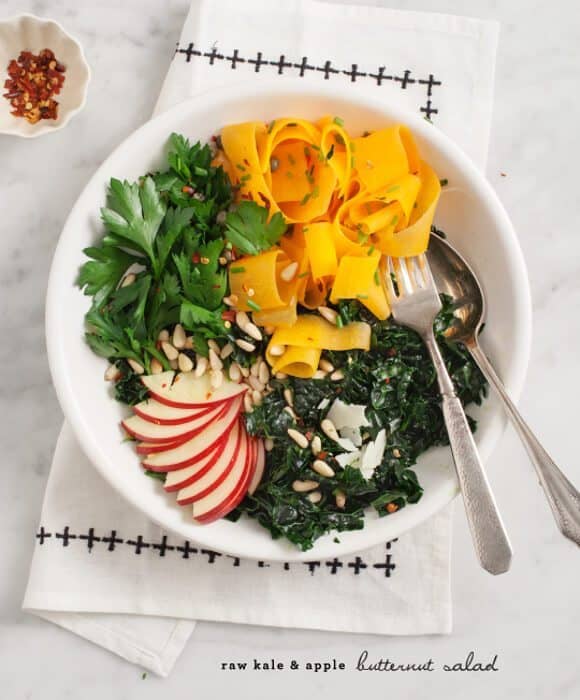 1 tablespoons fresh lemon juice
1 teaspoon sherry vinegar
2 teaspoons Dijon mustard
1 garlic clove, minced
2 tablespoons olive oil
1 tablespoon chopped chives
Sea salt and fresh black pepper
1 bunch lacinato kale (3 cups, chopped, stems removed)
2 cups shaved butternut squash (about ⅓ of the squash)
1 small apple, thinly sliced
¼ cup chopped parsley (or other leafy herb)
¼ cup toasted pine nuts
2 tablespoons chopped chives
Shaved pecorino cheese (optional)
A few pinches of red pepper flakes (optional)
Make the dressing: whisk together the lemon juice, sherry vinegar, Dijon, garlic, olive oil, chives, salt, and pepper. Taste, adjust seasonings, and set aside.
Place chopped kale leaves in a large bowl, drizzle with a tiny bit of olive oil and a few pinches of salt. Using your hands, rub the leaves together massaging the kale until it becomes soft and darker in color. Toss with half of the dressing. Set aside.
Slice your butternut squash lengthwise in half, scoop out the seeds, and slice lengthwise again and again so you have long wedges. Using a regular vegetable peeler, peel off long strips.
Assemble the salad: toss the kale, butternut ribbons, apple slices, parsley, pine nuts, and chives with the remainder of the dressing. Let it sit at room temperature for 10-15 minutes (for best flavor) and serve with shaved pecorino and a pinch of red chile flakes, if you like.
Raw kale tip: I wash mine in warm water to help it begin to soften.
Recipe by
Love and Lemons
at https://www.loveandlemons.com/kale-apple-butternut-salad/