Butternut Squash Noodle Pasta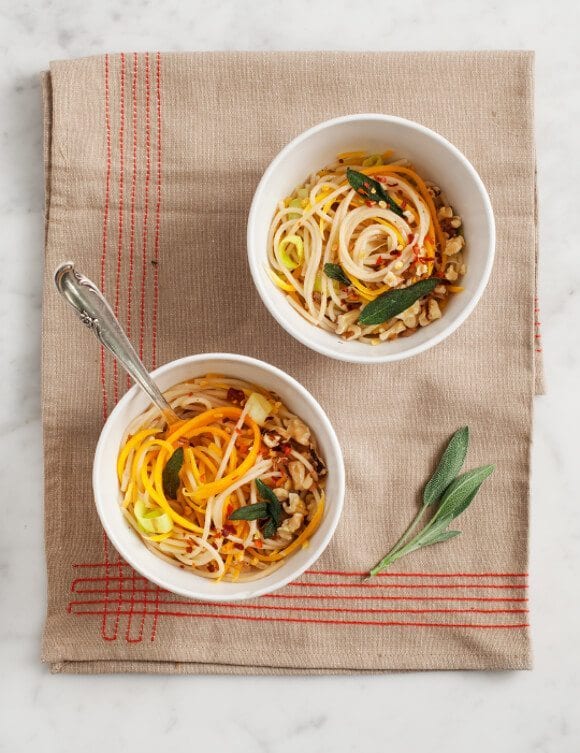 10 sage leaves
2 cups spiraled butternut squash (about ¼ of a large one)
1½ cups leeks, white and light green parts
4 ounces brown rice pasta
Canola, grapeseed or other high-heat oil
2 garlic cloves
Juice of 1 lemon
1 tablespoon butter (or vegan earth balance)
¼ cup walnuts, chopped and toasted
A few pinches of red chile flakes
Sea salt and fresh black pepper
Grated pecorino cheese, or crumbly cheese
Drizzle of balsamic or reduced balsamic
First, fry the sage. In a large skillet, add enough oil to well coat the bottom. Once the oil is hot and shimmering, test-fry 1 sage leaf. In a few seconds it should turn deeper green, remove and drain on a paper towel, it should become crispy as it dries. If it burns turn your heat down and test another. (I put 10 leaves in the recipe so you can mess up a few). Once your oil is at the right temp, fry them all. Drain and set aside. Turn off the heat and let the pan cool for a few minutes, then pour out excess oil, leaving just enough to continue to cook with.
Boil pasta in salty water for 8 minutes, or until al-dente. In the last 2 minutes, add the butternut squash spirals.
Meanwhile, turn your large skillet back up to medium heat. Add the leeks and a few pinches of salt & pepper. Cook until soft and translucent, then add the minced garlic. When your pasta & butternut noodles are ready, drain and add them to the skillet, reserving ¼ to ½ cup of the starchy pasta water for later.
Add a few squeezes of lemon, a pat of butter, and a few good pinches of salt, pepper, and red chile flakes. Toss everything together to coat. Add pasta water, ¼ cup at a time if necessary to loosen the pasta.
Once the butternut noodles are tender but still have a firm bite, turn the heat off (you don't want mushy butternut squash). Taste and adjust seasonings, then transfer the pasta to a serving platter or bowls.
Top with chopped walnuts and fried sage leaves.
Serve with grated pecorino and/or balsamic vinegar, if you like.
Recipe by
Love and Lemons
at https://www.loveandlemons.com/butternut-squash-noodles-pasta/