sweet potato, quinoa & cotija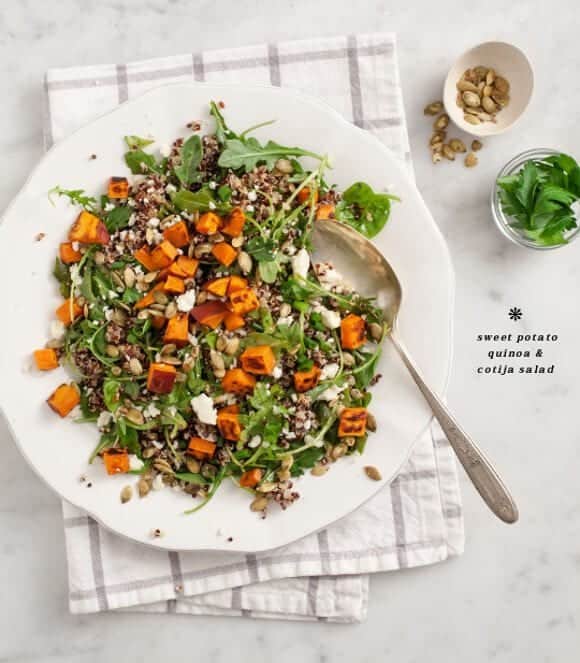 Serves:
serves 2, with some leftovers
1 cup cooked quinoa (1/2 cup uncooked)
1 medium sweet potato, cubed
olive oil, for roasting the potato
1 poblano pepper
¼ cup chopped scallions
¼ cup crumbled cotija cheese (omit if vegan)
a few big handfuls of arugula or baby salad greens
a few big pinches of salt
a handful of chopped cilantro
¼ cup raw pepitas
¼ c olive oil
2 tablespoons fresh lime juice (about 1 lime)
1 teaspoon cumin
1 teaspoon ancho or chipotle chile powder
a drizzle of honey or maple syrup
a pinch of salt & a few cracks of pepper
Preheat oven to 350 degrees. Spread sweet potato cubes on a baking sheet and lightly drizzle with olive oil and a few pinches of salt. Place the poblano pepper (whole) on the same baking sheet. Roast for 20 minutes, or until the sweet potatoes are golden brown, and the pepper's skin has started to blacken in spots.
Meanwhile, whisk all dressing ingredients together and set aside.
Toast your pepitas in a little skillet with a pinch of salt and set aside.
Remove the roasting sheet from the oven. When the poblano is cool to the touch, remove the ribbing and seeds and chop into ½ inch pieces. (or, optional: leave it in the oven until it's blistered so you can peel the skin before you chop it).
Toss everything together with half the dressing. Taste and add more dressing and a few pinches of salt, if necessary.
Garnish with toasted pepitas and cilantro.
store leftovers in the fridge in an air tight container for up to 2 days.
Recipe by
Love and Lemons
at https://www.loveandlemons.com/sweet-potato-quinoa-cotija-salad/