sweet potato tahini crostini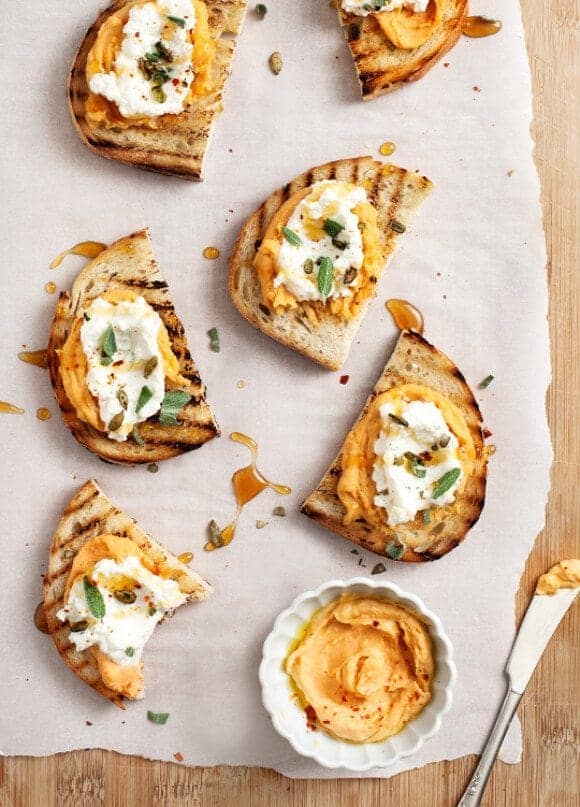 Serves:
serves 3-4 as an appetizer
½ cup cooked & mashed sweet potato
2-3 tablespoons tahini
2 tablespoons olive oil
¼ cup cooked chickpeas
½ clove garlic
1 tablespoon maple syrup
a squeeze of lemon
salt & pepper
8 half-pieces of bread, toasted or grilled
½ cup good quality ricotta and a squeeze of lemon
a few sage leaves, chopped (optional: fry them)
coarse salt
optional toppings: handful of toasted pepitas, drizzle of honey or olive oil, sprinkle of red chile flakes
In a small food processor, blend together the ingredients for the sweet potato spread.Taste and adjust seasonings.
Top grilled bread with a bit of the spread, a dollop of ricotta, chopped sage, a drizzle of honey, and a few pinches of coarse salt.
Feel free to play with different spice/herb variations: Cayenne, cumin, and/or dried coriander would be nice mixed into the spread. Or switch out the sage with rosemary or thyme... whatever you like. I think a bit of toasted sesame oil would pair nicely with the tahini (although I wouldn't pair that with ricotta).

vegan option: skip the ricotta and add more chickpeas to the spread to make it a bit lighter, if necessary.
Recipe by
Love and Lemons
at https://www.loveandlemons.com/sweet-potato-tahini-crostini/