Beet, Avocado & Grapefruit Salad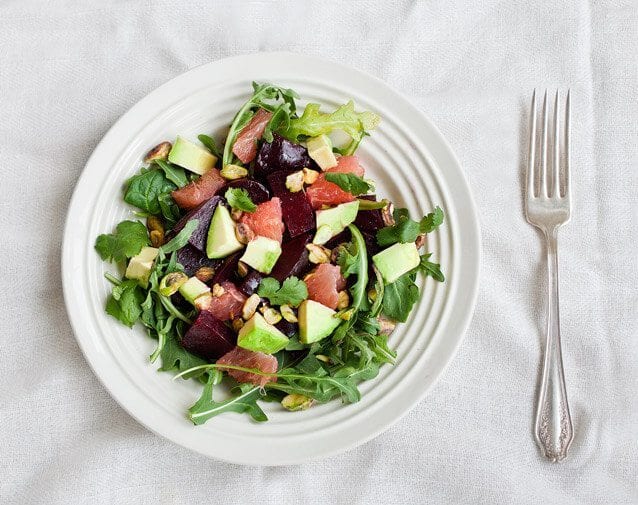 4-6 red beets
1 avocado, cubed
1 grapefruit
Handful of pistachios, toasted
Salad greens of your choice, a few handfuls per plate
Drizzle of olive oil
Pinches of salt
Goat cheese (optional)
Wash beets (you don't need to peel them yet), drizzle with a little olive oil, wrap in foil and roast in a 400-degree oven for 35-60 minutes. Remove them from the oven when they're fork tender.
Once your beets are cool to the touch, peel them (the skin should slide off easily using your fingers) and slice into 1-inch wedges. Sprinkle with a few pinches of salt and set aside.
Slice out the segments of your grapefruit, reserving some of the juice to drizzle over the salad at the end. Chop avocado into cubes and toast and salt the pistachios.
Assemble the salad with the greens, beets, grapefruit segments, avocado, pistachios, and goat cheese, if using. Drizzle with a bit of olive oil and some of the reserved grapefruit juice. Add salt and pepper to taste.
Recipe by
Love and Lemons
at https://www.loveandlemons.com/red-beets-avocado-grapefruit-pistachios/