Refresh your recipe rotation with these easy weeknight dinners! They include pastas, tacos, soups, and more. The whole family will love them!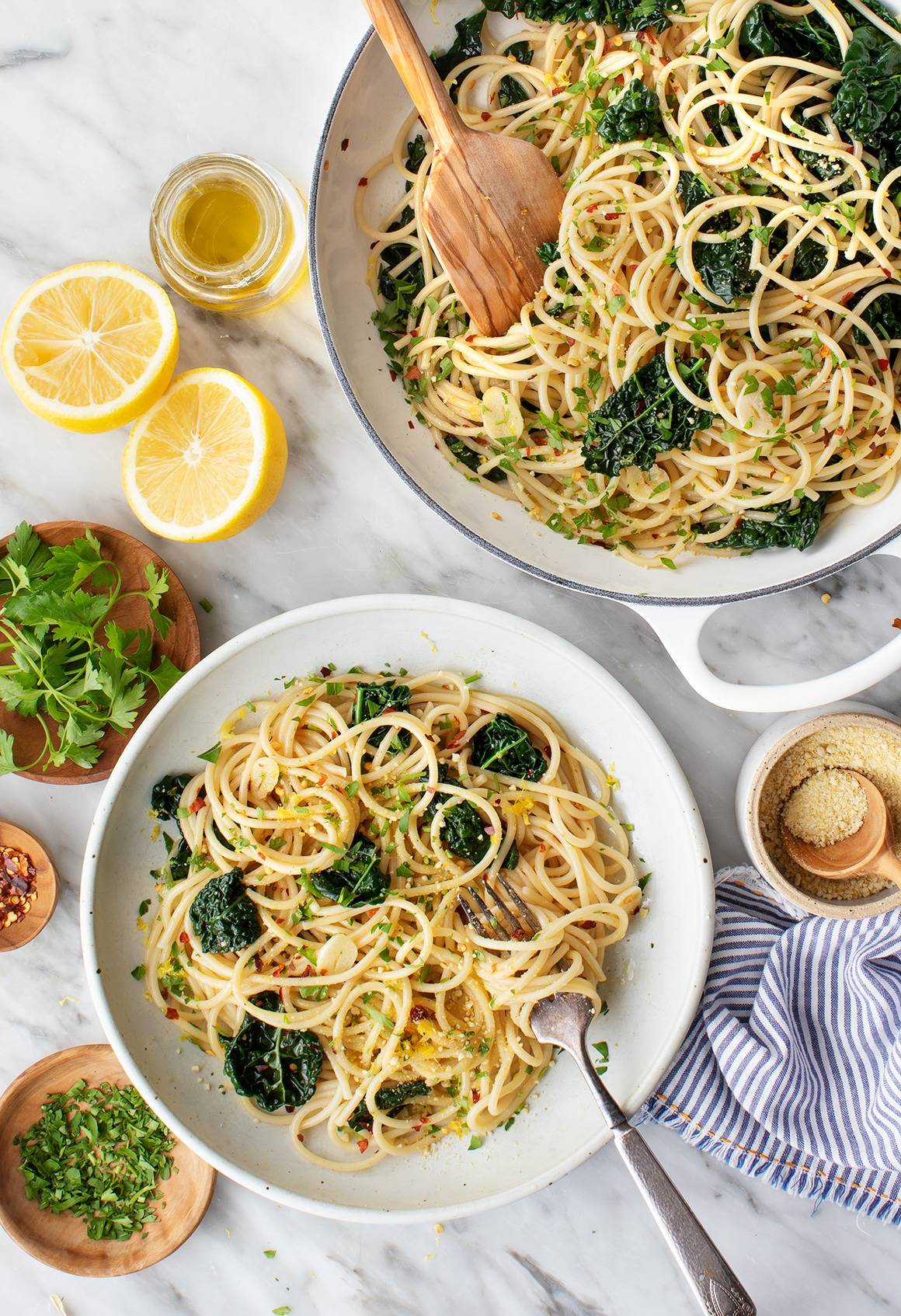 Each year, when winter starts to melt into spring, I refresh my rotation of easy weeknight dinners. The weather begins to change, and so do my cravings. On some days, I'm still in the mood for the cozy comfort food of winter – hearty pastas, soups, and stews – but on others, I'm hungry for weeknight dinners that are lighter and brighter.
This year especially, I'm ready for a change. I don't know about you, but I feel like I have cooked more in the last 12 months than I ever thought possible. Right now, weeknight dinners that are quick and easy, healthy, and delicious are worth their weight in gold. Bonus points if I haven't already been eating them on repeat…
In case you're feeling the same way, I'm sharing 40 of my best weeknight dinner recipes today. They're all fresh and flavorful, simple and nourishing, and quick enough to throw together on any night of the week. They include pastas, soups, noodles, veggie burgers, and more. Whether you're cooking for kids, a partner, or just you, you're bound to find something that hits the spot.
Pasta Easy Weeknight Dinners
Oh, pasta. You cook up in minutes, and you're versatile, satisfying, and just plain yummy. When I want to make a weeknight meal that's fast and flavorful, you never disappoint.
Spaghetti Aglio e Olio
Make this 10-ingredient recipe in 20 minutes flat! Top it off with a shower of Parmesan cheese, or, for a vegan version, finish it with vegan Parm instead.
Easy Baked Ziti
When I'm in the mood for lasagna but not in the mood for making lasagna, I turn to this Easy Baked Ziti. It's super comforting, but still fresh, thanks to lots of sautéed spinach and dollops of lemony ricotta.
Fettuccine Alfredo
Cauliflower gives this luscious Alfredo sauce its silky texture, but you'd never guess it from the taste. It's just as nutty, creamy, and rich as the classic kind. (P.S. If you don't do dairy, this vegan version is equally good.)
Vegan Mac and Cheese
Kids love it, adults love it, and no one suspects that it's vegan. But if cheese is what you have on hand, you can't go wrong with classic mac on a weeknight, either.
Tagliatelle with Asparagus and Peas
Crisp-tender asparagus and fresh herbs brighten this simple pasta dish. On a cool spring night, there's nothing I crave more.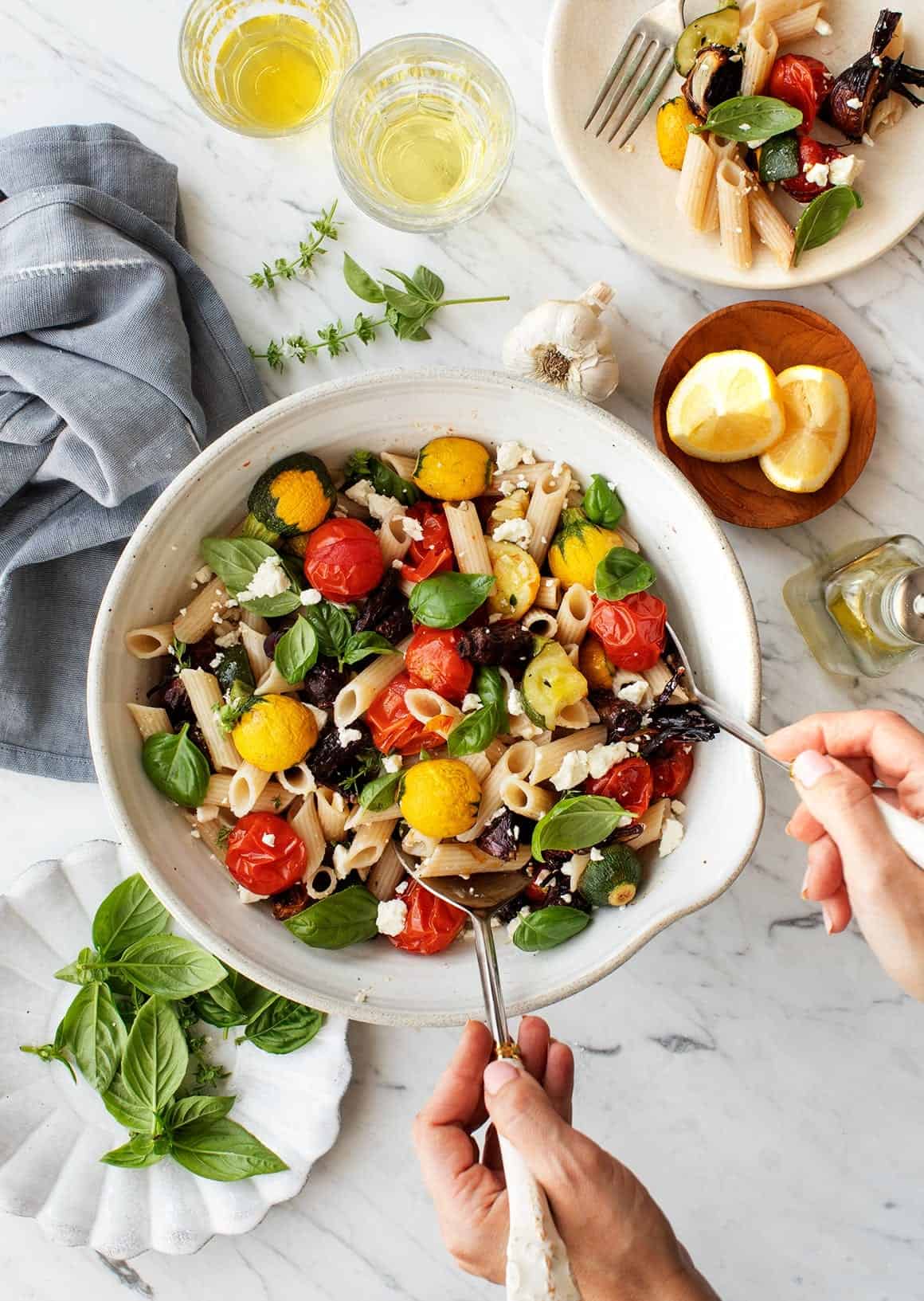 Roasted Vegetable Pasta
Weeknight dinners don't get easier than this! Roast whatever veggies you have on hand, and toss them with pasta, feta, fresh herbs, and a zingy dressing. Too hot to turn the oven on? Grill the veggies instead.
Easy Pesto Pasta
Tip: freeze homemade pesto so that you'll have it on hand for whenever a weeknight pasta craving strikes.
Creamy Vegan Pasta
Here, I blend white beans into a bright and creamy vegan pasta sauce. They give it an irresistible texture, and they add plenty of protein, too!
Rice and Noodle-Based Weeknight Dinners
Like pasta, rice and noodles cook quickly and pair well with a wide range of vegetables, so they're perfect for easy weeknight dinners.
Sesame Soba Noodles
This recipe is one of my all-time favorites on the blog. Creamy avocado contrasts with crisp veggies and gooey soba noodles, and a nutty sesame dressing ties it all together.
Crispy Sesame Tofu
In this protein-rich vegetarian main dish, black and white sesame seeds create a crisp crust for slabs of marinated tofu. Round out the meal with steamed snap peas and a side of cilantro lime rice.
Cashew Broccoli Soba Noodles
I developed this recipe with weeknights in mind. Cook the noodles, steam the broccoli, and stir together the creamy cashew sauce. Dinner will be ready in no time!
Turmeric Cauliflower Fried Rice
Ok, ok. There's no actual rice in this grain-free recipe. Instead, it has a base of turmeric-spiced cauliflower rice that's bulked up with chickpeas, toasted cashews, and a cardamom-lime yogurt sauce.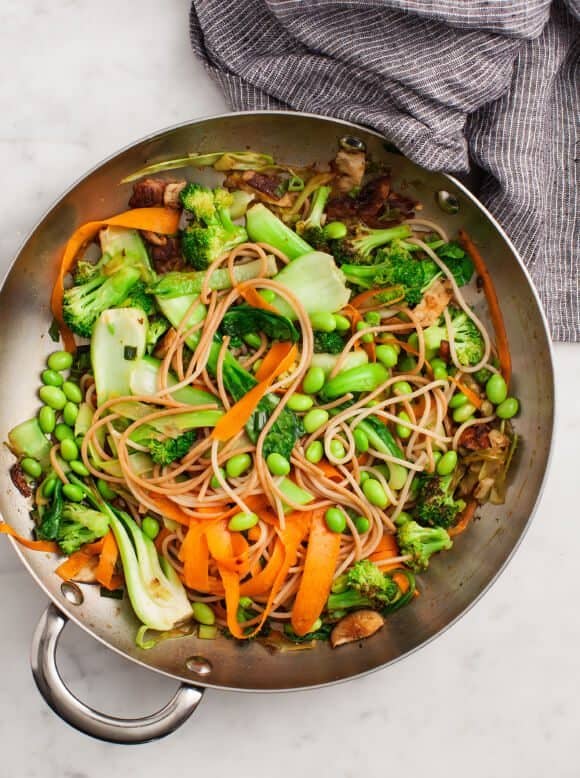 Bok Choy Stir Fry
If you're someone who likes to have a side of noodles with your veggies (rather than a side of veggies with your noodles), this recipe is for you. It's bursting with colorful produce like bok choy, broccoli, carrots, and shiitake mushrooms.
Sesame Noodle Bowl
Juicy orange segments add a touch of sweetness to this nourishing noodle bowl. I like to top it with baked tofu for protein, but you could add tempeh, edamame, or any other protein you like!
All About the Eggs
Eggs aren't just for breakfast! Rich in protein and healthy fats, they're a great starting point for a fast, nutritious dinner.
Frittata
A frittata is the ultimate clean-out-the-fridge dinner. I list five veggie variations in my recipe, but really, you can make one with whatever you have on hand. Add sautéed greens, leftover roasted vegetables, fresh herbs, or cheese. The whole thing will be ready in under 30 minutes. Just add avocado toast or crusty bread to make it a meal.
Best Shakshuka
Admittedly, shakshuka is a Middle Eastern breakfast food, but I often make it for an easy weeknight dinner. In my recipe, poached eggs nestle into a red pepper and tomato sauce that's flecked with spinach and seasoned with harissa. Scoop it all up with fresh pita or good crusty bread.
Okonomiyaki
Great toppings are the secret to great okonomiyaki! Before you eat, pile these savory Japanese pancakes with pickled ginger, nori, a big squirt of mayo, and a drizzle of vegan Worcestershire sauce.
Mexican-Inspired Easy Weeknight Dinners
I always have a stash of tortillas in my freezer and a can of black beans in my pantry. That way, I can make a Mexican-inspired dinner like tacos or quesadillas any night of the week!
Avocado Sweet Potato Tacos
You don't need pickled red onions to make these tacos (they get plenty of flavor from the zesty avocado lime sauce and chili-spiced sweet potatoes!), but I encourage you to add them. Sweet and tangy, they take this recipe to a whole new level.
Vegan Tacos
Jerk-spiced jackfruit acts as the "meat" in these fun, refreshing vegan tacos. For a delectable sweet and spicy contrast, top them off with a scoop of mango salsa.
Vegan Quesadillas
Vegan or not, a quesadilla is one of the quickest dinner ideas out there. In this recipe, I make a yummy veggie filling with roasted sweet potatoes, black beans, and poblano peppers. Melty vegan cheese seals the quesadilla together, but you could just as easily use regular cheese if you prefer.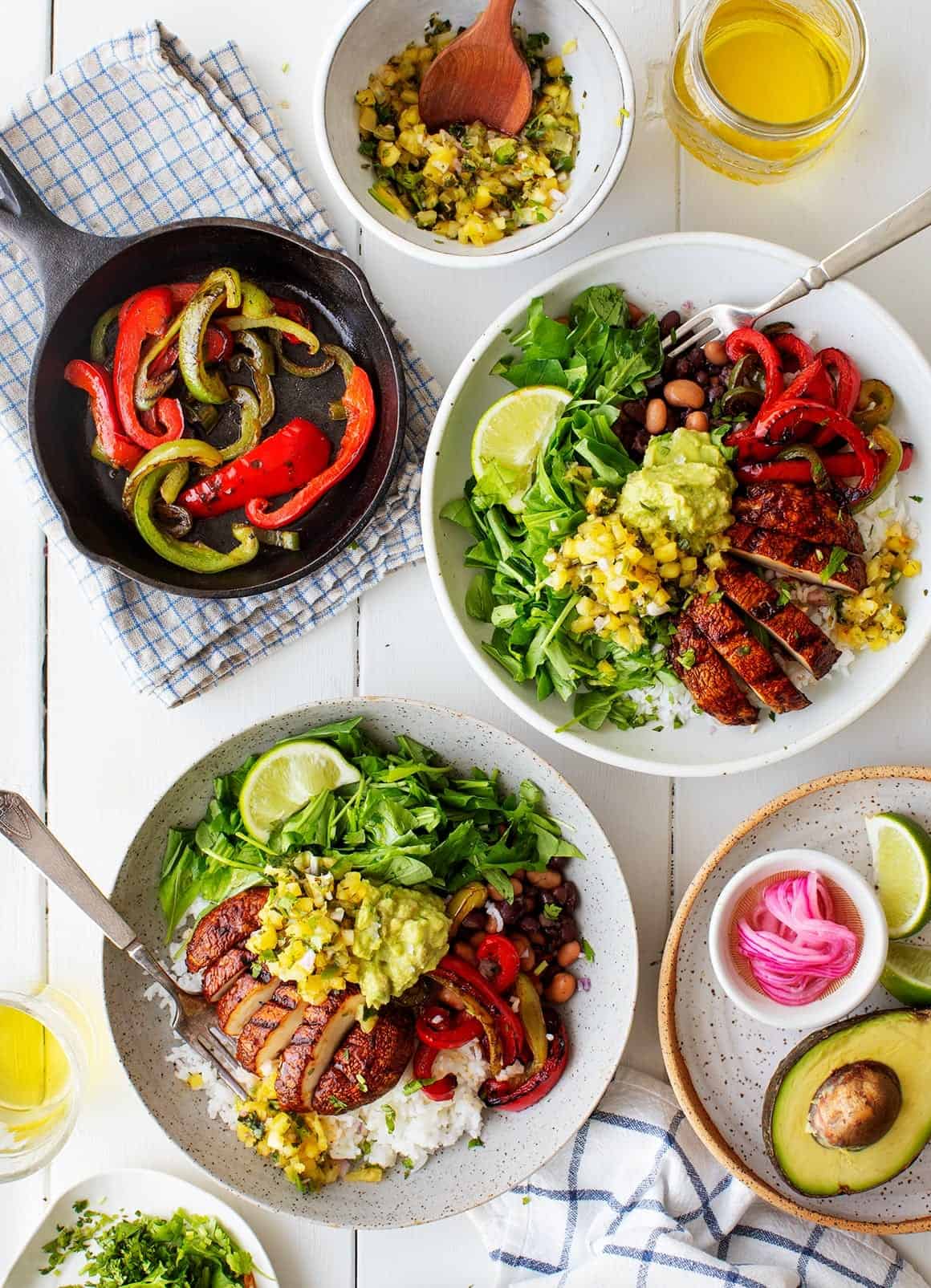 Vegan Burrito Bowl
Pineapple salsa, guacamole, and fajita veggies, oh my! This sweet and spicy bowl already has a short cooking time, but for even faster assembly, you can make the salsa a day or two in advance.
Soups, Stews, and Curries
Nothing beats cozying up with a hot bowl of soup on a chilly weeknight. If you have any leftovers, you're in luck. Save them for lunch the next day, or freeze them for an easy dinner on another night!
Easy Coconut Curry
Out of all the easy recipes in this post, this coconut curry might be the one I make most often. I love throwing it together on busy weeknights, using whatever veggies I have on hand in the fridge. For a heartier variation, stir in cooked chickpeas, tofu, or another protein of your choice.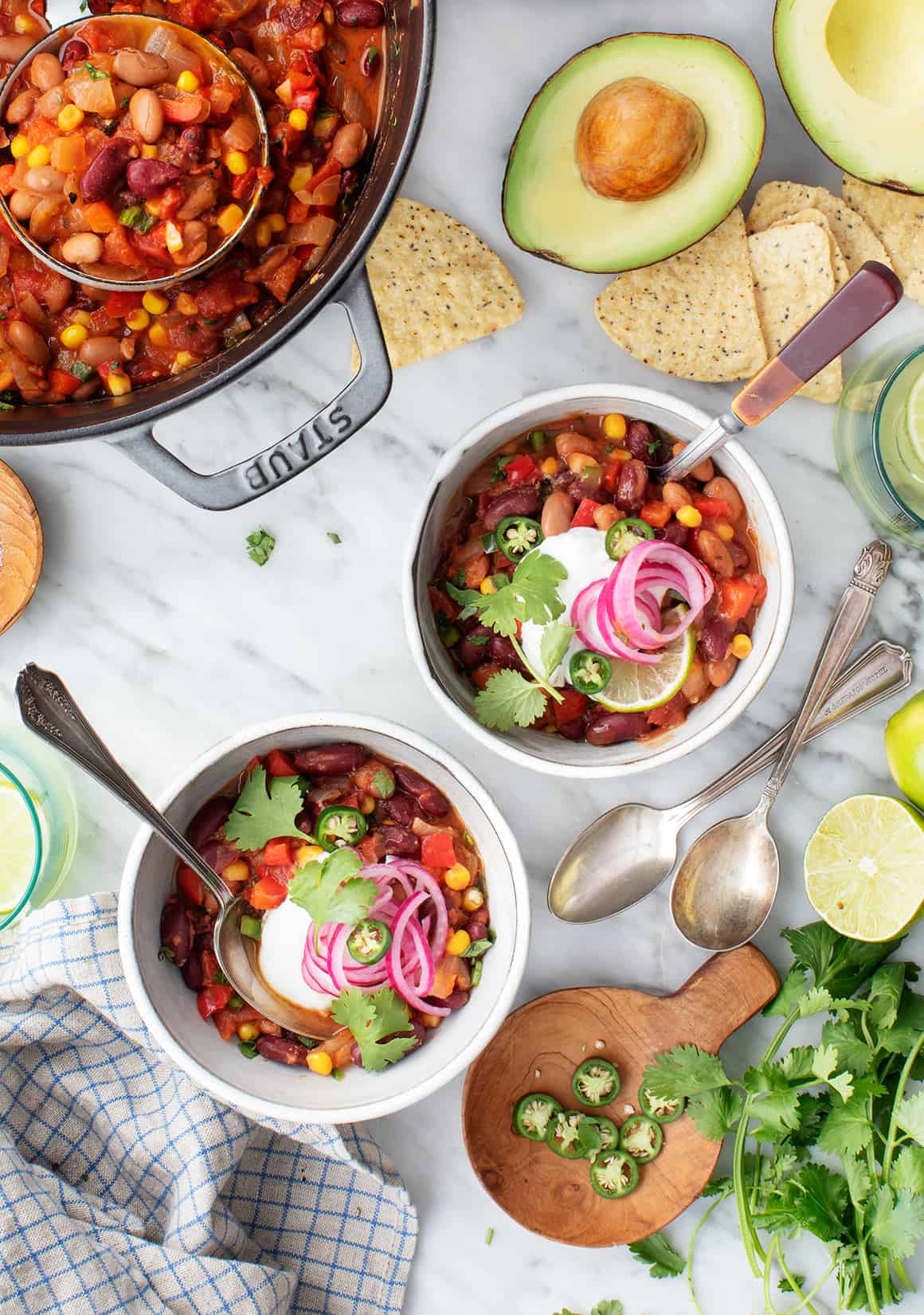 Easy Vegetarian Chili
Serve it with tortilla chips or homemade cornbread for a pitch-perfect weeknight dinner.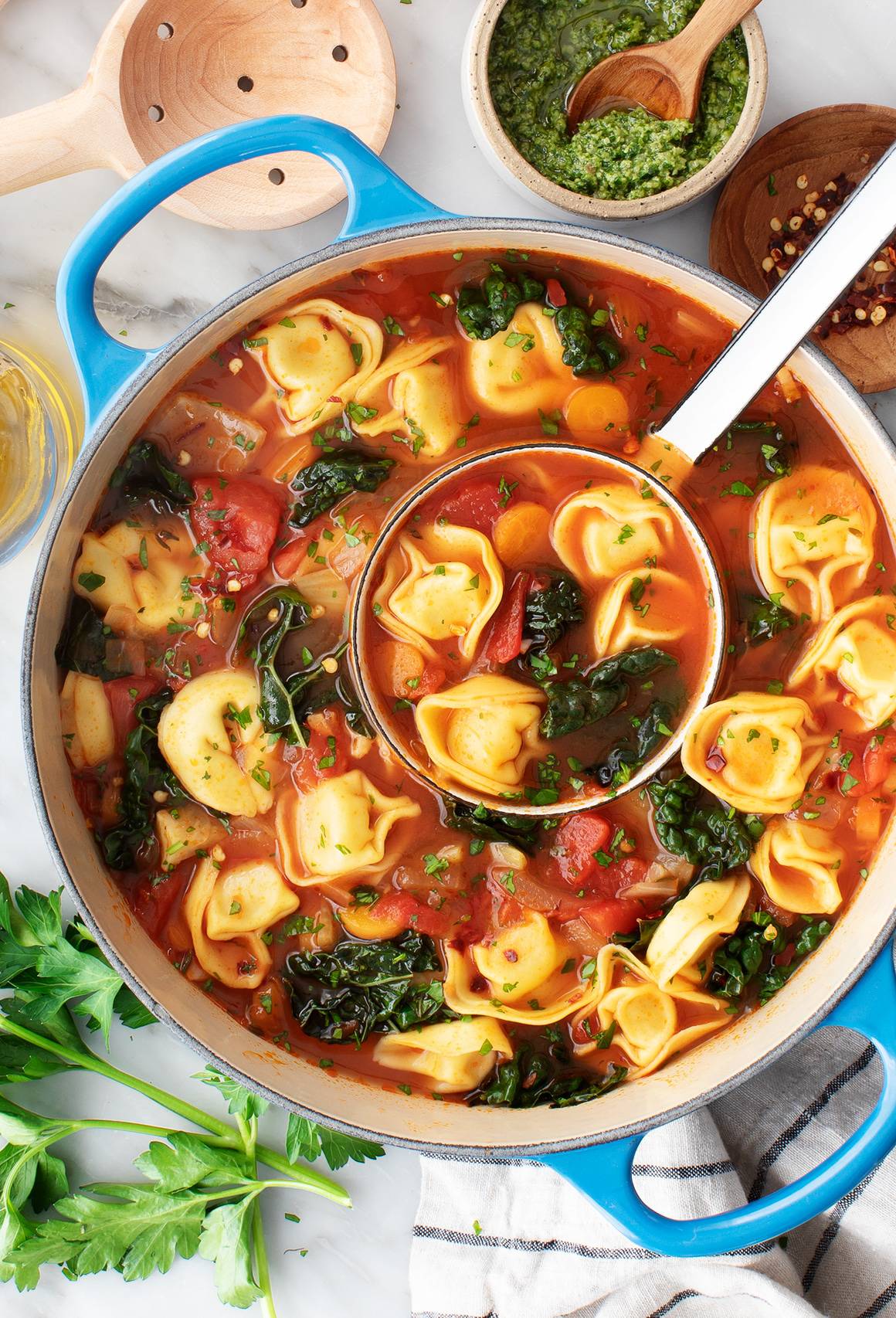 Tortellini Soup
This tortellini soup recipe is what weeknight dreams are made on. Chewy, cheesy tortellini and tender vegetables fill an aromatic broth. Add a scoop of kale pesto to take the whole thing over the top.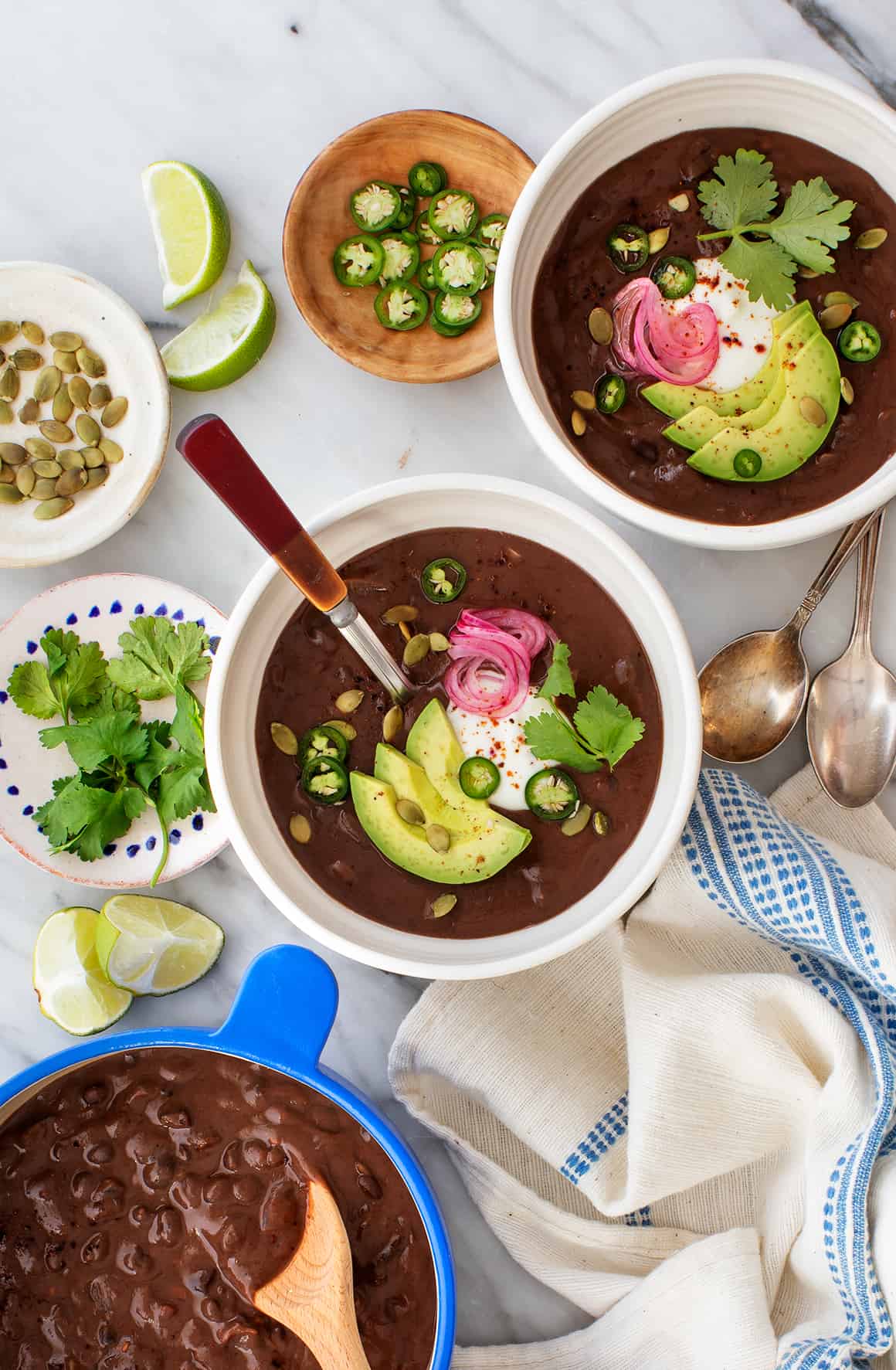 Black Bean Soup
This recipe calls for just 10 ingredients. If I had to bet, I'd wager that you have all of them in your pantry already.
Best Lentil Soup
This lentil soup is one of our favorites, and it's a reader favorite, too! Curry spices, ginger, and fire-roasted tomatoes fill it with bold flavor.
Stuffed Veggies and Baked Potatoes
When I'm not sure what to cook for dinner, I start by taking stock of what vegetables I have on hand. If I'm lucky, I'll find something like bell peppers, sweet potatoes, or zucchini – a veggie that I can load up with a hearty filling and enjoy as a meal on its own.
Stuffed Sweet Potatoes
A cozy baked sweet potato filled with veggies, herbs, and spices is my ideal easy weeknight dinner. Prep the filling while the potato bakes, or, to get ahead, cook the potato a day in advance. That way, you can assemble your stuffed sweet potato in minutes!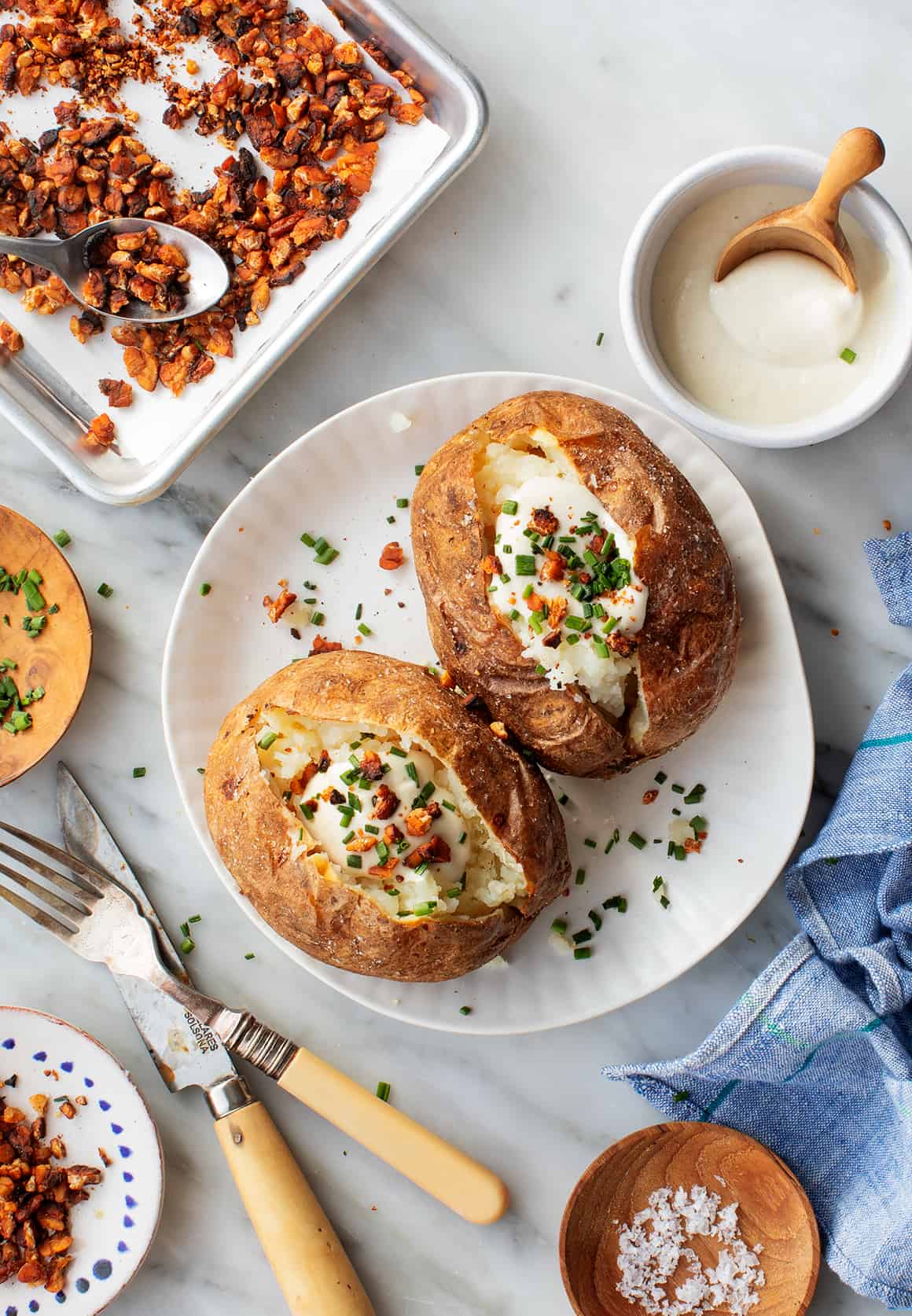 Perfect Baked Potato
Full disclosure: a perfect baked potato takes an hour to cook. However, I still count it as weeknight-friendly. The process is entirely hands-off, so you can pop it in the oven, sit back, and relax! When your potato is tender, load it up with whatever you like. I highly recommend my tempeh bacon bits and cashew sour cream.
Stuffed Zucchini Boats
Make this recipe when your garden is overflowing with zucchini, or whenever you're craving something light, fresh, and bright. It's surprisingly quick to make – you can have it on the table in under 30 minutes.
Stuffed Peppers
A spiced-up mix of cilantro lime rice, fresh corn, and black beans fills these easy stuffed peppers. Bake them with white cheddar cheese on top, or, for a vegan variation, top them with a scoop of guacamole.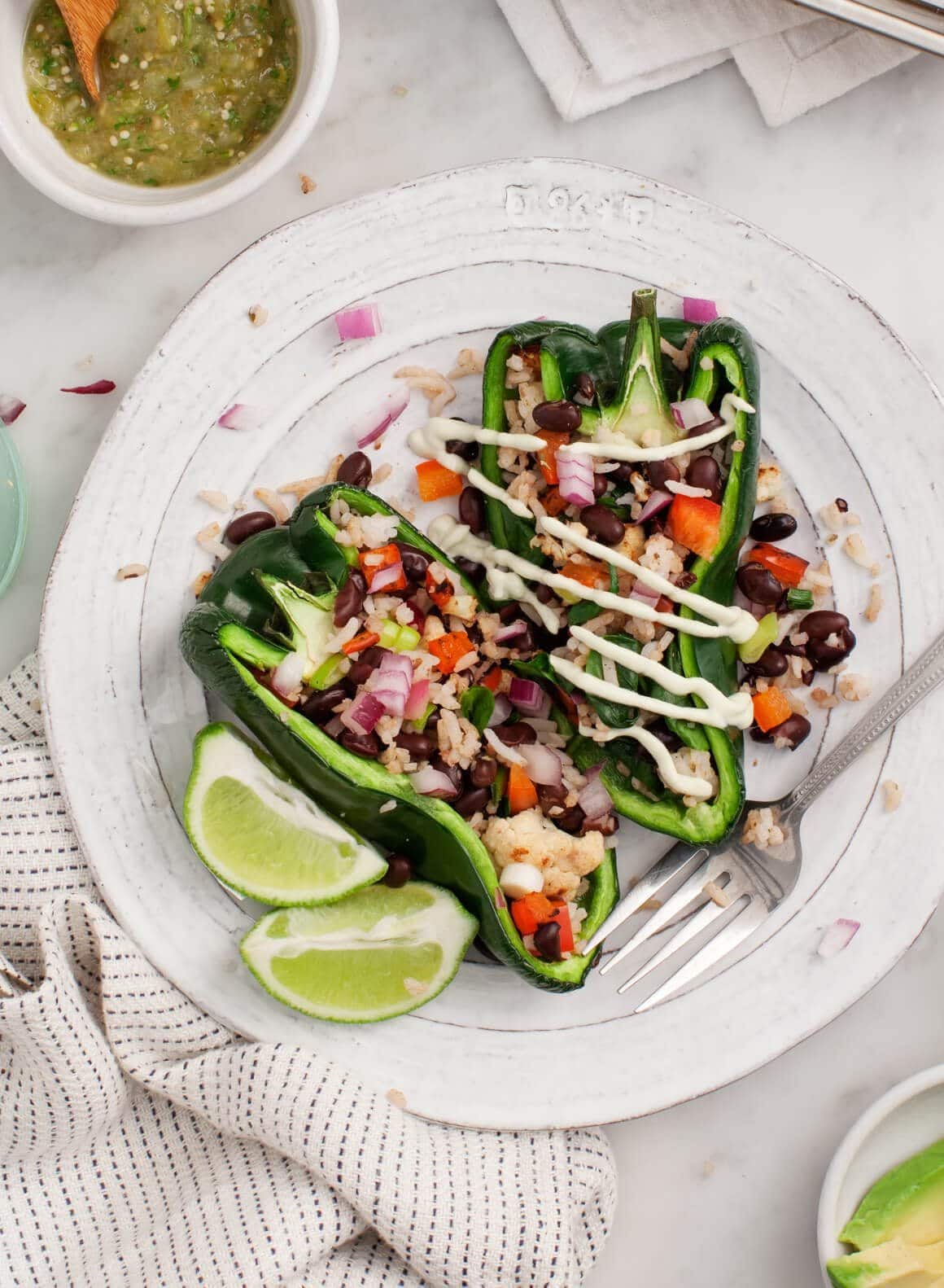 Stuffed Poblano Peppers
The secret ingredient in this recipe? Tomatillo salsa! It's a quick and easy way to add zesty flavor to the rice, black bean, and veggie filling.
Sandwich and Burger Weeknight Dinner Ideas
Sometimes, good bread and fun fixings are all it takes to make a delicious weeknight dinner.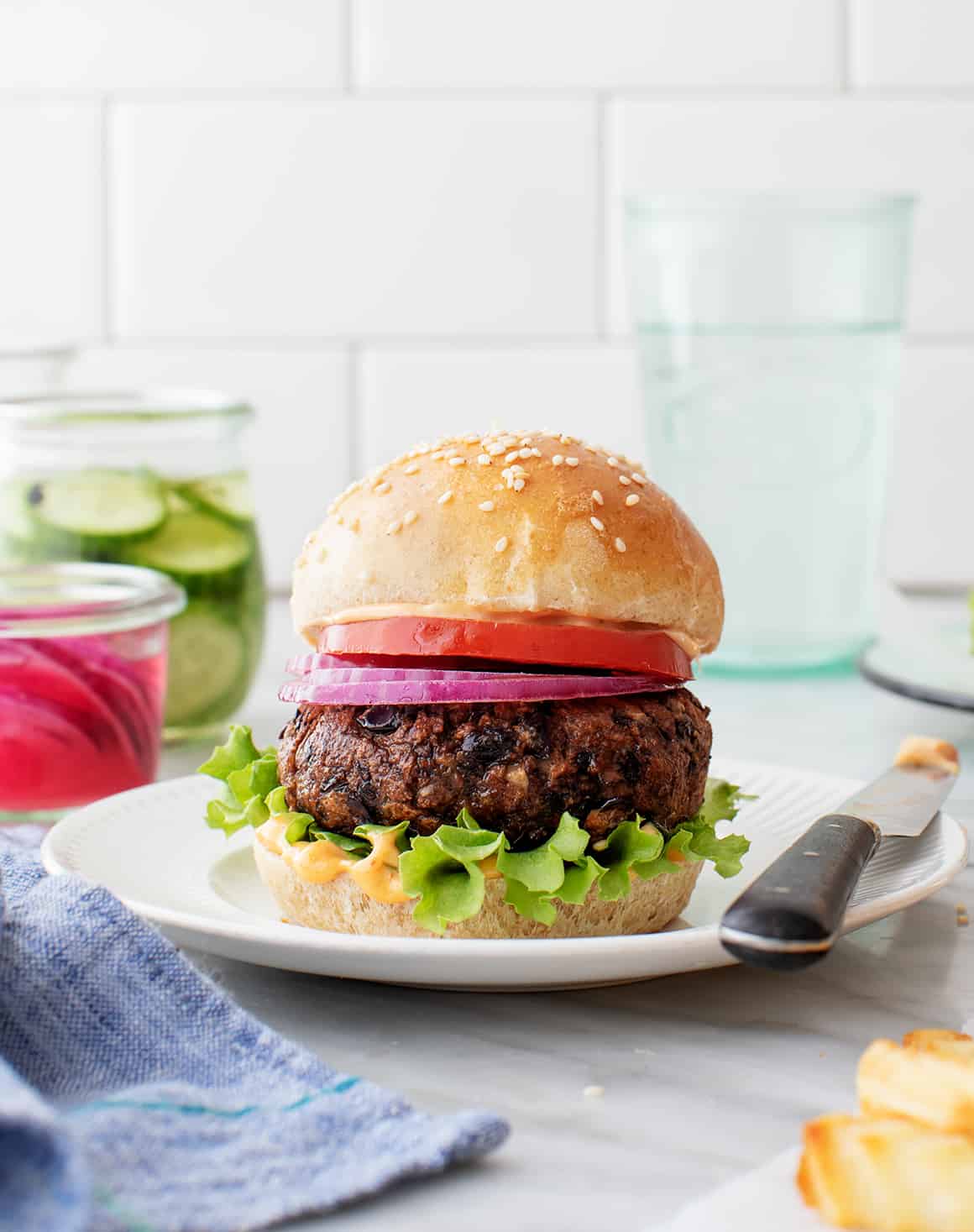 Easy Black Bean Burger
A homemade veggie burger that comes together in under 30 minutes?! I kid you not. This Black Bean Burger is smoky, savory, and SO darn easy to make. Serve it on a toasted bun with a slather of chipotle sauce and whatever fixings you like.
Portobello Mushroom Burger
No measurements in this recipe = no measuring spoons to wash after you make it! I love to char these plant-based burgers on an outdoor grill in the summer, but they cook up nicely on a grill pan, too.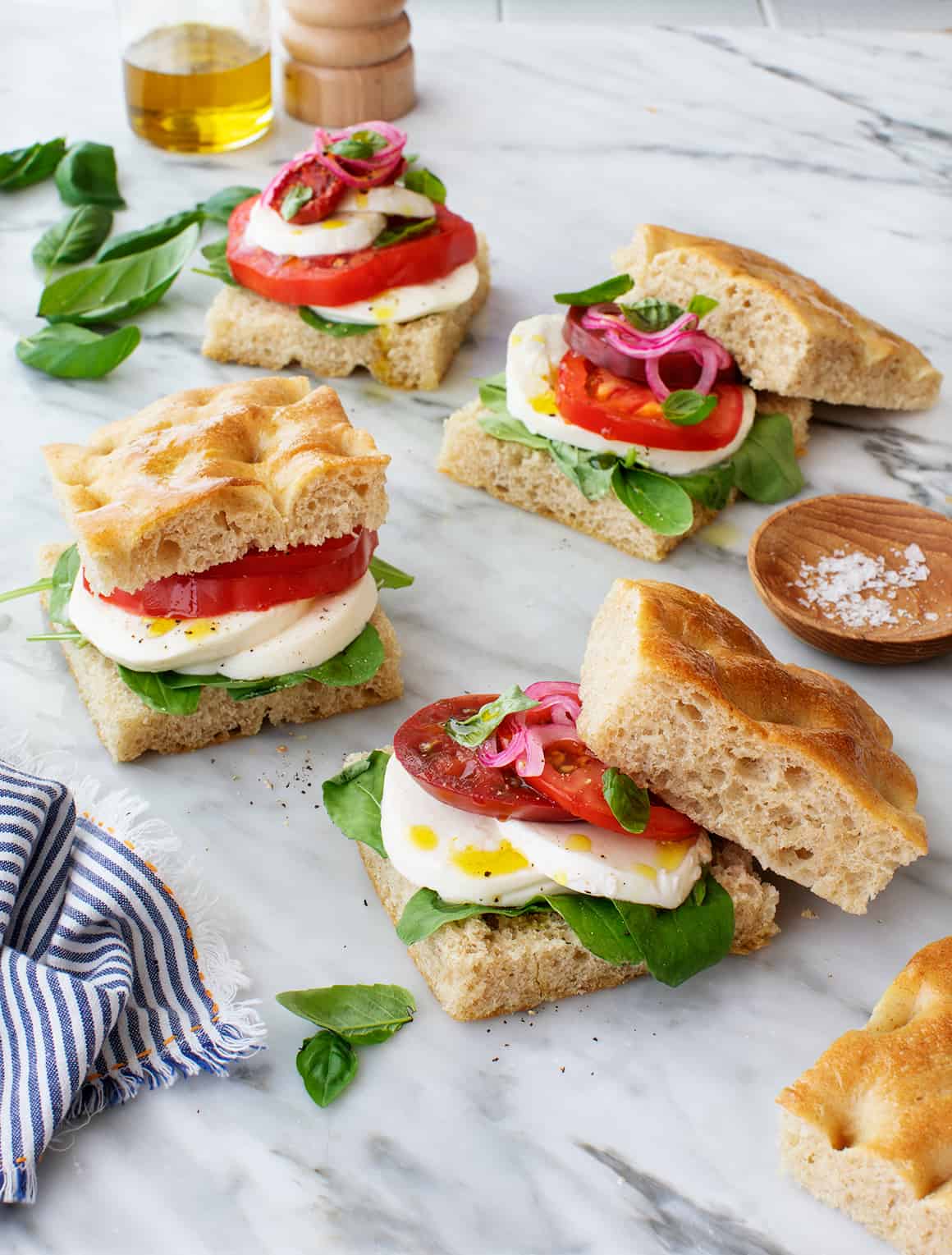 Caprese Sandwich
The combination of juicy tomatoes, fresh basil, and creamy mozzarella simply can't be beat. Sandwich them between slices of chewy focaccia with a handful of arugula for extra green.
Gourmet Grilled Cheese
I dress mine up with green harissa and fresh spinach, but you can take a grilled cheese sandwich in any direction you'd like. Experiment with different cheeses, or add other veggies, like caramelized onions, roasted red peppers, broccoli, or tomatoes. Feel free to skip the sauce, or use a slather of pesto instead of the harissa.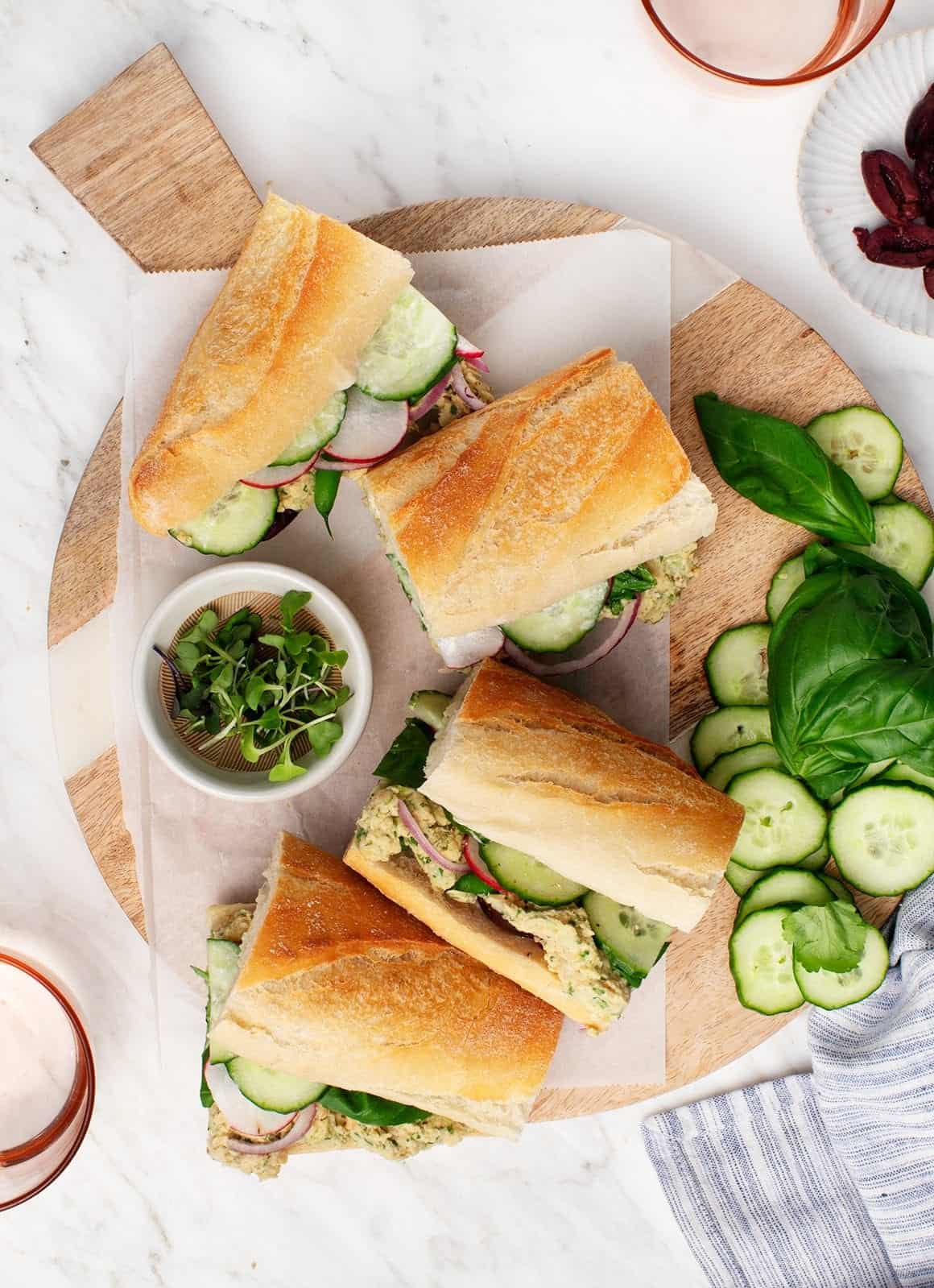 Chickpea Salad Sandwich
My vegan spin on a pan bagnat, this bright and briny sandwich is perfect for nights when you just don't feel like cooking. Whizz together the chickpea "tuna" salad filling, and top it with olives, blanched green beans, crisp veggies, and fresh basil.
More Easy Weeknight Dinners
These easy recipes don't fit into any category of weeknight dinners, but I still wanted to include them here. Fast, healthy, and delicious, they're all worthy of a spot in your regular rotation.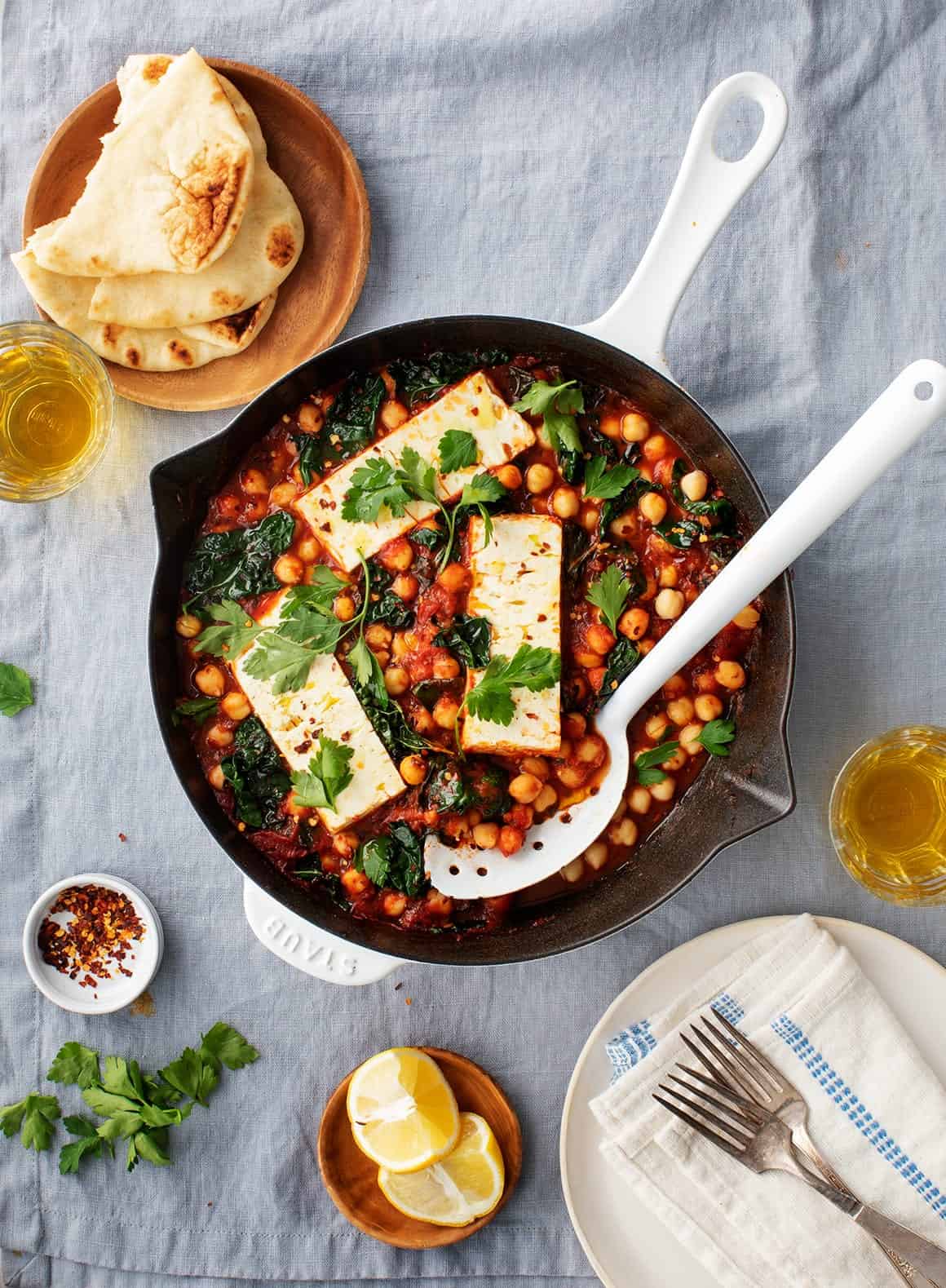 Baked Feta
Cumin seeds add surprising, aromatic flavor to this comforting mix of chickpeas, marinara sauce, and melty feta cheese.
Niçoise Salad
If I could get away with it, I'd eat a Niçoise salad for dinner every night! To make this recipe especially quick to assemble, cook the hard-boiled eggs in advance. Unpeeled, they'll keep in the fridge for several days.
Creamy Mushroom Polenta
Healthy comfort food at its best! Savory sautéed mushrooms and zingy chimichurri top a bed of creamy polenta. For additional protein, garnish your bowl with a handful of roasted chickpeas.
Cast Iron Skillet Pizza
If you use store bought dough (or keep a stash of homemade dough in the freezer!), homemade pizza is an unbeatable kid-friendly weeknight dinner. Here, I cook it in a cast iron skillet to make a thick, crispy crust, but feel free to use a regular pizza pan if you prefer. As far as the toppings go, I encourage you to get creative! If you need a little inspiration, find my favorites here and here.
Easy Weeknight Dinners: Spaghetti Aglio e Olio
This Spaghetti Aglio e Olio comes together in minutes, make it one of our favorite easy weeknight dinners!
Instructions
Prepare the pasta according to the package directions, in a pot of salted boiling water, until al dente. Reserve 1 cup of the pasta cooking water before draining the pasta.

Heat the oil in a large skillet over medium heat. Add the garlic and red pepper flakes. Stir and cook 30 seconds to 1 minute, until the garlic is lightly browned around the edges. Add the kale, salt, and several grinds of pepper and cook, tossing with tongs, until the kale is wilted, up to 1 minute.

Add the spaghetti and toss to combine. Add ½ cup pasta water, lemon juice, lemon zest, and toss. If the pasta is seeming too dry, add the remaining ½ cup pasta water to create a light sauce.

Season to taste. Garnish with parsley and serve with Parmesan or vegan Parmesan.