These easy summer desserts include fruit crisps, frozen treats, no-bake recipes, and more! No matter what you're craving, you'll find one you love.
Does anyone else have a weakness for summer desserts? I definitely do. It's funny, because for most of the year, I don't think of myself as much of a dessert person. I might reach for a slice of banana bread at breakfast or crave a cookie in the afternoon, but by the evening, I'm rarely in the mood for something sweet.
But all that changes in the summer. I'll never turn down a bubbly fruit crumble topped with vanilla ice cream, brownies at a picnic, or a scoop of sorbet on a hot day. These summer desserts make the season more fun, more whimsical, and all around more delicious. Who could pass them up?
You'll find 30 of my favorite easy summer desserts below. They include recipes that showcase seasonal fruits like berries, peaches, and cherries, sweets that pack up well for picnics and cookouts, and frozen treats to help you cool off on hot days. I'll be rotating through them all summer long. I hope you love them too!
Summer Desserts for Strawberry Season
Here in Chicago, strawberries hit their stride before most other summer fruits, in late May or June. As a result, the recipes below are some of the first summer desserts I make each year. Each one is simple, so it really showcases the sweet, juicy fruit.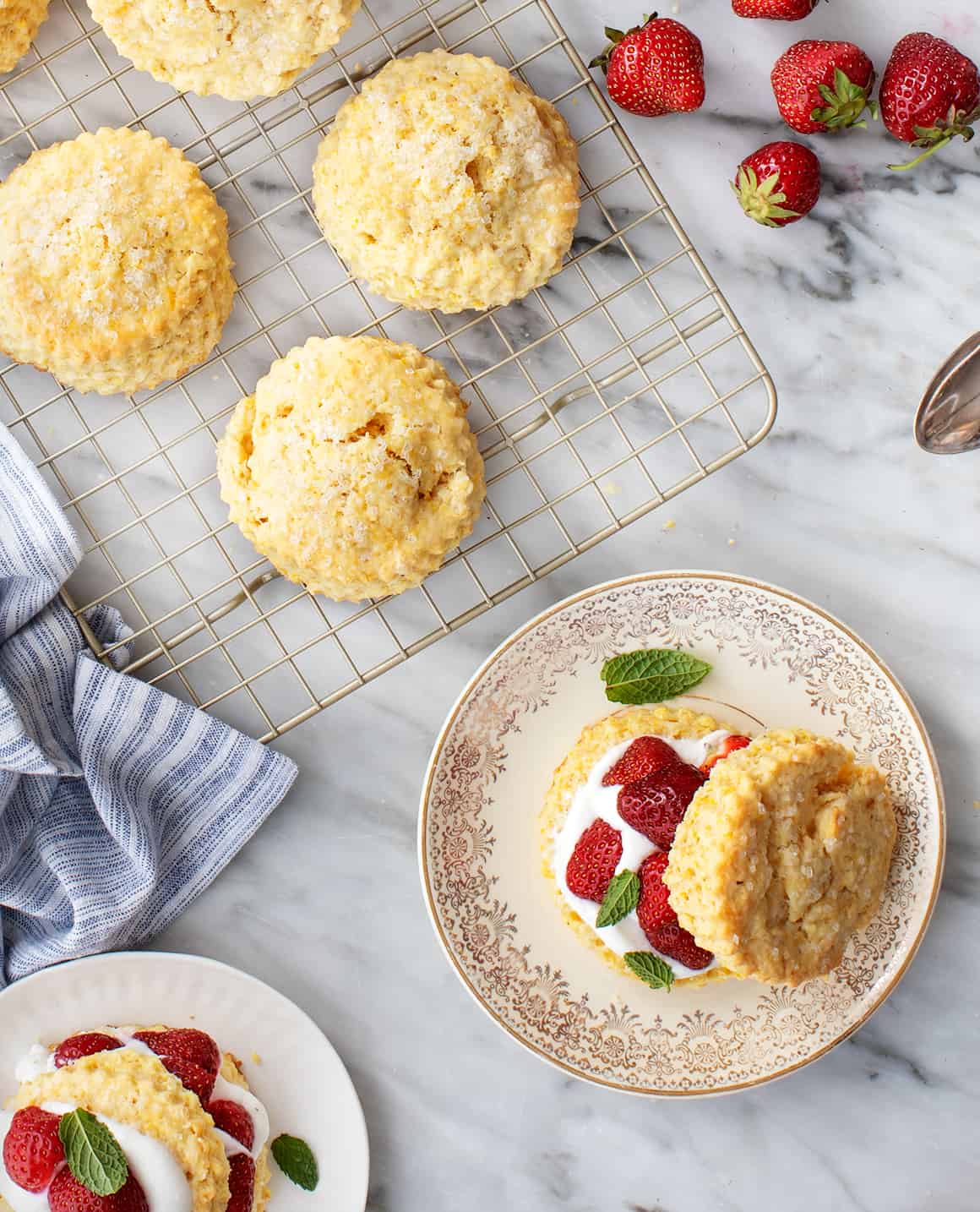 Strawberry Shortcake
A summer essential! Layer the lemon cornmeal biscuits with fresh berries and whatever creamy filling you like. Whipped cream, coconut cream, ice cream, and Greek yogurt are all excellent here.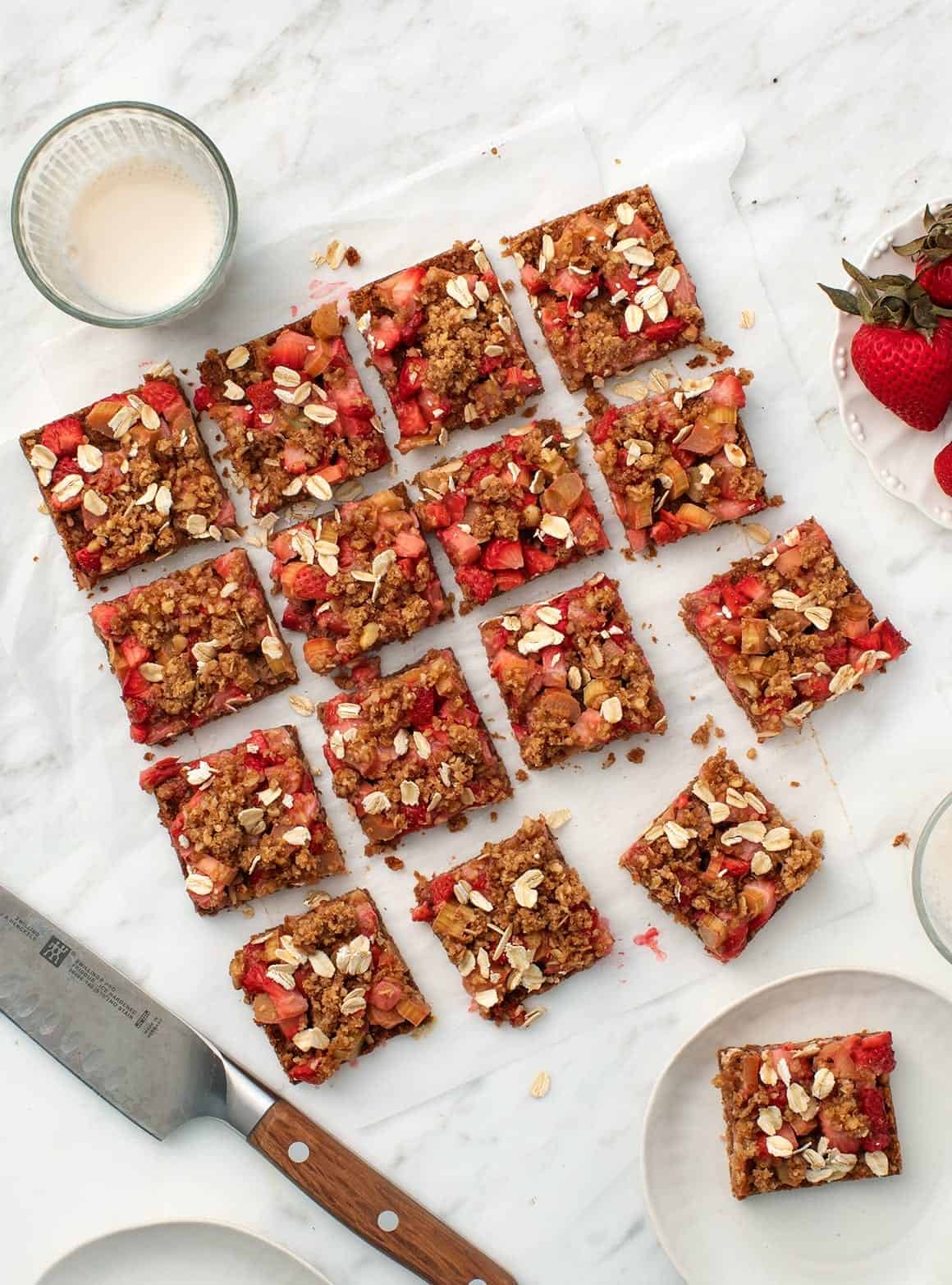 Strawberry Rhubarb Bars
Psst! These yummy crumble bars are totally vegan and gluten-free. I make the crust and crumble topping with a mixture of oats and almond flour and bind it all together with coconut oil instead of butter.
Strawberry Tart
This pretty tart is one of my favorite summer desserts for entertaining. To get ahead, bake off the crust up to a week in advance and store it in the fridge. When you're ready to eat, add the whipped coconut filling, top it off with fresh berries, and dig in!
Peachy Summer Dessert Recipes
If you've been reading the blog for a while, you know that there's nothing I love more than peak-season peaches. I'll never tire of eating them on their own, but I adore them in these fresh, easy summer desserts, too.
Easy Peach Cobbler
Cobbler recipes don't get simpler than this! The sweet, buttery topping calls for just 6 ingredients, and it comes together quickly in one bowl. Sprinkle it over the peaches and pop them in the oven, and you'll have a mouthwatering summer dessert on the table in no time.
Peach Crisp
Out of all the summer dessert recipes here, this crisp is the one I make most often. It's a breeze to put together, and I love how the sweet, juicy peaches contrast with the crisp, nutty topping.
Grilled Peaches
If you're firing up the grill to cook veggie burgers or corn on the cob, you might as well leave it on for dessert! Serve the sweet and smoky grilled peaches with a scoop of vanilla ice cream and cinnamon-spiced walnuts for crunch.
Easy Summer Desserts with Cherries
Got cherries? You're in luck. These fruity summer desserts are too good to miss.
Cherry Clafoutis
Make them with sweet cherries, tart cherries, or any summer fruit you like! This easy, flexible recipe would work nicely with strawberries, blueberries, raspberries, blackberries, peaches, plums…you get the idea.
Cherry Pie Chia Parfaits, page 257 of Love & Lemons Every Day
Homemade granola adds a delicious nutty crunch to these luxurious parfaits. Don't worry if you can't find fresh tart cherries. Thawed frozen ones work perfectly here too.
No-Bake Summer Desserts
When it's too hot to turn on the oven, these no-bake dessert recipes are the best way to satisfy your sweet tooth.
No Bake Cookies
These 7-ingredient, highly addictive cookies are chewy, fudgy, and filled with chocolate-peanut butter flavor.
Edible Cookie Dough
I love cookie dough even more than actual cookies (anyone else?), so I developed a vegan, gluten-free version that's totally safe to eat! You could portion it into balls and store it in the fridge, but grabbing a spoon and eating it out of the bowl works too. 🙂
Dark Chocolate Avocado Mousse, page 37 of The Love & Lemons Cookbook
Fresh raspberries balance the richness of this luxe chocolate mousse.
Peanut Butter Chocolate Chip Cookie Bars
Every time I think about these no-bake bars, my mouth starts watering. Even though they're made with wholesome ingredients, they taste rich and decadent, with a bold chocolate and butterscotch flavor.
Frozen Summer Desserts
These summer dessert recipes go way beyond ice cream (though you'll find that here, too). They include frosty pudding pops, cool cakes, sweet sorbets, and more.
Vegan Ice Cream
The first time I made this recipe, my jaw almost hit the floor. It was so. darn. GOOD! Made with just 3 ingredients, it's rich, creamy, nutty, and sweet. Try it once, and it'll have a permanent spot in your rotation of summer desserts.
Raspberry Vegan Cheesecake
How cute are these triple-layer cheesecake slices?! They have a date and walnut crust on the bottom, a creamy "cheesecake" layer in the middle, and a bright, refreshing raspberry stripe on top.
Blueberry, Mango & Mint Ice Cream, page 47 of The Love & Lemons Cookbook
Coconut milk adds richness to this fun and refreshing vegan ice cream.
Creamy Vegan Lemon Bars, page 247 of Love & Lemons Every Day
I could easily eat one (or two or three) of these bars every day in the summertime. The filling is creamy, cool, and bright – everything I crave on a hot day.
Chocolate Pudding Pops
These homemade pudding pops are just as rich and fudgy as store bought ones, but they're made with plant-based ingredients like almond milk, almond butter, and avocado.
Raspberry Basil Blender Sorbet, page 253 of Love & Lemons Every Day
On a hot summer day, this bright, aromatic sorbet is the perfect refreshing treat.
Quick Breads and Cakes
Serve these easy summer desserts for an after dinner treat, or enjoy them in the afternoon with a cup of coffee or tea.
Chocolate Zucchini Bread
Don't know what to do with all that zucchini? This recipe is here to help. Moist, rich, and deeply chocolatey, it's one of the best ways to eat your veggies.
Best Carrot Cake
Jack's a devout carrot cake lover, so this recipe is one of our go-to summer desserts. Slather the moist, warmly spiced cake with tangy cream cheese frosting to take it over the top.
Yogurt Pound Cake
Cardamom and lemon zest give this simple cake a lovely aromatic flavor. Serve it with a dollop of yogurt or coconut cream and your favorite fresh fruit.
Best Zucchini Bread
This recipe makes two loaves. If you can resist devouring them both right away, give one to a friend, or pop it in the freezer for an easy summer dessert on another day.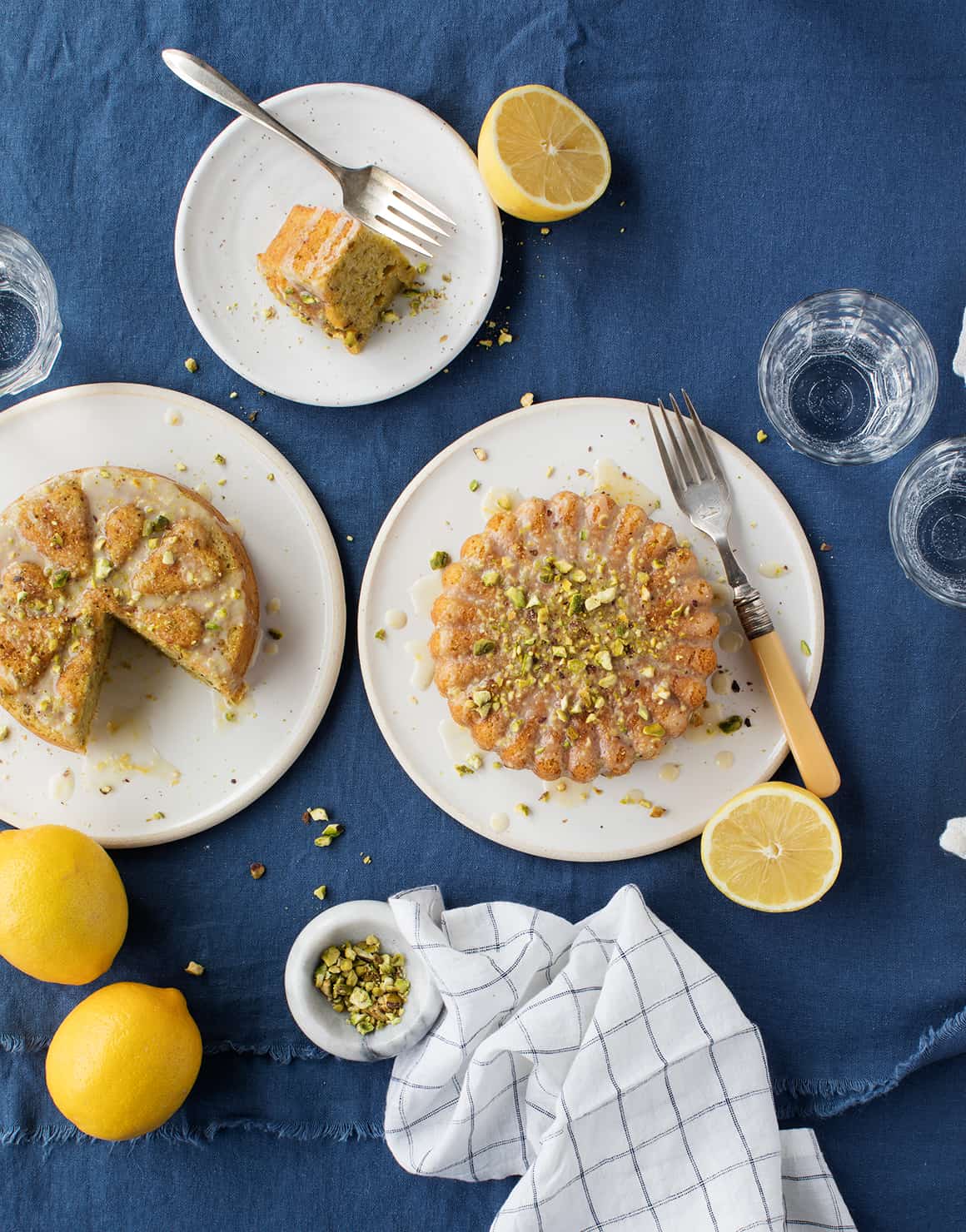 Lemon Olive Oil Pistachio Cake, page 243 of Love & Lemons Every Day
Does anyone else crave lemon desserts in the summertime? A zesty powdered sugar glaze makes this one especially bright and fresh.
Chocolate Zucchini Cake
Decorate this cake with silky matcha frosting, or enjoy it plain with a cold glass of your favorite milk.
Picnic-Perfect Summer Dessert Ideas
These summer desserts include cookies and brownies, treats that are perfect for making ahead of time and taking on-the-go. Bring a batch to your next cookout, or pack some up for a picnic. No utensils necessary!
Homemade Brownies
With crackly tops, crusty edges, and rich, chewy middles, these brownies are a hit at any time of year. See this post for an equally tasty vegan recipe.
Vegan Chocolate Chip Cookies
Sure, these cookies are vegan, but they'll still give any regular chocolate chip cookies a run for their money. They're crisp on the edges, soft in the middle, and loaded with gooey chocolate chips.
Best Peanut Butter Cookies
If you don't have peanut butter on hand, swap in almond butter for a fun twist.
Carrot Cake Cookies
A portable, personal-sized version of our favorite cake.
Perfect Oatmeal Cookies
I'm all for using raisins in these chewy, cinnamon-spiced cookies, but feel free to swap in chocolate chips if you prefer.
Lemon Shortbread Cookies
When I have an abundance of fresh thyme in my summer herb garden, I fold it into these buttery shortbread cookies. They're a lovely afternoon treat or delightful, unexpected finish to a picnic lunch.
Easy Summer Desserts: Strawberry Shortcake
These strawberry shortcakes are one of our favorite easy summer desserts!
Ingredients
for assembly
3

cups

strawberries

,

sliced

2

cups

whipped cream or coconut whipped cream

Mint leaves,

optional
Instructions
In a medium bowl, whisk together the flour, cornmeal, sugar, baking powder, and salt.

Using your hands, work the coconut oil in until the mixture resembles coarse sand. Add the lemon zest, lemon juice, eggs, and milk and mix until just combined. The dough will be more moist and pliable than traditional biscuit dough.

Turn the dough out onto a lightly floured piece of parchment paper and pat into a ½-inch-thick rectangle. Fold the dough into thirds and pat or roll again until 1-inch thick. Freeze for 20 minutes.

Preheat the oven to 400°F and line a baking sheet with parchment paper.

Remove the dough from the freezer and use a 2½-inch round biscuit cutter to cut out 3 to 4 biscuits. Re-roll the scraps as necessary to cut out 8 1-inch thick biscuits. Place the biscuits on the baking sheet.

If desired, brush the tops of the biscuits with a little almond milk and sprinkle with coarse sugar.

Bake 16 to 18 minutes or until golden brown around the edges.

Assemble the strawberry shortcakes with the biscuits, strawberries, cream, and mint, if desired.