If you feel like a salad and he feels like a burrito, don't worry! This taco night strategy is a win win when you're looking for dinner ideas for two.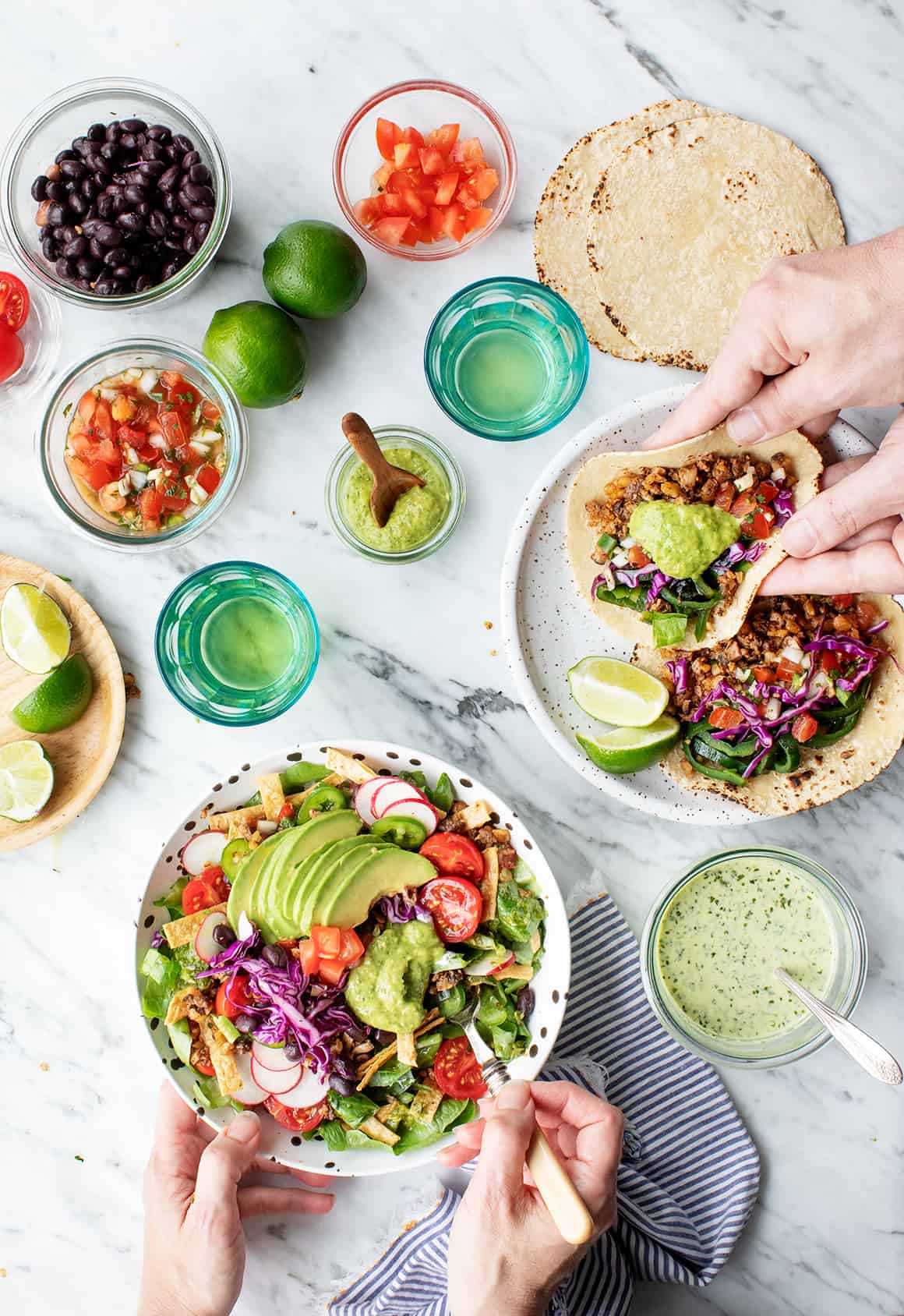 Over the years, Jack and I have found that our favorite dinner ideas for two allow us to customize our meals to our different tastes. Now, instead of cooking one meal for dinner, we often prep a set of components that we can mix and match into whatever we're craving. If he feels like a burrito and I feel like a salad, we can cook the exact same group of components, even if we want to assemble slightly different meals. What's best is that by prepping once, we have leftovers that we can continue to mix and match throughout the week!
Below, you'll find a step-by-step guide to using this dinner ideas for two strategy, as well as a complete recipe for our go-to Tex Mex components!
Component-Based Dinner Ideas For Two
Here's how to use this meal prep strategy for making dinner for two:
1. Pick a theme!
I like "taco night" as a theme because it's fun and easy, and the components we prep can create countless healthy dinners throughout the week:
Tacos (obviously)
Salads
Grain Bowls/Veggie Bowls
Burritos
Migas
End of the week frittatas
2. Meal prep 3 to 4 easy recipe components.
Make sure the amount of prep is easy enough to accomplish on a Sunday or Monday night – you don't want to spend your entire weekend meal prepping. Luckily, with two of you in the kitchen, the prep time will be cut in half!
We prep the following for our "taco night" theme:
Shiitake Taco "Meat"
Charred poblano and red pepper strips
3. Prep your supporting ingredients.
Supporting ingredients don't need to be cooked, but it's handy to have them washed, chopped, and ready to go. Here's how I prep mine:
Wash salad greens
Shred red cabbage
Rinse black beans
Slice radishes
4. Time to eat!
Everything is prepped, so now you can each make your own meals according to your hearts' desires. On this particular evening, I made a taco salad and Jack made tacos.
The next day, I made tacos for lunch, and the following day, we added potatoes and eggs to make breakfast burritos. (pictured below). Over the weekend, I used up the last of the pico de gallo to make migas.
Variations
I've listed all of these components in the recipe below – use it as a template and adjust quantities to suit your own family's needs. If you want the taco "meat" to last all week, double it! Add rice to make burrito bowls or switch up the veggie situation – roasted sweet potatoes, butternut squash, and cauliflower, pickled jalapeños, and pickled red onions would all be fantastic in this mix.
More Easy Dinner Ideas For Two
This strategy is great for prepping for a week of dinners for two. Use the same strategy with another theme – make pesto or marinara sauce to transform into pasta, pizza, or sandwiches, or prep Asian components that can become noodles, spring rolls, or bowls.
While this strategy is great for weeknight dinners, I usually go in a different direction for special occasion or date night meals. Served with a glass of white wine, tagliatelle, spaghetti aglio e olio, roasted vegetable pasta, and fettuccine Alfredo are some of my favorite romantic dinner ideas for two. Jack and I also have fun tackling cooking projects like homemade pasta, homemade tortillas, steamed bao buns, and sushi on date nights.
Let me know if you have any go-to dinner ideas for two!
Dinner Ideas for Two
Serves
2
for multiple meals
This meal prep strategy is one of my favorite dinner ideas for two! The components can be mixed & matched to create a variety of fun, healthy meals to suit different tastes.
Ingredients
Shiitake Taco "Meat"
1

tablespoon

extra-virgin olive oil

8

ounces

shiitake mushrooms

,

stemmed and diced

1

cup

crushed walnuts

1

tablespoon

tamari

1

teaspoon

chili powder

½

teaspoon

balsamic vinegar

Sea salt and freshly ground black pepper
Pico de Gallo
2

cups

diced tomato

,

2 to 3 small tomatoes

3/4

cup

diced white onion

1/2

cup

chopped fresh cilantro

1/4

cup

fresh lime juice

2

garlic clove

,

minced

1

jalapeño pepper

,

stemmed and diced

1/2

teaspoon

sea salt

,

more to taste
Cilantro Lime Dressing/Sauce
2

cups

fresh cilantro

1

garlic clove

¼

cup

lime juice

2

teaspoons

maple syrup or honey

½

teaspoon

ground coriander

½

teaspoon

sea salt

½

cup

extra-virgin olive oil

1

avocado or ½ cup greek yogurt to make a creamy sauce
Other ingredients:
Red peppers and/or poblano peppers

,

for charring

Salad Greens

Shredded Red Cabbage

Black Beans or Pinto Beans

Sliced Radishes

Avocados

Limes for squeezing on everything

Tortillas and crispy tortilla strips
Instructions
Make the Shiitake Taco "Meat." In a medium skillet, heat the olive oil over medium heat. Add the mushrooms and cook, stirring only occasionally, until they begin to brown and soften, 3 to 4 minutes. Stir in the walnuts and lightly toast for 1 to 2 minutes. Stir in the tamari and the chili powder. Add the balsamic vinegar and stir again. Remove from the heat and season with salt and pepper to taste. Store leftovers in the fridge and reheat as needed.

Make the Pico de Gallo. In a small bowl, combine the tomato, onion, cilantro, lime juice, garlic, jalapeño, and salt. Stir to combine. Chill until ready to use.

Make the Cilantro Lime Dressing/Sauce: In a food processor, place the cilantro, garlic, lime juice, maple syrup, coriander, and salt and pulse to combine. With the blade running, pour in the olive oil and process until smooth. Make your dressing creamy by adding avocado or greek yogurt and pulse to combine. Chill until ready to use.

Char the peppers. Heat a grill pan on the stove to medium heat. Place the peppers and let them char for 4 to 5 minutes per side, until the peppers are soft and each side has black grill marks. (Alternatively, you could roast them in the oven until soft). Remove from the grill, remove the stem and ribbing, and slice the peppers into strips. Store leftovers in the fridge and serve cold or reheated.

Use these components to mix and match meals as you like!
Special thanks to Sub-Zero Wolf, and Cove for partnering on this post!