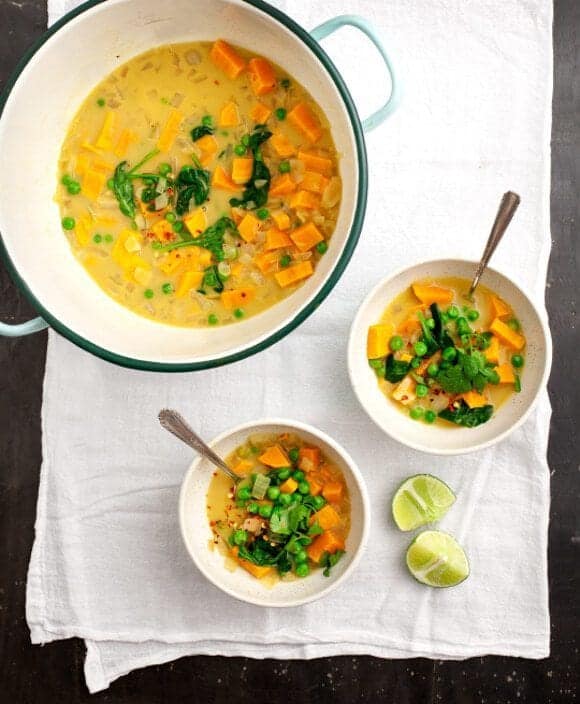 Thank you all so much for the sweet birthday wishes yesterday. I had a great day, although today is even better because the sun is shining for the first time in 3 days.. (I know, I'm so spoiled living where I do). Dreary weather just gets me so down…
But it takes a few gloomy days to feel grateful for the gorgeous days… and if it weren't for the occasional grey sky, I probably wouldn't make as much soup as I do.
We've been eating this one all week. It's so hearty, warming and surprisingly easy. We've got just over a month of winter left to go (in our world), and I'm pretty sure this recipe will help get us through it…
curried sweet potato soup
Serves:
serves 3-4 as a main, 4-6 as a side
Ingredients
2 tablespoons coconut oil
1 onion, chopped
2 cloves garlic, minced
1 tablespoons madras curry powder
2 medium sweet potatoes, chopped into cubes
½ cup peas (can be frozen)
1 can lite coconut milk (2 cups)
2-4 cups veggie broth (less for a thicker consistency, more for thinner)
2 tablespoons brown sugar
squeeze of one juicy lime
a few handfuls of spinach
salt
handful of chopped cilantro, for garnish
a few pinches of red pepper flakes
Instructions
In a large pot, heat coconut oil. Add onion and some salt salt. Cook, stirring, until it becomes translucent. (about 5 minutes). Add curry powder and garlic and cook for another 30 seconds (don't let either burn).
Add a good squeeze of lime, coconut milk, broth, chopped sweet potatoes, brown sugar and a little more salt. Turn heat down and simmer, covered, until the sweet potatoes are soft (20-30 minutes).
Stir in the peas and spinach and cook for just another minute or two.
Taste and adjust seasonings, adding a few pinches of red pepper flakes if you want it a little spicy.
Top with cilantro and serve with naan bread on the side.