There are tons of reasons to love this easy creamed spinach recipe: it's fresh and delicious, and it comes together in under 15 minutes, too!
When Jack was growing up, his mom made creamed spinach for Thanksgiving every year. He still raves about her famous recipe, so this year, I used it as inspiration to make a bright, fresh creamed spinach for our holiday feast.
Many creamed spinach recipes use frozen spinach, butter, and cream cheese. I wanted my recipe to put the spinach front and center, so in lieu of frozen spinach, I use a full pound of fresh greens. To let their taste and texture shine, I make a light, tangy cream sauce that gives the fresh spinach the perfect amount of brightness and richness.
Below, you'll find two variations: a version with coconut milk and one with heavy cream. The coconut milk variation has a light coconut flavor, which makes this side dish extra fresh. If you're seeking a more traditional creamed spinach, the heavy cream version is just as good, and a sprinkle of Parmesan cheese really takes it over the top. Jack fully approves of both, so you can't lose here!

How to Make Creamed Spinach
This easy creamed spinach recipe takes under 15 minutes from start to finish. Here's how to make it:
First, cook the spinach. This recipe calls for a full pound of spinach, so you'll likely need to work in batches. Sauté the leaves just until they wilt – they should keep their bright color and plenty of texture.
Next, squeeze out the excess water. Allow the sautéed spinach to cool slightly, and then squeeze out any excess water from the leaves. Don't skip this step, or your creamed spinach will be watery!
Then, make the cream sauce. First, sauté shallot and garlic. Then, add the spinach back into the pan and stir in coconut milk or heavy cream to make the sauce's rich base, cornstarch to thicken it, and Dijon mustard for pop. Of course, I finish mine with a good squeeze of lemon!
Serve! Taste and adjust the seasonings, and you're ready to eat.
This recipe is an excellent holiday side dish, but it's also a good one to have in your back pocket for dinner any night of the week. Serve it with your favorite protein, or pair it with farro or quinoa and roasted chickpeas to make a quick, easy meal.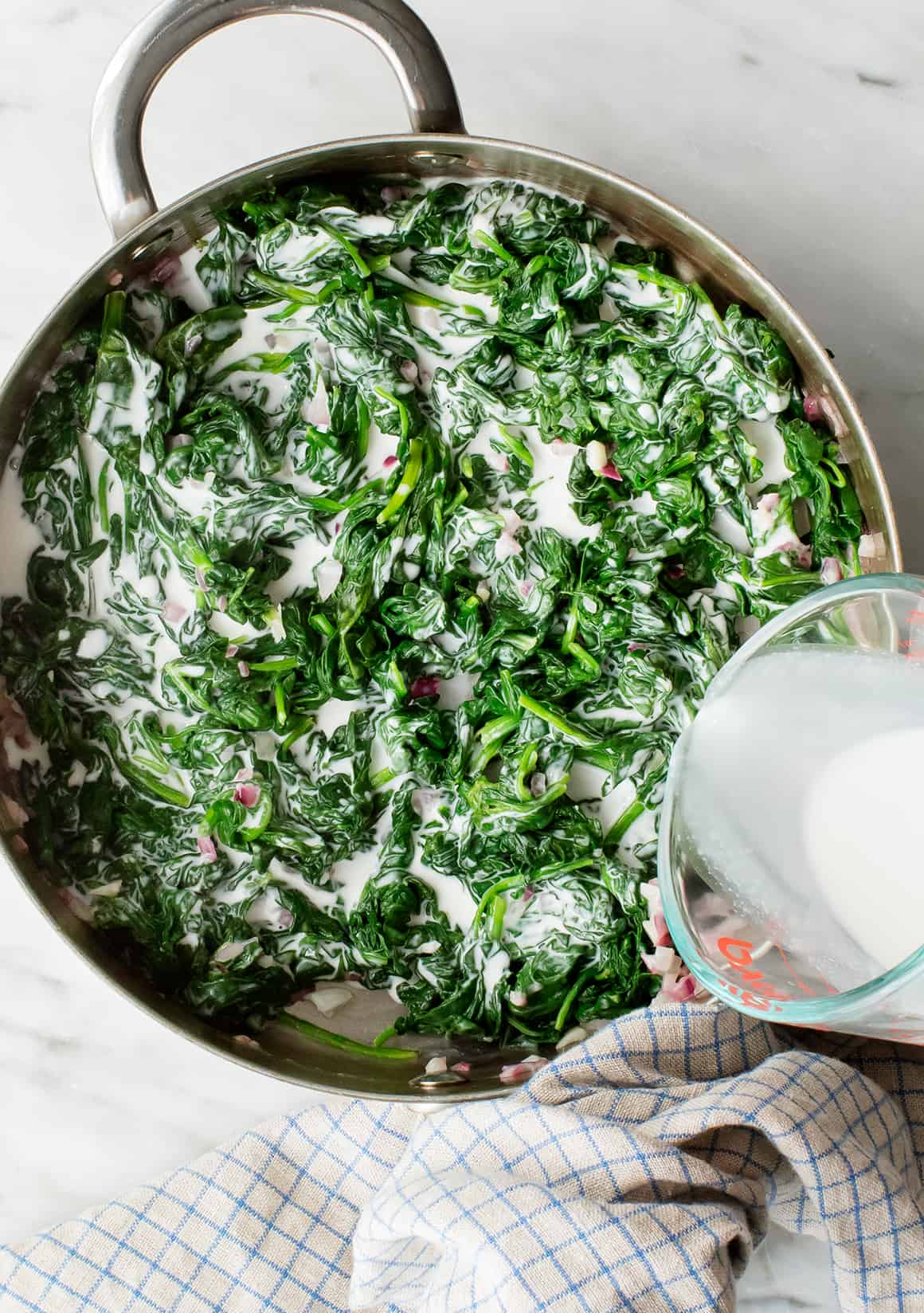 Creamed Spinach Recipe Tips
Work in batches. What I love about this creamed spinach recipe is how the spinach retains its vibrant color and a slight crunch. To avoid overcooking the greens, sauté the spinach in batches, transferring each batch to a plate just after the leaves wilt. I usually sauté 3-4 batches of greens in a large skillet for this recipe.
Give your sautéed spinach a good squeeze! When you get to this step, don't be shy. If you don't squeeze out the excess water from the cooked greens, your creamed spinach will be watery. Once your spinach is cool to the touch, press out as much water as you can, and then press out some more. 🙂
Make it right before you eat. This simple recipe takes about 15 minutes from start to finish, so it's easy to put together right before you sit down to dinner. Though we always devour any leftovers, this recipe is best hot off the stove, as the spinach has the best color and texture.
More Favorite Vegetarian Side Dishes
If you love this creamed spinach recipe, try one of these veggie side dishes next:
Creamed Spinach
This easy creamed spinach recipe is a fresh, delicious side dish! If you prefer a more traditional creamed spinach, you can make this recipe with heavy cream, but we also love it with coconut milk.
Instructions
Heat ½ teaspoon of olive oil in a large skillet over medium heat. Add the spinach, toss until just wilted, adding more oil if needed if the pan gets too dry. Transfer to a strainer and squeeze out the excess water.

Wipe out the pan and heat 2 teaspoons of olive oil over medium heat. Add the shallot and salt and cook until soft, 5 to 8 minutes. Stir in the garlic and sautéed spinach, then add the coconut milk, mustard, and cornstarch mixture, and stir until combined. Stir in the lemon juice, season to taste with more salt and pepper, and serve.