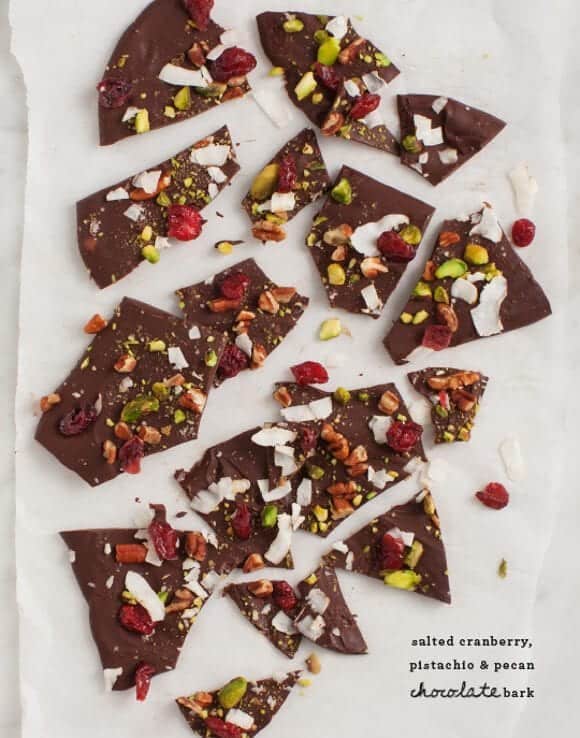 During the holidays, Jack has a thing for peppermint bark. I have a thing for not picking sticky candy pieces out of my teeth, so we compromised and used festive ingredients that we both love – pistachios, dried cranberries, coconut flakes and (most importantly!) a sprinkle of coarse sea salt.
This is my kind of holiday dessert because it's (naturally) red and green, and also easy to through together. You might even already have these ingredients (or similar ones) on hand in your pantry. If you don't – feel free to customize with whatever toppings you like – nuts, dried fruit, or even crushed candy cane pieces if that's your thing.
Pop it in the freezer to set – then break and eat!

Cranberry & Pistachio Chocolate Bark
Ingredients
Baking chocolate (I used this 5.3 oz 70% cacao baking bar)
2 teaspoons coconut oil
2 teaspoons maple syrup
3 tablespoons crushed pistachios
3 tablespoons crushed pecans
3 tablespoons toasted coconut flakes
3 tablespoons dried cranberries
and a few pinches of coarse sea salt
Instructions
Over a double boiler on the stove (or a saucepan filled with a few inches of gently boiling water with a glass bowl on top), melt the chocolate, coconut oil and maple syrup together - stirring until smooth.
Line a baking sheet with parchment paper and pour the chocolate. Smooth it out to about ¼ inches thick.
Top chocolate with nuts, coconut flakes, dried cranberries and a few pinches of coarse sea salt.
Place baking sheet in the freezer for a few hours to set. Store remaining bark in the fridge or freezer.
Break bark into pieces & enjoy!
Notes
If you use chocolate sweeter than 70% cacao, decrease (or skip) the maple syrup.
Feel free to customize your own toppings!
If you are vegan or gluten free, make sure to carefully check the labels on your chocolate, nuts, etc.