This easy 30-minute corn chowder recipe is one of our all-time favorite soups! Smoky, sweet & creamy, it's sure to enter your regular meal rotation.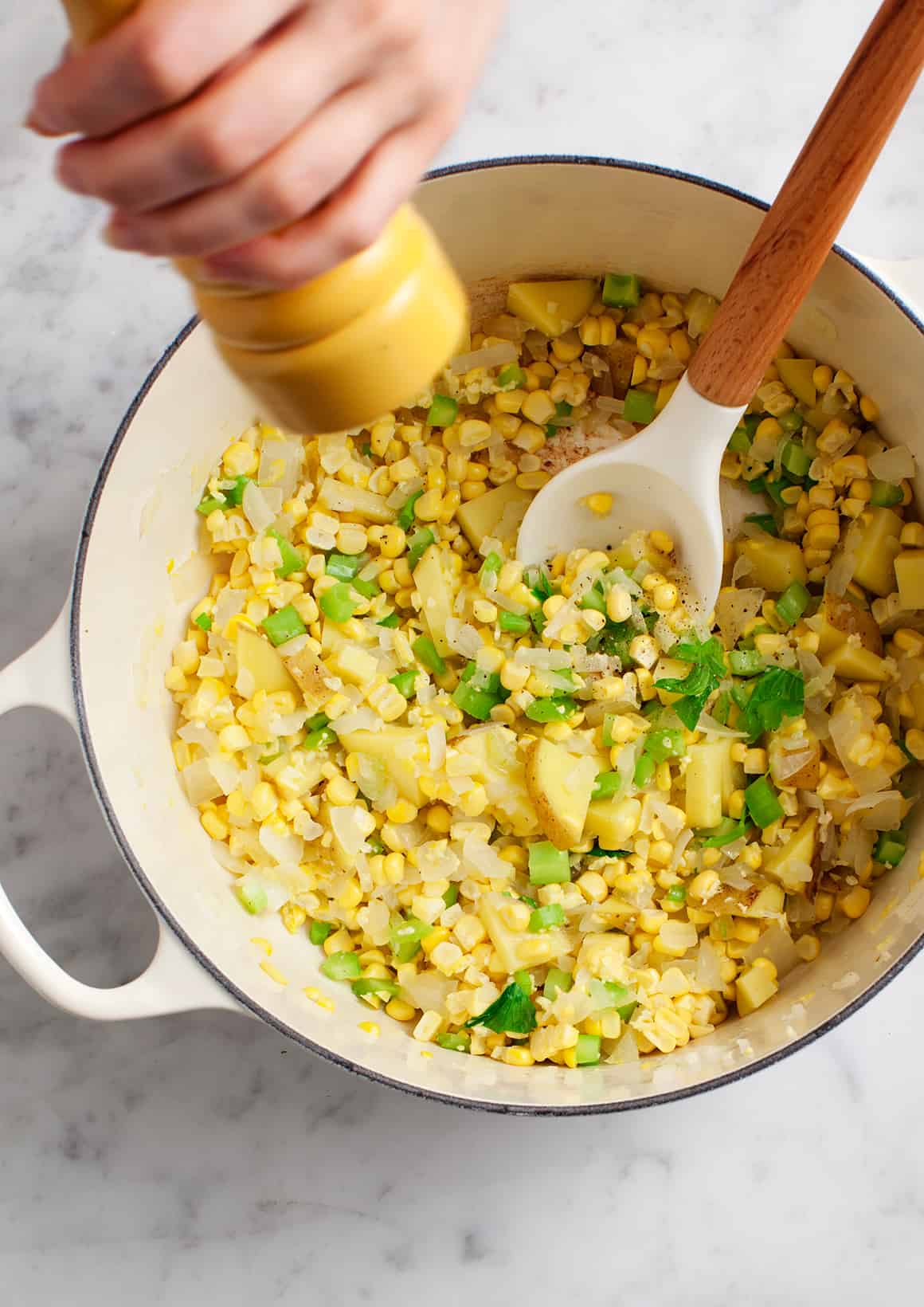 It's hard for me to pick favorites, but I'll come out and say it: this corn chowder recipe is one of my favorite soups on the blog. I don't care what temperature it might be outside, I could eat a bowl of this creamy, smoky corn chowder anytime.
Corn Chowder Recipe Ingredients
Unlike many corn chowder recipes, mine uses veggies and spices to get a delicious creamy texture and smoky flavor. Here's what's in it:
Onion, garlic, and celery make the aromatic base of the soup.
Fresh sweet corn is the star of the show! It contributes to the creamy texture, adds essential sweetness, and dots it with crispy kernels.
Potatoes thicken the soup's creamy base and add chunky texture.
Red pepper adds more great veggie flavor and deepens the golden color.
Coconut milk (or whole milk) works with the corn and potato to perfect the creaminess.
Sherry vinegar brightens it up!
And smoked paprika and celery salt add rich, smoky flavor without any meat!
If you use coconut milk, this recipe will be vegan, but if you don't have it on hand, or you prefer to use dairy, whole milk will work just fine in its place.
How to Make the Best Corn Chowder
Great veggie ingredients are the base of this soup, but these key steps help make it so smoky, satisfying, and delicious:
After you slice the kernels off cobs of fresh sweet corn, use the back of your knife to scrape the juices off the cob. The milky liquid works with blended corn kernels to make the veggie base of this recipe extra rich.
Blend half the soup, and leave the rest chunky. When blended, the starches in corn and potatoes yield a luscious creamy broth that's perfect dotted with veggie chunks for texture.
Don't forget to garnish. Save a few raw corn kernels and pieces of diced red pepper to sprinkle over bowls of chowder. They'll create the perfect crispy contrast to the creamy soup.
If you love this corn chowder recipe…
Try this corn salad, this cornbread, or steaming or grilling corn on the cob next!
Creamy Corn Chowder
Ingredients
1 tablespoon extra-virgin olive oil
1 medium yellow onion, chopped
3 garlic cloves, minced
2 ribs celery, chopped
1 Yukon gold potato, chopped
4 ears fresh sweet corn, husked
1 red pepper, diced
½ teaspoon celery salt
½ teaspoon smoked paprika
1 tablespoon sherry vinegar, or white wine vinegar
2 cups vegetable broth
1 (14-ounce) can light coconut milk (or 1¾ cups whole milk)
Sea salt and freshly ground black pepper
Chopped chives, for garnish
Reserve some corn kernels and diced red pepper for garnish (optional)
Instructions
Heat the olive oil in a large dutch oven over medium heat. Add the onion and a few pinches of salt.
Cook until soft, then add the garlic, celery, and potatoes.
Slice the kernels off the corn, then use the back of your knife to scrape the juices off of the corn cob and add to the pot. Add the red pepper, celery salt, paprika, a pinch of salt, black pepper, and stir. Cook until the potatoes are slightly softened, about 5 minutes, then add the sherry vinegar, vegetable broth, and coconut milk.
Cover and simmer until the potatoes are tender, about 15 more minutes. Let cool slightly, then transfer half the soup to a blender. Blend until creamy then return it back to the pot and stir.
Taste and adjust seasonings and serve with chopped chives.