These easy cookout food ideas include main dishes, grilling sides, salads, desserts, and more! Perfect for BBQs, picnics, or any summer gathering.
I never thought I'd be so excited to share these cookout food ideas with all of you. But after spending last summer picnicking on our own, the prospect of inviting family and friends over and gathering around the grill sounds amazing. Warm weather, good food, and great company? Life doesn't get much better than that.
You'll find my best cookout food ideas below. They include 44+ recipes for veggie burgers and sandwiches, grilling side dishes, salads, snacks, desserts, and more. Some of them are out-of-the-box and inventive, like Chickpea Harissa Veggie Burgers or Grilled Watermelon with a crispy corn topping. Others are reimagined versions of cookout food classics like pasta salad, potato salad, and corn on the cob. Whether you're planning a full cookout menu or just looking for a dish to pass, you're bound to find something you love.
Main Dish Cookout Menu Ideas
When I'm planning a cookout menu, I always start by choosing a main dish. These 8 recipes are my favorites. They're all flavorful and fun (and good for you, too)!
Best Veggie Burger
This vegan burger is meaty and savory, smoky and satisfying, and it even holds up on the grill. It's pretty much the perfect cookout food, if you ask me.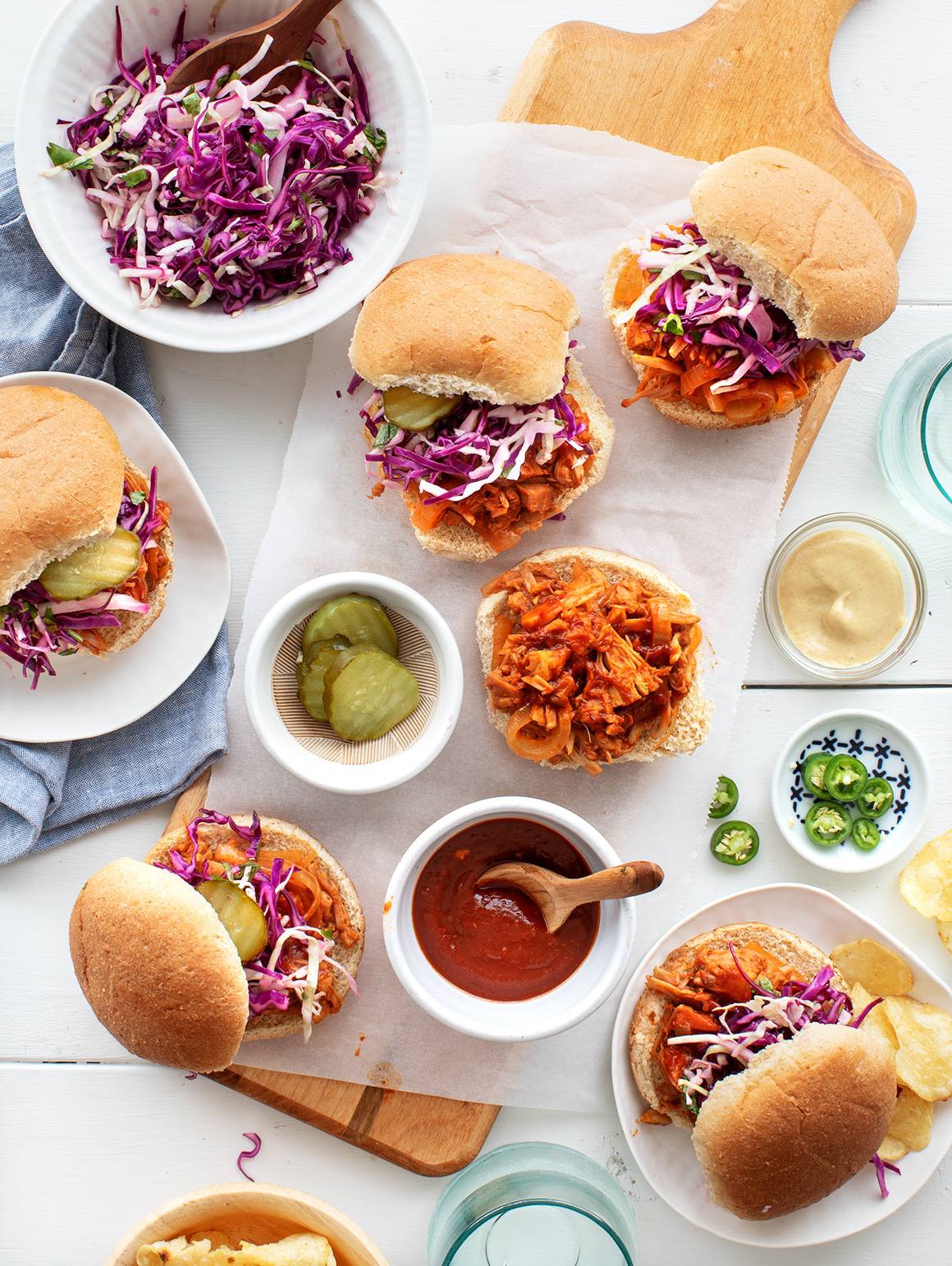 BBQ Jackfruit Sandwiches
These saucy sandwiches are totally vegan, but they have a hearty, meaty texture just like pulled pork. I love serving them at cookouts because they're great for making ahead. Cook the BBQ jackfruit up to two days in advance, and reheat when you're ready to eat!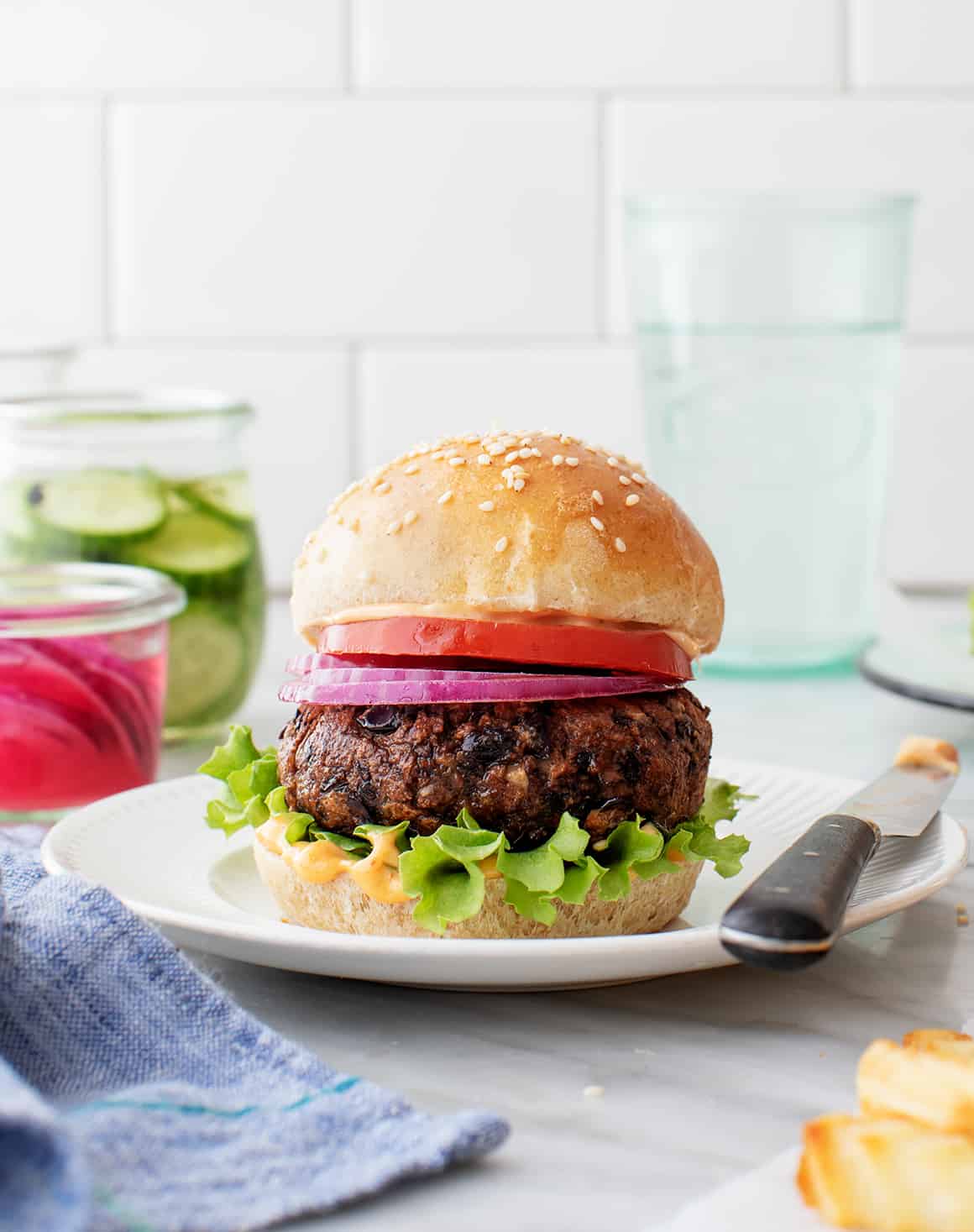 Easy Black Bean Burger
Veggie burger recipes don't get easier than this one. Mash all the ingredients together in a bowl, form the mixture into patties, and cook!
Rainbow Summer Veggie Skewers, page 163 of Love & Lemons Every Day
Who says cookout food has to come on a bun? A simple BBQ marinade infuses these skewers with sweet and smoky flavor.
Crispy Cauliflower Po' Boy Sandwich
This sandwich is complete with all the classic po' boy fixings: lettuce, tomato, pickles, and a creamy remoulade sauce. But instead of stuffing it with meat or seafood, I load it up with crispy, Creole-spiced cauliflower!
Chickpea Harissa Veggie Burgers, page 173 of Love & Lemons Every Day
Harissa, a North African chile paste, gives these out-of-the-box burgers a kick of spicy flavor. Top them with zesty cilantro mayo to cool the heat.
Portobello Mushroom Burger
These juicy, savory mushroom caps cook up in under 20 minutes.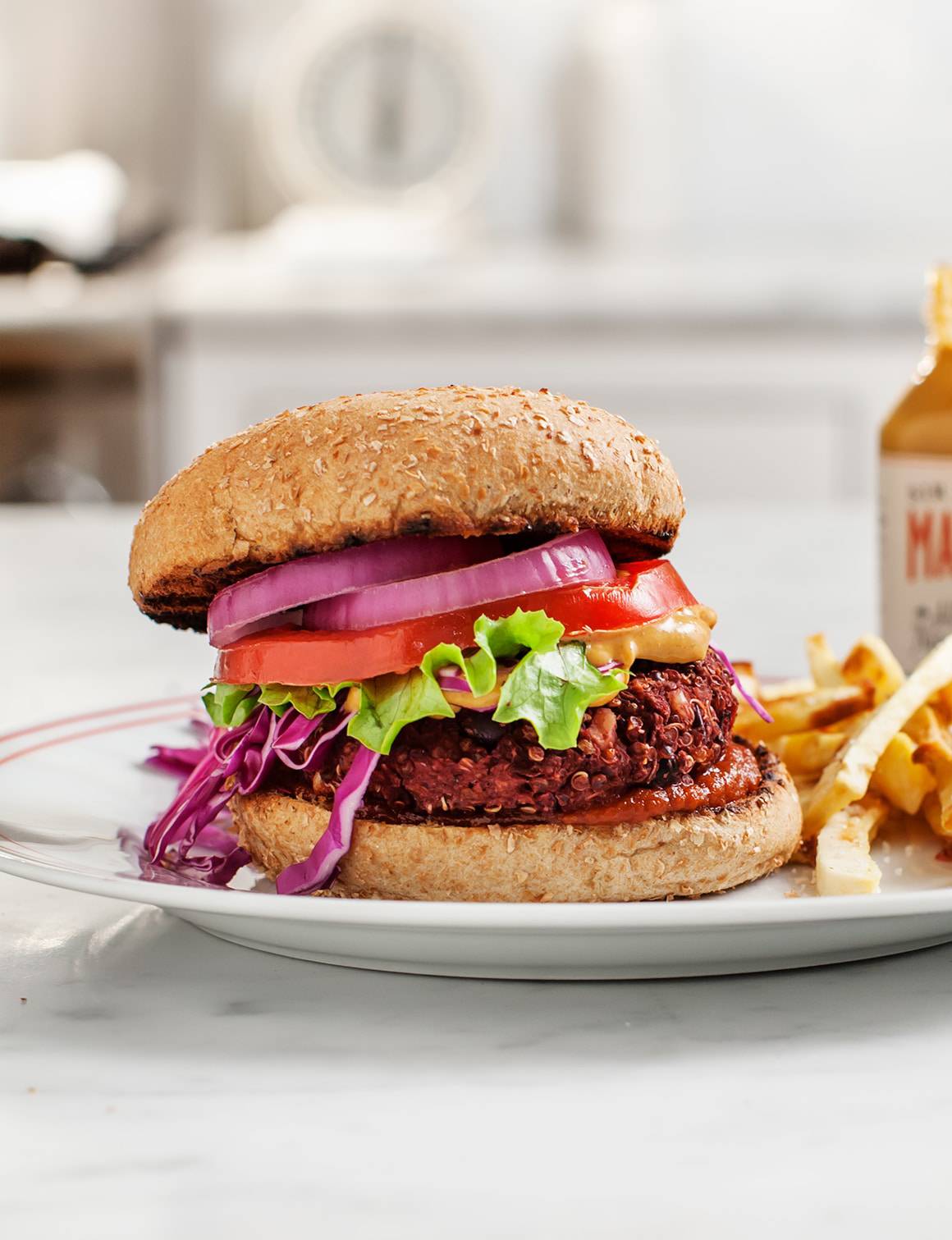 Quinoa Burger
Black beans, quinoa, and walnuts pack this vegan burger with plant-based protein. Serve it on a homemade bun with a slather of chipotle sauce to take it over the top.
Grilled Cookout Food Ideas
If you're already grilling veggie burgers or hot dogs at your summer cookout, you might as well grill some side dishes, too. They're easy to make, easy to clean up, and absolutely delicious. Win-win-win.
Grilled Corn on the Cob
A classic cookout food! I like to rub mine with cilantro lime butter and serve it with drizzles of vegan ranch.
Grilled Asparagus
Tip: Grill halved lemons along with the asparagus, and serve the veggies with big squeezes of the charred lemon juice.
Grilled Leeks with Mint Pesto, page 179 of The Love & Lemons Cookbook
Make this recipe in the spring or early summer, when you can get your hands on really fresh, peak-season leeks.
Perfect Grilled Zucchini
Make these grilled zucchini wedges into a composed side dish with a lemony yogurt sauce and fresh herbs, or just keep things simple. Season them with plenty of salt and pepper, and serve!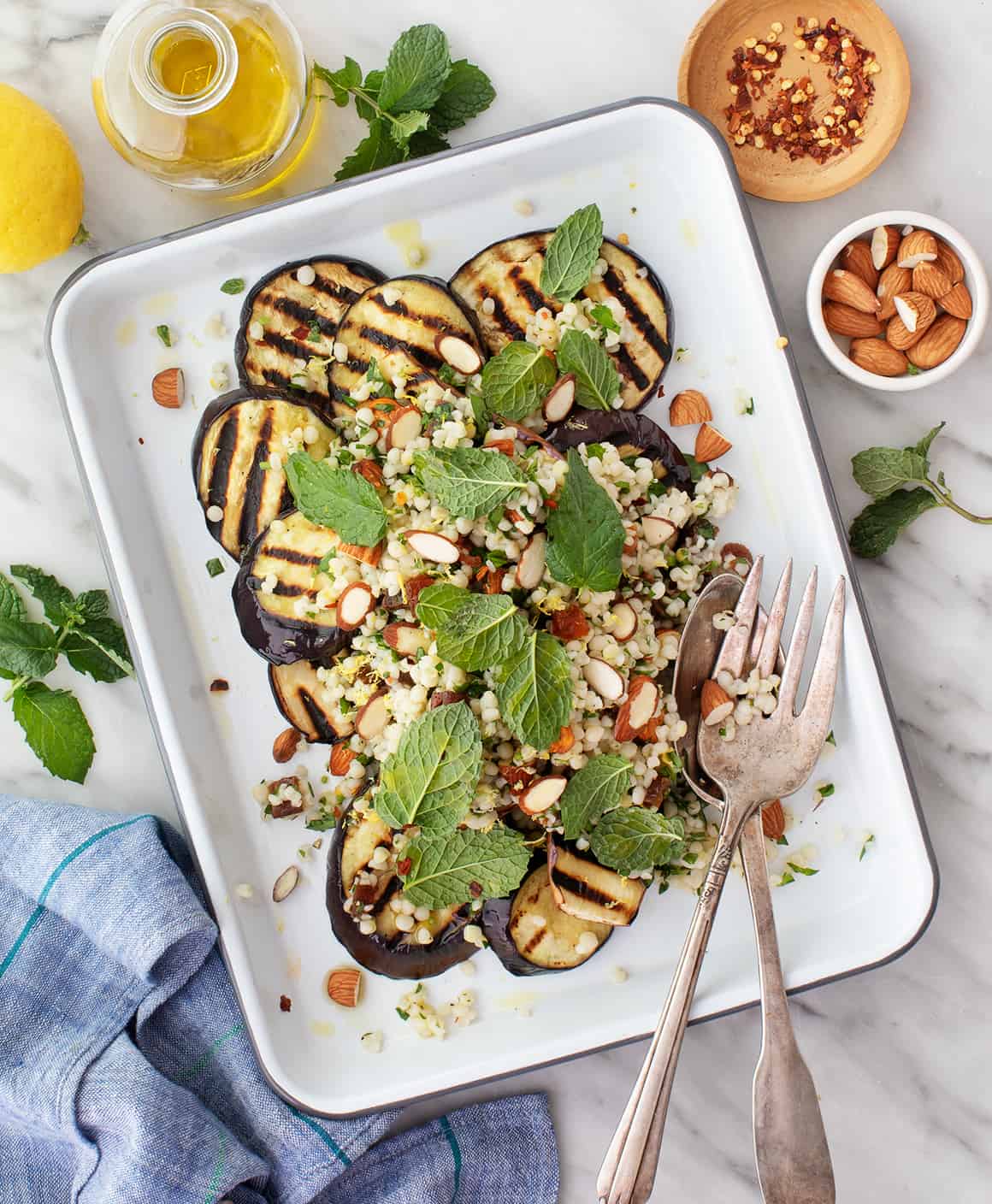 Grilled Eggplant
This recipe is a summer staple in our house. The outside of the eggplant gets lightly crisp and charred on the grill, while the inside becomes silky smooth. Yum!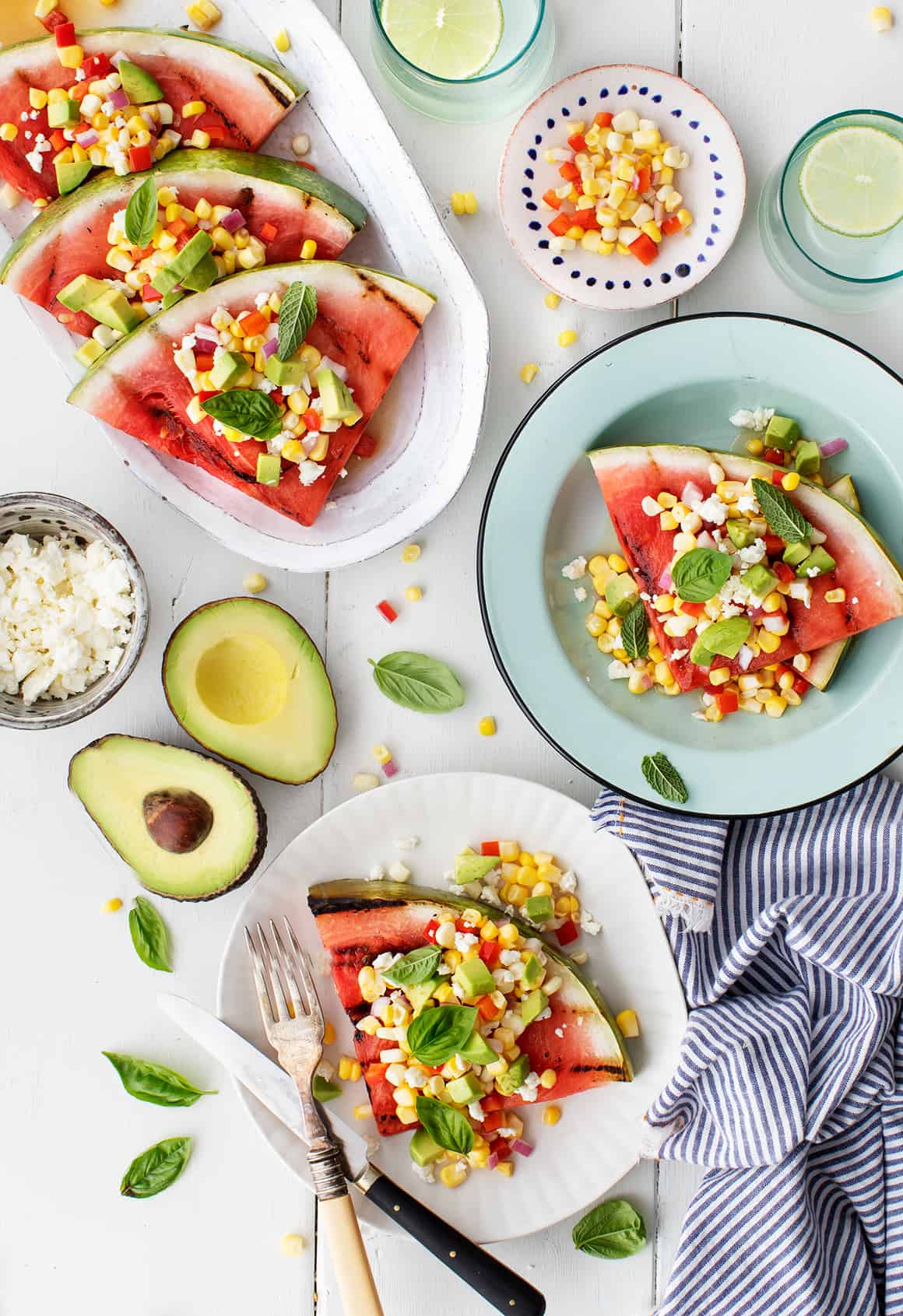 Grilled Watermelon
This super-fresh side dish is one of my favorite cookout food ideas. I love it because it's 1) delicious, 2) unexpected, and 3) so darn summery!
Grilled Potatoes
My summer substitute for French fries! They're perfectly crisp and charred on the outside and creamy in the middle.
Pasta Salads
What's a summer cookout menu without a pasta salad? I love these recipes because they're great for making ahead of time. Just wait to add any herbs until the last minute. That way, they'll be fresh and green – not wilty – when you eat.
Easy Pasta Salad
This simple pasta salad is one of my cookout menu staples. It's bright, satisfying, and bursting with summer produce like tomatoes, cucumbers, and fresh basil.
Easy Macaroni Salad
This recipe is my fresher take on the macaroni salad I ate as a kid. I toss it in a lightly creamy, tangy dressing and add lots of veggies for crunch. And of course, I shower it with fresh herbs for a final finishing touch.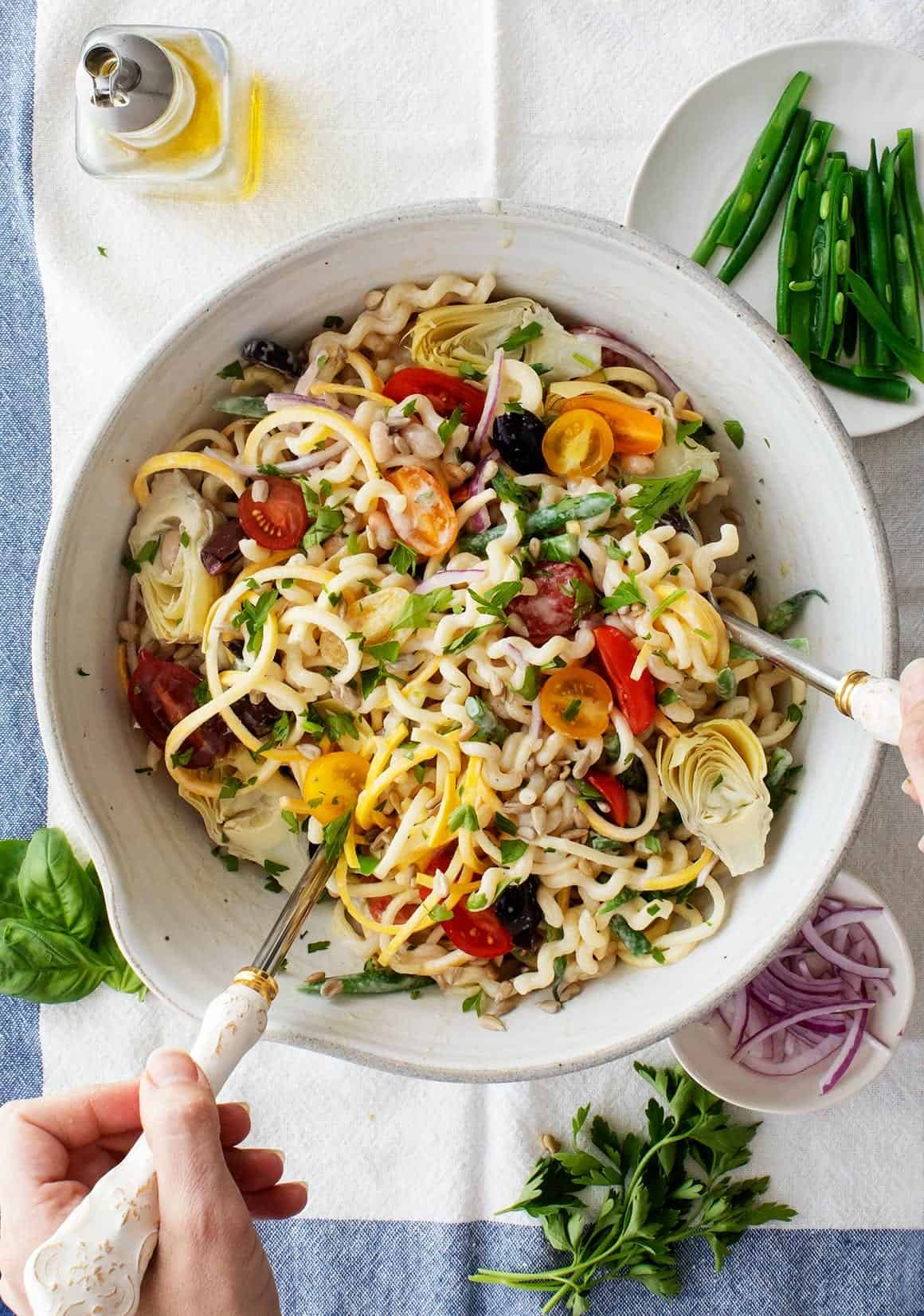 Vegan Pasta Salad
Shhh! I sneak extra veggies into this salad by subbing spiralized summer squash for some of the pasta. Artichokes and olives fill it with bold, briny flavor, and a creamy tahini dressing ties it all together.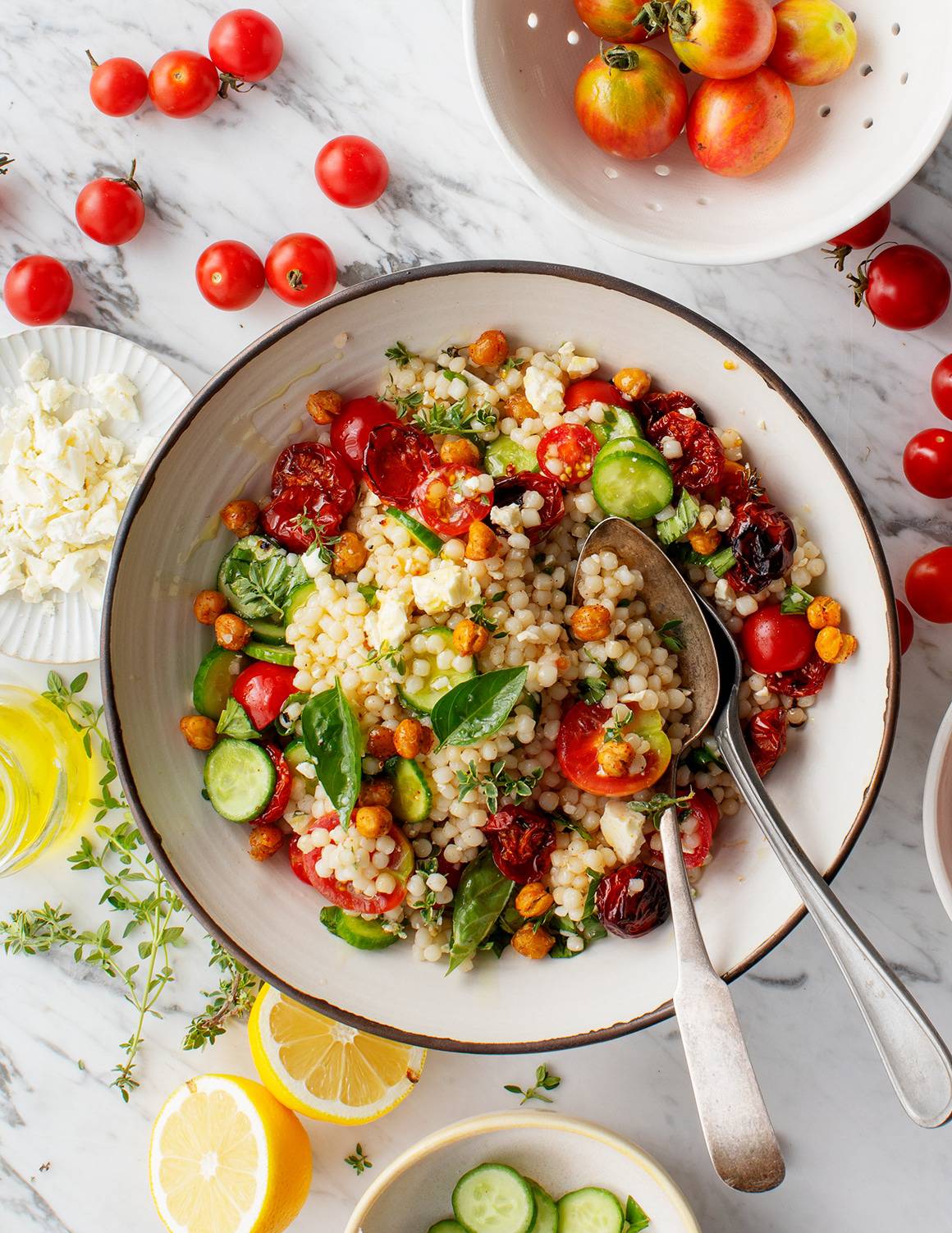 Cherry Tomato Couscous Salad
This recipe features tomatoes two ways: roasted and raw! The raw ones stay sweet and juicy, while the roasted ones become chewy, savory, and rich. Together, they create a pasta salad that simply can't be beat.
Rainbow Orzo Salad
Mango adds a surprising sweetness to this colorful summer salad.
Fruit Salads
Show off peak-season melon, berries, and stone fruits in these simple fruit salad recipes.
Summer Fruit Salad
A ginger-citrus dressing brightens this medley of peak-season summer fruit.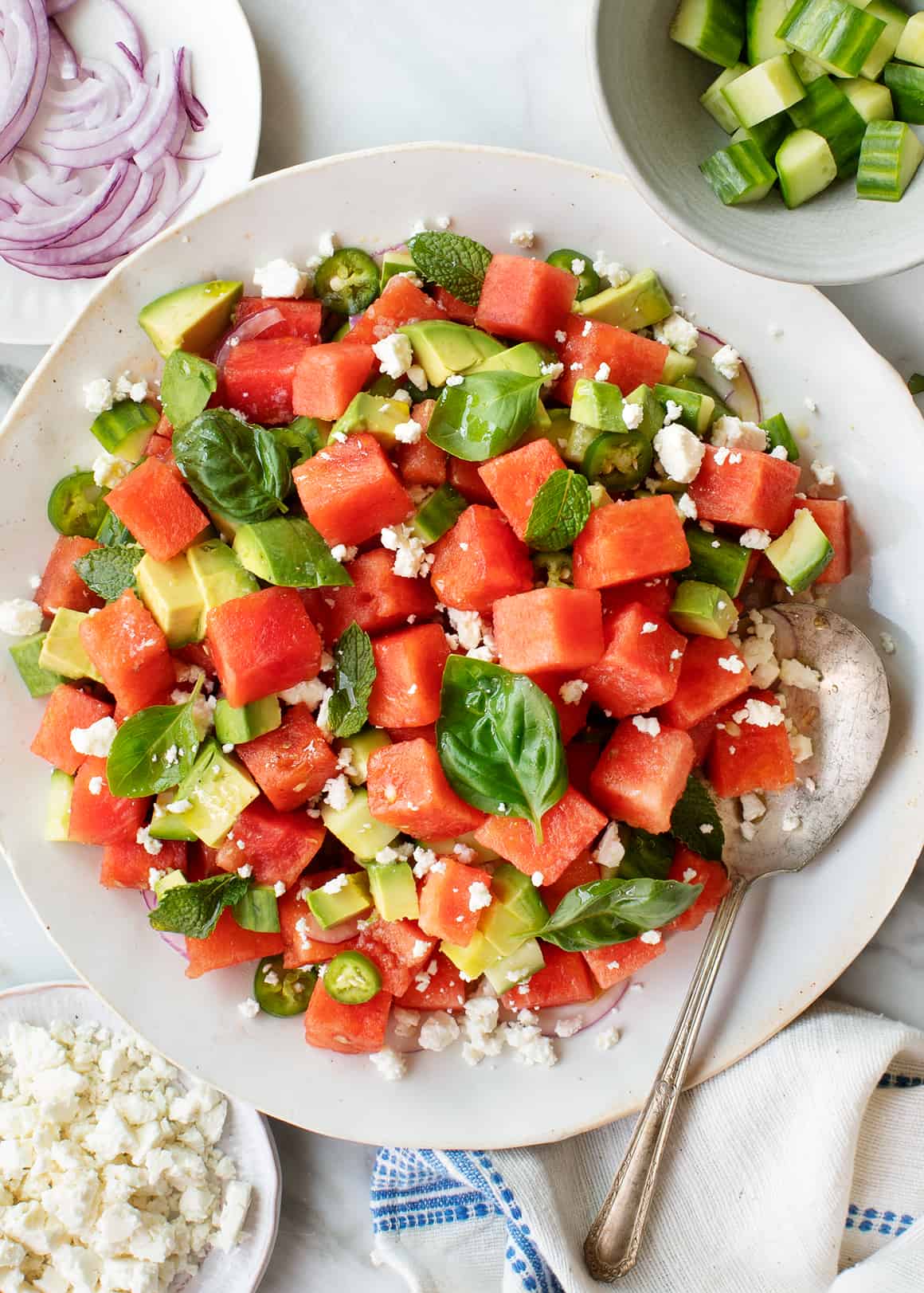 Watermelon Salad with Feta
On a hot day, there's nothing more refreshing than this sweet and savory watermelon salad. For a spicy kick, top it off with sliced serrano peppers.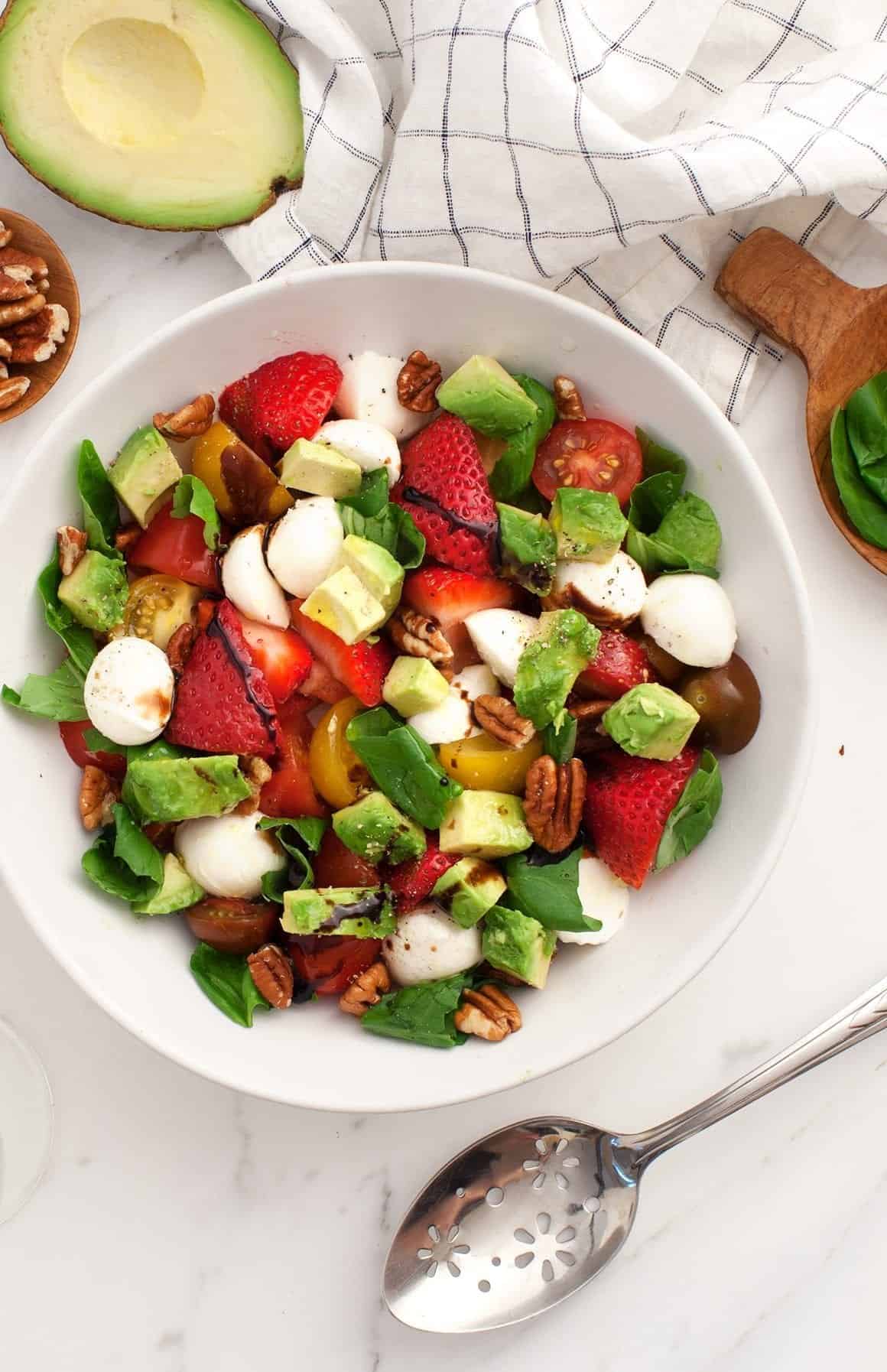 Strawberry Salad with Balsamic
Have you ever tried strawberries and basil together? It's a winning combination, making this fruity riff on a classic Caprese salad a crowd-pleaser every time.
More Favorite Cookout Salads
If you're a fan of classic cookout food ideas like coleslaw and potato salad, this section is the one for you.
Creamy Coleslaw
The secret to knockout coleslaw? Homemade dressing. Ditch the bottled kind, and whisk up your own instead!
Best Potato Salad
When I was growing up, classic potato salad had a permanent spot on my family's cookout food menu. I still love it, but these days, I lighten it up by stirring Greek yogurt into the creamy dressing.
Best Broccoli Salad
This recipe is a Love & Lemons fan favorite, and to be honest, it's one of my favorites, too. If you can, make it a day or two ahead of time so that the broccoli can marinate in the creamy, tangy dressing. Just hold the roasted nuts until the last minute – if you add them too early, they'll lose their crunch.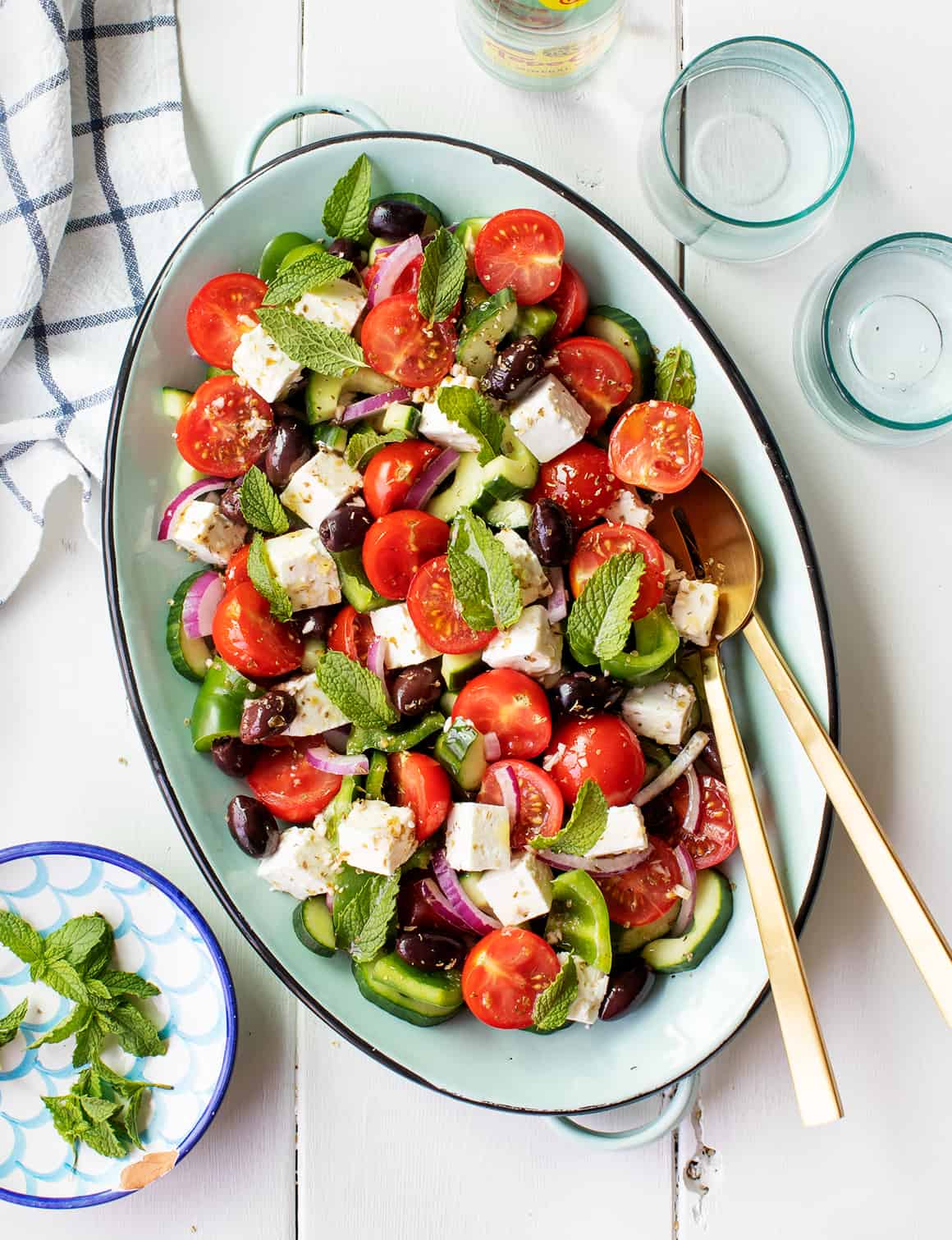 Greek Salad
Every summer, my mom makes this recipe on repeat. It's not hard to see why: it's super simple, fresh, and flavorful, and it keeps perfectly if you make it ahead.
Mediterranean Chickpea Salad
This salad may not be traditional cookout food, but I promise that it'll knock the socks off guests. Fresh mint and a cumin-spiced dressing fill it with aromatic depth of flavor, while Medjool dates and roasted red peppers give it a subtle sweetness.
Asparagus Edamame Salad with Tarragon, page 27 of The Love & Lemons Cookbook
Quick! Make this asparagus salad recipe before its season slips aways. With under 10 ingredients, it's one of my simplest recipes, but it's still brimming with fresh, unexpected flavor.
Appetizer Cookout Food Ideas
When I host a summer cookout, I like to offer at least one appetizer. Many of these recipes are quick and easy to pull together, and they give guests something to snack on while I put the finishing touches on the rest of the menu.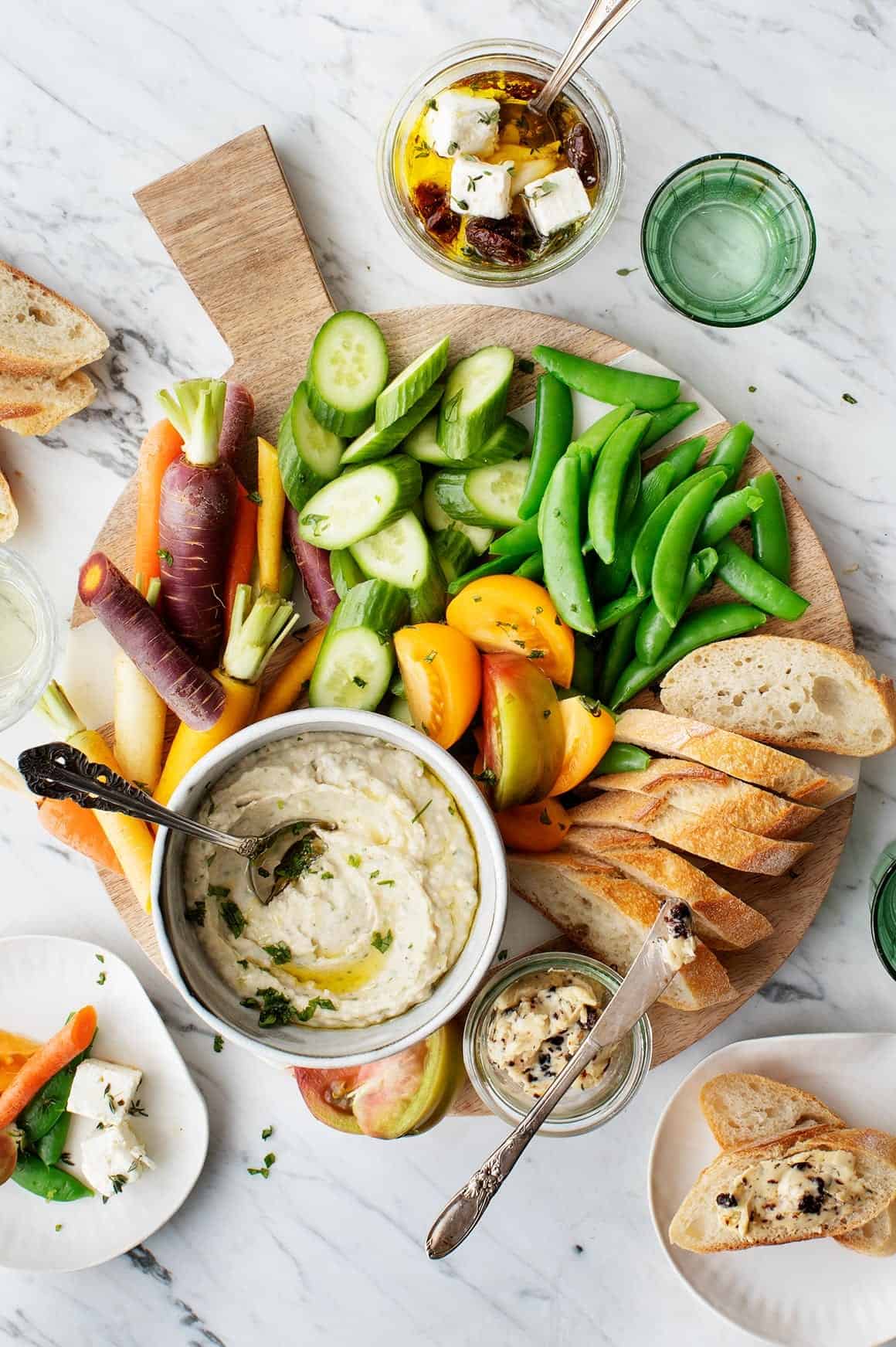 Ultimate Crudité Platter
"Ultimate" isn't an exaggeration here. This board is loaded up with marinated feta, a tart cherry compound butter, and a lemony white bean dip. Top it off with colorful summer produce for dipping, and it'll be just as eye-catching as it is mouthwatering.
Tomato Bruschetta
A juicy medley of diced tomatoes, capers, and olives tops rich, garlicky grilled bread. Your guests won't be able to get enough!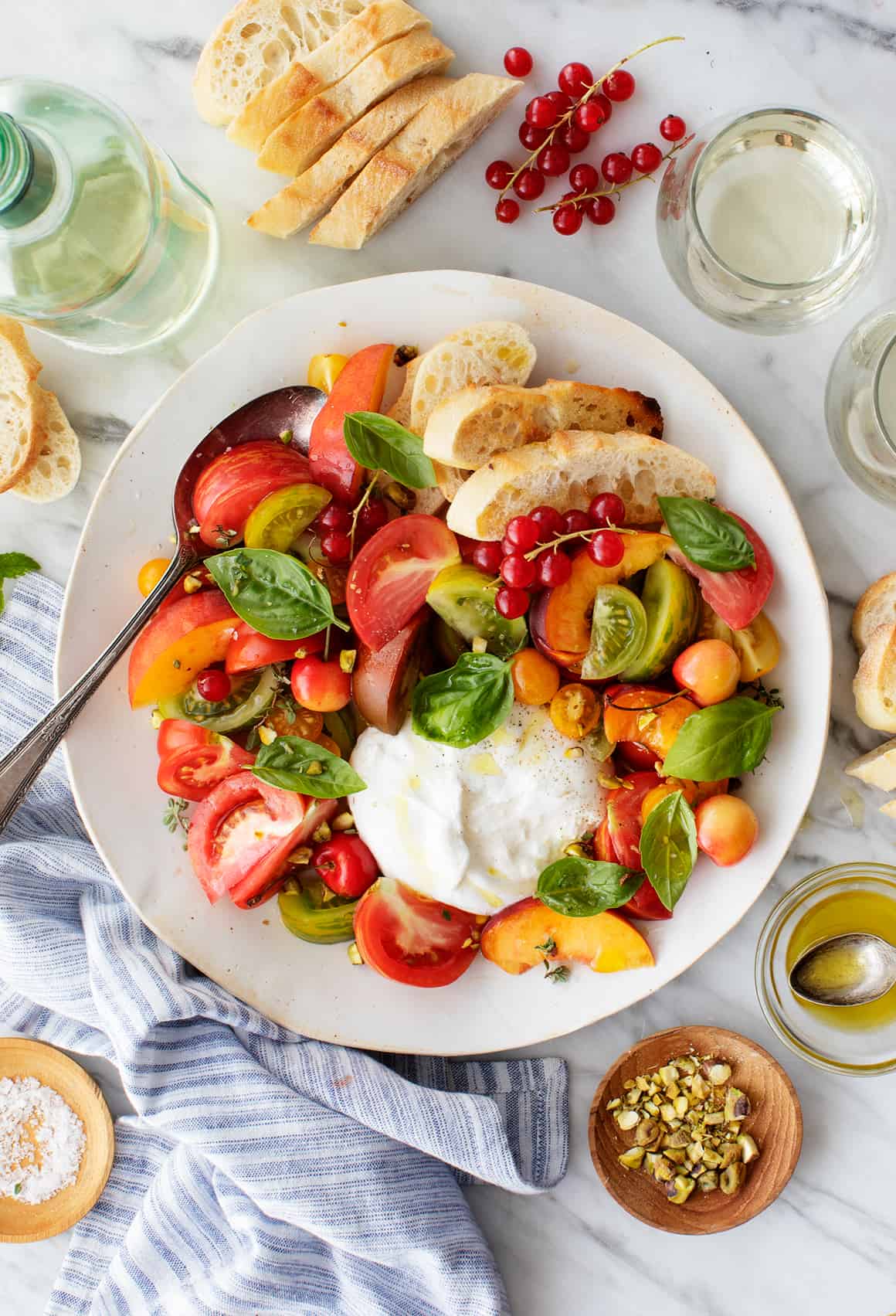 Burrata with Heirloom Tomatoes
Creamy burrata cheese marries with juicy tomatoes and peaches in this elevated summer appetizer. Finish it with drizzles of lemon-thyme oil and pistachios for crunch.
Blackberry Basil Bruschetta, page 43 of The Love & Lemons Cookbook
Can't find blackberries? Make this easy appetizer with strawberries or peaches instead.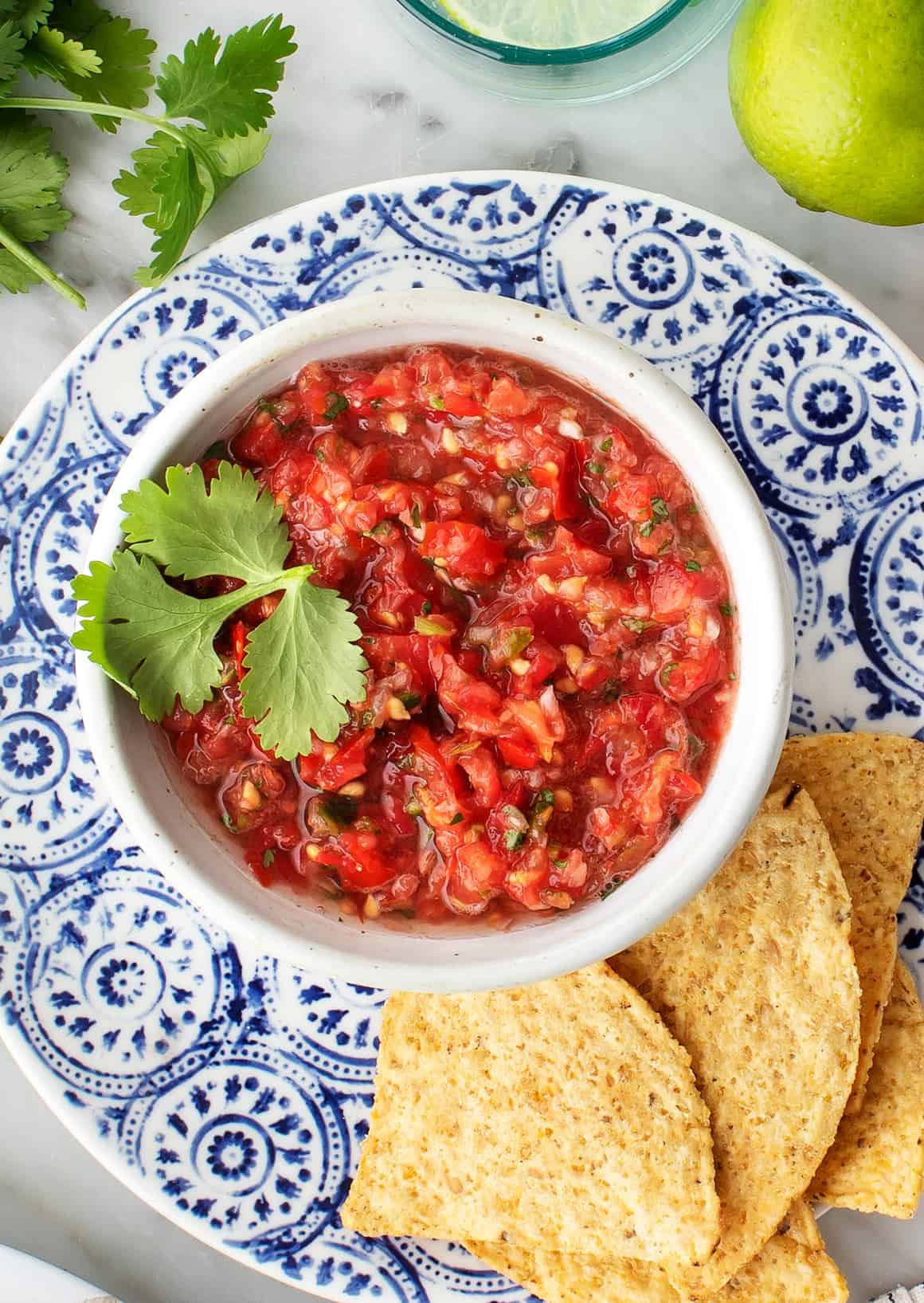 Homemade Salsa
Zesty, juicy, spicy, and bright, this homemade salsa is eons better than the kind from the jar. Pass the tortilla chips!
Best Guacamole
It'll disappear in minutes.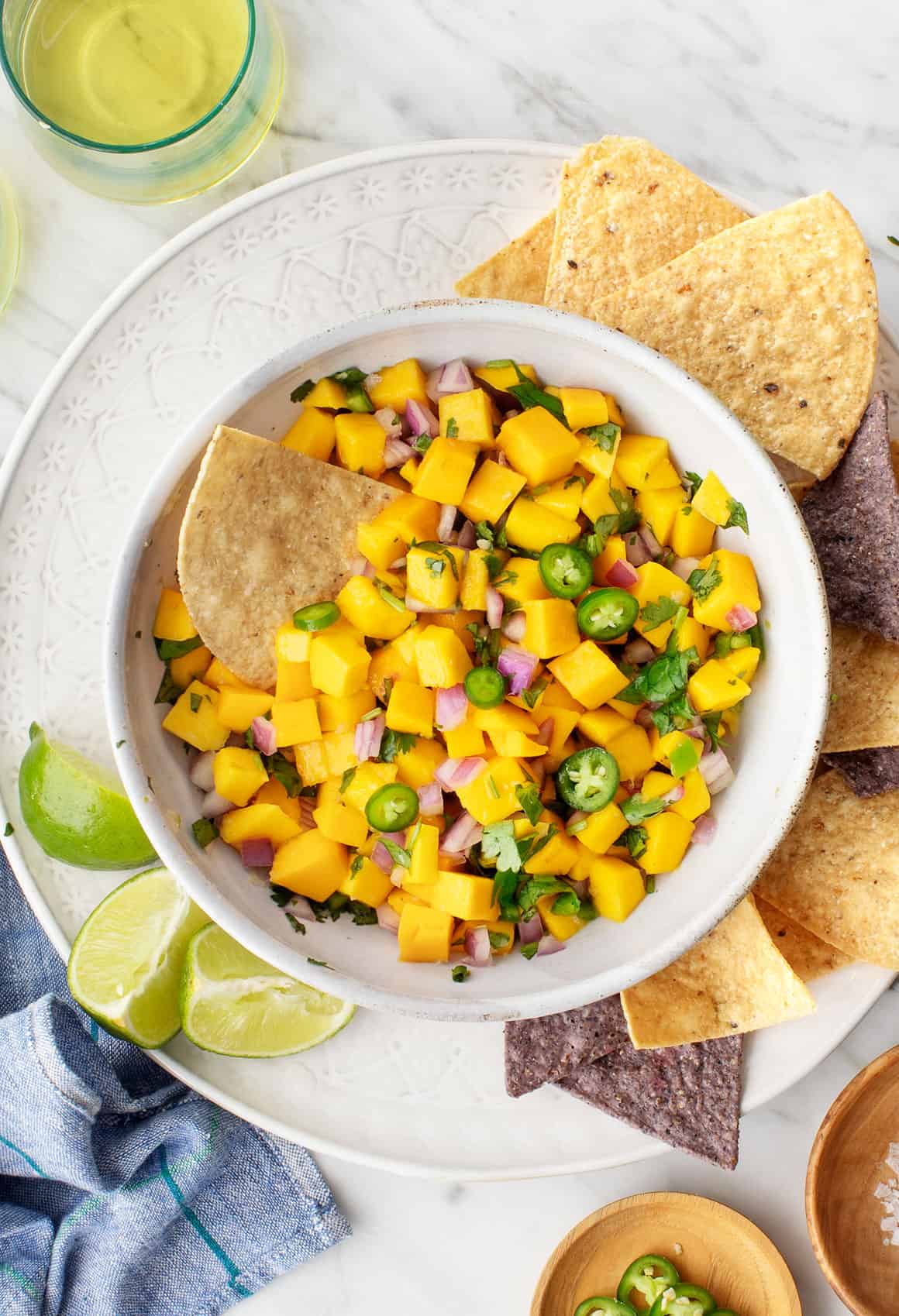 Mango Salsa
Diced mango steps in for tomatoes in this sweeter riff on pico de gallo. If you have mango leftover, blend up this cooling mango margarita to drink!
Cowboy Caviar
Serve it as a dip, or serve it as a salad, but whatever you do, make it ahead of time. This recipe gets better and better as it sits in the fridge.
Best Cookout Food Ideas for Dessert
Round out your cookout menu with a little something sweet! Here, you'll find fresh recipes that show off summer fruits as well as more decadent ideas to satisfy chocolate-loving guests.
Grilled Peaches
If you're firing up the grill for other cookout food like veggie burgers or corn on the cob, you might as well leave it on for dessert! Serve the juicy peaches with a scoop of vanilla ice cream or dollops of coconut whipped cream.
Homemade Brownies
When I'm planning a cookout menu, I often look for dessert recipes that I can make in advance. Classic brownies are a perfect choice. Bake them the morning of (or the day before!) your cookout, and they'll be fudgier, chewier, and even more delicious than they would be hot from the oven.
Vegan Chocolate Chip Cookies
You don't have to reinvent the wheel to come up with good cookout food ideas. Good ol' chocolate chip cookies are always a hit!
Creamy Vegan Lemon Bars, page 247 of Love & Lemons Every Day
These cool and creamy lemon bars set up in the freezer, so they're the perfect refreshing treat for hot summer days.
Strawberry Shortcake
I make mine with tender lemon cornmeal biscuits. It is Love & Lemons, after all. 🙂
Chocolate Zucchini Bread
Your guests will never guess that this moist, fudgy chocolate cake is filled with veggies.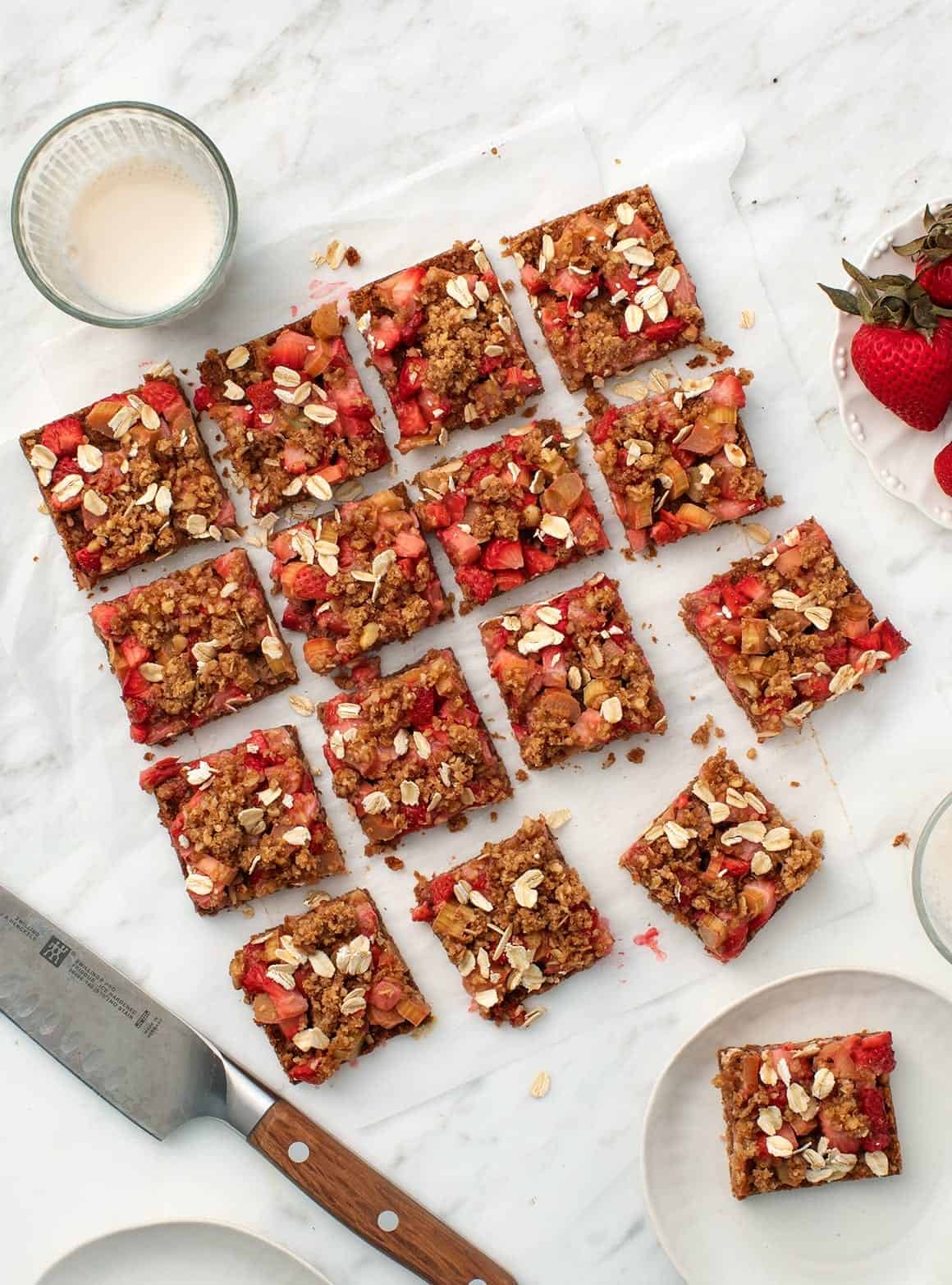 Strawberry Rhubarb Bars
These oat-y, nutty bars are one of my favorite cookout food ideas for early summer. They're far less messy to serve (and to make!) than pie, but they still feature the timeless, sweet-tart mix of strawberries and rhubarb.
Cookout Food Ideas: Black Bean Burgers
These black bean burgers are one of our favorite cookout food recipes!
Ingredients
3

cups

cooked black beans,

drained and rinsed

⅓

cup

grated yellow onion*

,

(about 1/2 medium)

2

garlic cloves

,

minced

2

chipotle peppers from a can of chipotles in adobo

,

diced, plus 2 tablespoons adobo sauce

1

tablespoon

tamari

1

tablespoon

balsamic vinegar

1

teaspoon

cumin

½

teaspoon

sea salt

½

teaspoon

black pepper

1

egg

1

cup

panko bread crumbs

Extra virgin olive oil,

for brushing

Cooking spray

,

if grilling

Hamburger buns and desired fixings,

for serving
Instructions
In a large bowl, combine the beans, onion, garlic, chipotles, adobo sauce, tamari, balsamic, cumin, salt, and pepper. Use a potato masher to mash until the mixture holds together but still has some visible chunks of black beans. Add the egg and use a spatula to fold until combined. Then, fold in the panko.

Use your hands to form the mixture into 6 patties. The mixture should be cohesive and a little wet. If it's too wet to handle, chill in the fridge for 20 minutes to firm up or mash your beans a little bit more.

Heat a cast-iron skillet over medium heat. Brush with a little oil and cook the burgers for about 5 minutes per side, until charred on both sides, turning the heat down as necessary. The exact timing will depend on the heat of your stove and cookware.

Alternatively, preheat an outdoor grill to 400°F. Lightly brush the patties with olive oil, spray the grill grates, and grill for 8 minutes on the first side and 4 minutes on the second side.

Serve with hamburger buns and desired fixings.
Notes
*Grate the onion on the large holes of a box grater. As you grate it, the onion will release a lot of liquid. That's normal! Add the wet onion pulp to the black bean mixture, leaving excess liquid behind on your work surface.