This vegan cinnamon coffee smoothie is the perfect healthy breakfast or snack! Made with dates and almond butter, it's creamy, filling, and delicious.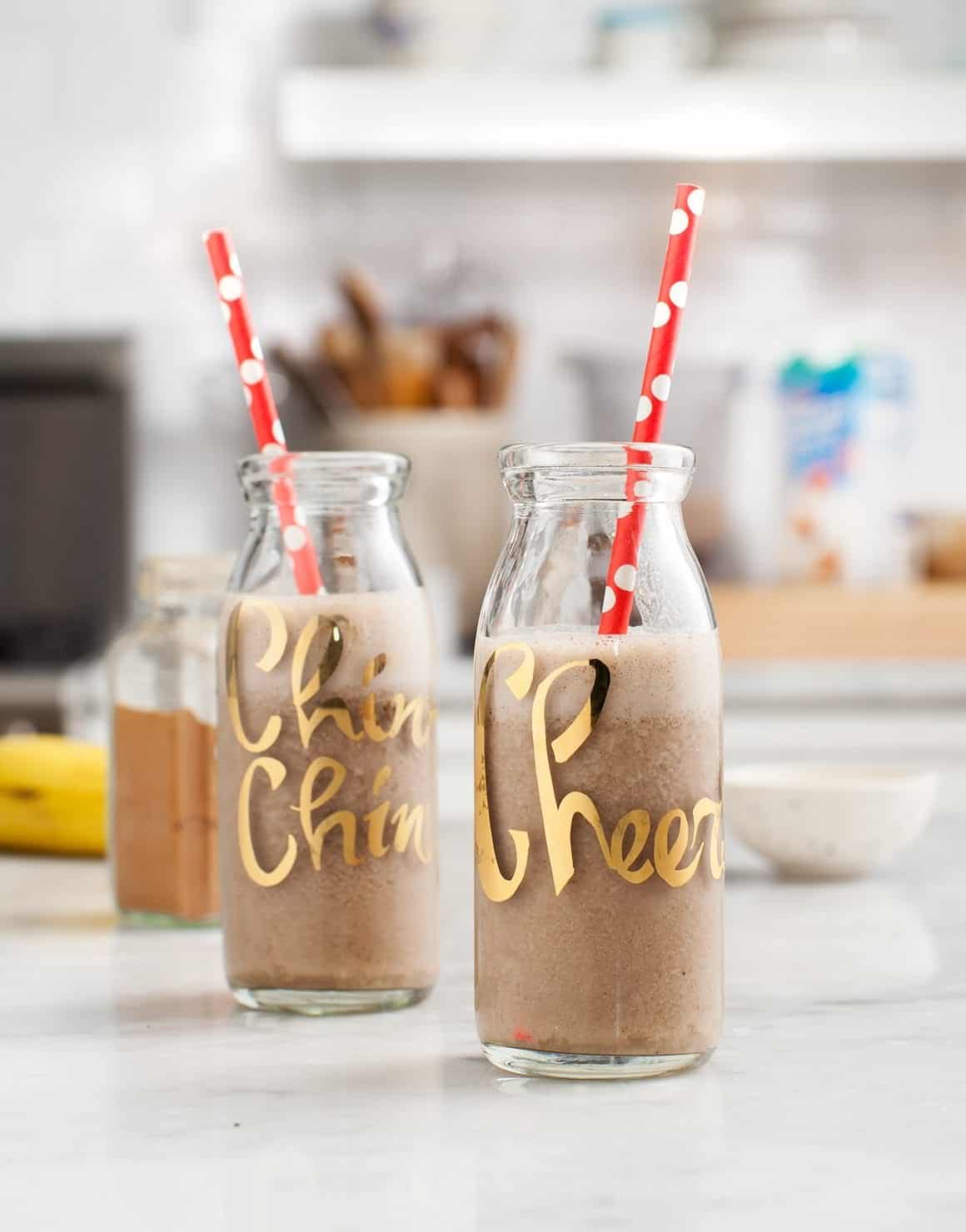 Happy Christmas Eve!
For this post, I had originally planned to do a cinnamon roll recipe to recreate all of my warm and cozy Christmas morning memories. Obviously – I didn't get to it. Plan B was to make a cinnamon roll smoothie – all of the goodness of cinnamon rolls but in a healthier format. But then I realized, who am I kidding? A cinnamon smoothie will never be a cinnamon roll, so instead, I'm sharing this yummy coffee smoothie that we've been making all week and really enjoying. It's creamy and filling, and it won't leave you with that carb/sugar overload feeling. What it will leave you with is more energy for opening presents, and it'll make you feel better about having a cocktail and a few cookies later in the day!
Cinnamon Coffee Smoothie Recipe Ingredients
Try it, and you'll never believe this coffee smoothie recipe is vegan. Several key ingredients make it creamy & richly flavorful without any dairy:
Frozen banana contributes natural sweetness and adds to the creamy texture.
Almond butter adds healthy fats & protein, and it works with the banana to make a smooth, luscious drink.
Coffee brings a kick of caffeine and essential coffee flavor.
Almond milk gets the blender moving.
Vanilla protein powder ups this smoothie's staying power, and it adds yummy vanilla flavor.
Cinnamon spices it up!
And maca gives this smoothie a warm butterscotch-like flavor. Plus, it has a host of health benefits: it's said to boost your mood & your energy and is full of vitamins like potassium, iron, and manganese!
And if you're in the mood, toss in a medjool date to make this smoothie even sweeter!
If you love this coffee smoothie recipe…
Try this smoothie bowl, this strawberry banana smoothie, this green smoothie, or this avocado smoothie next!
Cinnamon Coffee Smoothie
Made with dates and almond butter, this Cinnamon Coffee Smoothie is the perfect healthy breakfast or snack. Vegan and gluten-free!
Ingredients
1 frozen banana
1 tablespoon almond butter
2-4 tablespoons concentrated cold brew coffee or espresso
4 ice cubes
¾ cup almond milk, more as needed to blend
1 teaspoon cinnamon
1 heaping tablespoon maca powder, optional*
1 heaping tablespoon vanilla protein powder, optional*
1 medjool date or sweetener of your choice, optional
Instructions
Add all ingredients to a blender and blend until smooth. Add more almond milk, as needed.
This recipe was inspired by the Winter Smoothie on The Fresh Exchange.
Milk Glasses from Anthropologie.