Learn how to make coconut rice with 2 simple ingredients! It's rich, fragrant, and filled with buttery coconut flavor. A delicious side dish for any meal!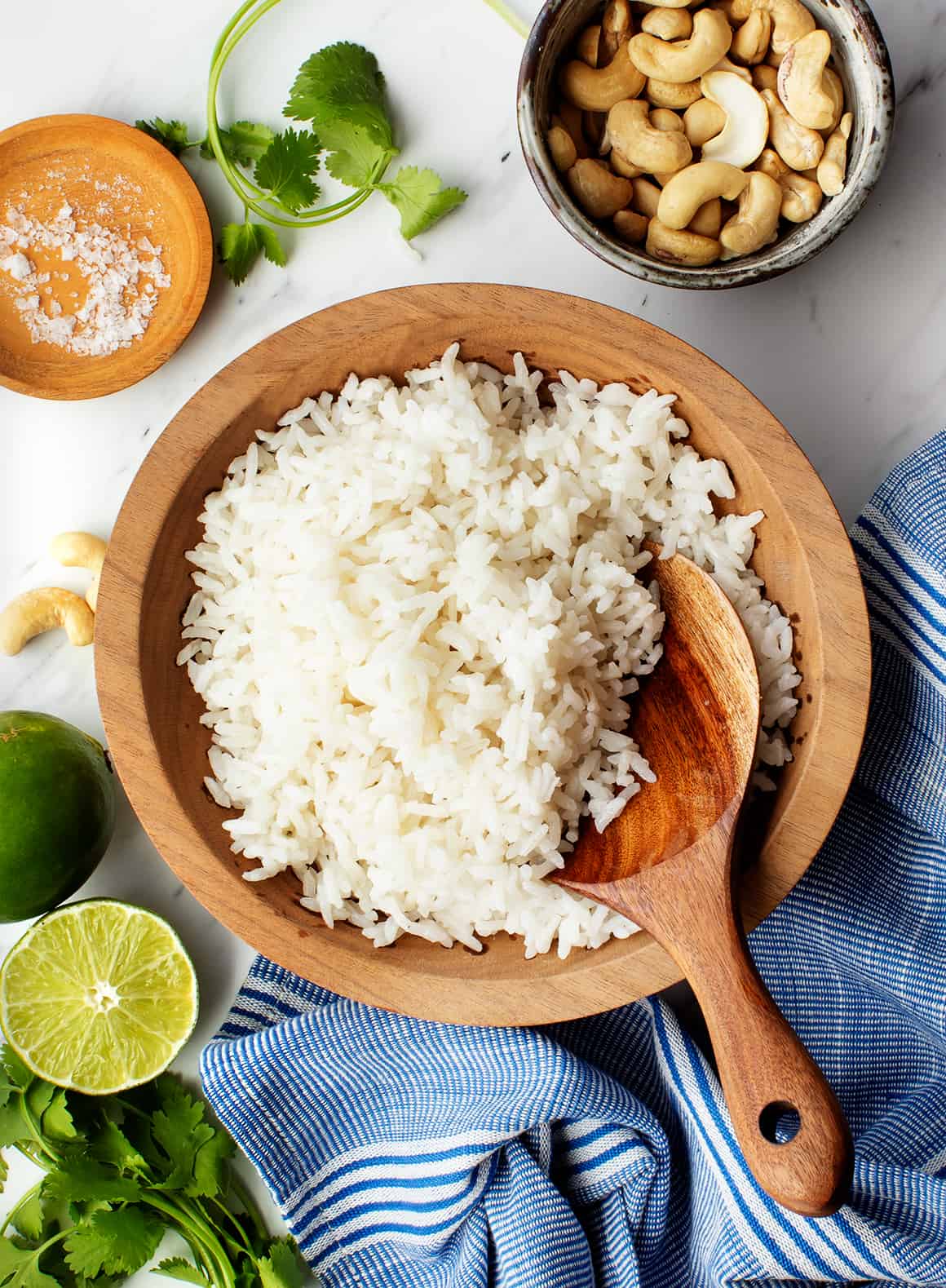 In my first cookbook, I shared a recipe for Coconut Rice with Brussels Sprouts. It was an instant hit after the book came out, and it's remained a reader-favorite recipe to this day. As much as people love Brussels sprouts, I suspect that the recipe's popularity isn't really because of the veggies. It's because of the coconut rice.
I mean, how could it not be? Coconut rice is rich and fragrant, with a sweet, buttery coconut flavor. It's fantastic in bowls and as a side dish, but it tastes so good that I could eat forkful after forkful straight from the pot.
You'll find my basic coconut rice recipe below. Coconut rice is eaten throughout South and Central America, Southeast Asia, and West Africa, and each of these regions prepares it slightly differently. This version isn't a riff on coconut rice from any of these places specifically, but it is inspired by the delicious combination of rice and coconut milk enjoyed in all of them.
Coconut Rice Recipe Ingredients
To make this recipe, you'll need 2 simple ingredients:
Jasmine rice – This Thai long grain white rice has a fluffy texture and aromatic flavor that makes it perfect for this recipe.
Full-fat coconut milk – The canned kind, please! Cartoned coconut milk is often sweetened or watered down, so it won't deliver the rich coconut flavor we want in this recipe.
Find the complete recipe with measurements below.
Coconut Rice Recipe Tips
Rinse the rice. This should be your first step whenever you cook rice – whether it's plain white rice, brown rice, or black. It removes starches that can cause the rice to clump up as it cooks. I like to rinse my rice by placing it in a fine mesh strainer set over a large bowl. Then, I rinse it in cool running water until the water in the bowl runs clear.
Coconut milk separated? Don't worry about it. When you open a can of coconut milk, you might not find a smooth, creamy milk inside. Instead, you'll likely see a thick layer of solids on top of a watery liquid. That's totally fine! Dump the separated coconut milk into your pot, and proceed with the recipe. The solids will melt down as the pot heats up. Just make sure you give everything a good stir before you cover the pot and reduce the heat.
You can control the richness and flavor. My favorite method for how to make coconut rice is the one in the recipe below: I cook one cup of rice in one can of coconut milk. It yields very rich rice with a robust coconut flavor, which I absolutely love. But if you prefer lighter rice with a milder flavor, that works, too! Substitute light coconut milk for full-fat, or cook the rice in a mixture of 3/4 cup coconut milk and 3/4 cup water.
Coconut Rice Serving Suggestions
The simplest way to enjoy this recipe is as a side dish. Before serving, I like to fluff the rice and toss it with sea salt, lime juice and zest, and chopped cilantro for extra flavor (it also tastes fantastic with the seasonings in this cilantro lime rice recipe). Pair it with any protein you like. We love it with this crispy sesame tofu.
This coconut rice is a great base for a rice bowl, too. Try using it in this vegan burrito bowl, this mango ginger rice bowl, or this tofu broccoli bowl. Or make your own bowl! Start with a scoop of the rice. Then, choose a component from each of these categories:
Stop there, or take it over the top with garnishes like pickled onions or fresh cilantro. Have fun finding a combination you love!
More Favorite Rice Recipes
If you love this recipe, try one of our other delicious rice dishes next! Find 15 Fresh Rice Bowl Recipes here and 25 Healthy Rice Recipes here.
Coconut Rice
This coconut rice recipe is an easy, delicious side dish! Enjoy the rich, fragrant rice plain, or season it with lime and cilantro for a punchier, fresher flavor.
Ingredients
Optional additions
½

teaspoon

sea salt

Juice and zest of 1 lime

½

cup

chopped cilantro

Chopped cashews
Instructions
Combine the rice and coconut milk in a pot and bring to a boil. Cover, reduce the heat, and simmer for 15 minutes, or until the liquid is absorbed.

Remove from the heat and let sit, covered, for 10 minutes. Fluff with a fork.

Use in your favorite recipe that calls for coconut rice, or stir in the salt, lime juice and zest, and cilantro. Season to taste. Sprinkle with cashews and serve as a side dish.
Notes
*For fluffier rice with a milder coconut flavor, use a mix of coconut milk and water. Replace the can of coconut milk with 3/4 cup water and 3/4 cup coconut milk.