Here it is: the only coconut macaroons recipe you'll ever need! They're crisp on the outside, soft in the middle, and oh-so-good with a chocolate drizzle.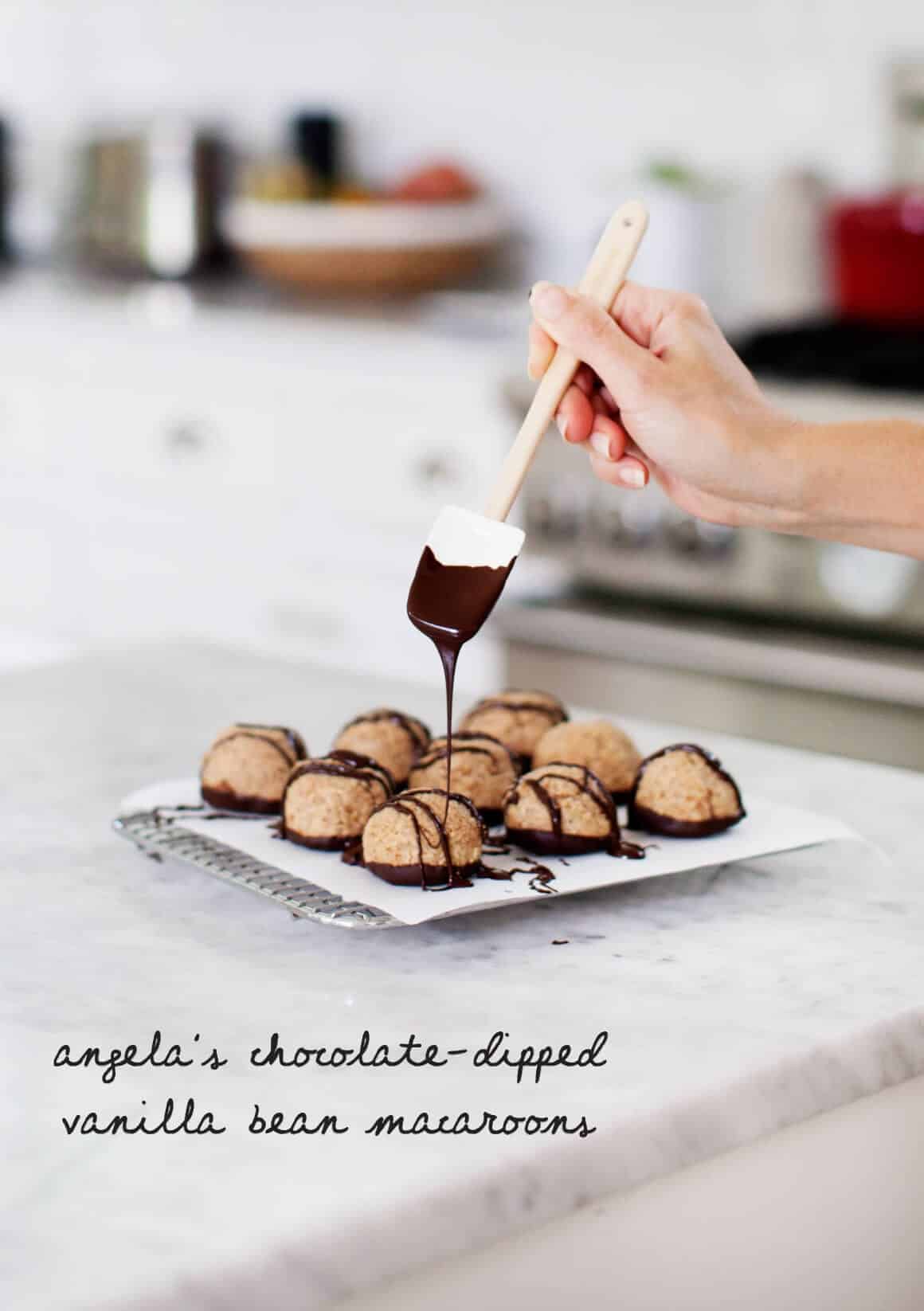 Truth: I have a hard time writing cookie posts without getting up to eat at least one. two. For this reason I usually like to post salads and other lighter foods on Mondays, but I'm switching things up today because sometimes you just need a #cookiemonday (or in this case a coconut macaroon Monday) and that's ok.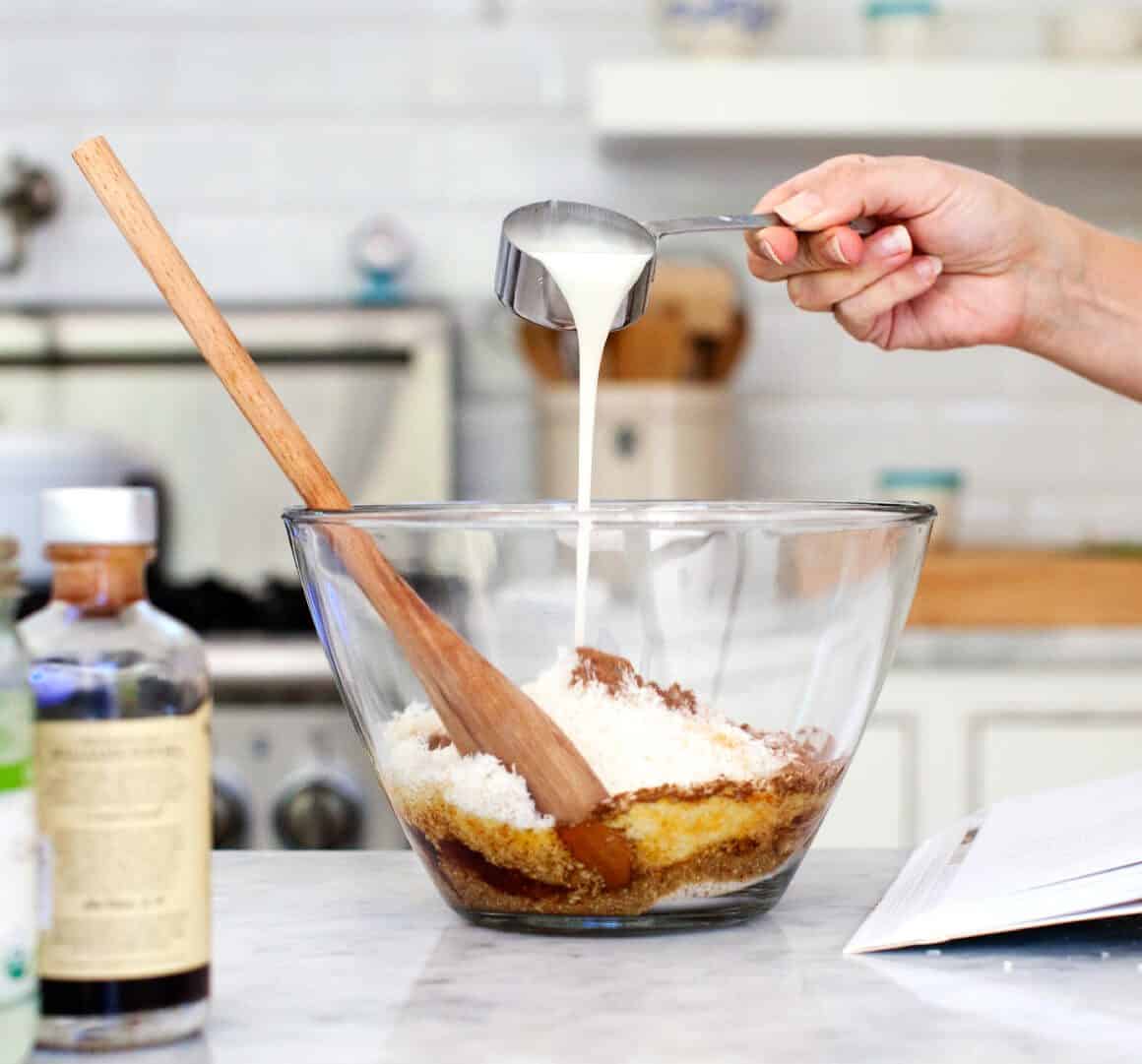 This coconut macaroons recipe is from Angela Liddon's new book, Oh She Glows Every Day. I'm sure you all have it by now, right? If you don't, and you're vegan (and even if you're not), you're going to love it. It's packed with SO MANY yummy vegan recipes and some especially show-stopping desserts. There's even an entire chapter devoted to vegan cookies because Angela is a girl after my own heart.
Coconut Macaroons Recipe Ingredients
If you hadn't guessed by now, these coconut macaroons are vegan, so you won't find any sweetened condensed milk or whipped egg whites here. All the same, they're moist, buttery, and full of rich coconut flavor. Here's what makes them just as good as (if not better than) a classic coconut macaroon:
Lots of shredded coconut makes these guys fresh, rich & coconut-y – just what a macaroon should be!
Maple syrup subs in for the usual confectioners sugar, so these cookies are refined sugar-free. Even better, the maple adds a wonderful depth of flavor.
Almond flour makes them nutty, rich & crisp on the outside.
Vanilla and cinnamon give them a delicious warm flavor.
Coconut butter takes the place of the traditional egg whites, binding these guys together. I think it's even better than the egg, because it adds extra richness and lovely coconut flavor! Don't know where to find coconut butter? No worries! You can make your own at home – you'll find the instructions in the recipe.
Angela's recipe also calls for dark chocolate for drizzling & dipping. FYI, I loved these macaroons warm out of the oven even before adding the chocolate. So if you're short on time, you can bake them off and stop there. If not, get messy and melt some chocolate (you definitely won't regret it)!
How to Make Coconut Macaroons
Before I tried this recipe, making macaroons always seemed too involved to try at home. But let me tell you, they're really not tricky. They're especially simple with this recipe, as you don't need to worry about beating egg whites into soft peaks! Here's how you make them:
Stir together the almond meal, shredded coconut, salt, cinnamon, maple syrup, coconut butter, and vanilla.
Scoop the mixture into 2-tablespoon mounds on a parchment-lined baking sheet.
Bake in a 275-degree oven for 25 minutes, rotating the pan halfway through. Pull them out when they're a light golden brown.
If you're not a chocolate fan, stop here. Otherwise, proceed with the dipping process!
First dip the base of the macaroons into the chocolate, then freeze them just long enough for the chocolate to harden:
Then, flip them over and drizzle the tops with chocolate and TRY to make yours a little prettier than the mess I made here:
Freeze them for 5-10 minutes so that the chocolate can harden, and then enjoy!
More Favorite Cookie Recipes
If you love this coconut macaroons recipe, try one of these cookie recipes next:
Coconut Macaroons
Vegan and gluten-free coconut macaroons recipe from
Oh She Glows Every Day
by Angela Liddon. Great for the holidays!
Ingredients
1 cup raw almonds, ground into a fine meal* (see note)
1½ cups unsweetened shredded coconut
½ teaspoon plus ⅛ teaspoon fine sea salt
½ teaspoon ground cinnamon
½ cup pure maple syrup
¼ cup coconut butter (I used this brand)** (see note)
1 teaspoon pure vanilla extract
1 vanilla bean, seeds scraped (I skipped and added more vanilla extract)
3½ ounces non-dairy dark chocolate
1 teaspoon coconut oil
Instructions
Preheat the oven to 275°F. Line a baking sheet with parchment paper. Line a large plate with parchment paper.
In a large bowl, stir together the almond meal, shredded coconut, salt, cinnamon, maple syrup, coconut butter, vanilla extract, and vanilla bean seeds until throughly combined. The dough will be thick and sticky.
With a 2-tablespoon retractable cookie scoop, scoop a ball of dough and pack it in so that the top is flat. (note: I didn't have the right scoop so shaped these with my hands). Release the dough onto the prepared baking sheet. Repeat with the rest of the dough, setting the macaroons about 2 inches apart on the baking sheet.
Bake for 15 minutes, then rotate the pan and bake for 10 to 15 minutes more, until the macaroons are a bit golden around the edges. Watch them closely during the last 5 to 10 minutes.
Let cool on the baking sheet for 10 minutes, then carefully transfer to a cooling rack to cool completely.
In the top of a double boiler, melt the chocolate and coconut oil together over low-medium heat, stirring frequently until smooth.
Dip the flat base of each cooled macaroon into the chocolate and twirl the macaroon until the base is coated in chocolate. As you dip them, place each macaroon onto the parchment paper-lined plate, upside down, so the chocolate coating is facing upward. Freeze the macaroons for 10 to 15 minutes, or until the chocolate has hardened.
Flip each macaroon chocolate-side down and drizzle the remaining chocolate on top (reheat the chocolate until liquid, if necessary). Freeze for 5 to 10 minutes, until the chocolate drizzle is firm.
Store leftover macaroons in an airtight container in the fridge for up to 1 week. Freeze for up to 1 month.
Notes
*I grind them in my Vitamix for a little less than 1 minute.

**Angela's instructions advise not to skip this because they won't hold together with coconut oil. She has a recipe for homemade coconut butter in the book (just process unsweetened shredded coconut in your food processor until it's smooth & creamy), but I used the Artisana brand coconut butter and it was great.