This hearty club sandwich is one of my favorite lunch recipes! A creamy spread and lots of veggies perfectly accent smoky marinated tempeh strips.
Someone recently asked me – when do you use tempeh? I responded with, "when I'm tired of tofu and chickpeas… that's when it's tempeh time :)" To be honest, no one really knocks down my door begging for more tempeh recipes, but since that interview, I've had it on the brain. Tempeh is delicious, so let's make a club sandwich with it!
Club Sandwich "Meat"
The marinade I created for the tempeh is a smoky mixture that includes tamari or soy sauce, maple syrup, ground cumin, and smoked paprika. When you first mix this together, the flavor is going to be very (very) salty and pungent, but since plain tempeh starts out with literally ZERO flavor, it'll all balance out in the end.
Speaking of things that aren't bland, we're partnering with eureka!® Organic Bread on this post. (You might remember this springy edamame sandwich from last year!). Their bread is seriously tasty. It's vegan, non GMO, and full of good-for-you grains and seeds. Most importantly, it's soft, chewy and delicious.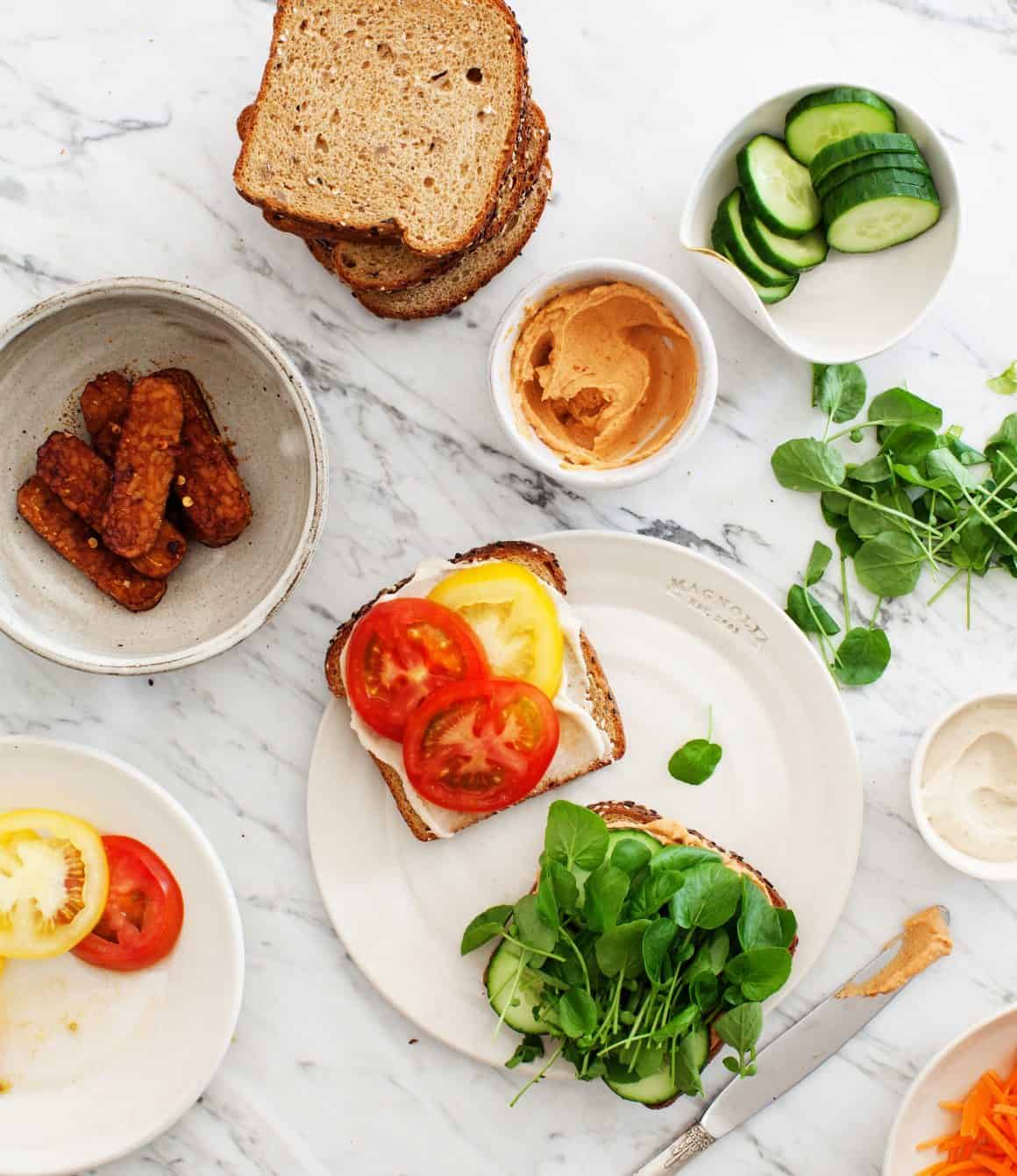 How to Make A Great Club Sandwich
Once your crispy, golden brown cooked tempeh is ready, it's time to load up your sandwich! Instead of mayo, I slathered this vegan sandwich with 2 flavorful spreads. The first is a lemony garlic white bean spread. The second is a sun dried tomato spread that I made by blending half of the original white bean spread with a few sun dried tomatoes. Of course, if you happen to have hummus on hand, you could use that in place of both.
I stacked my sandwiches with peppery watercress, crisp cucumber slices, and ripe avocado slices.
If you loved this club sandwich recipe…
Try these healthy lunch ideas, vegan recipes, and more tempeh recipes next!
Vegetarian Club Sandwich
This smoky tempeh club sandwich is the ultimate lunch! Top it with your favorite veggies, and enjoy.
Ingredients
White Bean & Sun-Dried Tomato sandwich spreads
1

15-ounce can white beans, drained and rinsed

2

tablespoons

extra-virgin olive oil

Juice of 1 medium lemon

2

garlic cloves

¼

teaspoon

salt

Freshly ground black pepper

3 to 4

sun-dried tomatoes
Instructions
Make the sandwich spreads. In a blender or small food processor, make the White Bean spread by pureeing the white beans, olive oil, lemon juice, garlic, salt and pepper. Blend until smooth, adding 1 to 2 tablespoons of water if necessary to blend. Scoop out half of the puree. Make the Sun-Dried Tomato spread by adding the sun-dried tomatoes to the blender. Blend again, adding 1 to 2 tablespoons of water if necessary to blend.

Assemble 4 sandwiches with the bread, spreads, tempeh, watercress, tomato, cucumber, and avocado.
This post is sponsored by eureka! Organic Bread.