There's exactly one thing I love about winter – the colorful produce! I know, I know, the winter is not so bad here in Austin, but I feel for those of you up north, because I used to be one of you. I live for warm sunny days, so I made this cabbage salad of bright winter produce with you in mind – to send some love – and lemons… and well, also some clementines.
To make this crunchy napa cabbage salad
Start with a base of crisp winter veggies:
Cabbage: Tender napa cabbage or savoy cabbage is best in this recipe.
Fennel: Thinly sliced with a knife, or better yet on a mandoline.
Radishes: Use a mix of watermelon and red radishes, or all red radishes.
Carrots: Thinly sliced, use the mandoline if you already have it out.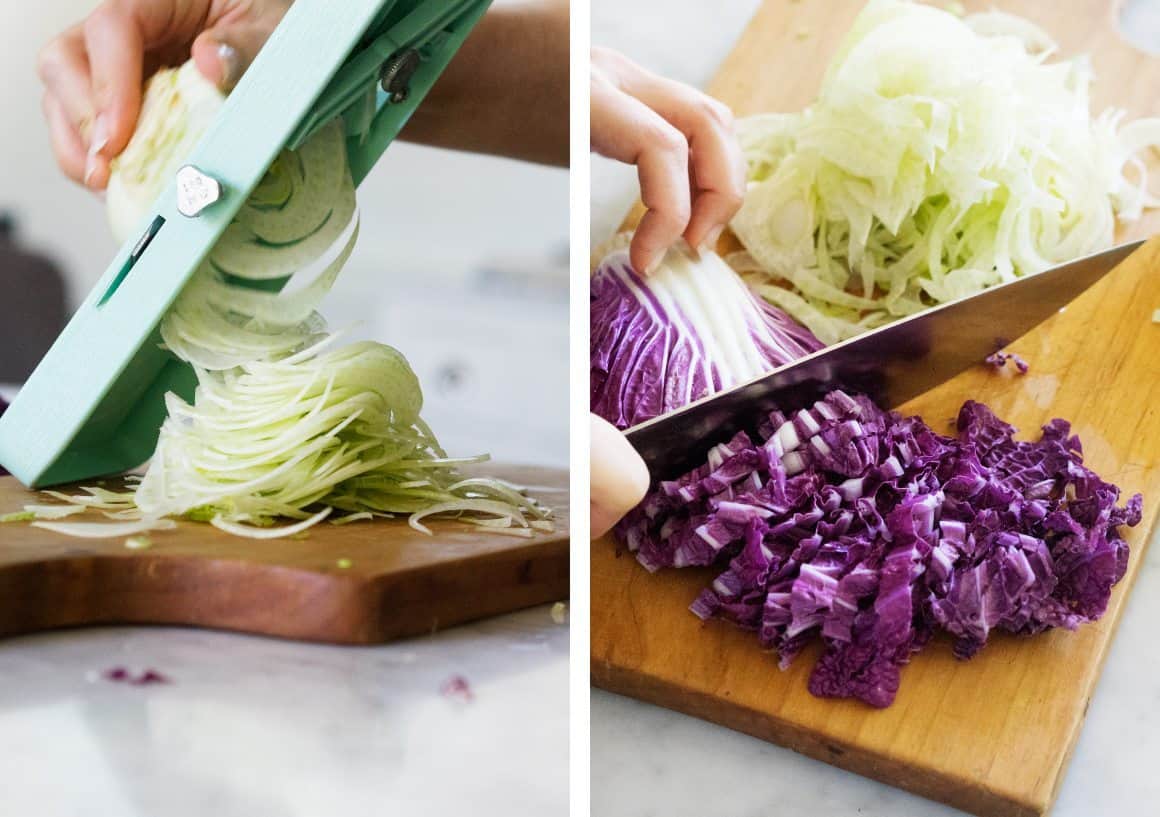 Make a zippy citrus dressing to coat the cabbage
Next, whisk together this dressing. This one is made with lemon juice, clementine (or orange) juice, miso paste, ginger, and garlic. The citrus juices soften and tone down the bitterness of the veggies in this napa cabbage salad.

Add these extras for flavor and texture:
Creamy avocado
Fresh mint leaves
chopped almonds or sesame seeds

This is a great side dish for dinner or brunch. I also love it for lunch because all of these crunchy vegetables keep well in the fridge for 2 to 3 days after it's first assembled.

If you have leftover cabbage, make one of these recipes!
Citrus Napa Cabbage Salad
This Citrus Napa Cabbage Salad is a bright, light winter side! Add a protein of your choice to make it a meal.
Ingredients
1 large fennel bulb, very thinly sliced
1 medium napa or savoy cabbage, shredded
2 large or 4 small carrots, sliced into thin coins
2 watermelon radishes or 4 red radishes, thinly sliced
2 clementines, sliced or segmented
1 small avocado, diced
Generous handful of mint
⅓ cup sesame seeds or chopped almonds, toasted
Dressing:
3 tablespoons extra-virgin olive oil
2 garlic cloves, minced
2 teaspoons freshly grated ginger
¼ cup fresh lemon juice
¼ cup fresh clementine juice
1 tablespoon miso paste
Instructions
In a small bowl, make the dressing by whisking together the olive oil, garlic, ginger, lemon and clementine juices and the miso paste.
In a large bowl mix together the fennel, cabbage, carrots, radishes, half the clementines and half the avocado. Toss with half the dressing and let sit for 10 minutes. Season to taste adding more dressing as you like. Assemble the salad on a platter and top with the remaining clementines and avocado, mint and sesame seeds or almonds. Serve with the remaining dressing.
This post is sponsored by Method Home. Thank you for supporting the sponsors that keep us cooking!