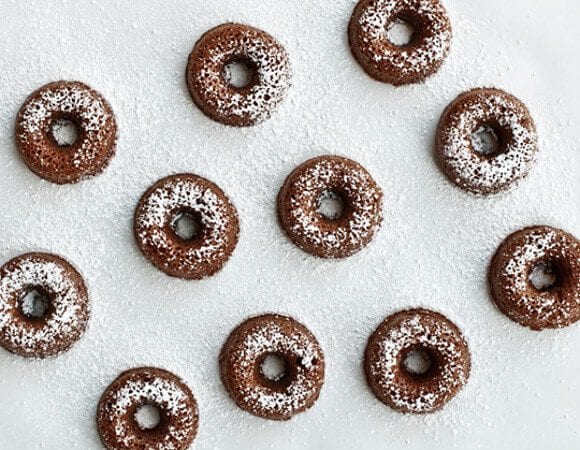 This is the story of Goldilocks and the 3 batches of doughnuts. The first batch was tasty but ugly and definitely not camera-ready. Number two was cuter, but too spongey and airy, and batch #3 was just right. (After this post, we'll be going back to salads to recover from all this doughnut "testing").
These might not be your Dunkin' or your Krispy variety, (come on, a little healthy baked doughnut can't really compete with the deep fryer) but for hundreds of calories less they are a tasty little treat with a delicious flavor thanks to the coconut oil, almond flour, cinnamon and especially the fresh nutmeg. To our surprise, these were actually better the second day after the cocoa and the nutmeg flavors had some time to get to know each other better.
I should also add that the mini-doughnut pan, while cute, makes it hard to keep these little puppies moist. I got a nice result from a mini-muffin pan (making slightly larger sized "doughnut holes"). And I have yet to try out a regular sized doughnut pan because I don't have one, but I might get one for next time.
makes about 24 mini doughnuts, 16 mini-muffins, or about 8 regular sized doughnuts. 
1 cup flour(s) of your choice (I did half almond, half spelt).
1/4 cup cocoa powder
1 teaspoon baking powder
1/3 cup sugar
1/4 teaspoon freshly ground nutmeg
1/4 teaspoon cinnamon
1/2 teaspoon salt
2.5 tablespoons coconut oil
1/2 cup milk of your choice (I used almond milk)
1/4 teaspoon apple cider vinegar
1 teaspoon vanilla extract
1 egg
Preheat oven to 400 and spray or grease a donut pan or mini-muffin pan.
Sift flour, cocoa powder, baking powder and baking soda. Stir in the rest of the dry ingredients.
In a separate bowl, whisk all wet ingredients. (if your coconut oil is clumpy, melt it slightly).
Combine wet and dry ingredients, stirring gently until just combined.
Fill doughnut pan, (don't fill batter higher than 3/4 of the way up).
Bake for 5-7 minutes (possibly a bit longer if you are not using a regular sized doughnut pan). Doughnuts are done when they are puffed up in the oven. Be careful not to over-bake, especially if you're making mini's. They bake quick.
Let cool and dust with powdered sugar or glaze.
Quick glaze: 1 part milk (any kind) to roughly 4 parts powdered sugar, whisk together (add more powdered sugar or liquid if necessary to get a good glaz-ey consistency) and drizzle over cooled doughnuts.