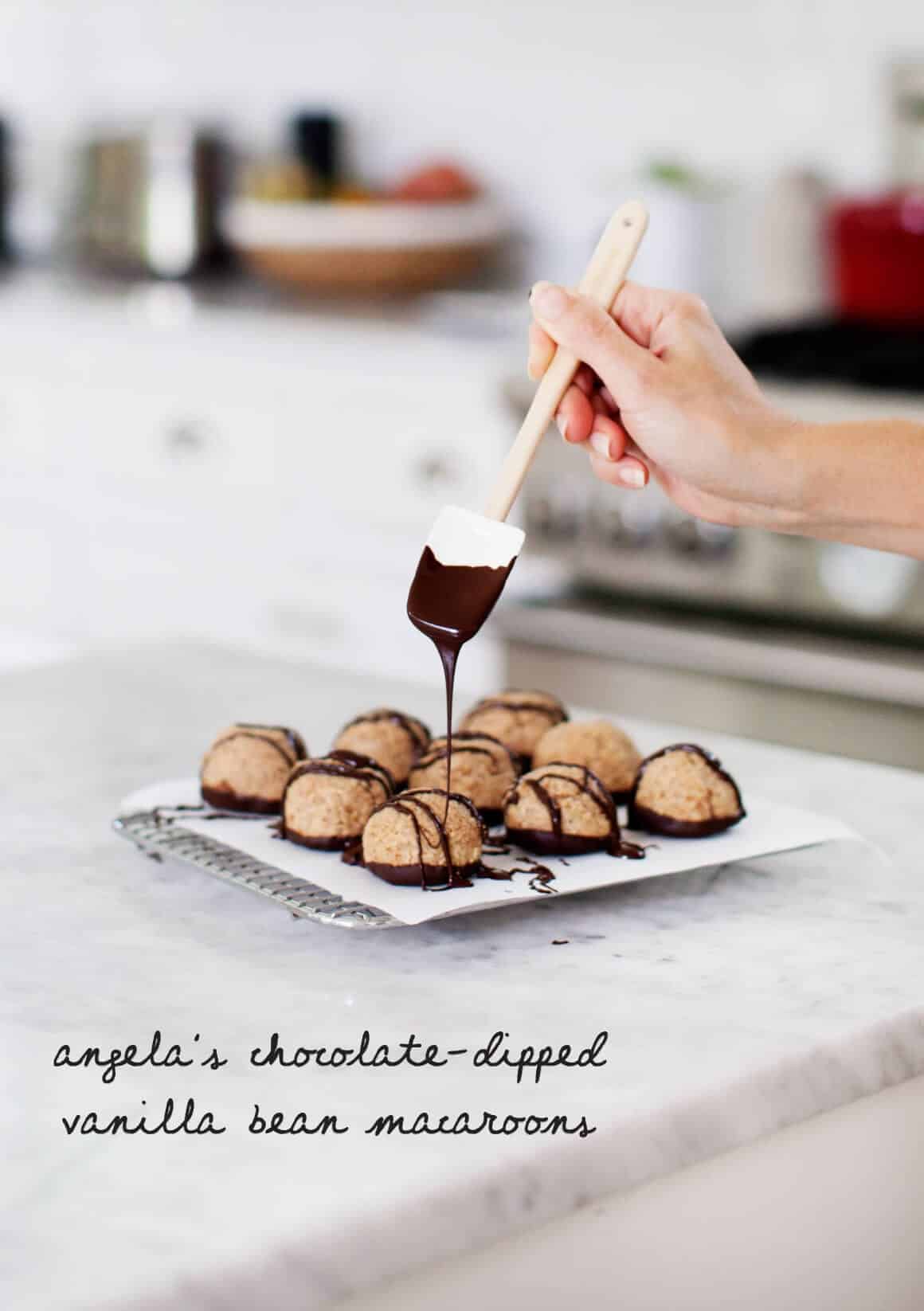 Truth: I have a hard time writing cookie posts without getting up to eat at least one. two. For this reason I usually like to post salads and other lighter foods on Mondays, but I'm switching things up today because sometimes you just need a #cookiemonday (or in this case a coconut macaroon Monday) and that's ok.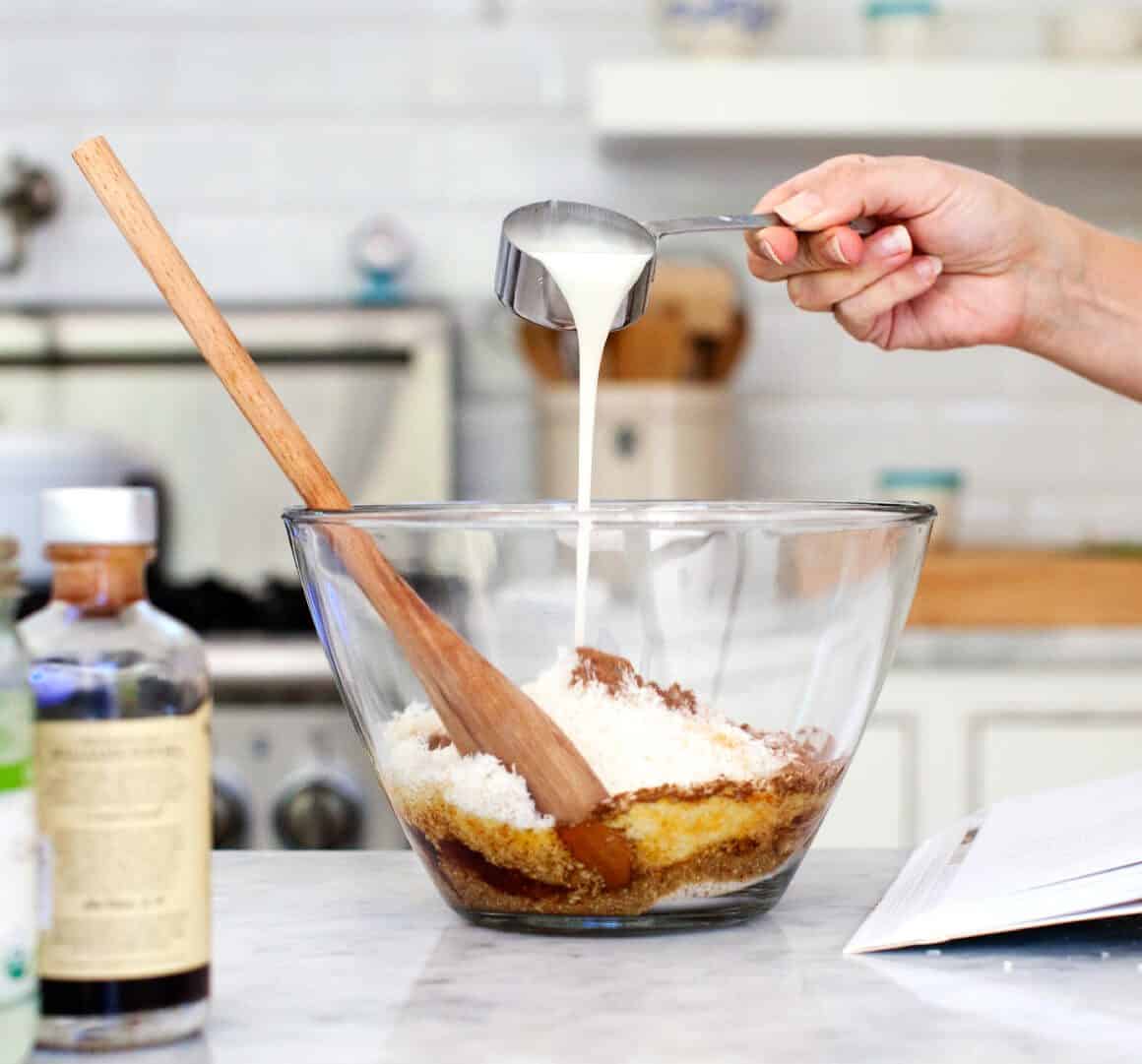 These coconut macaroons are more cookie-like than most. They're made with (of course) lots of shredded coconut, but they also have ground almonds, cinnamon, maple syrup, vanilla, and coconut butter. These are pretty substantial cookies which make them a terrific afternoon snack.
This coconut macaroon recipe is from Angela Liddon's new book, Oh She Glows Every Day. I'm sure you all have it by now, right? If you don't, and you're vegan (and even if you're not), you're going to love it. It's packed with SO MANY yummy vegan recipes and some especially show-stopping desserts. There's even an entire chapter devoted to vegan cookies because Angela is a girl after my own heart.
I have to tell you – I loved these macaroons warm out of the oven even before adding the chocolate. So if you're short on time, you can bake them off and stop there. If not, get messy and melt some chocolate:

First dip the base of the macaroon into the chocolate, then freeze them just long enough for the chocolate to harden:

Flip them over and drizzle the tops with chocolate and TRY to make yours a little prettier than the mess I made here:


Usually this is the part of the post where I show you a recipe that I'm going to make next… but this time I'm showing you this awesome chocolate tart because I made it, and it's awesome. A few leftover slices are in my freezer waiting for a special occasion where I haven't already eaten 2 coconut macaroons after lunch.

Get the book! Or, for more vegan treat ideas, try this banana bread, these banana muffins, or these chocolate chip cookies!
Chocolate-Dipped Coconut Macaroons
Vegan and gluten-free coconut macaroons recipe from
Oh She Glows Every Day
by Angela Liddon. Great for the holidays!
Ingredients
1 cup raw almonds, ground into a fine meal* (see note)
1½ cups unsweetened shredded coconut
½ teaspoon plus ⅛ teaspoon fine sea salt
½ teaspoon ground cinnamon
½ cup pure maple syrup
¼ cup coconut butter (I used this brand)** (see note)
1 teaspoon pure vanilla extract
1 vanilla bean, seeds scraped (I skipped and added more vanilla extract)
3½ ounces non-dairy dark chocolate
1 teaspoon coconut oil
Instructions
Preheat the oven to 275°F. Line a baking sheet with parchment paper. Line a large plate with parchment paper.
In a large bowl, sitr together the almond meal, shredded coconut, salt, cinnamon, maple syrup, melted coconut butter, vanilla extract, and vanilla bean seeds until throughly combined. The dough will be thick and sticky.
With a 2-tablespoon retractable cookie scoop, scoop a ball of dough and pack it in so that the top is flat. (note: I didn't have the right scoop so shaped these with my hands). Release the dough onto the prepared baking sheet. Repeat with the rest of the dough, setting the macaroons about 2 inches apart on the baking sheet.
Bake for 15 minutes, then rotate the pan and bake for 10 to 15 minutes more, until the macaroons are a bit golden around the edges. Watch them closely during the last 5 to 10 minutes.
Let cool on the baking sheet for 10 minutes, then carefully transfer to a cooling rack to cool completely.
In the top of a double boiler, melt the chocolate and coconut oil together over low-medium heat, stirring frequently until smooth.
Dip the flat base of each cooled macaroon into the chocolate and twirl the macaroon until the base is coated in chocolate. As you dip them, place each macaroon onto the parchment paper-lined plate, upside down, so the chocolate coating is facing upward. Freeze the macaroons for 10 to 15 minutes, or until the chocolate has hardened.
Flip each macaroon chocolate-side down and drizzle the remaining chocolate on top (reheat the chocolate until liquid, if necessary). Freeze for 5 to 10 minutes, until the chocolate drizzle is firm.
Store leftover macaroons in an airtight container in the fridge for up to 1 week. Freeze for up to 1 month.
Notes
*I grind them in my Vitamix for a little less than 1 minute.

**Angela's instructions advise not to skip this because they won't hold together with coconut oil. She has a recipe for homemade coconut butter in the book, but I used the Artisana brand coconut butter and it was great.