This easy chipotle sauce is one of my favorite condiments to keep on hand! It's great for dipping and for spicing up your favorite tacos & bowls.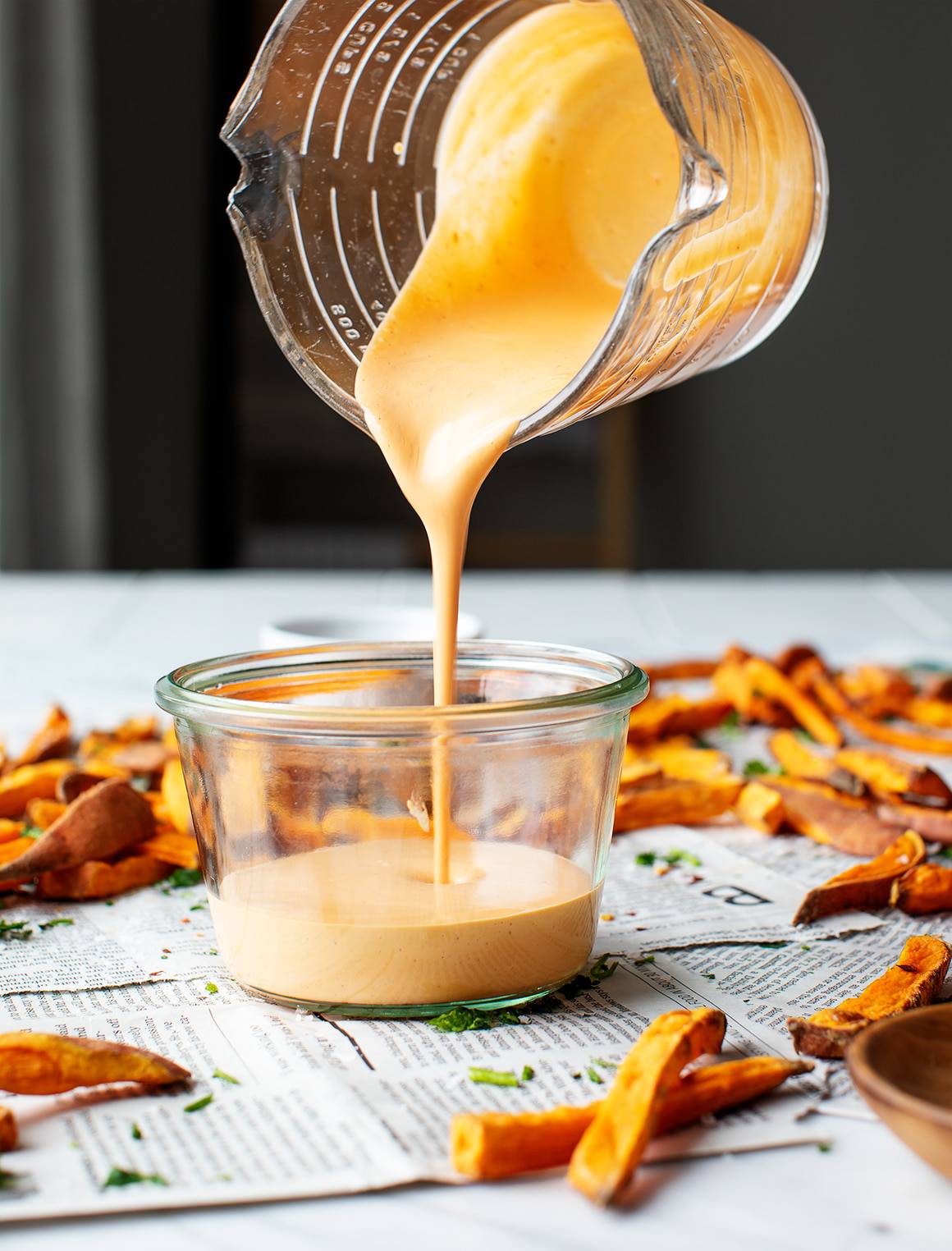 I say this all the time, but I truly believe that the key to a great veggie meal (or any meal, really) is a great sauce! With a great sauce on hand, you can use whatever veggies/grains/proteins you have to easily make salads, bowls, tacos, or sandwiches any night of the week. This smoky, creamy chipotle sauce is one of my absolute favorites to punch up any meal. It started as a sauce to the cauliflower tacos in my first cookbook and now I love it on everything from burrito bowls to breakfast tacos. It's also great as a sweet potato fries dipping sauce, as it's pictured here today. Keep reading for how to make it (and yes, there's a vegan version!).
How to Make the Best Chipotle Sauce
What's the secret to making a great chipotle mayo? Canned chipotle peppers in adobo sauce. They have an amazing smoky, spicy flavor that makes them one of my go-to ingredients in savory recipes. If you've never used chipotles in adobo, don't worry – they're not hard to find. Most grocery stores carry them in the Mexican aisle. After you make this recipe, use your leftover chipotles in BBQ jackfruit sliders or creamy vegan nacho cheese!
In this recipe, I balance the heat of the chipotles with sweetness from honey, richness from Greek yogurt & mayonnaise, and brightness from lime to make an addictive sauce that's a bit lighter than a traditional chipotle aioli. And no need to worry if you're vegan – maple syrup and vegan mayo work perfectly in place of the honey, yogurt, and traditional mayonnaise.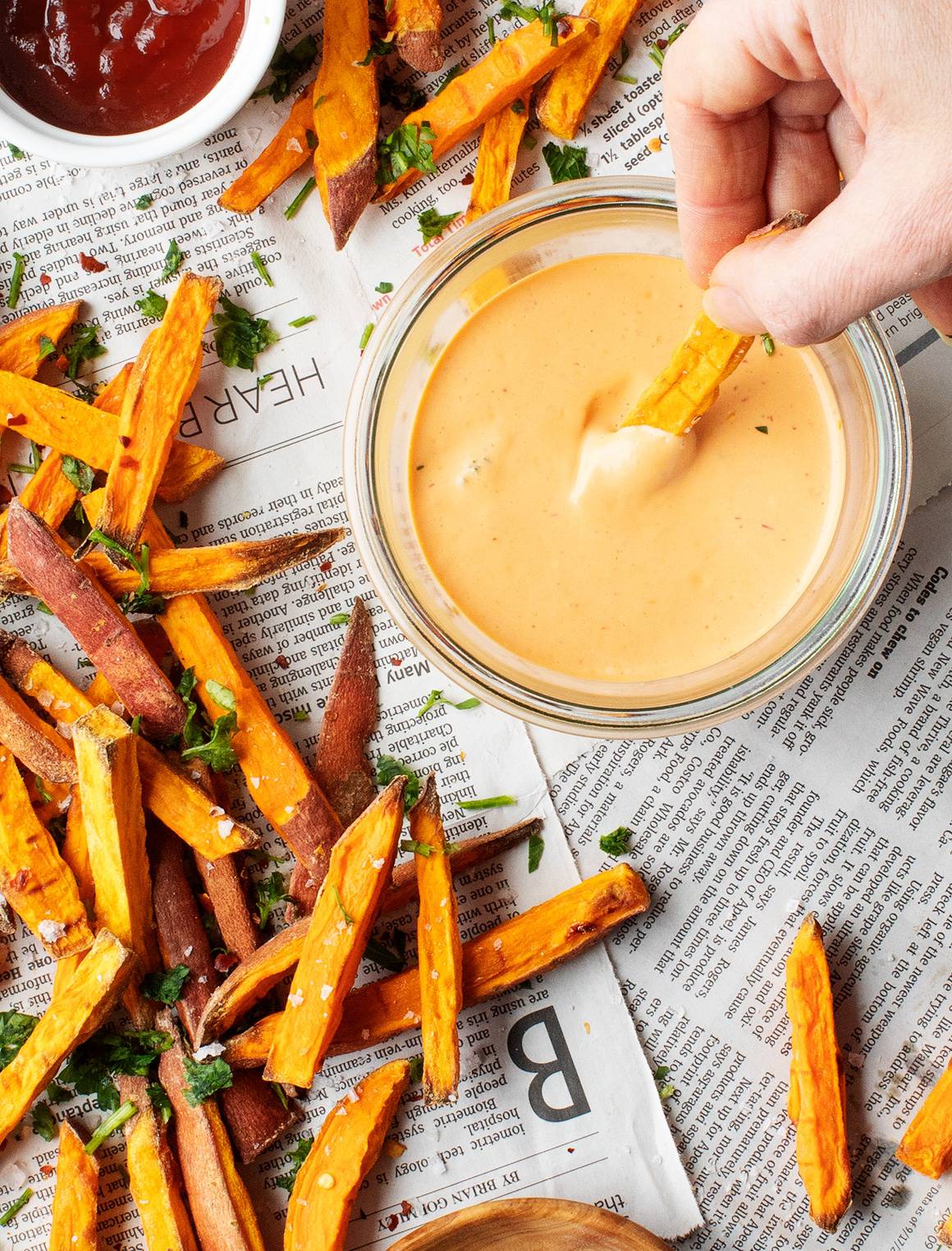 How to Use Chipotle Sauce
Ok, you've made your chipotle sauce. Now what do you do with it? I love to use it as a sweet potato fries dipping sauce, and it's great to have on hand for quick no-recipe meals. Drizzle it over a burrito bowl or roasted veggies, or dollop it onto tacos like the cauliflower tacos in our first book! You could also slather it onto a sandwich or use it to top your favorite veggie burger.
In addition, it would be delicious in any of these recipes: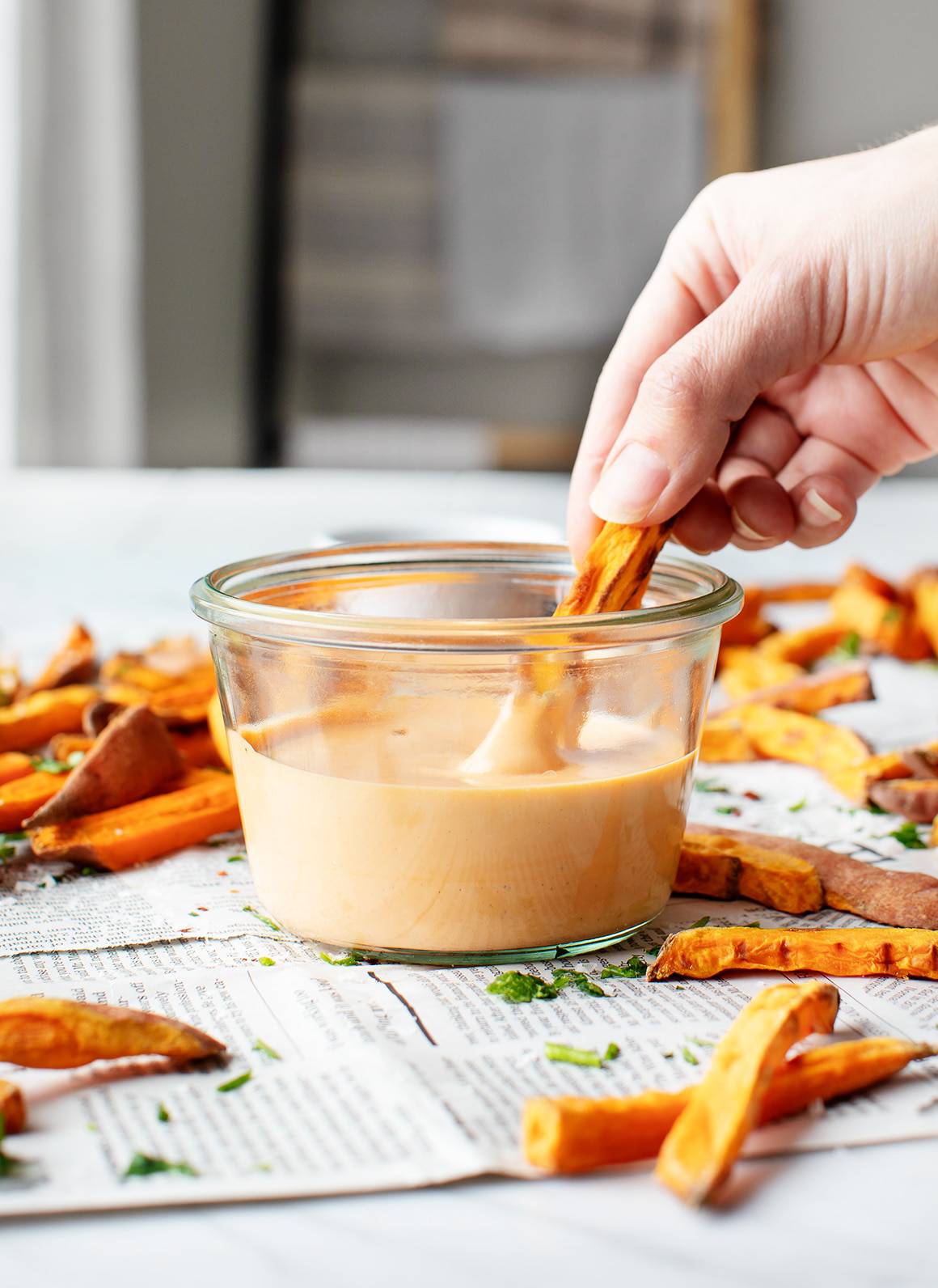 If you loved this chipotle sauce, try these favorite sauces next!
For more dips and appetizer ideas, check out this post!
Creamy Chipotle Sauce
This easy, smoky chipotle sauce is a great condiment to keep on hand! Use it to spice up your favorite tacos & bowls or as a dip for sweet potato fries.
Instructions
In a food processor, place the yogurt, mayo, chipotle pepper, garlic, lime juice, olive oil, honey, and generous pinches of salt and freshly ground black pepper and blend until smooth. Season to taste with more salt and pepper, if desired.
Notes
*Vegan option: use ¾ cup vegan mayo instead of the yogurt and regular mayo. This recipe was tested with Sir Kensington's Fabanaise. Use maple syrup in place of the honey.