Chilaquiles with Avocado - my take on fresh healthier chilaquiles. Made with corn tortillas, eggs and red chile salsa. A favorite for breakfast or brunch. Gluten free.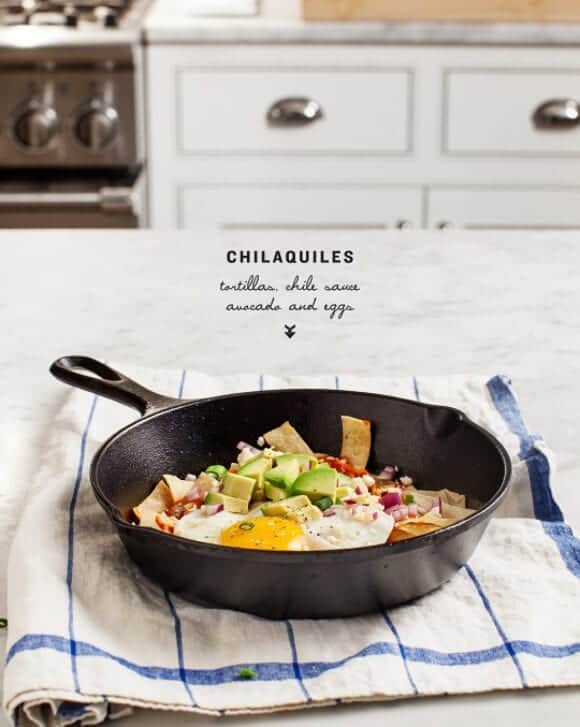 I'm thinking of trying to grow avocados this spring… I don't really have a green thumb, but I eat so darn many of them, I figure it's worth a try. (Also, I'm just now realizing that this is my 3rd avocado recipe in a row – oops!) If anyone has any experience growing them, please let me know! I'm guessing that I probably have to start soon…
Today's recipe is something I really love to make at home because it tends to be a little too greasy for me at restaurants. Chilaquiles are usually considered hangover food and it all starts with frying tortillas in a skillet. Of course, I went a little (a lot) lighter on the oil so they toast in the skillet and crisp up without becoming an oily mess. This way, we reserve a few extra calories for that brunch-time margarita!
Remember this chile salsa from a few weeks ago? Here's another way to use it… this meal comes together really quickly if you have some on hand in your fridge. (If not, see below for other sauce suggestions). This is perfect topped with fried eggs, but it would be equally delicious with black beans if you're vegan.
chilaquiles with avocado
Ingredients
1-2 tablespoons oil
2 stale corn tortillas, sliced into strips
½ cup dried chile salsa (or smooth store-bought salsa or chile sauce)
handful of chopped scallions
a bit of diced red onion
½ an avocado, chopped w/ a bit of lime + salt
2 fried eggs (vegan sub: black beans)
¼ cup, or so, crumbled cotija cheese (vegan: omit)
squeeze of lime
salt, pepper
Instructions
Heat oil in a medium skillet. Add tortilla strips and a few pinches of salt. Lightly fry/toast strips until the edges become browned and crispy. (Flip a few times so both sides cook).
Pour the chile sauce into the center of the skillet to coat the tortillas. (I like to leave the tortillas that are a few inches from the edges un-sauced so they remain a bit crispy). Let the sauce sizzle in the skillet with the tortillas for a few minutes while you fry your eggs. (turn heat down or off if you're skillet is getting too hot).
Fry eggs and add to the skillet along with scallions, red onion, avocado, and cheese. Add a squeeze of lime, and more salt, to taste.
Side note – I find that the Whole Foods brand corn tortillas crisp perfectly without being fried (they're thin and a bit more dry than others)… I've done a lot of tortilla testing and those are my favorite for crisping in the skillet (or baking in the oven). I store them in my freezer.