This chickpea salad sandwich recipe is my vegan spin on a pan bagnat! Crunchy veggies, herbs, and olives fill it with bright and briny flavor.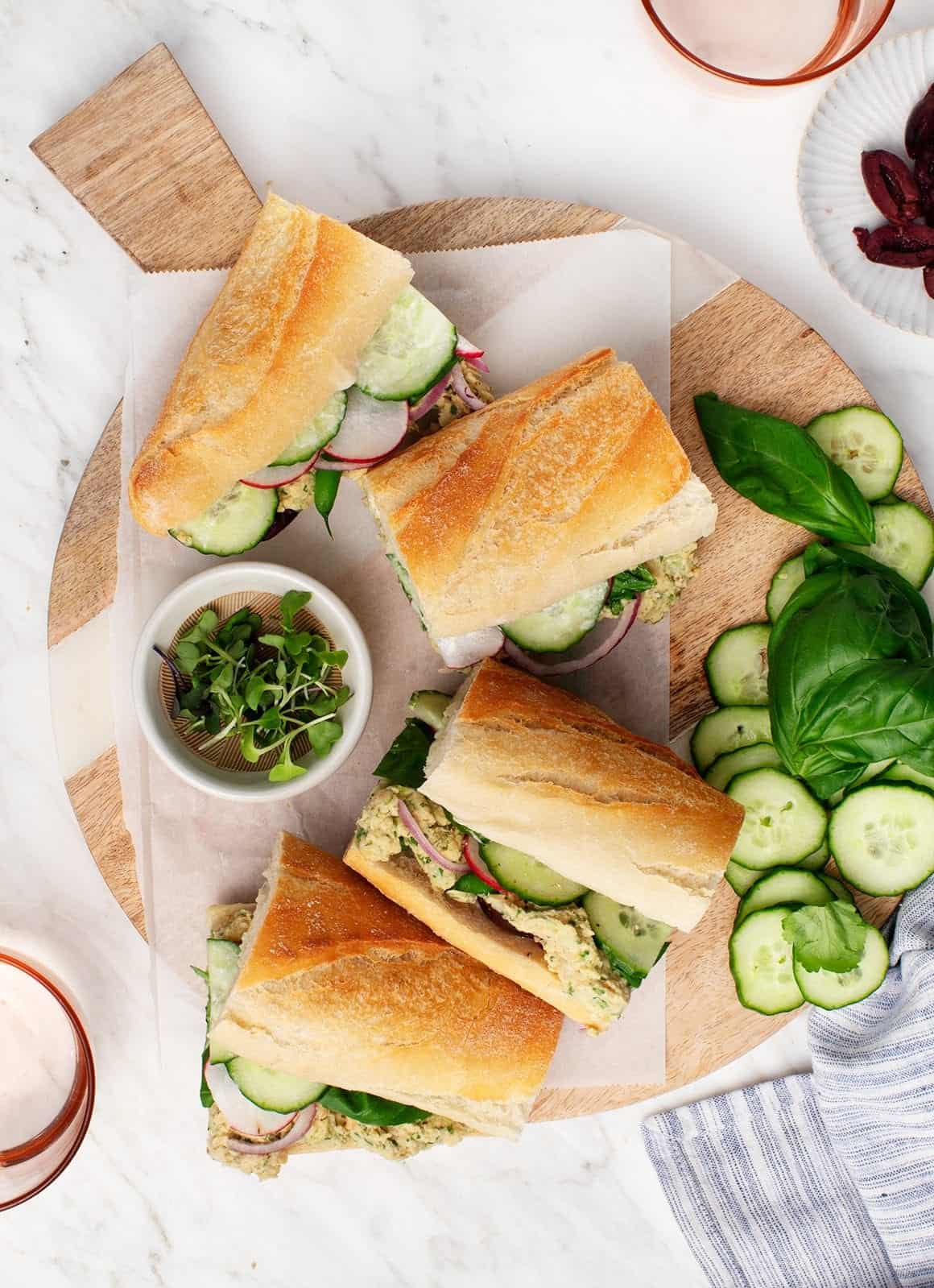 Jack has kindly titled this chickpea salad sandwich a Pan Bag-Not. If you ask me, it has everything that makes a classic pan bagnat so craveable: crisp veggies, briny flavors, and soft baguette. However, it doesn't include the traditional tuna or hard-boiled eggs. It may be completely unconventional, but it's completely delicious (and completely vegan, too!).
Chickpea Salad Sandwich Recipe Components
This chickpea salad sandwich starts with my favorite plant-based "tuna" salad. It's briny and tangy from capers, Dijon mustard, and lemon juice. Instead of mayo, I add a bit of tahini to make it rich and creamy. The chickpea sandwich spread recipe comes from our first cookbook (on a different sandwich), and making it again reminded me just how much I love it!
Then, I load this sandwich up with crunchy veggies and fresh fixings. I start with olives for more briny flavor, thinly sliced red onion, and blanched green beans. Radishes, cucumbers, and fresh basil round the whole thing out. This combination is fantastic, but if you don't have all the ingredients on hand, don't worry. Feel free to skip some of the veggies, or swap in your favorites. A handful of leafy greens, red peppers, or tomato slices would be great additions here.
And last but not least, let's talk bread! For this sandwich, it's important that you find good, fresh baguette that's on the softer side. Why? First, because life's too short for bad baguette. Second, if your baguette is too firm, this filling will squish out a bit – which is still delicious, just a tad messy!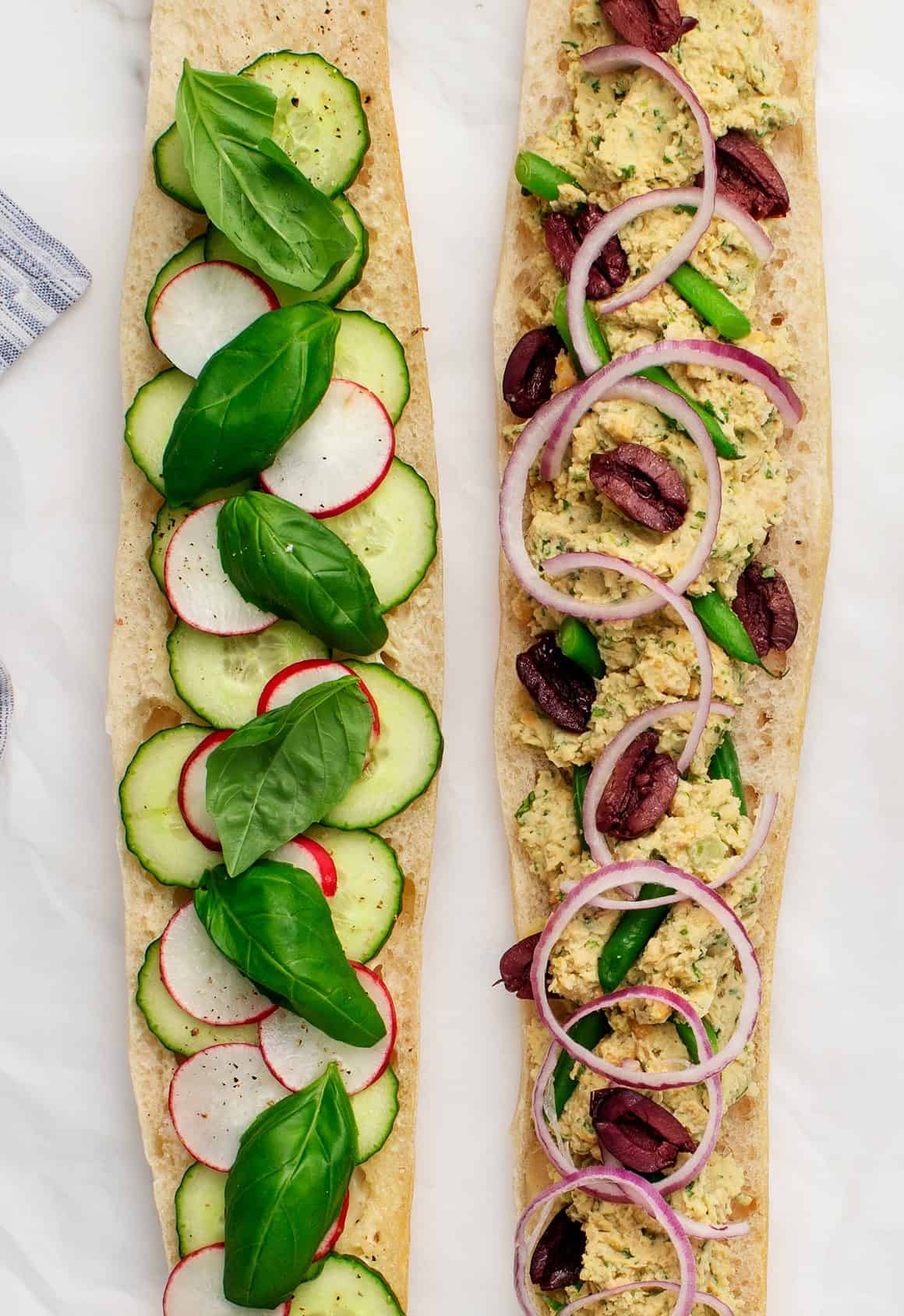 Chickpea Salad Sandwich Serving Suggestions
This chickpea salad sandwich is a fantastic weekday lunch! If you want to prep it in advance, make the chickpea mixture ahead of time and store it in an airtight container in the fridge for up to 3 days. Assemble the sandwich on the morning of the day (or days) you plan to eat it. Head to this post to find my best tips for prepping and packing sandwiches to take on the go!
This recipe is also wonderful picnic fare. Enjoy it on its own, or pair it with a fresh salad like my pasta salad, broccoli salad, cucumber salad, or Greek salad. For more serving ideas, check out this post for my top 37 salad recipes. Enjoy!
More Healthy Lunch Ideas
If you love this chickpea salad sandwich recipe, try one of these fun sandwiches next:
For even more healthy lunch ideas, check out this post! Then, find more of my favorite vegan recipes here.
Chickpea Salad Sandwich
Filled with protein and fiber, this vegan chickpea salad sandwich is a delicious healthy lunch! Prep the chickpea mixture up to 3 days in advance and keep it on hand for lunches all week.
Ingredients
Chickpea Salad
1½ cups cooked chickpeas, drained and rinsed
2 tablespoons tahini
1 teaspoon Dijon mustard
½ garlic clove
1 teaspoon capers
1 green onion, chopped
2 tablespoons chopped cilantro
2 tablespoons fresh lemon juice
sea salt and freshly ground black pepper
For the sandwiches
handful of thin green beans, trimmed
1 soft baguette, sliced in half
8 to 10 Kalamata olives, pitted and sliced in half
thinly sliced red onion, rinsed and dried
vegan mayo (or regular mayo), for spreading
¼ English cucumber, thinly sliced
1 radish, thinly sliced
6 to 8 fresh basil leaves
sea salt and freshly ground black pepper
Instructions
Make the chickpea salad: In a food processor, combine the chickpeas, tahini, Dijon mustard, garlic, capers, green onions, cilantro, lemon juice, and pinches of salt and pepper. Pulse until combined, but do not puree. Season to taste.
Blanch the green beans. Bring a small pot of salted water to a boil and place a bowl of ice water nearby. Drop the green beans into the boiling water for 1½ minutes, then scoop into the ice water to stop the cooking process. Once cool, drain, pat dry, and chop into 1-inch pieces.
Assemble the sandwiches: Spread the chickpea salad on one side of the baguette. Press the chopped green beans into the chickpea salad and top with the olives and red onion slices. Spread of layer of mayo on the other half of the baguette and top with the sliced cucumbers, radishes, and basil. Season with salt and pepper, to taste. Press together, slice, and enjoy!