Cherry clafoutis might sound fancy, but don't be fooled - this French dessert is surprisingly easy to make. And even more importantly, it's delicious!
I first made this cherry clafoutis recipe a few weeks ago, after a trip to the farmers market. Here in the Midwest, the cusp of July and August marks the start of tart cherry season. It's a time I look forward to every year. The season is short – a month or a little less – so I always buy as many fresh cherries as I can. Usually, I bake them into crisps or blend them into sorbet, but when I saw this clafoutis recipe in Diala Canelo's new cookbook Diala's Kitchen, I knew I had to try it.
I've been a fan of Diala's globally-inspired, vegetable-forward recipes for years now. Each one has a personal story behind it, often linked to a specific place. The recipes in Diala's Kitchen will take you everywhere from Melbourne to Florence to Toronto. You'll walk the streets of Puebla, Mexico while you eat Roasted Eggplant Tacos, take a trip to Greece while you dine on Zucchini and Quinoa Fritters, and experience the flavors of Venice through a Burrata and Grilled Nectarine Salad. For me, Diala's Kitchen has been a joy to read this summer. I may not be able to visit any of these places physically, but Diala's beautiful writing, gorgeous photography, and delicious recipes can help me imagine them.
Her story about this clafoutis recipe takes place in Montreal, but like all of Diala's recipes, you can make it anywhere, as long as you have fresh ingredients on hand. Sweet cherries would be wonderful here, but my farmers market tart cherries were fantastic too. The juicy summer fruit nestles into a rich, almond-scented custard. With a name like "clafoutis," this recipe might sound fancy, but it's surprisingly easy to make. More importantly, it's delicious! If cherries are in season where you are, this clafoutis recipe is the perfect way to use them.
Clafoutis Recipe Ingredients
Diala's cherry clafoutis recipe calls for these basic ingredients:
Cherries! Sweet cherries are traditional for clafoutis, but I love the flavor of tart cherries here. Choose whichever variety looks best at the grocery store or farmers market, or if they both look good, pick your favorite. 🙂
Eggs – They make the custard light and puffy.
Whole milk and butter – For moisture and richness.
Greek yogurt – It's not a traditional clafoutis ingredient, but it makes this recipe wonderfully rich (and adds protein, too!).
All-purpose flour – You don't need much – just 1/2 cup. It gives the clafoutis structure without making it dry or dense.
Granulated sugar – For sweetness.
Vanilla and almond extract – They bring out the cherry flavor and add depth to the rich custard.
Lemon zest – For brightness.
And sea salt – To make all the flavors pop!
Find the complete recipe with measurements below.
How to Make Cherry Clafoutis
Clafoutis might sound like a fancy dessert, but it's deceptively easy to make! Here's what you need to do:
First, whisk together the batter. Combine the eggs and sugar, milk, yogurt, vanilla extract, almond extract, flour, and salt. Whisk until just mixed. Then, add the butter and lemon zest and whisk until thoroughly combined. Cover the batter with plastic wrap, and set it aside for 30 minutes.
While you're waiting… Preheat the oven to 350 degrees and butter eight ramekins.
Then, fill the ramekins, and bake! Divide the batter among the prepared ramekins, and spread a layer of pitted cherries on top of each one. Pop them in the oven and bake for 30-35 minutes, until the center is just set and the edges are lightly golden brown.
Next comes the hard part: You'll need to let the clafoutis rest for 10 minutes after they come out of the oven so that the custard has a chance to set up.
Finally, eat! Dust the cherry clafoutis with powdered sugar, and top them with sliced almonds and additional cherries, if desired. Enjoy!
More Favorite Summer Desserts
If you love this cherry clafoutis recipe, check out Diala's Kitchen! And in the meantime, try one of these summer desserts: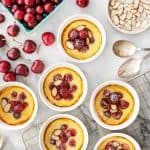 Cherry Clafoutis
This cherry clafoutis recipe is a delicious summer dessert! Recipe from Diala's Kitchen by Diala Canelo. Reprinted with permission.
Instructions
In a medium bowl, combine the eggs, milk, yogurt, granulated sugar, flour, salt, vanilla, and almond extract. Whisk until just mixed. Add the melted butter and lemon zest and stir until thoroughly combined. Cover with plastic wrap and let sit for 30 minutes.

Preheat the oven to 350°F and grease eight 6-ounce ramekins.

Divide the batter among the ramekins. Spread a layer of cherries on top of the batter.

Bake for 30 to 35 minutes until lightly golden brown and barely set in the middle. Let sit for 10 minutes before serving.

To serve, dust with powdered sugar and sprinkle with almonds.