This cauliflower soup recipe is entirely vegan, but you'd never guess it from the taste. It's rich, creamy, and savory - you'll definitely go back for seconds!
This roasted cauliflower soup is a new and improved version of a recipe I posted years ago, way back at the start of Love & Lemons. The fundamental concept is the same: the soup is rich and creamy, but its luscious texture comes from blended cauliflower instead of heavy cream.
I've made this cauliflower soup every winter for years now, tweaking it a little each time. When I made it again a few weeks ago, the new version came out so well that I had to share the recipe with all of you!
I love how simple this cauliflower soup recipe is. It only calls for 10 basic ingredients! Even though they're all wholesome and plant-based, the soup still tastes indulgent. Velvety, savory, and nutty, it's the perfect way to warm up on a cold winter night.
Cauliflower Soup Recipe Ingredients
You only need 10 basic ingredients to make this creamy cauliflower soup:
Cauliflower, of course! It gives the soup a silky texture without any nuts or dairy.
Garlic and shallots – You'll roast them along with the cauliflower. Once they're tender and caramelized, they add rich, nutty flavor to this cauliflower soup.
Fresh thyme – For fresh, earthy flavor.
White miso paste – It adds savory, umami flavor that tastes fantastic with the roasted cauliflower, shallots, and garlic.
Dijon mustard – For tang.
Extra-virgin olive oil – For richness.
Vegetable broth – So that the soup is, well, soup-y.
Fresh lemon juice – It makes the soup nice and bright.
And sea salt and fresh black pepper – To make all the flavors pop!
Find the complete recipe with measurements below.
How to Make Cauliflower Soup
I like to think of this cauliflower soup recipe in three easy steps: roast, simmer, and blend.
First, roast the veggies. Break the cauliflower into florets and chop up the cores. Peel and quarter the shallots and wrap them in a piece of foil with the unpeeled garlic cloves, a drizzle of olive oil, and salt and pepper.
Spread the chopped cauliflower florets and core in an even layer on a parchment-lined baking sheet, and toss them with oil, salt, and pepper. Add the foil packet to the sheet, and roast until the cauliflower is browned around the edges.
Next, simmer. When the vegetables are tender and browned, bring the vegetable broth to a simmer in a large pot. Peel the garlic cloves, and add them to the pot with the cauliflower, shallots, and thyme. Simmer for 15 minutes.
Finally, blend! Allow the soup to cool slightly. Then, transfer it to a blender and add the miso paste, mustard, olive oil, and lemon juice.
Blend until smooth. Before you eat, season to taste with more salt, pepper, and lemon juice, as desired.
Cauliflower Soup Serving Suggestions
When you're ready to eat, garnish your bowl with micro greens and/or freshly cracked black pepper. This cauliflower soup would also be fantastic with homemade croutons or roasted chickpeas on top for crunch!
Enjoy the soup on its own, with focaccia or good crusty bread on the side for dipping, or pair it with a salad for a larger meal. Make a simple green salad by tossing mixed greens with Italian dressing, honey mustard dressing, or lemon vinaigrette, or try one of these salad recipes:
Enjoy!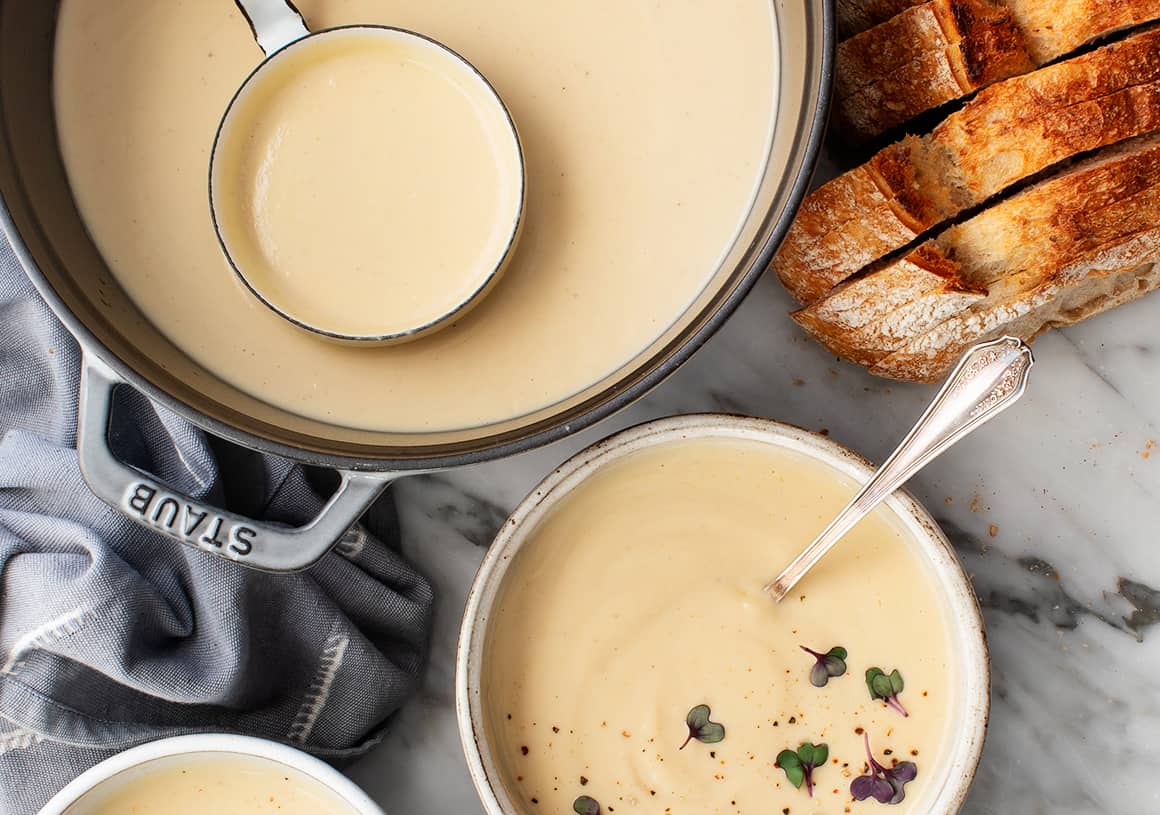 More Favorite Soup Recipes
If you love this delicious soup, try one of these recipes next:
Cauliflower Soup
This roasted cauliflower soup is velvety and rich, even though it's made without cream or cheese. The blended cauliflower creates the soup's amazing creamy texture - no dairy necessary!
Instructions
Preheat the oven to 400°F and line a large baking sheet with parchment paper.

Chop the cauliflower including the core pieces. Spread the cauliflower on the baking sheet and toss with a drizzle of olive oil and pinches of salt and pepper. Wrap the shallot and garlic cloves, along with a drizzle of olive oil and a pinch of salt, in a piece of aluminum foil and place it on the baking sheet with the vegetables. Roast for 30 to 35 minutes or until the cauliflower is browned around the edges.

In a large pot, bring the vegetable broth to a low simmer. Add the roasted cauliflower, shallots, peeled garlic, and thyme and simmer, covered, for 15 minutes. Let cool slightly and transfer to a blender. Add the miso paste, mustard, the 3 tablespoons olive oil, and lemon juice. Blend until smooth. Season to taste with ¼ to ½ teaspoon more salt and more lemon juice. Garnish with microgreens, if desired, and serve.
This post contains affiliate links.