These easy cauliflower recipes showcase how versatile cauliflower can be! They include fresh salads, creamy pastas, and everything in between.
Last month, I shared three new cauliflower recipes – a Cauliflower Soup, Vegan Alfredo Sauce, and Cauliflower Mac and Cheese. As I developed them, I found myself amazed (once again) at the versatility of this humble veggie. It can blend into creamy soups and sauces without the help of nuts or dairy, and it can transform into a substitute for noodles or rice. You can boil it, steam it, sauté it, roast it, or even eat it raw. My question is, what can't cauliflower do?
Because cauliflower is one of the vegetables I cook most often throughout the winter and early spring, I thought now would be a perfect time to highlight some of my best cauliflower recipes. Even if you're on the fence about cauliflower, I hope you'll try one. Cauliflower is so flexible that if you don't like it prepared one way, you'll surely enjoy it cooked another. Trust me, you're bound to find cauliflower recipes you love!
Essential Cauliflower Recipes
If you're new to cooking cauliflower, these recipes are a great place to start. Serve either one on its own as a side dish, or use it as a building block for making soups, salads, stir fries, and more!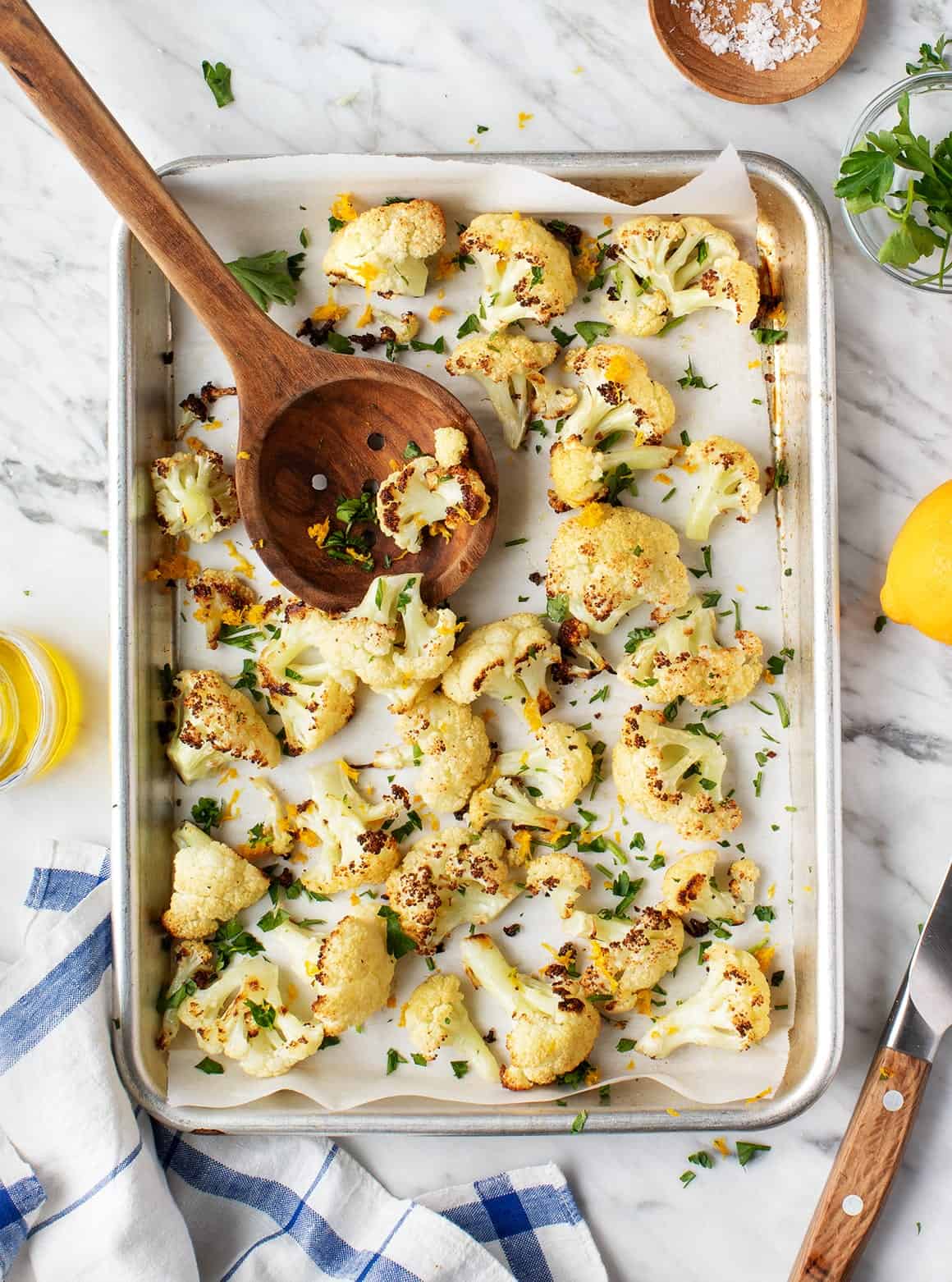 Roasted Cauliflower
My go-to method for cooking cauliflower! Spread the florets on a sheet pan, season them with olive oil, salt, and pepper, and roast until they're tender and golden brown around the edges.
Cauliflower Rice
This trendy veggie "rice" is super simple to make. Just pulse raw cauliflower in a food processor until it has a fine, rice-like texture. Use it as a substitute for regular rice, or mix the two together to sneak extra veggies into your favorite rice recipes.
Soups and Curries
Throughout the fall and winter, these cozy cauliflower recipes are mainstays in my kitchen.
Cauliflower Soup
This savory, nutty soup is rich and creamy, but entirely dairy-free. Its luscious texture comes from the blended cauliflower itself!
Easy Coconut Curry
Serve it with a side of steamed rice for an easy, flavorful weeknight dinner.
Cream of Mushroom Soup
This gourmet cream of mushroom soup is a far cry from the kind that comes in a can. It's rich and savory, with a crave-worthy creamy texture that comes from – you got it – blended cauliflower.
Roasted Cauliflower & Red Pepper Soup, page 101 of The Love & Lemons Cookbook
Roasted cauliflower and cashews give this vegan soup a rich, creamy texture. Garnish it with extra roasted cauliflower florets and/or homemade croutons for crunch.
Curried Cauliflower Soup
This curry-spiced soup is delicious on its own, but I like it even better with a swirl of kale pesto on top. It tastes delicious, and it's pretty, too – the green pesto creates a gorgeous contrast with the yellow soup.
Tacos and Sandwiches
When it's roasted, cauliflower crisps up around the edges, and it retains a nice al dente bite. This hearty texture makes it perfect for stuffing into veggie sandwiches and tacos like the ones you'll find below.
Roasted Cauliflower Tacos with Chipotle Cream, page 99 of The Love & Lemons Cookbook
A fan favorite from our first cookbook! Spiced-up cauliflower florets nestle into tacos with creamy avocado slices and an addictive chipotle yogurt sauce.
Molly's Cauliflower Shawarma Tacos
These shawarma-spiced tacos come from my friend Molly Yeh's cookbook Molly on the Range. They're SO fun and flavorful, packed with crispy cauliflower, fried onions, creamy tahini sauce, and spicy zhoug.
Charred Cauliflower Pitas with Halloumi & Harissa, page 211 of Love & Lemons Every Day
This knock-out weeknight dinner recipe couldn't be simpler to make. Just broil the cauliflower and halloumi until they're deeply browned, stuff them into pitas with harissa and arugula, and eat!
Crispy Cauliflower Po' Boy
Nope! You won't find any meat or seafood tucked into this hearty po' boy sandwich. Instead, it's overflowing with breaded and baked cauliflower florets, lettuce, tomatoes, and a creamy, smoky remoulade sauce.
Romesco Cauliflower Sandwiches
If you ask me, tangy romesco sauce and roasted cauliflower are a match made in heaven. Here, I layer them into sandwiches with juicy tomato slices, fresh parsley, and salad greens for crunch.
Salads and Bowls
Craving something light and fresh? These cauliflower recipes are the ones for you.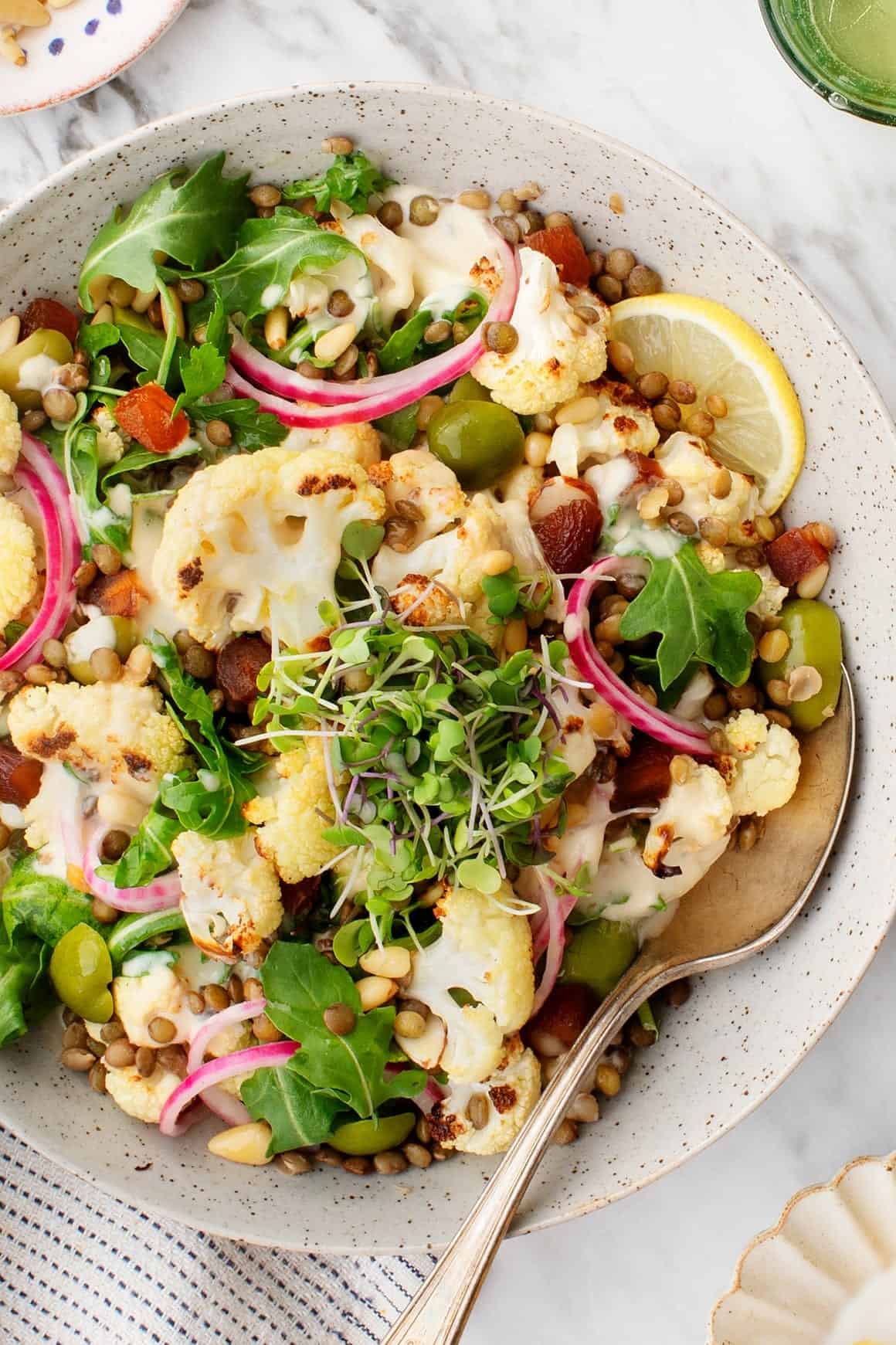 Roasted Cauliflower Salad
I could rave about this recipe all day long! It's brimming with exciting textures and flavors. Olives add briny flavor, dried apricots add sweetness, and toasted almonds give it a nice crunch. Top it off with poppy pickled onions and lots of tahini dressing.
Curried Lentil Salad
This salad is one of my favorite recipes to meal prep for lunch. I love the way the bright cilantro lime dressing plays off the earthy lentils and rich roasted paneer.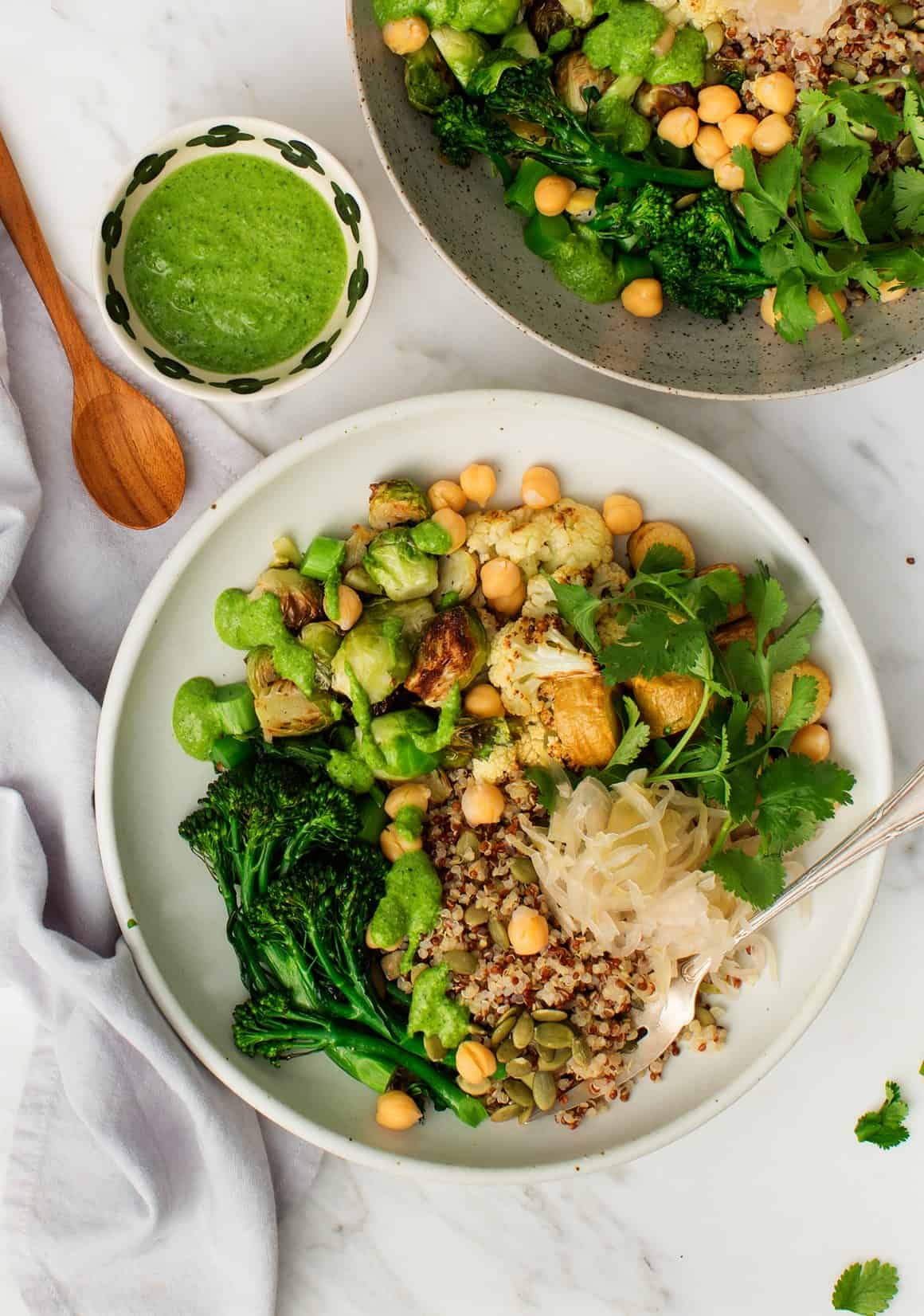 Roasted Veggie Grain Bowl
This Mean Green Grain Bowl is the sort of thing I love to make on a weeknight. While the veggies roast, I cook a pot of quinoa and whizz up the vibrant pesto sauce. It all takes under 30 minutes to make, and it's energizing and flavorful. Yum!
Cauliflower Rice Kimchi Bowls
A ginger-coconut sauce adds rich flavor to the cauliflower rice in these grain- and gluten-free bowls. They're light and refreshing, but still satisfying, thanks to creamy avocado, sautéed mushrooms, and hearty baked tofu.
Lemon Pesto Spaghetti Squash
I LOVE spaghetti squash, but not when it's drowned in marinara. Instead, I like to use it in this light, lemony bowl that's complete with pesto, roasted cauliflower, and pine nuts for crunch. For a heartier meal, top your bowl with a handful of roasted chickpeas.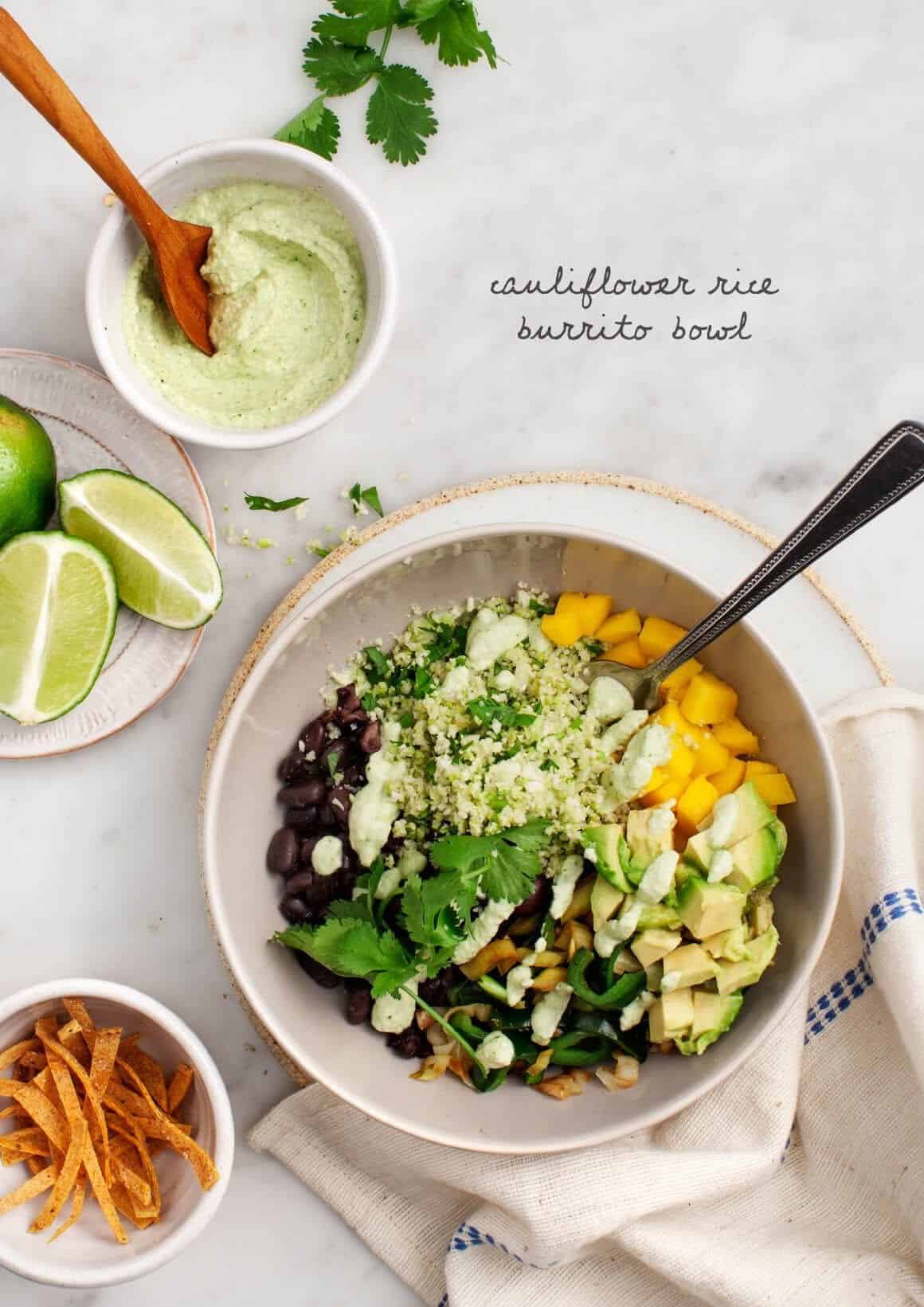 Cauliflower Rice Burrito Bowl
Diced mango adds a surprising sweetness to this very-veggie burrito bowl.
More Main Dish Cauliflower Recipes
There are SO many ways to put cauliflower at the center of your plate! If you're not in the mood for a bowl, soup, tacos, or a sandwich, try one of these satisfying cauliflower recipes instead.
Turmeric-Spiced Whole Roasted Cauliflower, page 187 of Love & Lemons Every Day
A lemony turmeric yogurt sauce infuses this show-stopping entree with bright, aromatic flavor.
Fettuccine Alfredo
Yes, you'll find butter and Parmesan cheese in this Alfredo sauce recipe, but the addition of blended cauliflower makes it far lighter than the classic kind. Don't do dairy? Make this Vegan Alfredo Sauce instead.
Cauliflower Steaks with Lemon Salsa Verde, page 145 of Love & Lemons Every Day
This recipe is a cauliflower palooza! I serve the cauliflower steaks over a luscious cauliflower puree that's seasoned with lemon and miso. A bright and briny salsa verde takes it all over the top.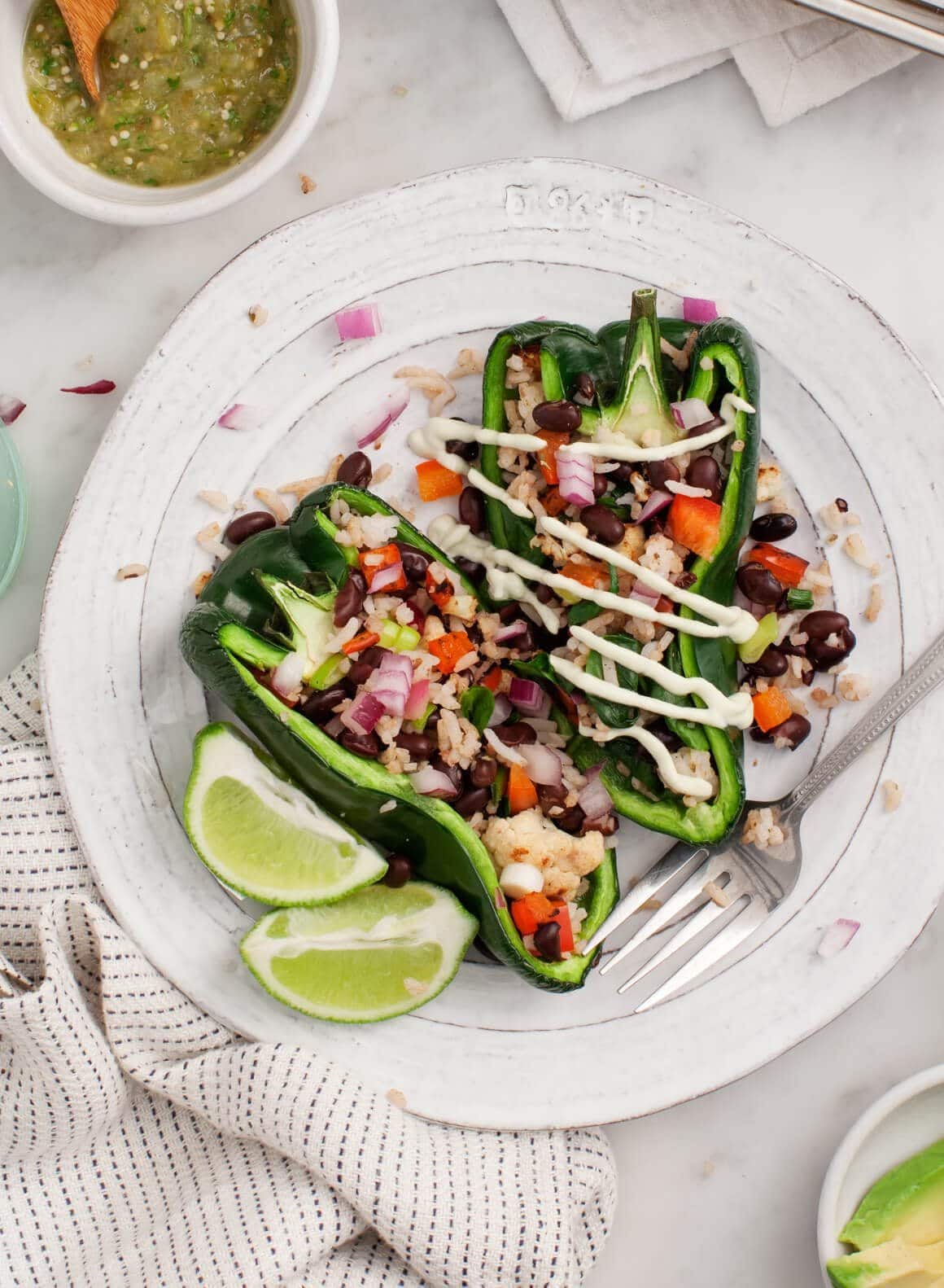 Stuffed Poblano Peppers
Where's the cauliflower, you ask? I sneak tiny florets into the peppers' zesty black bean and rice filling.
Roasted Cauliflower & Pear Pizza, page 105 of The Love & Lemons Cookbook
Not your average homemade pizza! This elegant pie gets sweet and savory flavor from pear slices, a drizzle of honey, and salty feta cheese.
Turmeric Cauliflower Fried Rice
Toasted cashews, chickpeas, and a cardamom yogurt sauce bulk up this refreshing, all-veggie fried rice.
Appetizer and Side Dish Cauliflower Recipes
These cauliflower recipes are straight up fun. You'll find creamy dips, a crave-worthy cauliflower cheese sauce, crispy "fried" florets, and more. They're perfect for parties, game day snacking, or anytime you need a yummy, veggie-forward side dish to round a meal.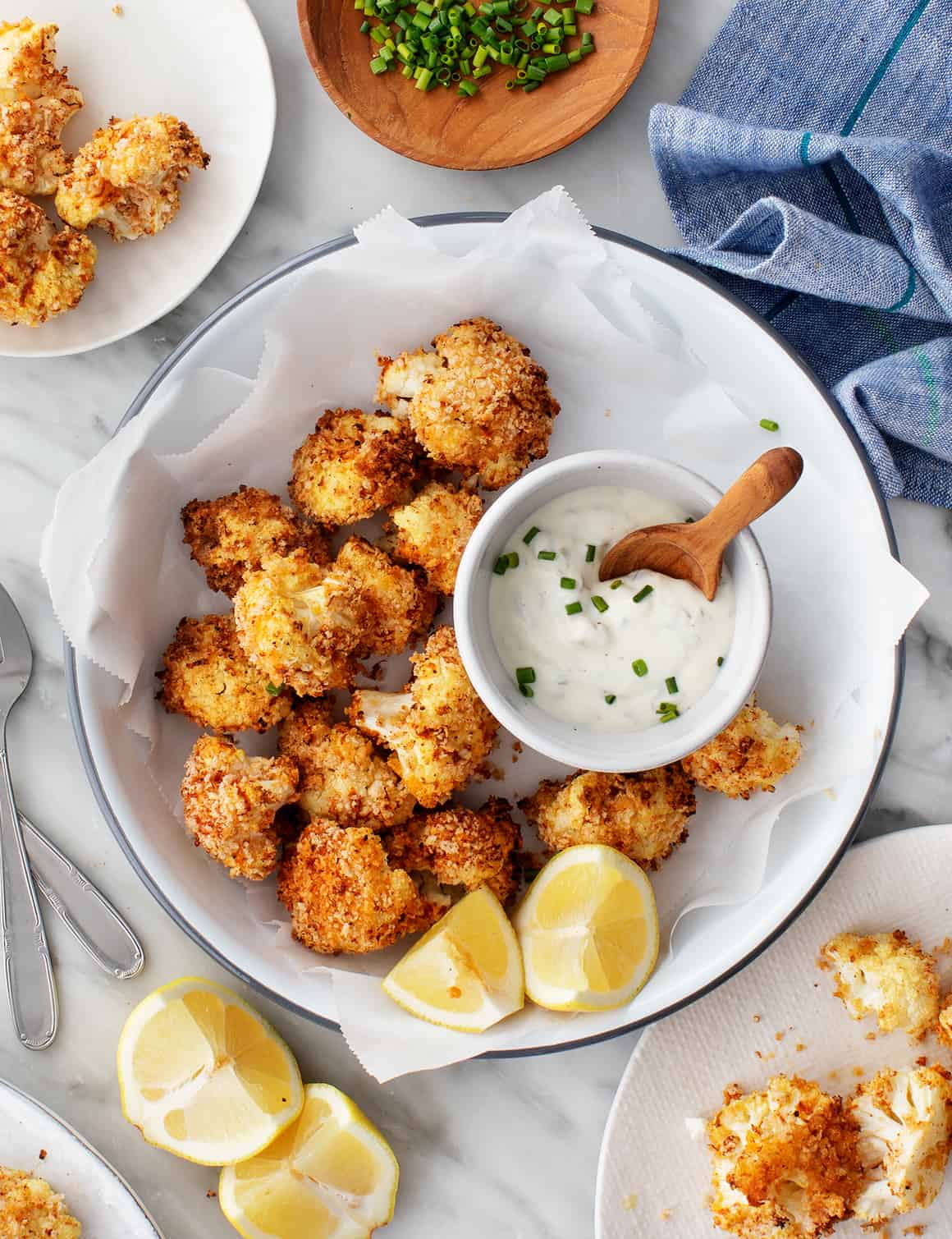 Air Fryer Cauliflower 
This addictive appetizer is one of the most popular recipes on Love & Lemons, and for good reason. The breaded cauliflower florets are crispy, smoky, salty, and spicy. You won't be able to get enough of them!
Spinach Artichoke Dip
This riff on Spinach Artichoke Dip is wayyy lighter than the classic kind, but it's just as delicious! Greek yogurt and blended cauliflower create its creamy, tangy base.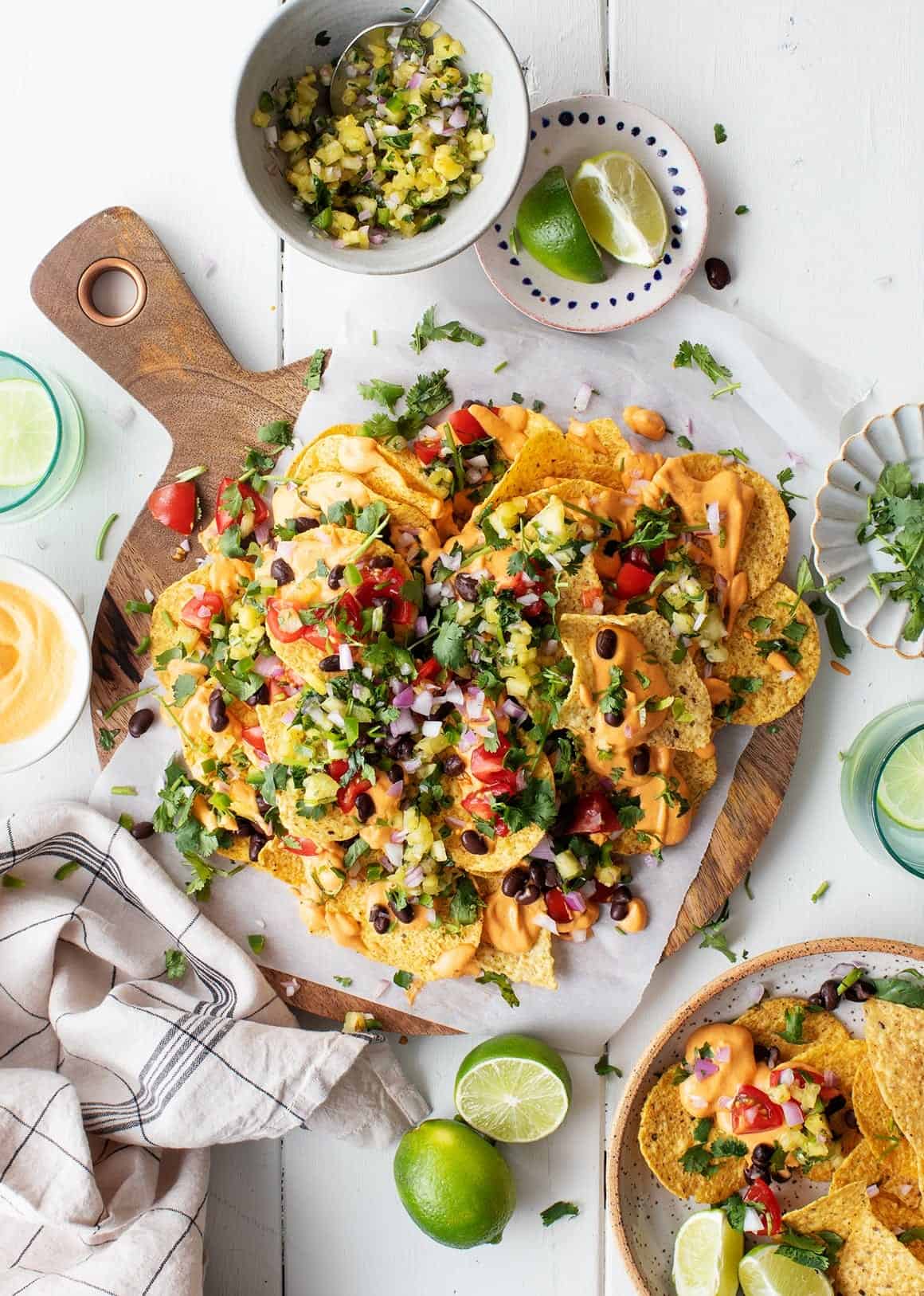 Chipotle Cauliflower Nachos
Can you guess the secret ingredient in that gooey vegan cheese sauce? That's right! It's cauliflower. Balance the sauce's smoky flavor with refreshing pineapple salsa.
Garlic Mashed Cauliflower
Roasted garlic adds rich, nutty flavor to this creamy mashed cauliflower. Serve it with a pat of butter or a ladle of mushroom gravy.
Orange-Scented Cauliflower Rice Pilaf, page 223 of Love & Lemons Every Day
Serve this aromatic "rice" pilaf as a side dish with any protein you enjoy! It's also a fantastic base for a grain-free grain bowl, topped with baked tofu or roasted chickpeas, sautéed greens, and a drizzle of sriracha.
Cauliflower Mac and Cheese
This ironic recipe contains neither mac nor cheese, but we love it all the same. A gooey, tangy vegan cheese sauce coats tender cauliflower florets. I go back for seconds (erm…thirds) every time I make it.
Cauliflower Recipes: Roasted Cauliflower
This roasted cauliflower is one of my favorite cauliflower recipes! For bright, fresh flavor, garnish the florets with lemon zest and chopped herbs.
Ingredients
1

medium cauliflower

extra-virgin olive oil,

for roasting

sea salt and freshly ground black pepper

,

for sprinkling

zest of 1 lemon

1/4

cup

chopped parsley
Instructions
Preheat the oven to 425°F and line a large baking sheet with parchment paper. Break the cauliflower into bite-sized florets. Toss with olive oil, salt, and pepper and spread evenly onto the baking sheet. Roast for 25 to 30 minutes or until browned around the edges.

Season to taste with more salt and pepper and toss with lemon zest and parsley. Or keep it plain and use it in any recipe that calls for roasted cauliflower.