This cauliflower pasta was my birthday dinner last week. My sister called while the pasta was cooking, and the message she left said "I hope you're out doing something special and not at home photographing your dinner."
Well, what can I say, I was obsessed with my cauliflower mission. Plus, it was a cold and rainy night, and this dinner felt warm and cozy. (Well, ok, it was warm when I reheated it after the photos were done… but still).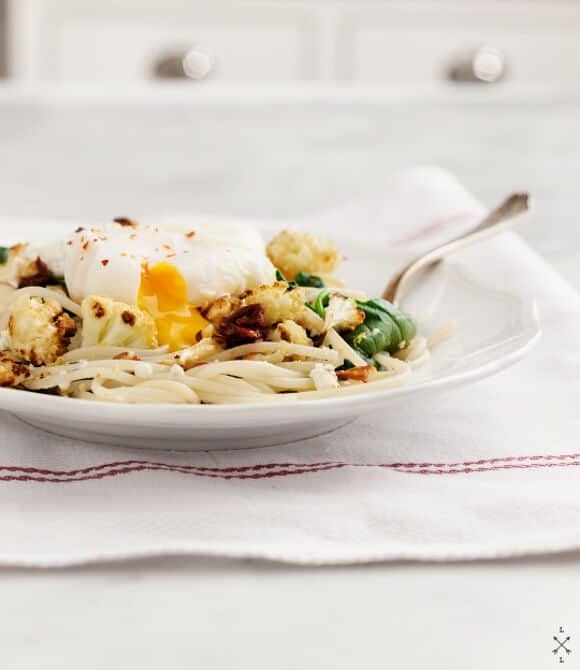 I'm strange about holidays… I just think celebrations should be random. If I made a list of my favorite life moments, most of them did not happen on Christmas or my birthday, or even on my wedding day (family, pretend I didn't just say that)… they happened on some random Tuesday, at a time and place that I never expected.
To me, expectation muddles things. I'd rather Jack come home some weeknight and announce that we're going to Uchiko (hint hint) than watch him stress about what to plan for my birthday.
So a low key birthday it was… with Jack, my dad, myself, and the cauliflower…
Roasted Cauliflower Pasta
This simple roasted cauliflower pasta is a healthy vegetarian weeknight dinner. We love its flavors of lemon, sun-dried tomatoes, and herbs.
Ingredients
Roast together:
2-3 cups cauliflower florets
2 shallots, coarsely chopped
2 garlic cloves, very coarsely chopped
Extra-virgin olive oil
Sea salt and fresh black pepper
For the pasta:
6 ounces spaghetti noodles (I like Jovial's brown rice noodles)
A handful or two of baby spinach
Hot pasta water (about ½ cup)
Extra-virgin olive oil
Squeezes of lemon & some lemon zest
¼ cup chopped sun dried tomatoes (or perhaps olives)
¼ cup crumbled feta (optional)
¼ cup chopped fresh basil (or herbs of your choice)
top with:
2 tablespoons sliced almonds, toasted
¼ cup bread crumbs, toasted (optional)
Pinch of salt
Pinch of red pepper flakes
Poached egg (optional)
Instructions
Roast cauliflower, shallots, and garlic in a 450 degree oven for 20-30 minutes. Be sure not to chop your garlic too small or it will burn before the cauliflower is done. Once it's golden brown, remove from the oven. Mix it all together and taste a piece, it should taste nutty and delicious. If it doesn't, add a small drizzle of olive oil, a teeny bit more garlic, and a pinch of salt if necessary. Set aside.
Cook your pasta for about 8 minutes or until it's done but al dente. Place spinach in a large bowl, and scoop your pasta noodles into the bowl with the spinach and and toss so the spinach begins to wilt. Add some pasta water to help that along.
Next add half the roasted veggies, another drizzle of olive oil, a good squeeze of lemon, some lemon zest, sun dried tomatoes, feta and basil, and toss everything together. Taste and adjust seasonings. Top with the rest of the roasted cauliflower and the toasted bread crumbs & almonds. (Serve with poached eggs if you like).