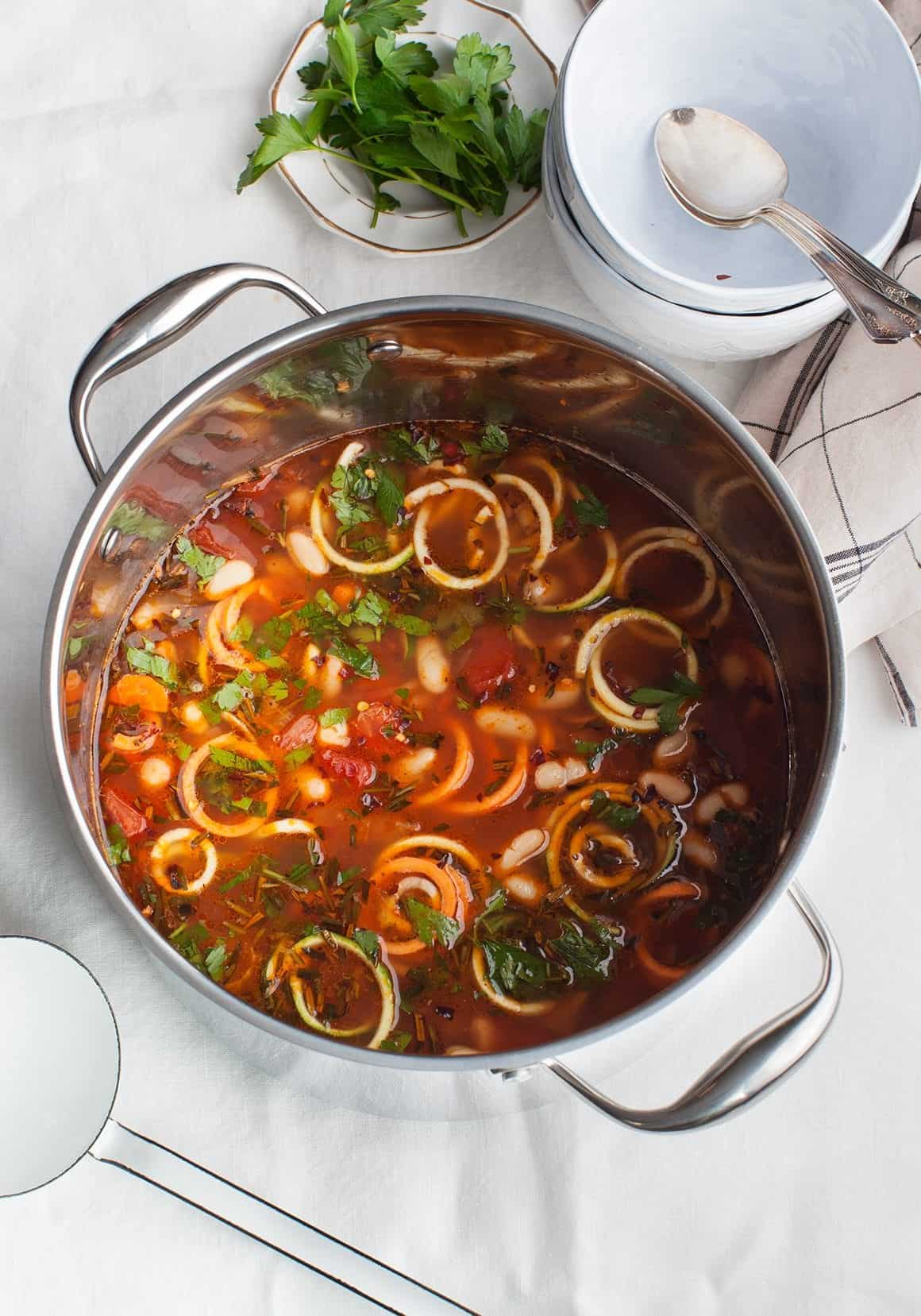 I always talk about how much I love soup and now that it's winter (in Chicago! Ack!), I'm more obsessed than ever. I love making it, I love eating it, I love freezing it… and I love reheating it just to enjoy eating it all over again. There's never a day that I'm not in the mood for soup – it just makes my body and soul feel so nourished and happy. This blog could have been titled: Love and Lemons and Soup because I first fell in love with cooking by routinely making soup on Sundays.
This was an especially fun soup to make because how pretty are these veggie noodles?! Usually I put pasta in my minestrone, but this time I used spiralized zucchini and sweet potato noodles that I made using the KitchenAid® Spiralizer Attachment. I might never make soup with regular noodles again.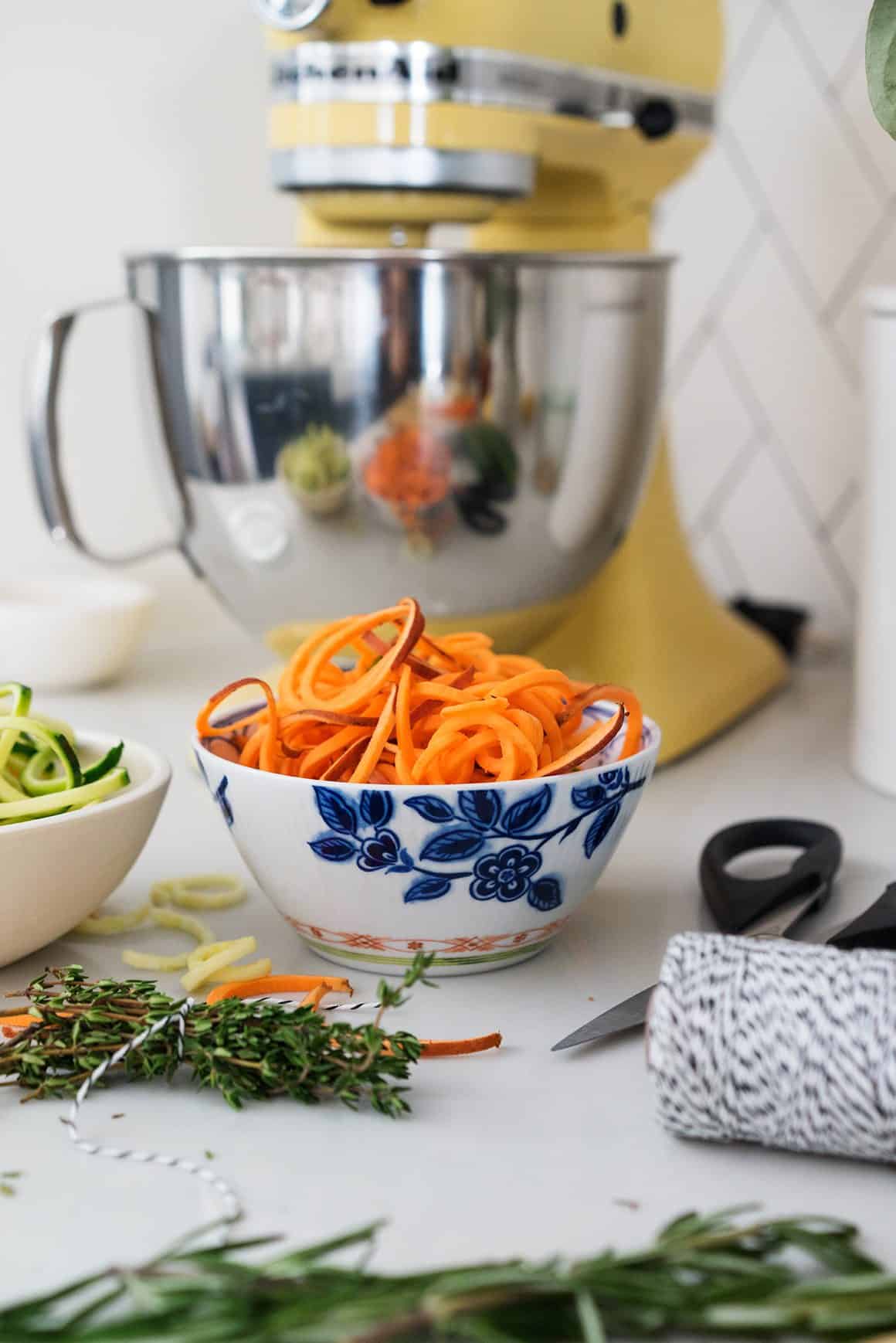 Sharp-eyed readers may notice that we've replaced our blue KitchenAid® Artisan® Stand Mixer with a shiny new lemony yellow (Majestic Yellow, to be exact) one. We loved the old one, but with all the blue in the new kitchen, now seemed like as good a time as any for a change. Plus, I'll never say no to lemon-colored anything 🙂
I love this new Spiralizer attachment, and here's why:
It's easy to clean(!) because only two small pieces of it actually touch the vegetable
It's simple to use – once you get the hang of putting the attachment on, you just start the mixer and voila! Vegetable noodles.
It's fast. Once I load a vegetable in and start, the whole thing is spiralized in seconds.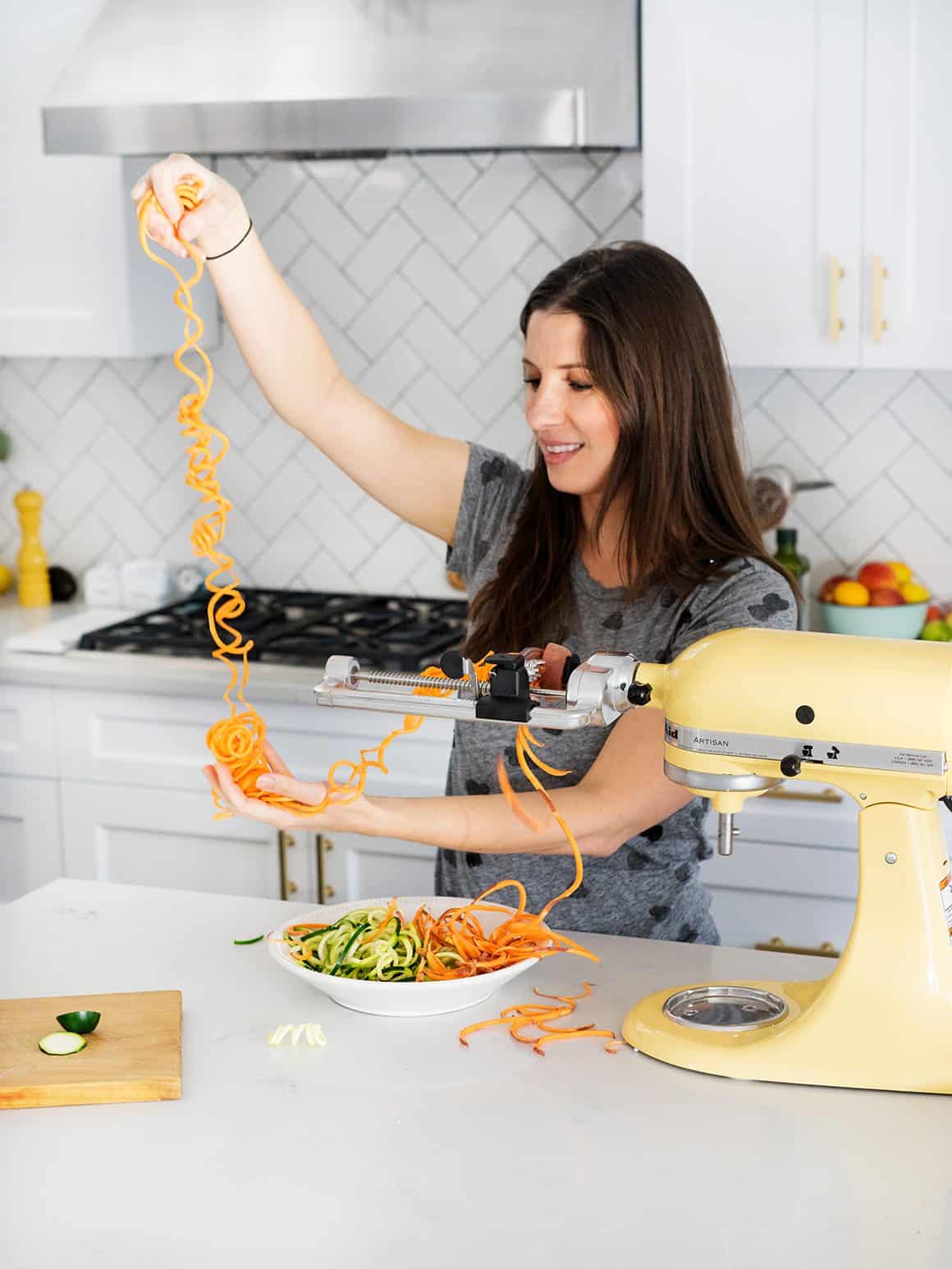 I know what you're thinking – "that's one long noodle, I bet you made a mess of yourself trying to eat it." Well I trimmed it into smaller more bite-sized pieces before adding to the soup, I just thought that the one noodle was super fun.
The rest of the soup is pretty simple but so delicious – carrots, tomatoes, broth white beans, chickpeas… and it's flavored with generous amounts of rosemary and fresh thyme. Don't forget to tie up your thyme so you can dig it out easily before you eat it! (Alternatively, you can pull the leaves off the thyme sprigs, but I like to save time and bundle it.




This soup reheats perfectly – the veggies stay firm and the broth just tastes better and better. Enjoy it for days like we did!