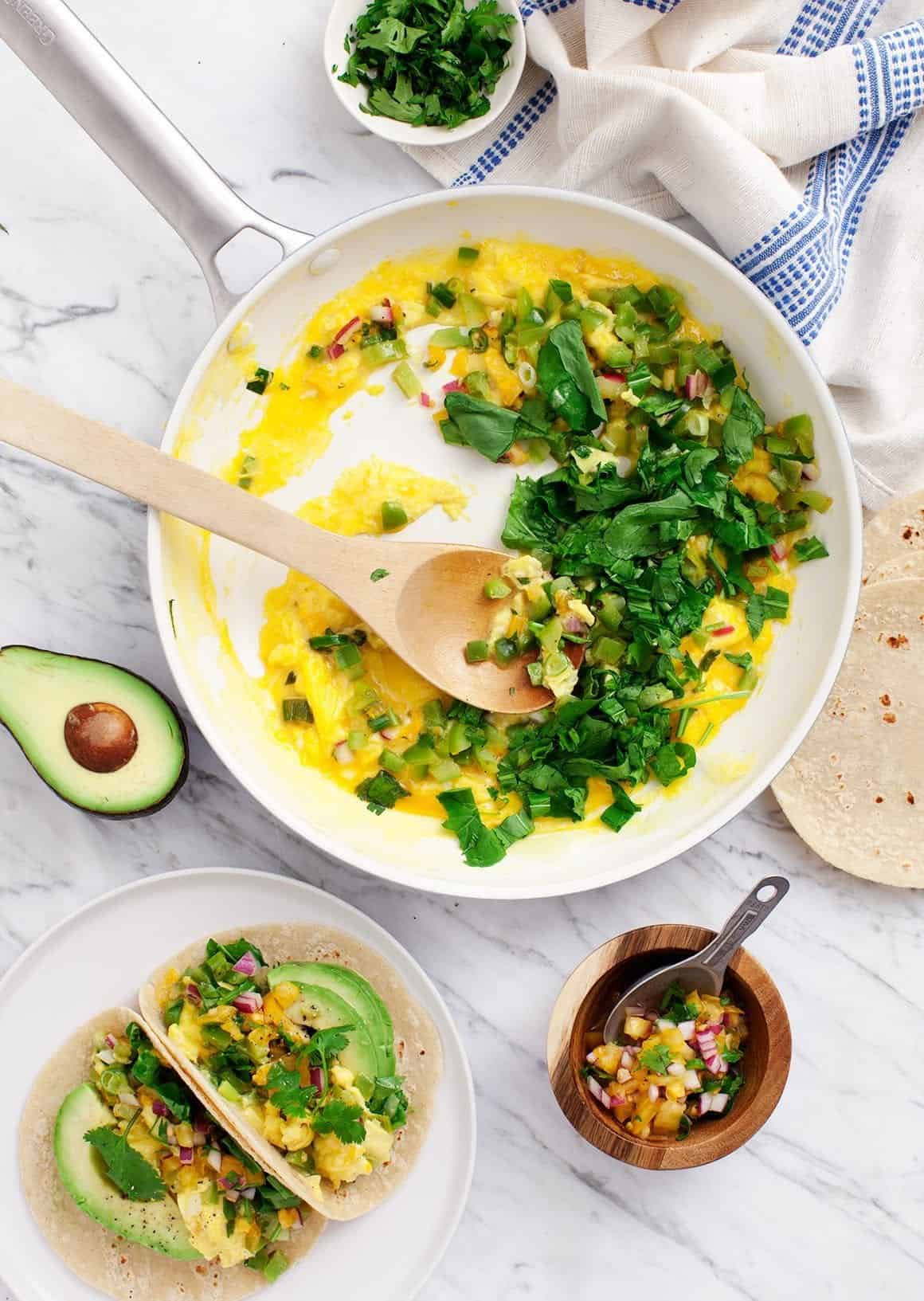 If you ask anyone in Austin where they get their favorite breakfast tacos, you'll get a different answer from every person. Austinites have opinions about breakfast tacos like Chicagoans have opinions about pizza. Since I moved to Austin a number of years ago, I've eaten more breakfast tacos than I could ever begin to count – most I've loved (some I haven't) but after all that, my favorite place to have them… is at home. For 2 reasons:
First, I like to eat breakfast right when I wake up, so I usually don't have the patience to even run down the street to get tacos in the morning.
Second, I can make my version however I want – which means goodbye greasy tacos and hello tons of veggies. The base of these tacos is a very green egg scramble that's filled with green peppers, scallions, arugula, and a scoop of fresh yellow tomato salsa. These tacos are fresh, healthy, and lighter than anything you'd find at a restaurant or truck.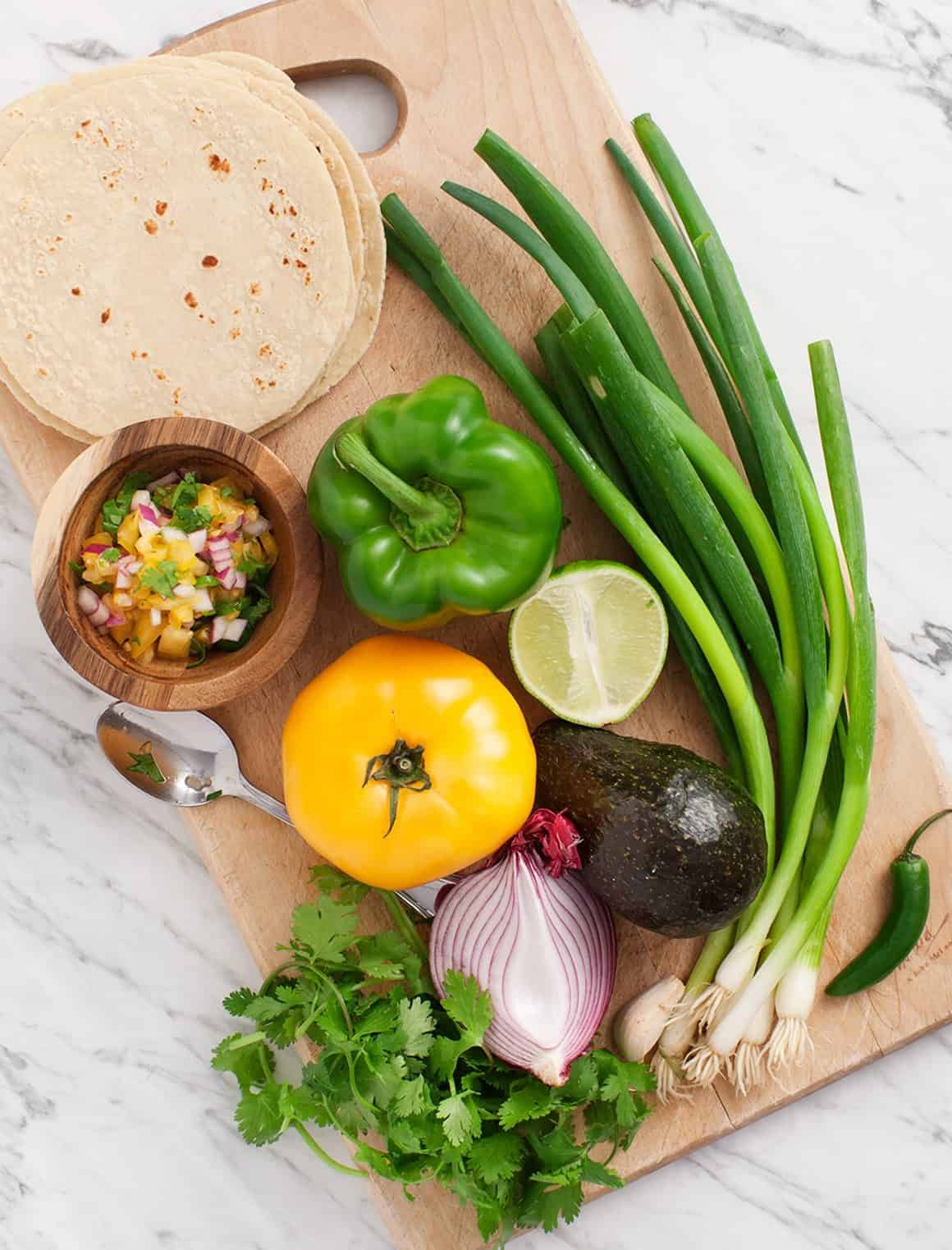 And speaking of things that are green – this post is in collaboration with GreenPan and their Healthy Cooking starts with Healthy Cookware campaign. Years ago, long before this blog existed, I got rid of all of my scratchy teflon pans and switched to the non-toxic GreenPan. GreenPan was the first company to start making ceramic non-stick cookware (they're celebrating their 10th anniversary this year!) and I think I was among the first to start buying them. I get tons and tons of use out of mine – especially for eggs, pancakes, and generally any foods that I don't want sticking to the bottom of my pan. The slick ceramic surface also means that I can get away with using less oil in my cooking, so these chemical-free pans are a must-have in my opinion. 
I have this set, which is super versatile and the white & blue color combo is just so pretty.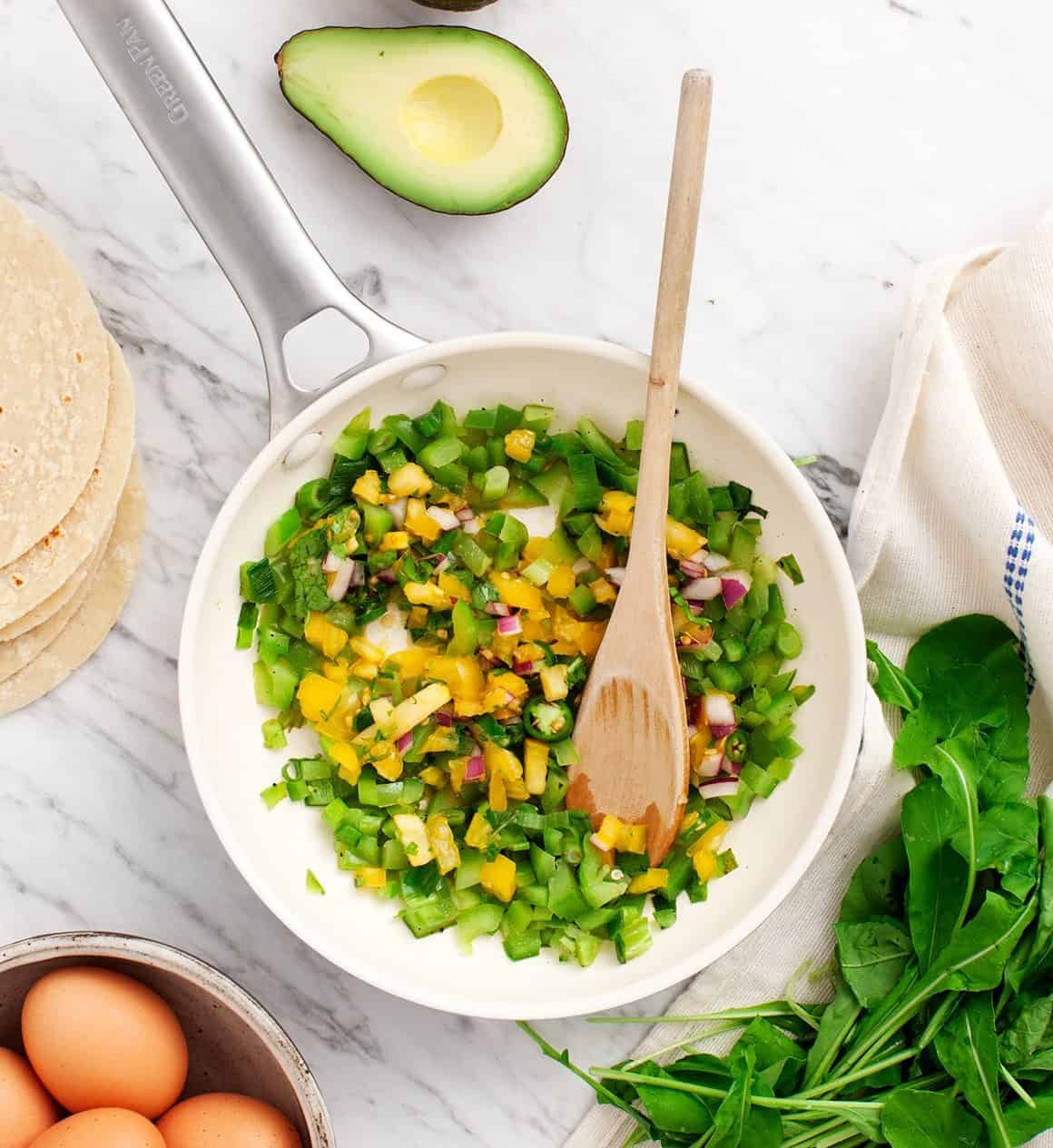 So the first step to this recipe is to make the salsa. This can be done the night before to make your morning cooking easier.
Next, cook the veggies. I like to do this in a separate pan from my eggs because I find it easier to judge the cooking times. Needless to say, GreenPan nonstick cookware is a breeze to clean up.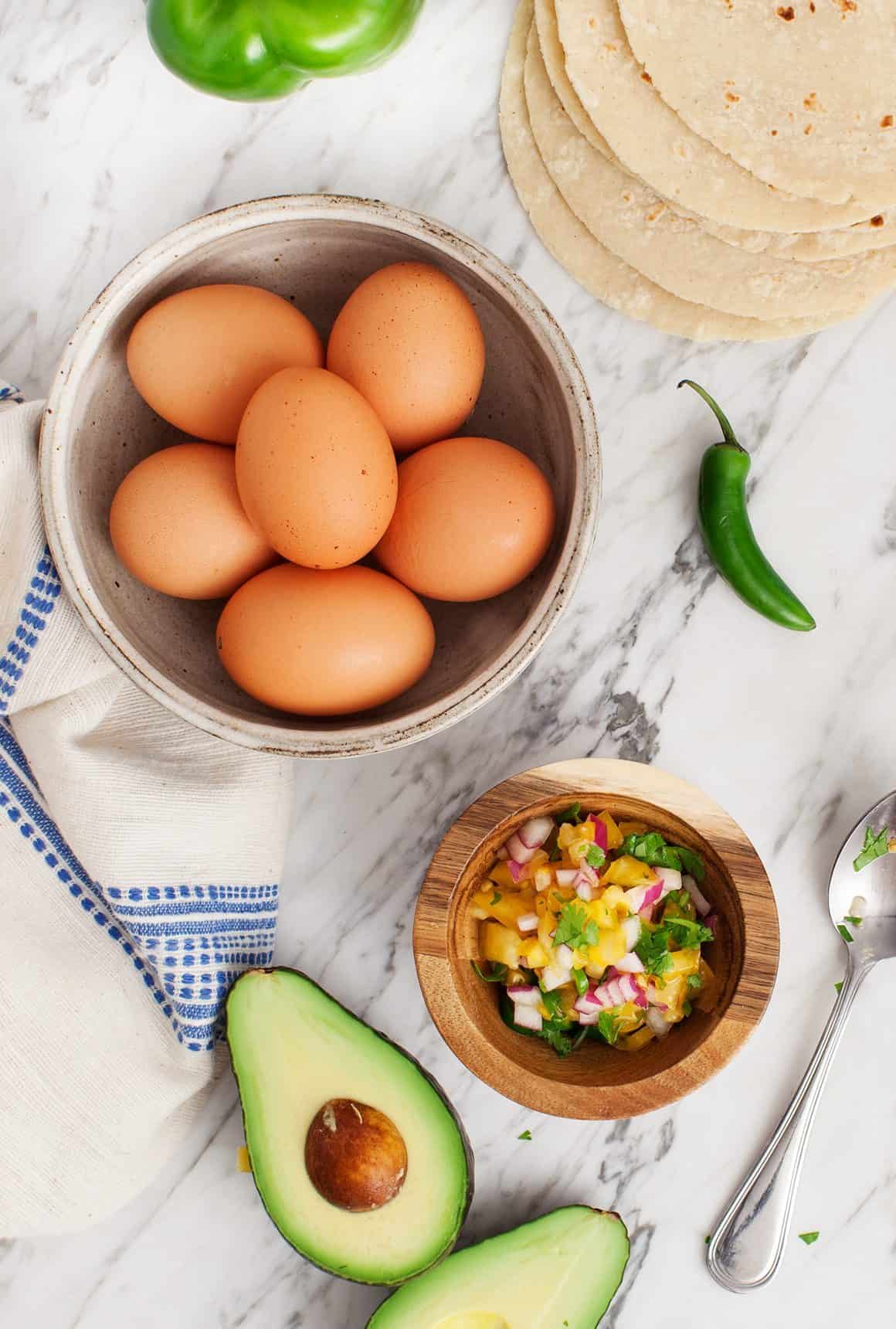 When the salsa and veggies are finished, I start cooking the eggs and stir the vegetables in halfway through. This might be a personal preference, but I like to take my eggs of the stovetop while they're still a little bit runny to keep them from overcooking while I assemble the tacos.
Once off the heat, I stir in a big handful of chopped leafy greens. I often go for spinach, but this time I had some great looking arugula. I also tossed in some cilantro for good measure.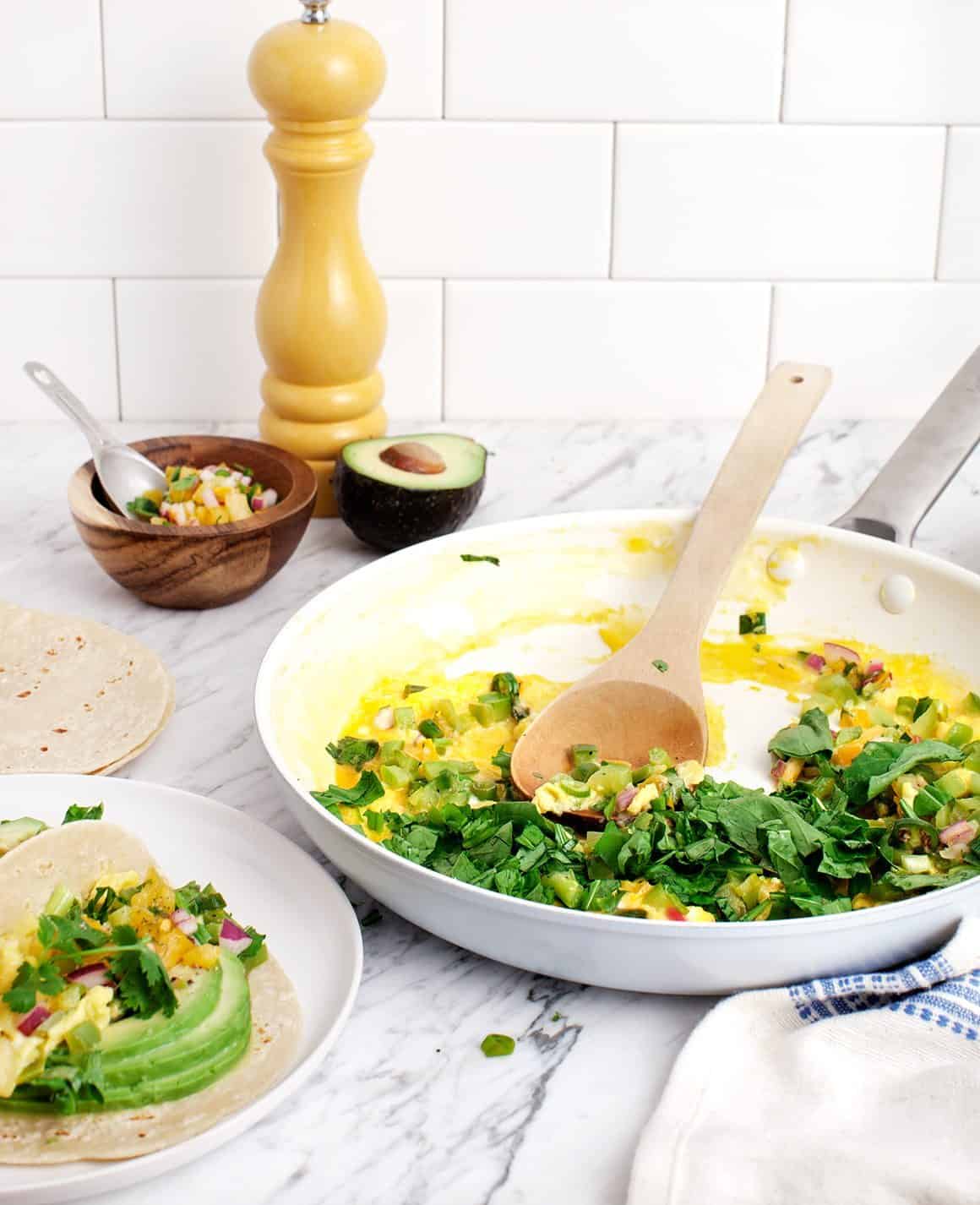 Assemble the tacos with more salsa, avocado and a dash of pepper. These are dairy free because I'm not a huge fan of cheese in my eggs. If you use corn tortillas, they're also gluten free (check the label of your tortillas to make sure).