This easy vegan cashew cream is a delicious dairy-free alternative to sour or heavy cream! It's creamy, versatile, tangy, and bright. What's not to love?
If you're interested in eating more plant-based recipes, cashew cream will be your new best friend. It's easy to make, it requires just 6 ingredients, and it's every bit as rich and creamy as sour or heavy cream. I love to add it to creamy vegan pasta sauces, top it onto baked potatoes, serve it over burrito bowls, and more!
My vegan cashew cream recipe uses basic ingredients. Raw cashews make it thick and creamy, water helps it blend, extra-virgin olive oil adds richness, and lemon juice, garlic, and salt give it a bright, tangy flavor. To make it, just add the ingredients to a blender, and puree until smooth. Scrape down the sides of the blender canister, as needed, to make sure everything is thoroughly combined. Then, enjoy!
Cashew Cream Tips
Use raw, not roasted, cashews. Roasted cashews will give the cream a nutty, cashew-y flavor. Though I love cashews, that's not what we're going for here. By contrast, raw cashews yield a neutral creamy taste, which is delicious in all sorts of savory recipes.
To soak or not to soak? That is the question, and the answer depends on your blender. If you have a high-speed blender, there's no need to soak cashews. However, if you have a less powerful blender, I do recommend soaking cashews for at least 4 hours. Just place the cashews in a bowl, cover them with water, and set them aside. After they've soaked, drain and rinse the cashews and proceed with the recipe below. Otherwise, your cream will be grainy.
Invest in a high-powered blender. If you're someone who plans to make homemade basics like cashew cream frequently, getting a powerful blender is totally worth it. You'll be able to create plant-based milks and sauces at a moment's notice, and they'll be creamier than they would be with another blender, regardless of whether or not you soak any nuts ahead of time. I use a Vitamix, but I've also heard good things about high-speed Blendtec and KitchenAid blenders.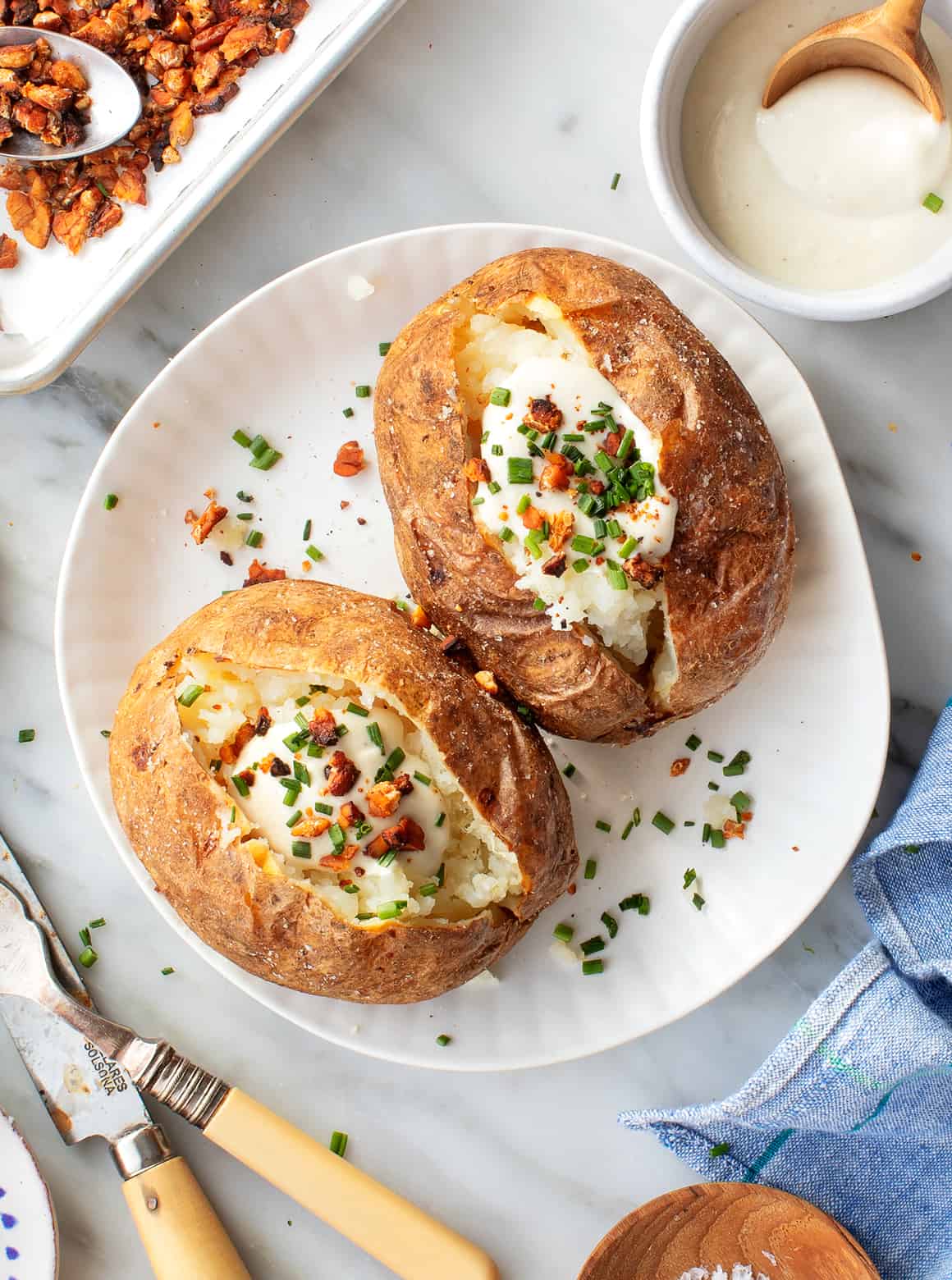 Cashew Sour Cream Recipes
My cashew cream recipe varies depending on how I plan to use it. The basic recipe below uses a 2:1 ratio of cashews to water, which yields a texture similar to sour cream or Greek yogurt. I drizzle this thick cashew cream over bowls, salads, vegan pizza, and more. As you can see below, if I'm planning to use it as a sour cream substitute, I amp up the flavor with white wine vinegar, Dijon mustard, and onion powder. Try it in any of these recipes:
Cashew Cream Variations
I also like to use cashew cream as a dairy-free replacement for heavy cream. Then, I use a lower cashew:water ratio, which makes a runnier cream sauce. It's not as thick as the sour cream above, but it's still richer and creamier than cashew milk. It's a delicious addition to my Herb and Garlic Mushroom Pasta, Butternut Squash Stuffed Shells, and other pasta recipes.
Occasionally, I use my basic recipe to create a creamy sauce with an entirely different flavor profile. For example, I blend cashew cream with baked sweet potato and rosemary to make a luscious, aromatic sauce for my Twice Baked Sweet Potatoes with Broccoli.
Feel free to play with the base recipe below to make a sauce you love! Adjust the cashew:water ratio to reach your desired consistency. Then, try adding nutritional yeast to give it a cheesy flavor, lime juice instead of lemon, fresh herbs, spinach, or a pinch of your favorite spice.
More Favorite Sauces and Spreads
If you love this recipe, try making one of these delicious sauces or spreads next!
Cashew Cream
This easy vegan cashew cream is a delicious dairy-free substitute for sour cream! If you prefer a texture closer to heavy cream, add water, 1 tablespoon at a time, to reach your desired consistency.
Ingredients
Cashew Sour Cream
Replace 1 tablespoon lemon juice with 1 tablespoon white wine vinegar

Add ½ teaspoon Dijon mustard

Add ¼ teaspoon onion powder
Instructions
Place the cashews, water, olive oil, lemon juice, garlic, and salt in a high-speed blender and blend until completely smooth and creamy.

For Cashew Sour Cream, make the cashew cream recipe replacing 1 tablespoon lemon juice with 1 tablespoon white wine vinegar and add the mustard and onion powder for extra tang.
Notes
*Cashew cream is best made in a high-speed blender, like a Vitamix. If you have a less powerful blender, you may have to blend longer (up to 1 minute). You can also soak the cashews for 4 hours or overnight to soften and make them easier to blend.