I love these easy sesame-orange-cashew soba noodles for many reasons, but especially because they use a whole head of broccoli - stalk and all!
Happy Wednesday! Currently, we're en route from Japan where we ate a lot of soba noodles. Of course, we didn't eat them quite like this – in Japan, soba would never be tossed with vegetables and doused with a bright, creamy, sesame-orange-cashew sauce… but we're not in Japan any more, so here goes! 🙂
For this recipe, I use the whole head of broccoli, stalk and all. I don't know why we ever started tossing the stalk – it's every bit as edible as the florets (find other ideas to use the whole head here and here). To help the stem and florets cook for a similar amount of time, I slice the broccoli stem very thin. I really love how these stem pieces almost look like little stars!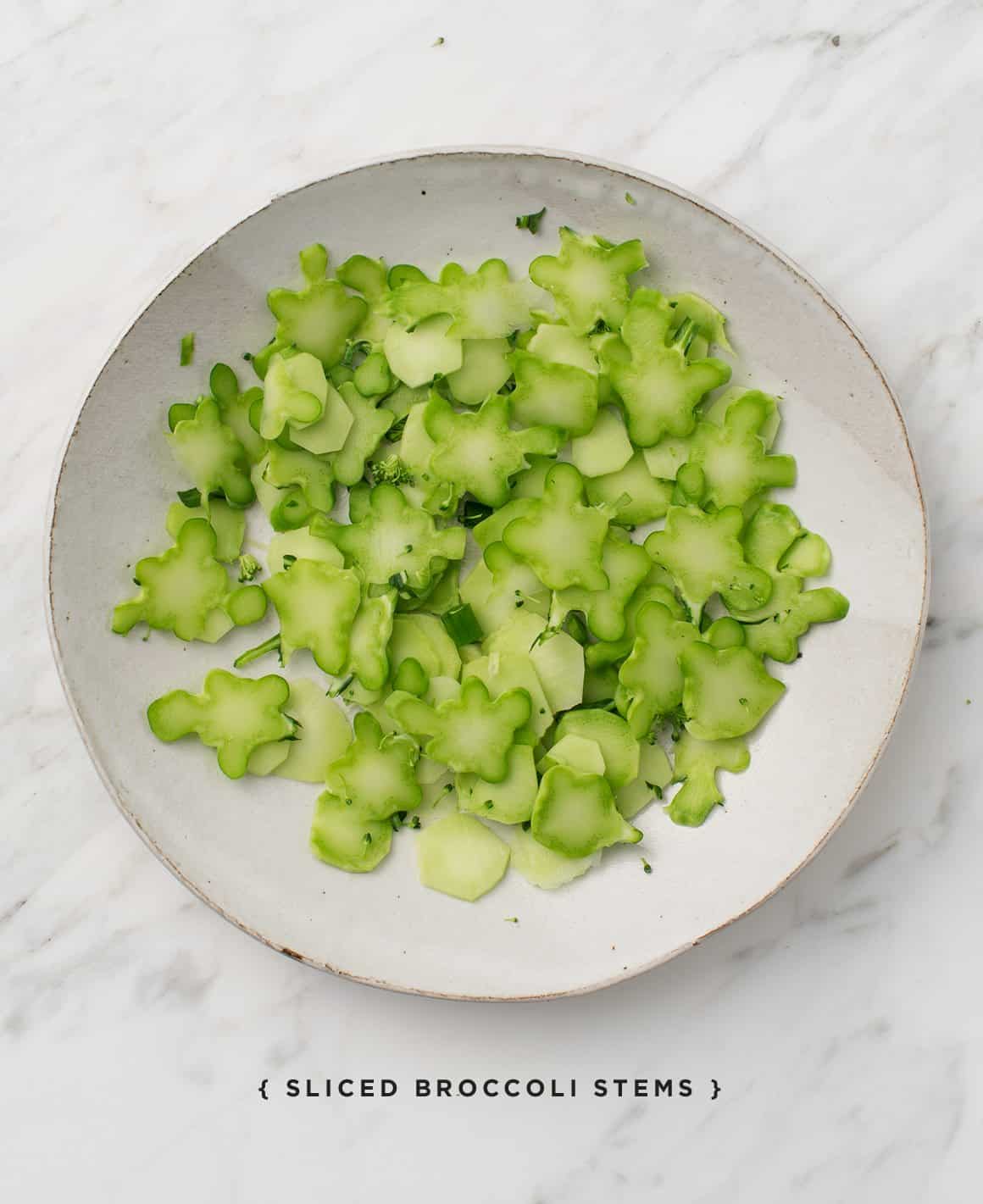 Next, steam the broccoli, the stems, and the scallions until tender but still bright green. You could roast the broccoli here if you prefer, but I chose to steam it because I often crave really simple, clean flavors. Plus, steaming is such an under-rated cooking technique these days! On the other hand, roasting broccoli would give this meal a nuttier, bolder flavor, so the choice is yours and instructions for both are listed below.
Toss it all together: the soba noodles, broccoli, thinly sliced carrot, cashews, and a protein of your choice – I used a locally-made Chicago brand of baked turmeric tofu, which is why mine is yellow. Dollop the noodles with the sauce and serve with extra tamari (or soy sauce) on the side.
I also love to make this recipe with roasted spaghetti squash in place of the noodles!
Cashew Broccoli Soba Noodles
These soba noodles are great for weeknights - simply stir together the sauce and steam the veggies, and you have a healthy, delicious vegan & gluten-free meal!
Ingredients
Cashew sauce:
2 tablespoons tamari, more for serving, if desired
2 tablespoons fresh lime juice
2 tablespoons fresh orange juice
1 tablespoon sesame oil
1 garlic clove, minced
1 teaspoon minced ginger
2 tablespoons cashew butter
2 tablespoons water, more as needed
For the noodles:
8 ounces soba noodles*
sesame oil, for drizzling
1 medium head broccoli, florets chopped, stems thinly sliced
tamari, for drizzling
2 scallions, sliced
1 carrot, thinly sliced
4 to 6 ounces baked tofu, cubed and warmed** (or cooked protein of choice)
¼ cup toasted cashews, crushed
sriracha, for serving
Instructions
Make the cashew sauce: In a small bowl, stir together the tamari, lime juice, orange juice, sesame oil, garlic, ginger, cashew butter, and water. If the sauce is very thick, add more water as needed to thin to a drizzable consistency.
Bring an unsalted pot of water to a boil and cook the soba noodles according to package directions. Drain and rinse well. This helps to remove the starches that cause clumping. Toss with a drizzle of sesame oil and set aside.
Place a steamer basket in a large pot filled with 1 inch of boiling water. Add the broccoli florets and stems, the scallions, and a few splashes of tamari. Reduce the heat to a high simmer then cover and steam for 2 to 4 minutes, or until the broccoli is tender but still bright green. (If you prefer, you can roast the broccoli. Toss with drizzles of olive oil and tamari and roast in a 400°F oven for 15 to 20 minutes.)
Assemble bowls with the soba noodles, steamed broccoli and scallions, the carrots, tofu, cashews, and dollops of the cashew sauce. Serve with more tamari on the side and sriracha, if desired.
Notes
*To make this recipe gluten free, be sure to use 100% buckwheat soba noodles.

*I used a local Chicago brand called Jenny's Tofu: Organic Turmeric Baked Tofu. I also like Wildwood Baked Tofu which is available nationwide.

Alternatively, you can bake your own tofu. Start with extra-firm tofu, patted dry and cut into cubes. Preheat the oven to 425°F and line a baking sheet with parchment paper. Toss the tofu with the tamari and spread evenly onto the baking sheet. Bake for 15 to 20 minutes, or until golden brown around the edges. Remove from the oven and toss with ½ teaspoon sriracha or a few pinches of turmeric.