Inspired by open-faced Danish Smørrebrød sandwiches, I made an all-veggie version using smoky roasted & marinated carrots instead of salmon.
A few years ago, Jack and I visited Copenhagen, where we ate lots and lots (and lots) of Smørrebrød. If you aren't familiar with smørrebrød, they are open faced sandwiches with artfully-piled toppings on dense, rectangle-shaped rye bread. It's the national dish of Denmark… that I'm about to make a completely non-traditional version of – but this is super yummy, so let's just have fun and go with it! 🙂
Smørrebrød toppings vary widely, but many common combinations include smoked salmon and dill. I've been wanting to create a fun veggie variation for a while now, so when Wasa, my favorite crispbread brand, asked me to make a recipe on their flat perfectly-portioned Euro-style crispbreads, I immediately thought – it's smørrebrød time!
My creation today is part of their #CrispbreadChallenge, which is all about making an open-faced sandwich on a crispbread instead of a slice of bread. And the fun doesn't stop there…Wasa is giving away a $500 grocery store gift card to a lucky challenge participant, all you need to do to enter is make your own open-faced sandwich (anything you want), put it on a Wasa crispbread instead of bread, and post your creation on Instagram for a chance to win! Just make sure you're following me + @wasausa and use the hashtag #CrispbreadChallenge.
You guys have to join in on this challenge if you haven't already – swapping bread for crispbreads has made for such a fun twist on my usual breakfast and lunches. I even have a coupon for you all to purchase your own Wasa crispbreads, linked here.
Today – inspired by those open-faced Danish smoked salmon sandwiches, I made a veggie version of smoked "salmon"… with carrots! How do carrots taste like smoked salmon, you might ask? You have to just try it to believe it. Trust me on this one, it's crazy delicious.
This recipe starts by making salt-crusted roasted carrots. Don't worry – you will not be consuming this crazy amount of salt in the end, because the skins get peeled for the most part. This technique ends up giving the carrots an amazing smoky flavor.
Once the carrots are roasted, the soft carrots get peeled into ribbons and put into a marinade made with olive oil, rice vinegar, smoked paprika, lemon, and pepper. This gives the carrots a tangy, smoky flavor and a bit of an oily texture that resembles the texture of smoked salmon. Let the carrot pieces sit in the marinade for a few minutes as you get your other toppings ready. The marinated carrots can also be stored in the fridge for up to 4 days.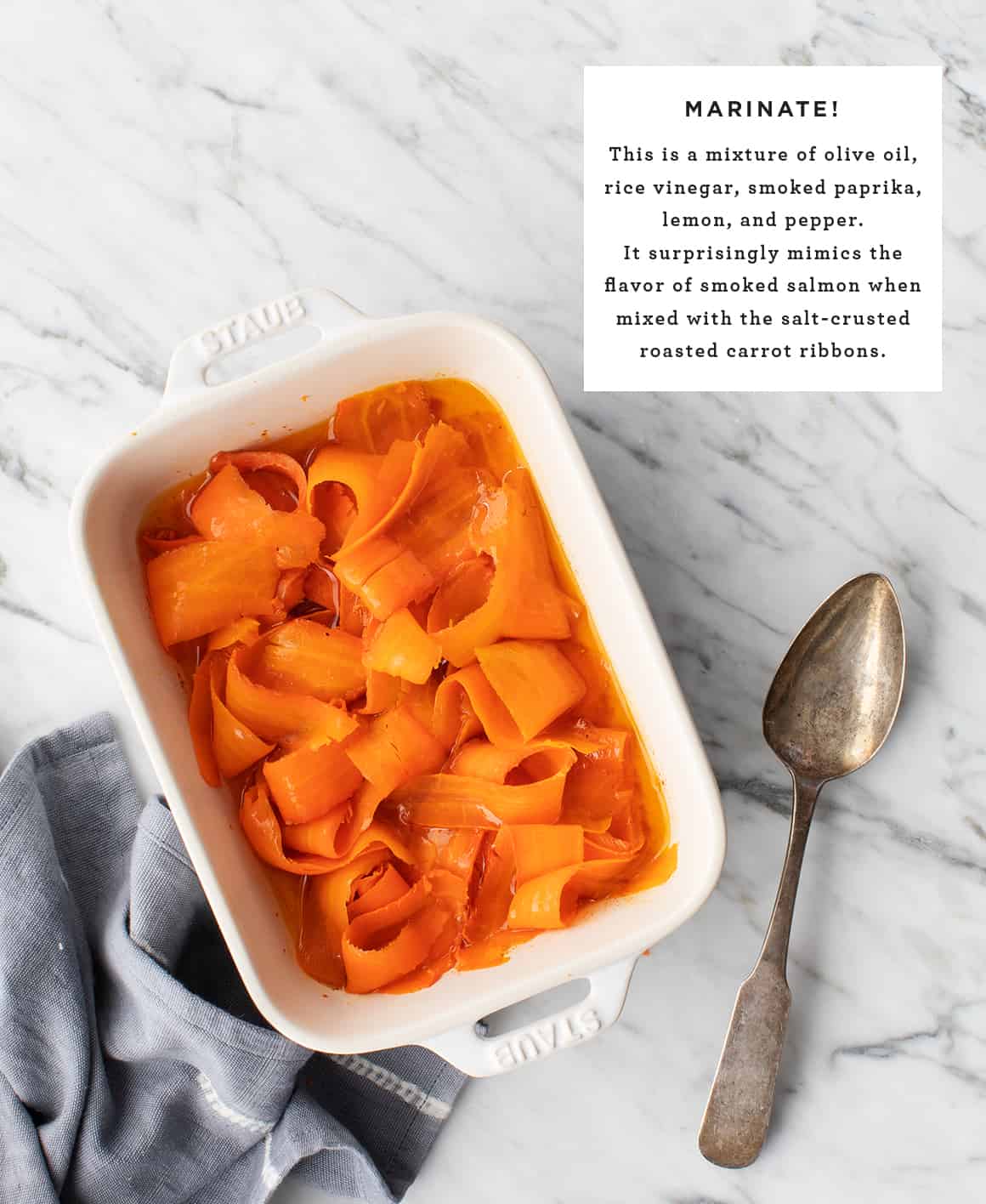 Instead of bread, I assembled my "sandwiches" with Wasa's Light Rye Crispbreads which are so delicious with these toppings! They're light – perfect for a healthy, satisfying lunch. They're made with wholesome, simple ingredients and have a delicious crunch that goes nicely with my toppings here. I start with a layer of vegan cream cheese, followed by cucumber slices, radish slices, the smoked carrot pieces, capers, dill, and chives.
For everyone joining me in the #CrispbreadChallenge, I'd love to see what some of your favorite open-faced crispbread combinations have been! Make sure you take this super quick survey, linked here, and let me know what you think of the challenge!
Carrot Smorrebrod Crisps
Ingredients
4 large carrots
Sea salt, for coating
Marinade
3 tablespoons extra-virgin olive oil
1 tablespoon rice vinegar
½ teaspoon smoked paprika
Big squeeze fresh lemon juice
Freshly ground black pepper
For assembly
Wasa Rye Crispbreads
Vegan cream cheese
Persian cucumbers, thinly sliced
Radishes, thinly sliced
Capers
Chopped chives
Chopped dill
Instructions
Preheat the oven to 475°F and line a medium baking dish with parchment paper. Coat the bottom with about a ¼-inch layer of salt, then place the whole carrots in the dish and sprinkle with a good amount of salt (see photo). Don't worry, you won't be eating all this salt in the final result. Roast the carrots until easily pierced with a fork, but not mushy. The timing will depend on the size and freshness of your carrots. Check them, starting around 40 minutes - my very large carrots took 60-90 minutes. This step can be done in advance.
Make the marinade: In a shallow dish or small bowl, combine the olive oil, rice vinegar, paprika, lemon juice, and several grinds of freshly ground black pepper.
Remove the carrots from the oven and let cool. Use your hands to rub off any excess salt. Use a knife to slice a thin strip of the skin horizontally off the carrot, and then use a peeler to peel the carrot into ribbons. Place the strips in the marinade and toss to coat.
When ready to serve, assemble the open-faced sandwiches with a crispbread, a slather of cream cheese, a few cucumber and radish slices. Top with some carrot ribbons, a few capers, and a sprinkle of chives and dill.
Extra carrots can be stored in the marinade in the fridge for up to 4 days. Use them to make more sandwiches or add to salads or other dishes that call for smoked salmon.
This post is in partnership with Wasa.