If you ate too many cookies this weekend, I have just the thing for you! This roasted red pepper soup is light and nourishing, yet creamy and delicious. Plus, I think the red soup and green herbs look so festive! If you haven't gotten around to decorating a tree this year (or if you're tired of decorating cookies), you can decorate your soup! 🙂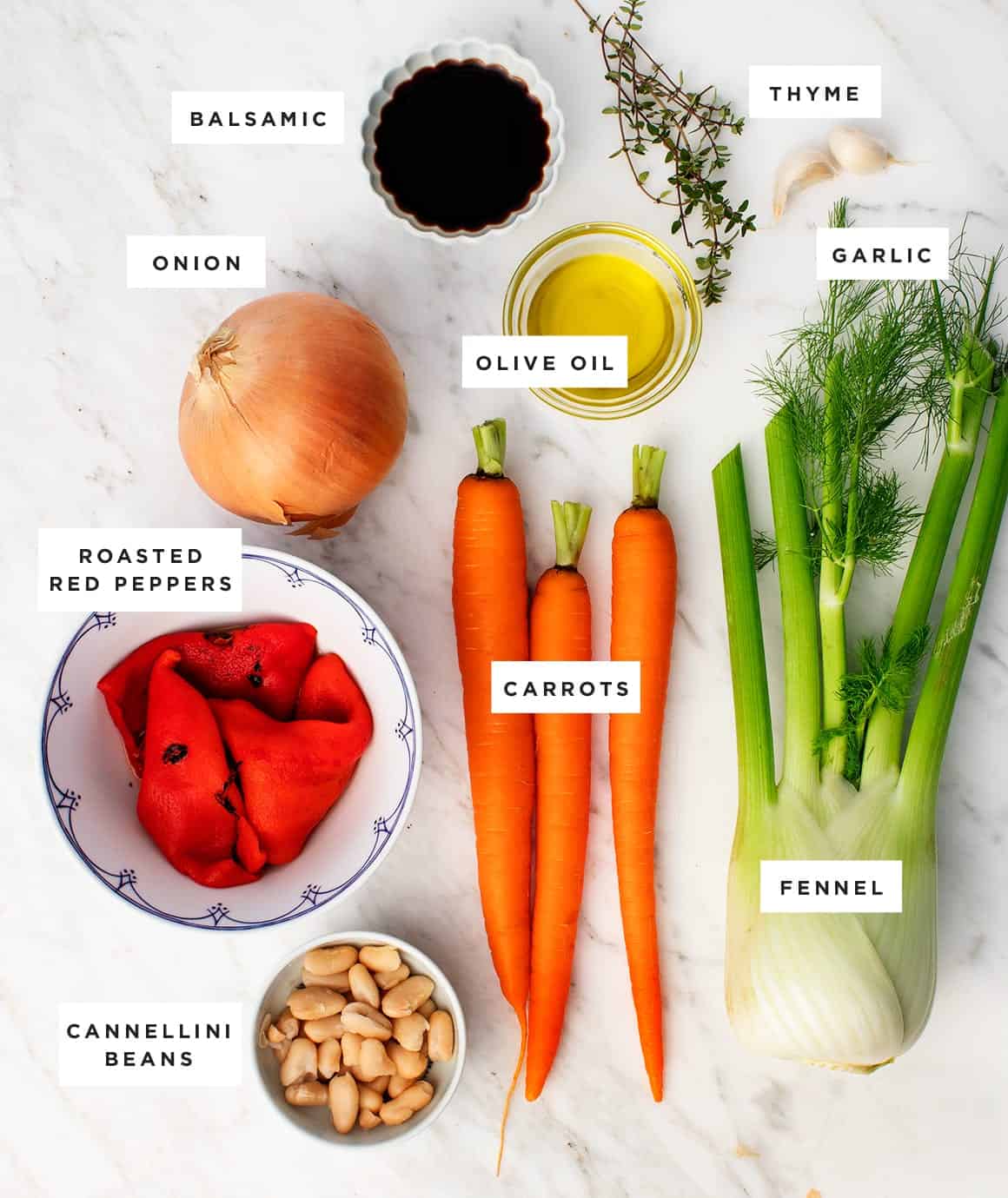 Because red peppers aren't in season, I use jarred roasted red peppers, which are a super convenient pantry ingredient. Fresh carrots, fresh fennel, and thyme round out the tangy flavor of the peppers. Cannellini beans add creaminess to the soup without adding cream or nuts.
This roasted red pepper soup recipe is an old favorite – it's on page 203 of our first cookbook which (shameless plug!) makes a great gift. I made just a few tweaks to the original recipe, which are listed below. As a contrast to the smooth texture of this soup, I added chopped roasted red peppers and extra herbs. It's a small detail, but the chunky diced peppers give it a nice texture.

This is what the roasted red pepper soup looks like before you blend it: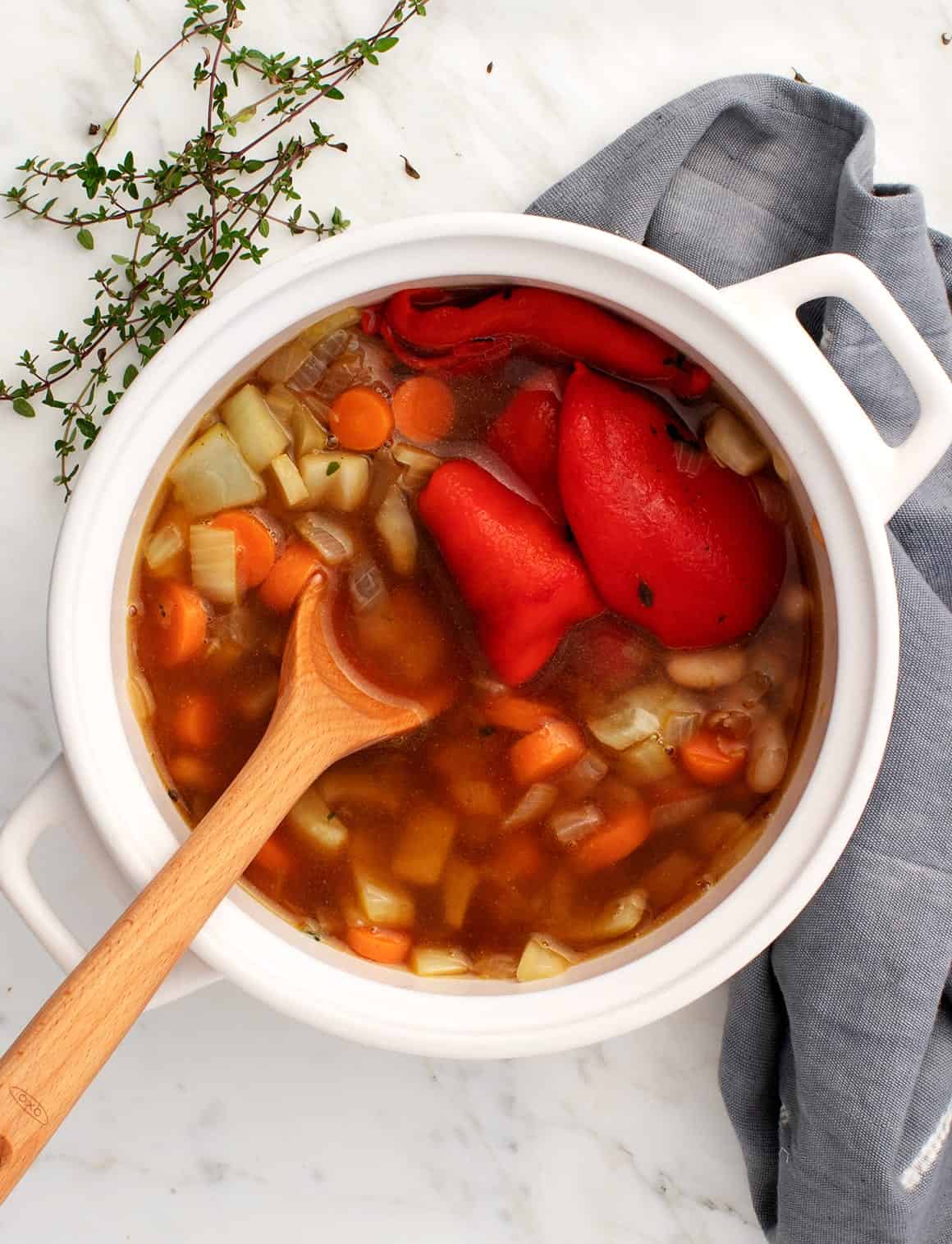 Give it a whirl, then, voila… you have creamy orange-red Christmas soup (or soup for whatever holiday you celebrate).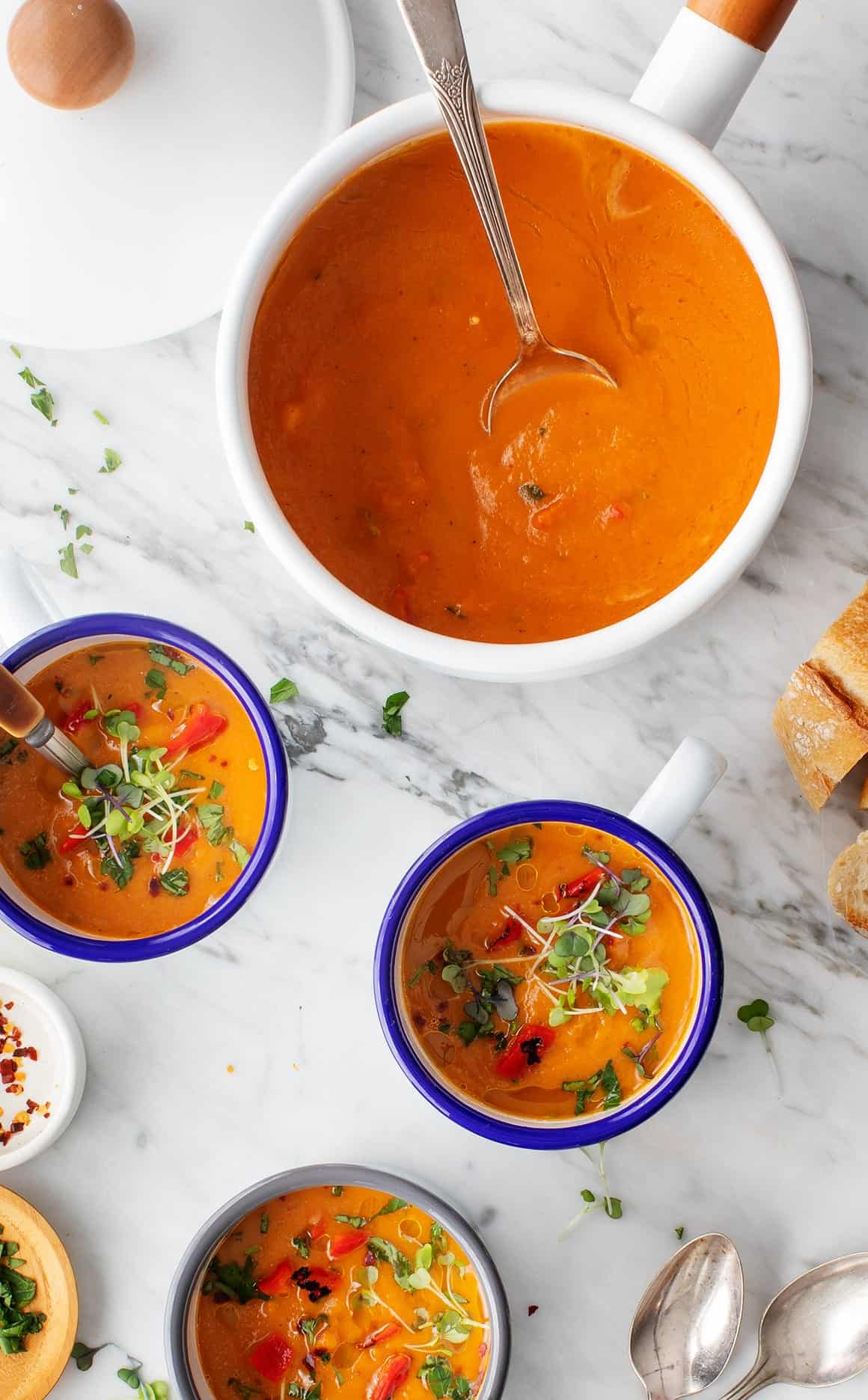 Like most soups, you can make it ahead and keep it in the fridge for a few days – the flavors just get better and better. It also freezes well.


If you're craving more soup, go browse more soups in the soup section of our recipe index!
Roasted Red Pepper Soup
This vegan roasted red pepper soup is a light, nourishing winter meal. Great for weeknight dinners or packing up for lunch.
Ingredients
2 tablespoons extra-virgin olive oil, more for drizzling
1 medium yellow onion, chopped
2 garlic cloves, chopped
1 small fennel bulb, coarsely chopped
3 medium carrots, chopped
1 tablespoon fresh thyme leaves
2 tablespoons balsamic vinegar
3 jarred roasted red bell peppers*
¼ cup cooked cannellini beans, drained and rinsed
2 tablespoons tomato paste
4 cups vegetable broth*
½ to 1 teaspoon sea salt
½ teaspoon freshly ground black pepper
½ teaspoon red pepper flakes, optional
For Serving (all optional):
1 jarred roasted red pepper, diced
Finely chopped parsley
Pinches of red pepper flakes
Microgreens
Warm baguette
Instructions
Heat the olive oil in a large pot over medium heat. Add the onion and pinches of salt and pepper and cook until translucent, about 5 minutes.
Add the garlic, fennel, carrots, and thyme leaves. Stir and cook until the carrots begin to soften, about 10 minutes.
Add the balsamic vinegar, red peppers, beans, tomato paste, broth, and ½ teaspoon salt. Simmer until the carrots are tender, 15 to 20 minutes.
Add the simmered soup to a high-speed blender and puree until smooth. Season with more salt and pepper, to taste. If you would like more punch, add a few more drops of balsamic, to taste. If you would like a little heat, add ½ teaspoon red pepper flakes.
Serve with generous drizzles of olive oil (do not skip, this really makes the soup more luscious and flavorful), desired garnishes, and warm baguette.