You won't miss the fish in this smoky, savory vegan carrot lox recipe! Piled onto bagels with all the classic fixings, it's just as good as the real thing.
I have to admit, I was skeptical when I first tried this carrot lox recipe last spring. At this point, we're all used to the idea of vegan burgers, meatballs, and taco meat, but vegan smoked salmon still seemed like a stretch. I loved the idea of creating a vibrant veggie version of traditional lox, but would it really work?
Well, fast forward a year, and this carrot lox is now my go-to bagel topping! Thanks to a tangy, smoky marinade and a long roast with plenty of salt, the carrot lox is surprisingly similar to smoked salmon. It's tender and a tiny bit oily, with an irresistible smoky, savory flavor. Topped onto a toasted bagel with all the classic fixings, it's just as good as the real thing.
If you want to step out of the pancakes and eggs box for Mother's Day (or any weekend) brunch, try this carrot lox recipe! It's easy, it's fun, and it's really darn delicious. 🙂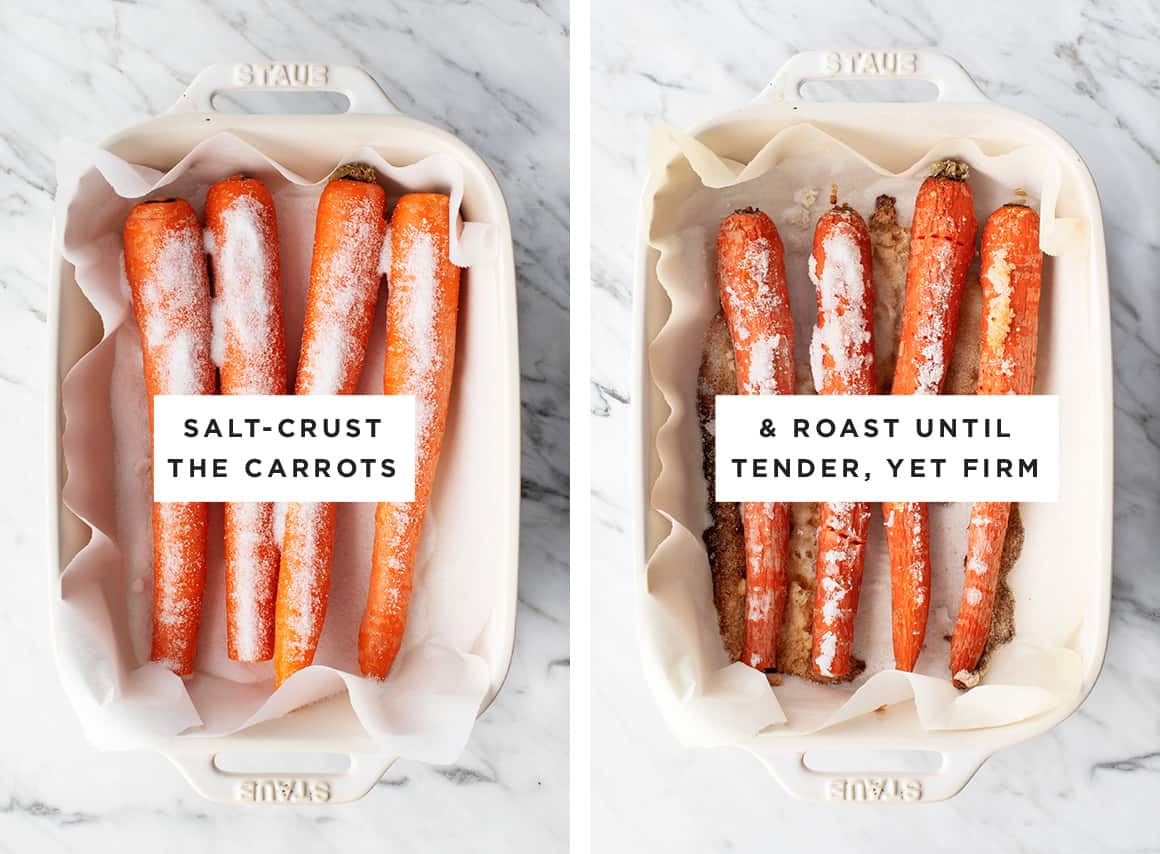 How to Make Carrot Lox
This vegan smoked salmon recipe has three key steps: roasting, peeling, and marinating. Here's how it goes:
First, roast the carrots with salt. A lot of salt. You should have a 1/4-inch layer at the bottom of your baking dish and a generous coating of salt on top of the carrots too. Don't worry – the salt infuses the carrots with flavor as they roast, but you'll only end up eating a small amount in the final dish.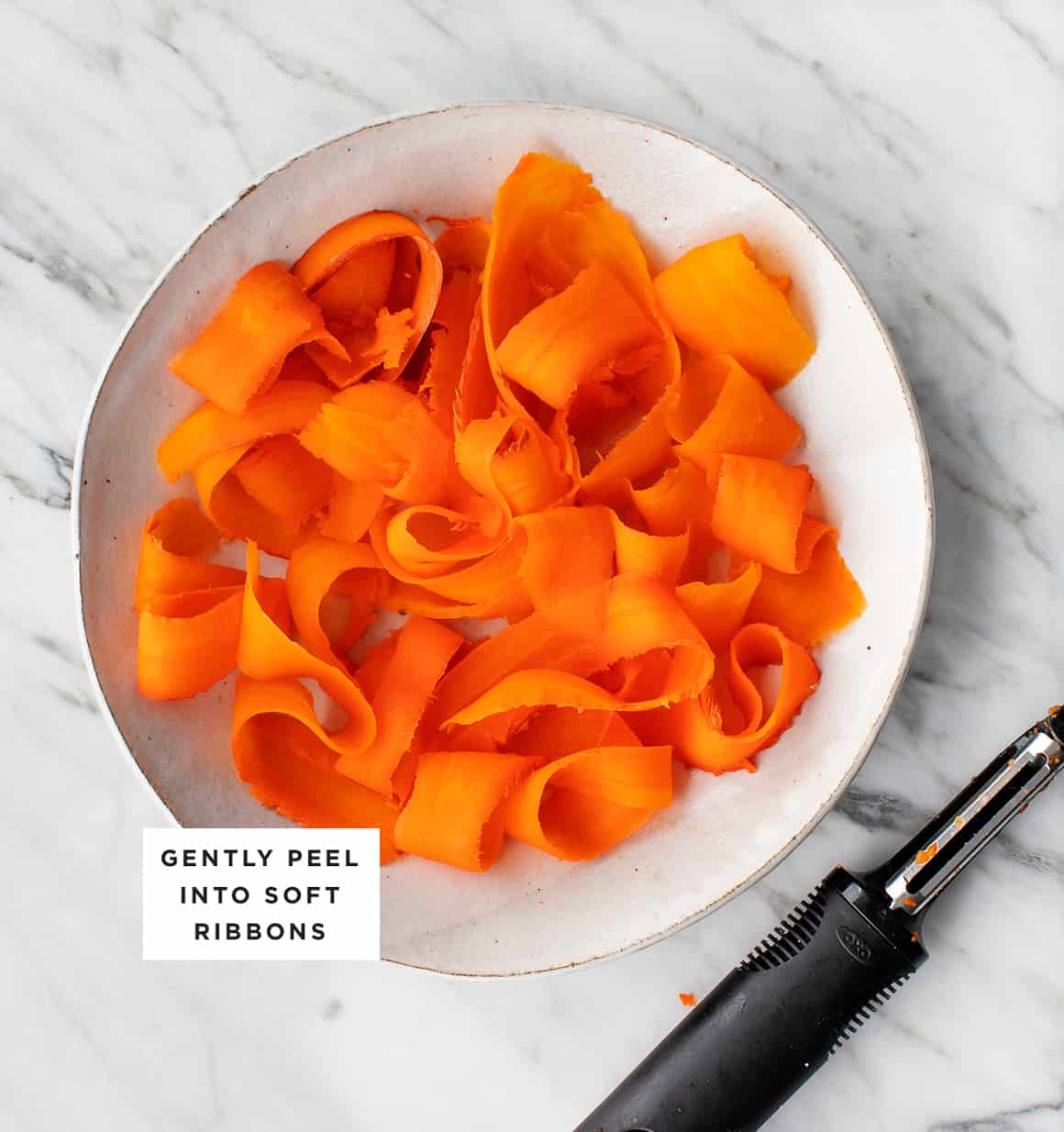 Then, peel them into ribbons to mimic thin sheets of smoked salmon. Allow the carrots to cool, and rub off any excess salt with your hands. Slice a long, thin strip of skin off each carrot with a knife, and then use a vegetable peeler to peel the carrots lengthwise into ribbons.
Finally, marinate! I make a bold, smoky marinade with ingredients you likely already have on hand: olive oil, rice vinegar, smoked paprika, lemon juice, and pepper (no liquid smoke here!). Toss to coat the ribbons in the marinade, and transfer them to the fridge to soak for at least 15 minutes. Stored in the marinade, the carrot lox will keep for up to 4 days in the fridge.
That's it!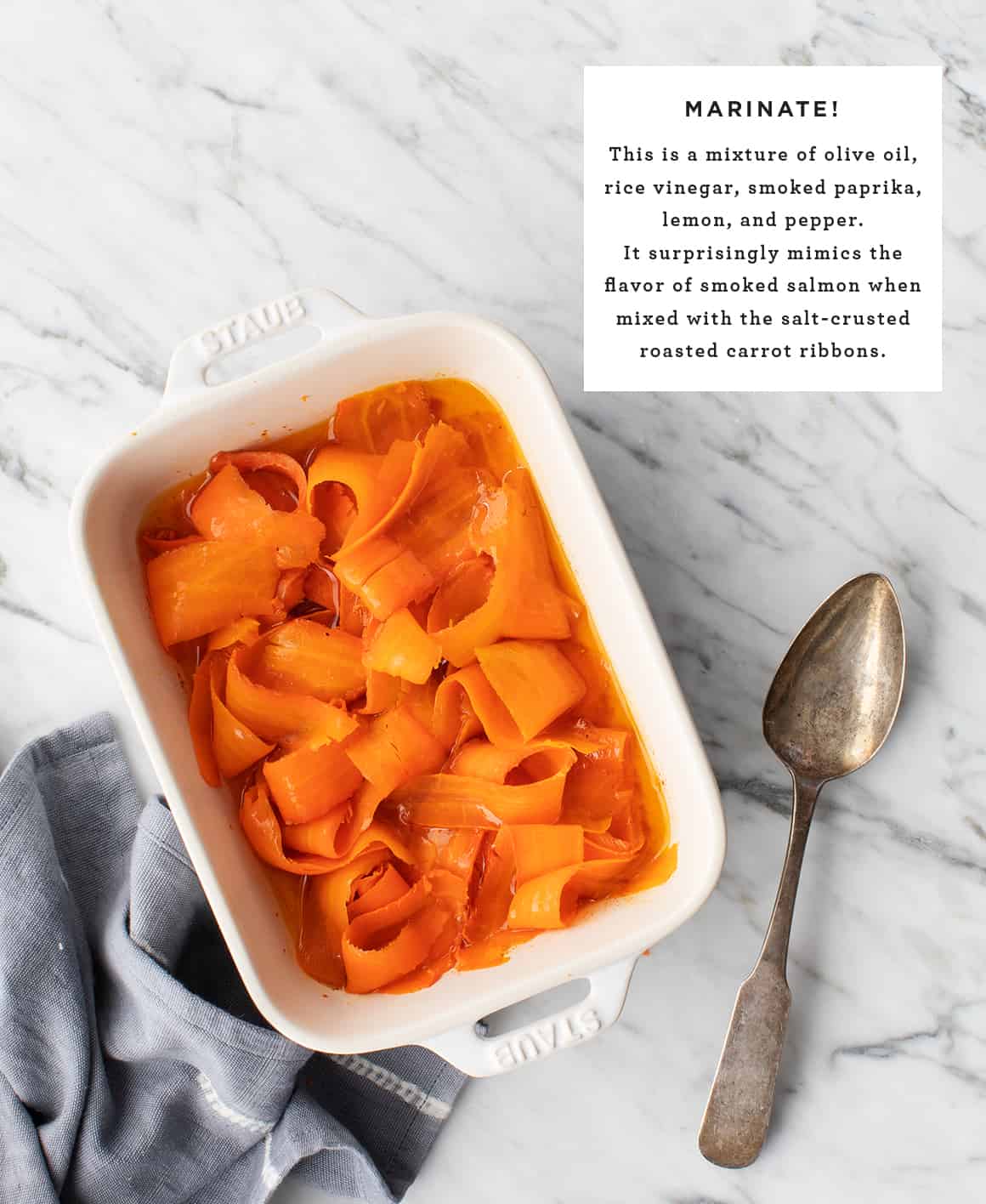 Carrot Lox Serving Suggestions
When you're ready to eat, pile the carrot lox onto toasted bagels with vegan cream cheese (or regular cream cheese, if you're not vegan), fresh dill, chives, capers, cucumber, and thinly sliced red onion. Pickled red onions would be great here too!
If it's just the two of us, Jack and I often enjoy these carrot lox bagels as a meal on their own. However, they're also great for serving a crowd. Pair them with fresh fruit, a veggie crudité platter, or a salad. They'd be fantastic with any of these salad recipes:
Don't forget the mimosas to drink! Enjoy!
More Favorite Brunch Recipes
If you love making carrot lox, try one of these plant-based brunch recipes next:
Then, find more of my best brunch recipes here and more of my favorite vegan recipes here!
Vegan Carrot Lox
This vegan carrot lox is just as smoky and delicious as the real thing! I recommend using large, thick carrots for this recipe, as they're easier to peel into ribbons than smaller carrots.
Ingredients
for serving:
bagels

vegan cream cheese

cucumber slices

chives and/or dill
Instructions
Preheat the oven to 475°F and line a medium baking dish with parchment paper. Coat the bottom with about a ¼-inch layer of salt, then place the whole carrots in the dish and sprinkle with a good amount of salt (see photo). Don't worry, you won't be eating all this salt in the final result. Roast the carrots until easily pierced with a fork, but not mushy. The timing will depend on the size and freshness of your carrots. Check them, starting around 40 minutes - my very large carrots took 60-90 minutes. This step can be done in advance.

Make the marinade: In a shallow dish or small bowl, combine the olive oil, rice vinegar, paprika, lemon juice, and several grinds of freshly ground black pepper.

Remove the carrots from the oven and let cool. Use your hands to rub off any excess salt. Use a knife to slice a thin strip off one side of the salty skin, and then use a peeler to peel the carrot into ribbons. If your peeler get's snagged on the soft carrot, that's ok, just slice pieces as thinly as you can with a sharp knife. Place the strips in the marinade and toss to coat. Transfer to the refrigerator and marinate for 15-30 minutes.

Serve with bagels, cream cheese, cucumber slices, capers, chives and/or dill.

If you have extra carrots, cover and refrigerate them in the marinade for up to 4 days.