Our favorite carrot cake recipe! Moist, warmly spiced, and topped with tangy cream cheese frosting, it's easy to make and perfect for celebrations.
It's carrot cake season! I don't know about you, but when the weather warms up, my dessert cravings shift away from chocolate towards lighter, fruitier treats. This change works out well for me, because carrot cake is Jack's all-time favorite dessert, and we make it every year for his April birthday.
You'll find our go-to carrot cake recipe below. It's based on my mom's, and it uses her secret ingredient: applesauce. It makes the cake super moist and tender, and it steps in for some of the oil and sugar that you'd normally find in a carrot cake recipe. As a result, this recipe is on the lighter side, so you can have your cake and eat it too. 🙂 Cinnamon, nutmeg, and vanilla fill it with warm flavor, and a tangy cream cheese frosting takes it over the top.
If you're looking for an easy, delicious dessert for Easter, Mother's Day, or any celebration, I hope you'll try this carrot cake recipe. We've made it and loved it time and time (and time) again, and I think you'll love it too.
Carrot Cake Recipe Ingredients
Here's what you'll need to make this carrot cake recipe:
Carrots, of course! They make the cake super moist and tender.
Whole wheat pastry flour – A healthier alternative to regular all-purpose. If you don't have whole wheat pastry flour, you can substitute a 50/50 mix of all-purpose and regular whole wheat.
Baking powder, baking soda, and eggs – They help the cake rise.
Maple syrup – Instead of making this cake with brown sugar or regular granulated sugar, I sweeten it naturally with pure maple syrup. I love the depth of flavor that the maple adds to the cake!
Applesauce – For more moisture and extra (natural) sweetness.
Almond milk – Or any milk you like! My homemade oat milk would work nicely here too.
Coconut oil – For richness. Free free to use olive oil or vegetable oil if you prefer.
Cinnamon, nutmeg, and vanilla extract – For warm, spiced flavor.
And sea salt – To make all the flavors pop!
Find the complete recipe with measurements below.
How to Make the BEST Carrot Cake
Since marrying Jack, I've had a lot of practice making carrot cake. Here are my tips & tricks for making the best carrot cake around:
Grate your carrots finely. Finely grated carrots meld seamlessly into the cake, while larger pieces create a less uniform texture. Finely grate your carrots for light, fluffy, and cohesive cake slices!
Spoon and level your flour. Anytime you're baking, how you measure flour matters. It can easily settle or become compacted in a canister or bag, so if you scoop it up directly with your measuring cup, you might accidentally pack too much into your scoop. Too much flour = dry baked goods. And no one likes dry carrot cake! To avoid using too much flour, fluff the flour in the canister or bag with a spoon and then gently spoon it into your measuring cup. Clear off any excess flour with the back of a butter knife. This method for measuring flour is super simple, and it'll help your carrot cake come out moist and tender every time.
Don't overmix. This rule applies to baked goods across the board. Mix your batter until just combined – and not any longer – or your cake will be dense.
Let your cake cool completely before frosting it. Yes, this is an easy recipe, but there is one hard part: waiting for the cake to cool! If you frost it too early, the frosting will melt, so wait until the cake is at room temperature before slathering it on.
Easy Carrot Cake Recipe Variations
Jack is a true carrot cake enthusiast, and if he's taught me anything, it's that carrot cake can be a personal thing. If you like yours with chopped walnuts or raisins, feel free to fold ½-1 cup into the cake batter. If you like yours with coconut, fold ½ cup into the batter or sprinkle shredded coconut over the frosted cake. I like mine plain, although I think it's pretty with a few chopped pecans sprinkled on top.
You can also choose your cake size and shape! The recipe below makes any of these:
one 9-inch round cake (pictured)

one square 8×8-inch cake


a 2-layer cake using two 6-inch cake pans (also pictured)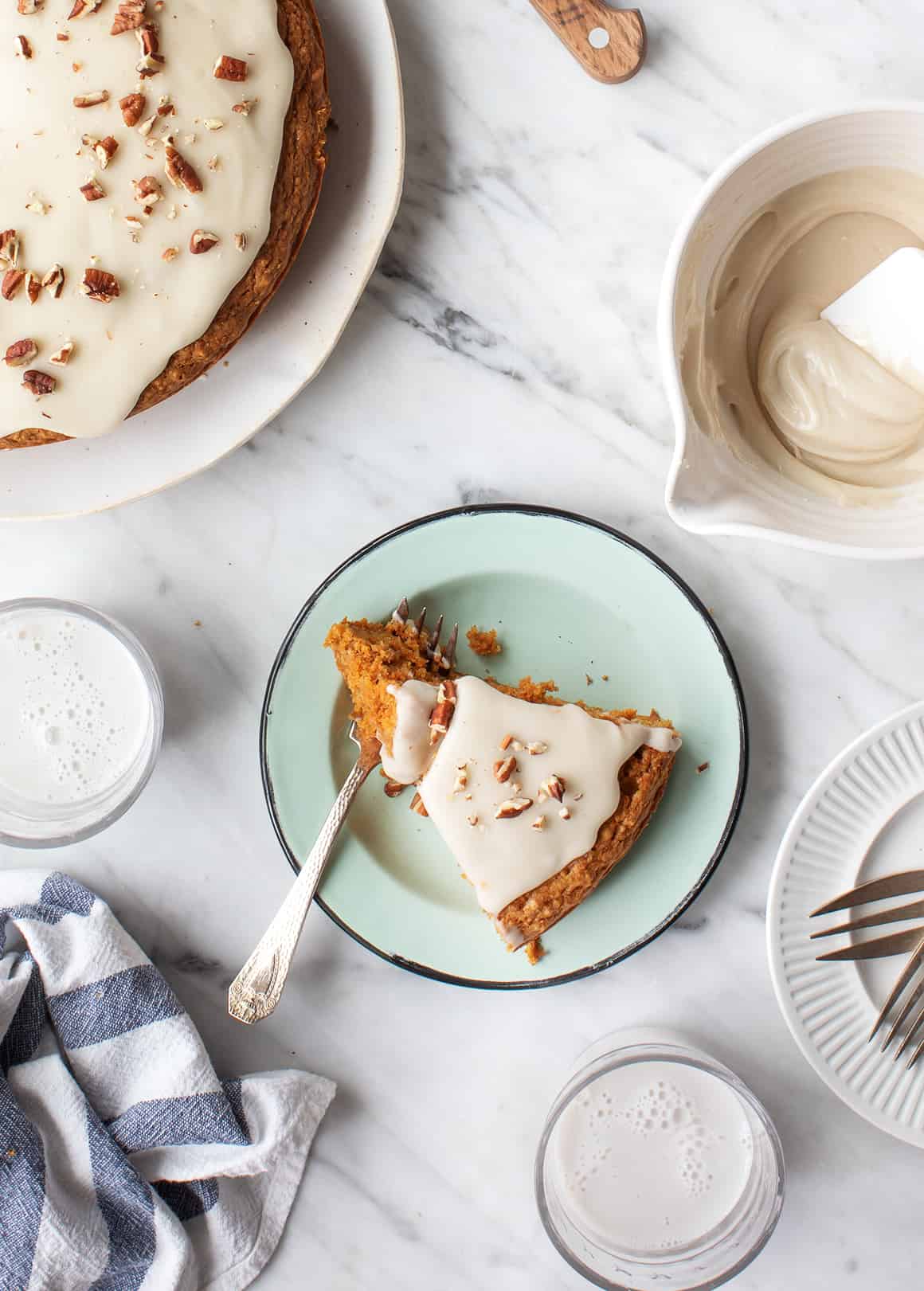 Finally, choose your favorite frosting. You can make the cream cheese frosting recipe below with regular or dairy-free cream cheese (I used Kite Hill here), though the regular version will be stiffer and better for slathering between the cake layers if you're making a layer cake. A lighter frosting option would be the cashew maple frosting from this recipe, which is more of a glaze. You could also leave the cake plain or serve it with a dusting of powdered sugar.
Let me know what variations you try!
More Favorite Baking Recipes
If this carrot cake recipe earns rave reviews, try one of these treats next:
Or head to this post for more fun baking recipes!
Best Carrot Cake
My favorite carrot cake recipe! Made with wholesome ingredients like whole wheat pastry flour, applesauce, and pure maple syrup, it's moist, delicious, and easy to make.
Ingredients
2¼

cups

whole wheat pastry flour (or half white, half wheat)

2

teaspoons

baking powder

1

teaspoon

baking soda

3

teaspoons

cinnamon

½

teaspoon

nutmeg

1

teaspoon

sea salt

2

large eggs

½

cup

applesauce

½

cup

maple syrup

½

cup

almond milk,

at room temperature

½

cup

melted coconut oil

2

teaspoons

vanilla extract

2

cups

finely grated carrots
Frosting
4

ounces

cream cheese*

1½

tablespoons

butter*

,

slightly softened

2

cups

powdered sugar,

more if a stiffer frosting is desired

⅛

teaspoon

vanilla extract
Instructions
Preheat the oven to 350°F and grease a 9-inch round baking pan, 8x8 square pan, or two 6-inch round cake pans.

In a large bowl, whisk together the flour, baking powder, baking soda, cinnamon, nutmeg and salt.

In a medium bowl, whisk the eggs and then whisk in the applesauce, maple syrup, almond milk, coconut oil, and vanilla. Stir in the carrots.

Pour the wet ingredients into the bowl of dry ingredients and stir until just combined.

Pour the batter into the baking dish and bake for 35 to 38 minutes, or until a toothpick inserted comes out clean. Let the cake cool completely before frosting.

Make the frosting: In a large bowl, beat the cream cheese and butter with an electric mixer until smooth. Add the vanilla and powdered sugar and mix until smooth.
Notes
If you're making a layer cake, you may want to chill the frosting and the cakes so that the frosting stays firm while layering.
*To make this cake non-dairy, use Kite Hill vegan cream cheese and vegan butter in place of the regular cream cheese.