These Caprese skewers are such a fun summer appetizer! Topped with a tangy balsamic glaze, they're light, flavorful, and fresh.
Last week I shared this cherry tomato pasta recipe, and now I'm onto these Caprese skewers… If you couldn't tell, I'm having a moment with cherry tomatoes.
I love how many different varieties are available at this time of year – some are round and yellow, others are oblong and speckled with red. Still others are purple, orange, and green. When I see all these shapes and colors at the farmers market or grocery store, I can never resist bringing home some of each. They're just so darn pretty (and delicious, too!).
You can toss them into a salad, top them onto pizza, or use them in a pasta like the one I mentioned above, but your simplest option might be making these Caprese skewers. They're SO easy to make, and, because they're so simple, they really let you savor the peak-season tomatoes. Serve them as an appetizer at a gathering or whip them up for a quick healthy snack. Either way, you'll love them.
Caprese Skewers Recipe Ingredients
A bite-sized riff on an Italian Caprese salad, these Caprese skewers rely on three basic ingredients:
Cherry tomatoes – Use a mix of colors if you can.
Fresh basil – Its spicy, aromatic flavor pairs SO well with the sweet tomatoes.
Fresh mozzarella balls – Look for the little mozzarella balls called ciliegine mozzarella (aka cherry-sized!). They should be close in size to your cherry tomatoes.
Before you eat, drizzle the skewers with good olive oil and season them with salt and freshly ground black pepper. For a tangy finish, top them off with reduced balsamic vinegar.
Find the complete recipe with measurements below.
Thread the tomatoes, basil, and mozzarella balls onto mini wooden skewers. I like to use two cherry tomatoes and one mozzarella ball per skewer, with basil leaves tucked in between. If your basil leaves are large, fold them in half as you skewer them.
Season them up, drizzle on the balsamic glaze, and enjoy!
Caprese Skewers Recipe Tips
Use high-quality ingredients. Whenever you're making a really simple recipe, the quality of your ingredients counts. I highly recommend making these Caprese skewers in the summer, when tomatoes and basil are both in season. If you can, source them from a local grower (or even your own garden!).
Make them day-of. These Caprese salad skewers are best on the day they're made, when the basil is still vibrant and fresh. If you want to make them ahead for a party, assemble them up to 4 hours in advance and store them in the fridge. Add the olive oil, salt, pepper, and balsamic just before serving.
Have fun. Tomatoes, mozzarella, and basil are a fantastic combination, but that doesn't mean you can't get creative here. Try using strawberries or diced peaches in place of some of the tomatoes, or replace the basil with fresh mint. Let me know what variations you try!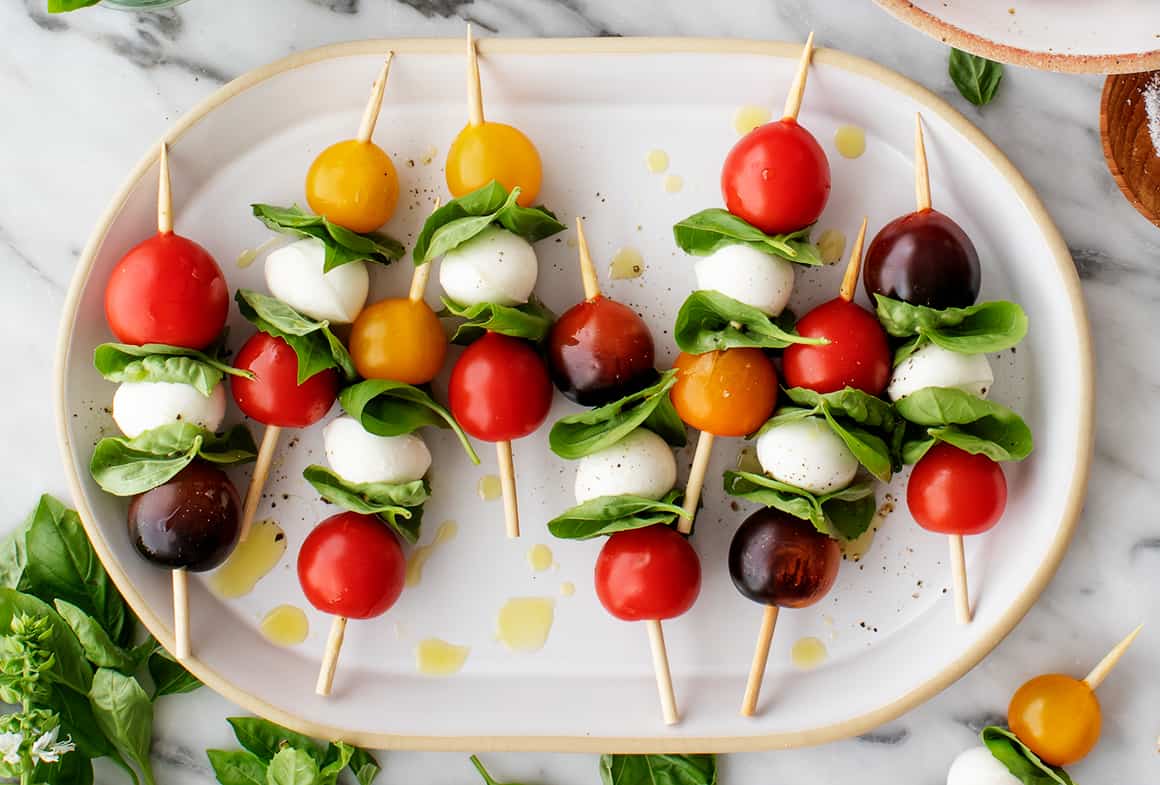 More Favorite Summer Appetizers
If you love these Caprese skewers, try one of these summer appetizers next:
Caprese Skewers
These Caprese salad skewers are such a fun summer appetizer! They'll disappear in no time at your next party or gathering.
Instructions
Thread the tomatoes, mozzarella, and basil onto mini skewers.

Drizzle with olive oil and balsamic reduction and sprinkle with salt and pepper.