Peaches add a surprising sweet twist to these cute Caprese skewers. Fresh and flavorful, they're an easy appetizer that's a guaranteed party hit!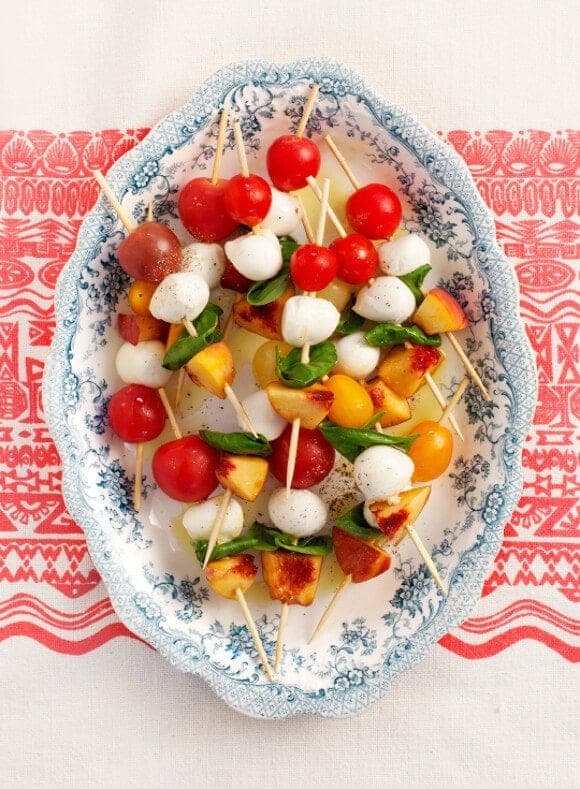 These little Caprese skewers are one of my favorite party appetizers. They fit all my party criteria: they're simple, seasonal bites that can be made at least a few hours ahead of time, and they're really flavorful and fun. Each one starts with classic Caprese salad ingredients: tomatoes, mozzarella cheese, and fresh basil. Then, I add two unconventional twists. First, I finish each skewer with a piece of diced peach. Peaches, basil, and tomatoes are one of my favorite summer combinations (see here or here). The peaches offer a surprising sweet contrast to the tangy tomatoes, and they taste divine with the aromatic basil.
Then, right before serving, I drizzle the skewers in a spicy jalapeño lime oil. It gives the skewers an exciting spicy kick, but if you or your guests don't like spicy food, don't worry. These Caprese skewers are just as good with salt, pepper, olive oil, and a squeeze of lemon juice.
Caprese Salad Skewers Tips
Eat them in one bite. The trick to these Caprese skewers is getting everything in one bite – the creamy mozzarella, the fresh basil, the tangy tomato, and juicy peach. When you're at the grocery store or farmers market, look for cherry or grape tomatoes that are on the small side, as well as little Ciliegne mozzarella balls.
Season generously. A lot of the seasoning will slide off the skewers, so don't hold back! They taste best when you go heavy on the oil, salt, and pepper.
Fold the basil. If you're working with large basil leaves, I recommend folding each one in half, so the skewer passes through it twice. That way, it'll be a similar size to the other ingredients on the skewer, and you'll still get to enjoy the entire basil leaf.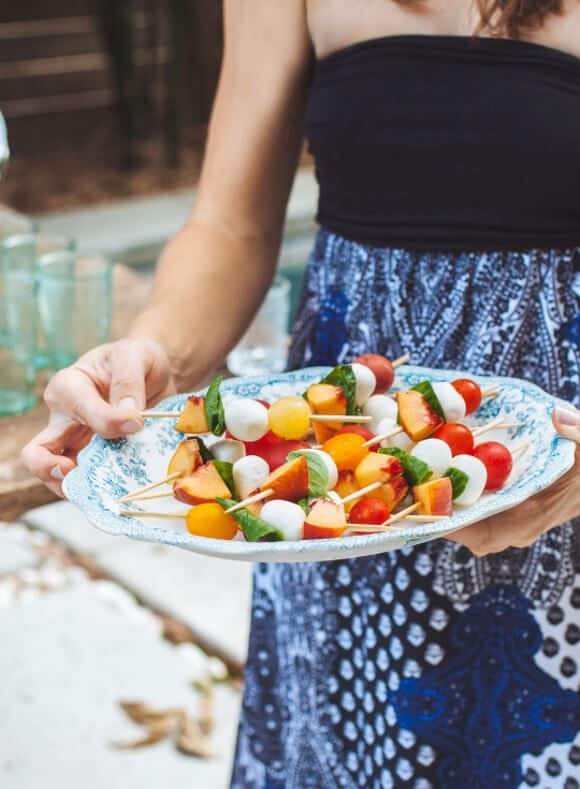 Caprese Skewers Recipe Variations
I love this Caprese skewers recipe as written, but there are so many tasty ways to change it up! Here are a few ideas to get you started:
Keep it classic. Skip the peaches, and make the skewers with traditional Caprese salad ingredients: cherry tomatoes, basil leaves, and fresh mozzarella.
Switch the dressing. Replace the jalapeño-lime oil with my easy lemon vinaigrette or the balsamic reduction from this recipe. Alternatively, serve the skewers with a squeeze of lemon juice and a drizzle of olive oil.
Try another fruit. Instead of peaches, add strawberries or nectarines to these Caprese salad skewers.
Or skip the tomatoes! Replace the tomatoes with additional peaches or a different summer fruit like blackberries or strawberries.
Make them vegan. Replace the mini mozzarella balls with diced avocado. It should be ripe, but still slightly firm, so that it doesn't fall off the skewers.
Let me know what variations you try!
More Favorite Appetizer Recipes
If you love these Caprese skewers, try one of these fun appetizer recipes next:
Caprese Skewers
These easy Caprese skewers are a crowd-pleasing party appetizer! You can assemble the skewers up to 4 hours in advance, but wait to season them until right before serving.
Ingredients
Jalapeño-Lime Oil
1

jalapeño pepper

1/3

cup

extra-virgin olive oil

1

garlic clove

,

smashed

2

tablespoons

lime juice

1

teaspoon

orange juice or agave nectar
For the Skewers
Cherry or grape tomatoes

Mini mozzarella balls

Fresh basil leaves

Peaches

,

diced into 1-inch pieces

Sea salt and freshly ground black pepper
Instructions
Make the jalapeño-lime oil: Over an open flame, grill the jalapeño until blackened all over. Wrap in foil for 10 minutes to steam and soften. Slice the roasted jalapeño in half. In a small bowl, combine the halved jalapeño, the olive oil, garlic, lime juice, and orange juice or agave. Let the oil steep at room temperature for 30 minutes. Remove and discard the jalapeño and garlic.

Assemble the skewers: Assemble each skewer with a cherry tomato, mini mozzarella ball, basil leaf, and chunk of peach. You can do this step up to 4 hours in advance. Chill the skewers until you're ready to serve.

Right before serving, drizzle the skewers with a generous amount of the oil, and season them with salt and pepper.