This Caesar salad recipe is guaranteed to impress dinner party guests! It's topped with homemade croutons, crisp veggies, and a rich, tangy dressing.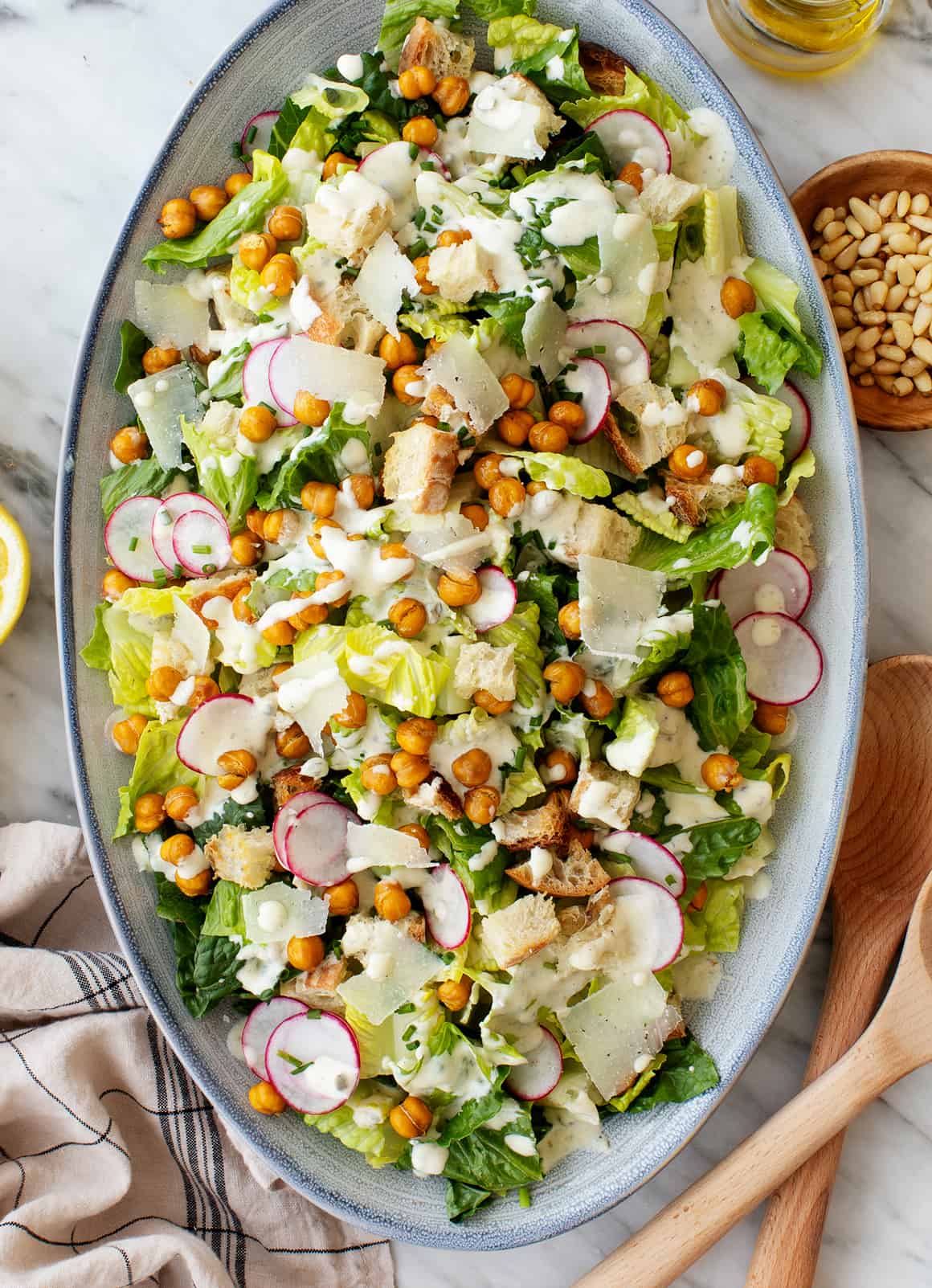 If there's any recipe that'll convince someone that they love salad, it's this Caesar salad recipe. Its base is chopped romaine lettuce and crisp veggies, but shaved cheese, homemade croutons, and a bold, creamy dressing fill it with so much flavor and texture that it hardly feels like you're eating a plate full of vegetables!
This Caesar salad recipe would be a fantastic side dish for a holiday dinner party, but, lately, we've even been loving it as a meal on its own. It's the perfect fresh, yet still satisfying, break from the holiday rotation of appetizers and sweets. Pretty, nourishing, and so, so delicious, this is a recipe you don't want to miss!
Caesar Salad Recipe Ingredients
My Caesar salad recipe starts with 4 basic components:
Romaine lettuce – Chop it into bite-sized pieces that'll mingle with the other ingredients! You don't want any big chunks of romaine here. Butterhead lettuce would be delicious in this recipe as well.
Cheese – I like to scatter shaved pecorino cheese over my Caesar salad, but a generous sprinkle of grated Parmesan cheese would add the same nutty, savory flavor.
Homemade croutons – For crunch! These are so yummy and easy to make – just toss bread cubes with olive oil and salt, spread them on a baking sheet, and toast them in a 350-degree oven until they're golden brown.
Caesar dressing – Traditional Caesar salad dressing is made with raw egg yolks, Worcestershire sauce, and anchovies, but my version is much simpler and just as good. In a small bowl, whisk together Greek yogurt, olive oil, lemon juice, a minced garlic clove and capers, Dijon mustard, and black pepper. You'll end up with a creamy, rich mixture that tastes every bit as tangy and savory as the classic version.
To make this recipe extra fresh, I add a few unconventional components to the classic Caesar salad template. First, I pile on a generous amount of roasted chickpeas. They add protein to this recipe, along with lots of extra crunch. Finally, shaved red radishes, pine nuts, and a sprinkle of chives take the whole thing over the top.
Caesar Salad Serving Suggestions
With its rich dressing and hearty toppings, this Caesar salad recipe could easily make a meal on its own. However, it's also a lovely dinner side dish. Pair it with your favorite protein, or serve it with any of these vegetarian main courses:
Whether you're passing it at a potluck or packing it for lunch, this Caesar salad recipe is a great one to make ahead of time. Toast the croutons, stir together the dressing, and prep the veggies in advance. Then, store the components separately until you're ready to eat. If you're making this salad ahead, roast the chickpeas at the last minute, or omit them and toast a few extra croutons in their place. The chickpeas are best eaten right out of the oven!
More Favorite Salad Recipes
If you love this Caesar salad recipe, try one of these fresh salads next:
Caesar Salad
This easy Caesar salad is a stunning dinner side dish, but it's also hearty enough to be a meal on its own.
Instructions
Preheat the oven to 350°F and line a baking sheet with parchment paper.

Make the croutons. Place the bread cubes on the baking sheet, toss with olive oil and salt, and bake 10 minutes, until toasted.

Assemble the romaine on a platter. Drizzle with half the dressing, sprinkle with the radishes, croutons, and chickpeas, and drizzle with the remaining dressing. Top with the pecorino, chives, and pine nuts. Season with salt and pepper to taste.
Notes
*To make this recipe vegan, omit the cheese, and replace my Homemade Caesar Dressing with this vegan dressing recipe:
1/2 cup raw cashews
1 garlic clove
2 tablespoons fresh lemon juice
2 teaspoons Dijon mustard
2 teaspoons capers, drained
1/2 cup water
Freshly ground black pepper
In a high-speed blender, place the cashews, garlic, lemon juice, mustard, capers, water, and a few grinds of black pepper. Blend until creamy.